April 18, 2019
Hi again from Vancouver, where yesterday I got an introductory lesson in curling. (See After you Login for more on that.)
1 big thing: Big Tech's shifting lobbying army
The fast-evolving internet ecosystem is changing how tech companies form alliances to lobby policymakers in Washington, Axios' David McCabe writes.
The bigger picture: In the overall ecosystem, lines are blurring or becoming more stark among different tech, media and telecom companies.
Telecom companies are producing content, while platform companies are exploring new services like internet connections. This means sectors are no longer staying in their lanes and regulatory scrutiny is shifting.
What's happening:
Comcast and AT&T, both telecom powers, are now the owners of members of the Motion Picture Association of America.
Netflix recently left the Internet Association and joined the powerful MPAA — showing that it sees itself more as a media company than a tech company these days.
The MPAA admitted Netflix, the first streaming-first studio to join the group, after its own membership shrunk thanks to the proposed Disney-Fox merger.
Salesforce also left IA, which reflects the way large enterprise companies look to differentiate themselves from online ad powerhouses Google and Facebook. So did Pandora after it was bought by Sirius XM.
Here's a handy primer to keep the players straight...
Web giants and the upstarts:
IA represents some of the biggest web platforms — like Facebook, Google and Amazon — as well as startups like Handy and Thumbtack.
Computer & Communications Industry Association lobbies on behalf of many of the same companies, and defends tech giants against charges that they act monopolistically. (Google, Facebook and Amazon are all members.)
INCOMPAS traditionally has represented "competitor" companies, now including entities like Netflix and Google as well as smaller telecom firms.
Engine lobbies on behalf of startups.
Big tent tech:
The Information Technology Industry Council includes both internet companies and broader tech players like Toyota, paying particular attention to fighting protectionist trade policies in recent years.
Consumer Technology Association has a broad membership, including both hardware and software makers, and hosts the sprawling Consumer Electronics Show every year.
BSA-The Software Alliance lobbies for enterprise software companies like IBM, Salesforce, Adobe and Siemens.
The telcos:
USTelecom is a trade group that advocates for big telecom companies like AT&T and CenturyLink on issues such as net neutrality, where the industry successfully pushed for deregulation.
NCTA represents the cable industry.
CTIA lobbies on behalf of the wireless industry on issues like spectrum access and 5G deployment.
Media:
MPAA represents the big Hollywood studios including its newest member, Netflix, as one of the most storied lobbying groups in Washington.
Digital Content Next represents publishers and is a consistent antagonist of Facebook and Google.
Be smart: Technology has seeped into every industry, so more players are being drawn into tech debates. The rush to regulate data privacy has roped in companies from health care to retail.
Yes, but: More factions and alliances make it even harder to drive any sort of consensus on complicated policy issues.
2. Galaxy Fold screens are breaking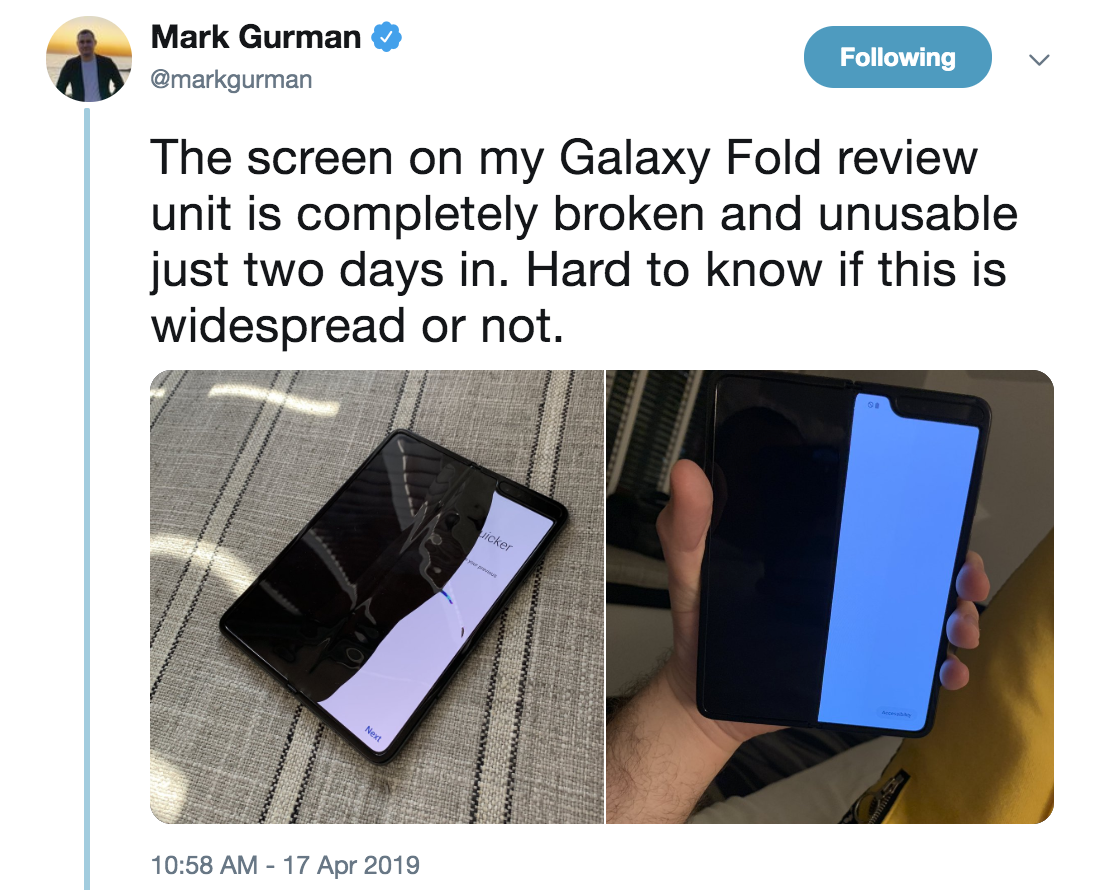 A number of the tech journalists given demo units of the Galaxy Fold have seen the screen on the $2,000 foldable Samsung phone fail in short order.
Why it matters: The problems highlight just how hard it is to innovate in hardware, and why companies tend to follow tried-and-true designs.
Details: At least four of the relatively small group that were given a device had reported problems by Wednesday, just days after getting their hands on the phone.
In a couple of the cases, it appears the cause was removing a protective cover that isn't meant to be taken off, but in other instances the screens broke even with the cover remaining on.
What they're saying:
"A limited number of early Galaxy Fold samples were provided to media for review. We have received a few reports regarding the main display on the samples provided. We will thoroughly inspect these units in person to determine the cause of the matter."
"Separately, a few reviewers reported having removed the top layer of the display causing damage to the screen. ... Removing the protective layer or adding adhesives to the main display may cause damage. We will ensure this information is clearly delivered to our customers."
— Samsung spokesperson
Samsung said it's still planning to launch the Galaxy Fold in the U.S. on April 26.
3. Exclusive: Eaze helps Code for America expunge pot convictions
Marijuana delivery service Eaze plans to announce later today that it is working with Code for America to help pay for Californians with marijuana convictions to get their records expunged.
What's new: Eaze will donate $4.20 for every delivery on April 20, up to $100,000, to Code for America's "Justice at Scale" campaign. That will help the organization work towards its goal of clearing 250,000 low-level drug convictions.
Working county by county, Code for America is automating the once manual task of getting records expunged.
So far it has cleared 8,132 records in San Francisco and is in the process of tackling records in San Joaquin and Los Angeles counties.
The big picture: There is a sharp racial and economic divide between those who took part in the marijuana business before it was legalized and the new generation of cannabis entrepreneurs.
What they're saying:
Code for America CEO Jen Pahlka: "The voters passed a law that said pot is no longer illegal and we have possibly hundreds of thousands of people across the state who still have felony convictions on their record. It keeps people from opportunities they should have. It keeps people from housing, jobs, education."
Eaze spokesperson Elizabeth Ashford: "People with low-level cannabis convictions face many employment barriers — both in the industry, and outside it. That's not right. Clearing records is a tangible way to support these folks, directly and immediately, and it's why we're so excited to partner with Code for America."
4. Pinterest raises $1.4B in better-than-expected IPO
Pinterest raised over $1.4 billion in its IPO, pricing shares above the top of its expected range, Axios' Dan Primack reports.
The bottom line: It's a strong showing for an unprofitable unicorn on the heels of Lyft's IPO, but still values Pinterest shares a bit below where they were last sold to venture capitalists.
The IPO gives Pinterest an initial market cap of around $10 billion.
Shares will begin trading on the New York Stock Exchange under ticker symbol PINS.
Meanwhile, Zoom also had a better-than-expected IPO, valuing the company at roughly $9.2 billion.
The bottom line: As Dan points out, although the two firms have roughly similar market capitalization, Pinterest had previously raised $1.4 billion in venture capital, while Zoom had taken on just $160 million in venture funding.
5. Take Note
On Tap
The TED conference continues in Vancouver.
Pinterest and Zoom shares are expected to begin trading.
Trading Places
Foxconn founder Terry Gou is running to be Taiwan's president.
ICYMI
6. After you Login
This is me, after a curling lesson. Maybe I will share video too...