Login is wondering who should play it in the movie version.
Silicon Valley is back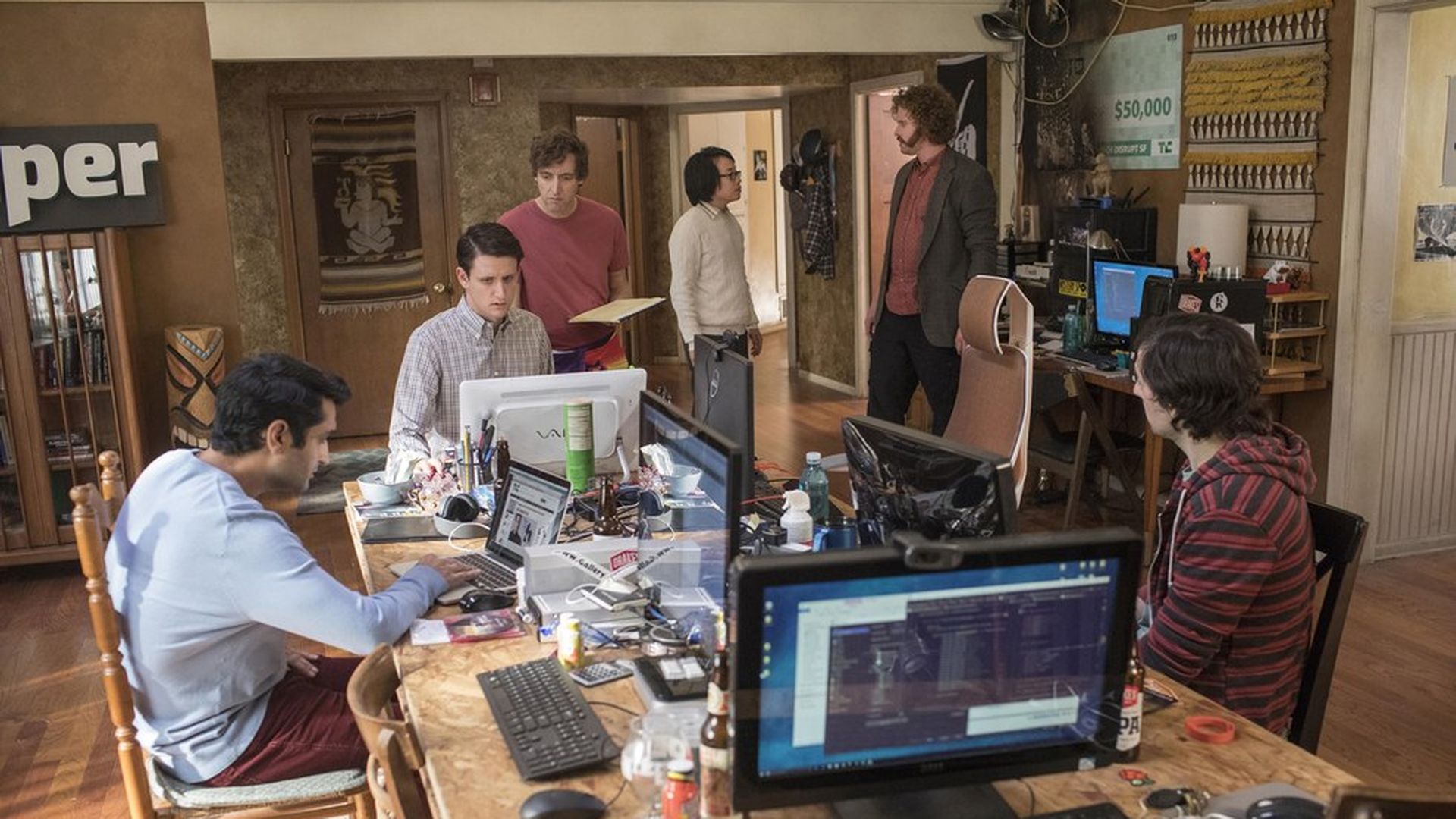 It appears Silicon Valley's bubble still hasn't burst. The HBO show is back for a fourth season, which starts April 23.
HBO held a glitzy premiere Tuesday night at Lucasfilm's offices in San Francisco, attracting both the stars and creators of the show, as well as some of those who serve as its real-life inspiration. Among the nonfiction characters in attendance were Slack CEO Stewart Butterfield, Yelp CEO Jeremy Stoppelman and Elevation Partners co-founder Roger McNamee.
Attendees got to watch the first two episodes and then hear the cast and creator Mike Judge grilled by my former boss Kara Swisher, who was uncharacteristically effusive in her praise for the new season.
Without spoiling too much, the first two episodes highlight a new kind of conflict that show regular Thomas Middleditch (Richard Hendricks) says is a theme of the upcoming season. The first three seasons, Hendricks told Axios, were about how the band responded to outside adversity. Season four, by contrast, is about "how the band's going to do when it starts splitting up."
More from the folks at Pied Piper
Kia and I had a chance to catch up with some of the show's cast ahead of the event. Here's what Kumail Nanjiani who plays Dinesh, had to say:
On the country's appetite for the show: "When we were doing the pilot the world as a whole wasn't as into the culture of Silicon Valley. That's not a function of our show. There's just more transparency. People know the names of VCs and stuff. They didn't know that four years ago. People use these apps, they know the names...."
He prefers the TV version of Silicon Valley to the real thing: "I think the world that the TV show is set in is slightly more hopeful than the real-life world."
What about Hollywood vs. Silicon Valley? "There's a problem in Hollywood. You hear this, that we're out of touch, and that's very true. I think that parts of the tech world seem to be even more out of touch with reality. At least people in Hollywood have to pretend to be real."
Click here for more from Kia, who is far more expert on all things Silicon Valley. For instance, Kia spotted a couple changes in the opening credits, including a drone delivering pizzas and a balloon representing Chinese ride-hailing service Didi Chuxing.
This just in...
Qualtrics, which provides corporate survey and analytics tech, has raised $180 million in new venture capital funding from existing investors at a $2.5 billion valuation, reports Dan Primack, who says you can expect an IPO within 18 months.
Darkstore aims to help traditional retail keep lights on
Thanks to Amazon's free two-day shipping for Prime members (or two hours for Prime Now), consumers have come to expect speedy and affordable delivery of their online purchases—and that's increasingly crucial for retailers to remain competitive.
Enter Darkstore, which recently raised $1.4 million and aims to offer online retailers a more cost-effective option than shipping from their own warehouses, and to give brick-and-mortar stores a cheaper way to fulfill their online orders. Kia reports that Darkstore, which partners with warehouse operators, is expanding to locations in Los Angeles, Chicago and Seattle to add to its existing locations in San Francisco, New York City and Phoenix. From those spots, retailers can store inventory for online orders that are then delivered to customers via traditional couriers as well as services like UberRush and Deliv.
Think Uber-for-warehousing: And just like Uber, the startup is acting as a middleman, taking a 3% cut and letting retailers (and itself) avoid having to open their own warehouses.
Media under attack
In an earlier era, if someone didn't like what was reported about them, they could write a letter to the editor or run a full-page ad combating the piece. Today, independent and state-sponsored hackers are responding to articles, journalists and news institutions they don't like online by publishing private information about them or shutting down their websites completely.
Why it matters:
The news is at risk: Digital news lends itself to more cyberattacks, and the rate of digital news consumption is steadily increasing.
Everyday people are unknowingly involved: Hackers use an army of digital bots to perform attacks, and those bots often operate attacks from "compromised machines," or the computers of regular, everyday people.
Sara Fischer explains how it happens, here.
Well, it's late. Time to pay the Pied Piper. See you tomorrow.