Today's Login is a tad longer than usual, but an adorably, furry reward awaits you at the end.
https://www.axios.com/newsletters/axios-login-f4733c1a-7202-4371-9288-56b3a9c90bae.html?chunk=0#story0
How Adobe stumbled upon a new way to measure inflation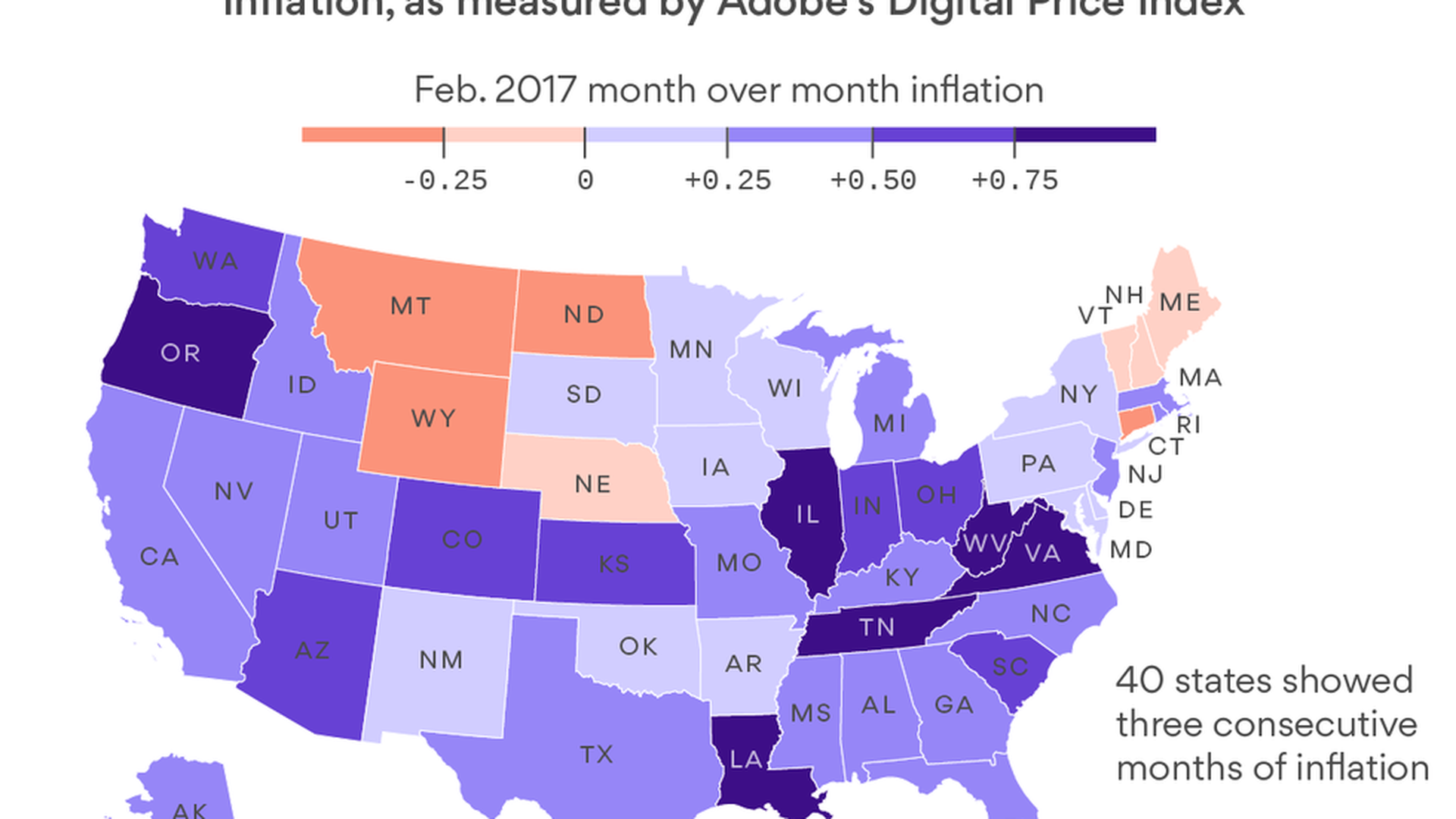 For years, economists have relied on the Consumer Price Index as a proxy for the rise in inflation seen by average American households. It's made up of some 80,000 prices in 200 categories.
Adobe thinks it has a more modern approach that can surface the data — and therefore spot inflation trends — much faster. Dubbed the Digital Price Index, it draws on the tons of data that the company gets from online retailers that are part of its digital marketing cloud. It gets pricing data for 2.5 million distinct goods.
The idea to create the index occurred to Adobe after looking at the amount of holiday pricing data it had two years ago.
"We realized we had something no one really has been ever been able to do," Adobe principal analyst Tamara Gaffney told Axios.
The amount of data also means Adobe can break down the information on a state-by-state basis, whereas the CPI doesn't get more granular than regional. And it can release the data in a fraction of the time it takes the Bureau of Labor Statistics to compile the CPI.
Adobe's index has its limitations to be sure. First off, it's focused largely on digital transactions. That's mostly online commerce, but also includes things like groceries when a customer orders online. Adobe says the DPI probably covers 20 percent of spending today but could eventually address 75 percent of the categories covered by the CPI.
The DPI itself is only a little over a year old, so for now it's really more useful to monitor month-over-month shifts than long-term trends. Over time, though, Adobe hopes to take the pricing index further, even international, to provide an opportunity to directly compare global pricing trends.
So what does the latest data show: For December through February, Adobe saw inflation rise for the third consecutive month — the first time in more than three years that has happened, although prices are still down year over year.
The government's CPI shows 0.1 percent overall inflation for February across all categories. In comparison, Adobe's DPI shows 0.4 percent inflation across the categories it covers.
Where the CPI and DPI show similar trends: The CPI shows 0.3 percent inflation in its food-at-home category whereas the DPI shows 0.4 percent inflation in February for groceries. Nonprescription drugs and pet products were other categories where the two indices saw similar pricing trends.
Where they differ: When it comes to appliances, the CPI showed 0.4 percent inflation in February, while Adobe's index saw 1.3 percent deflation. Adobe attributes the difference to the fact that it adjusts for the number of units consumers purchase of each product, whereas the CPI uses only prices across product categories.
https://www.axios.com/newsletters/axios-login-f4733c1a-7202-4371-9288-56b3a9c90bae.html?chunk=1#story1
YouTube being attacked from all sides
Google's YouTube has managed to come under fire this week both for not being aggressive enough in monitoring video content and for being too hasty in slapping restrictions.
In the first instance, advertisers have been withdrawing from YouTube, complaining that the company hasn't gone far enough to prevent commercials from appearing alongside hate videos. Meanwhile, LGBT rights groups and some of YouTube's biggest stars have been pillorying the site for placing mature content restrictions on a vast swath of LGBT content, ranging from documentaries of gay youth to a same-sex couple exchanging marriage vows.
Now, one might be tempted to say, well, if the company is being accused of both being too restrictive and not aggressive enough, it must be striking a good balance.
In this case, though, Google appears to be missing the mark at both ends and risks losing two crucially important constituencies — the advertisers who pay the bills and the creative content makers who make the site what it is.
https://www.axios.com/newsletters/axios-login-f4733c1a-7202-4371-9288-56b3a9c90bae.html?chunk=2#story2
Because we all stare at our phones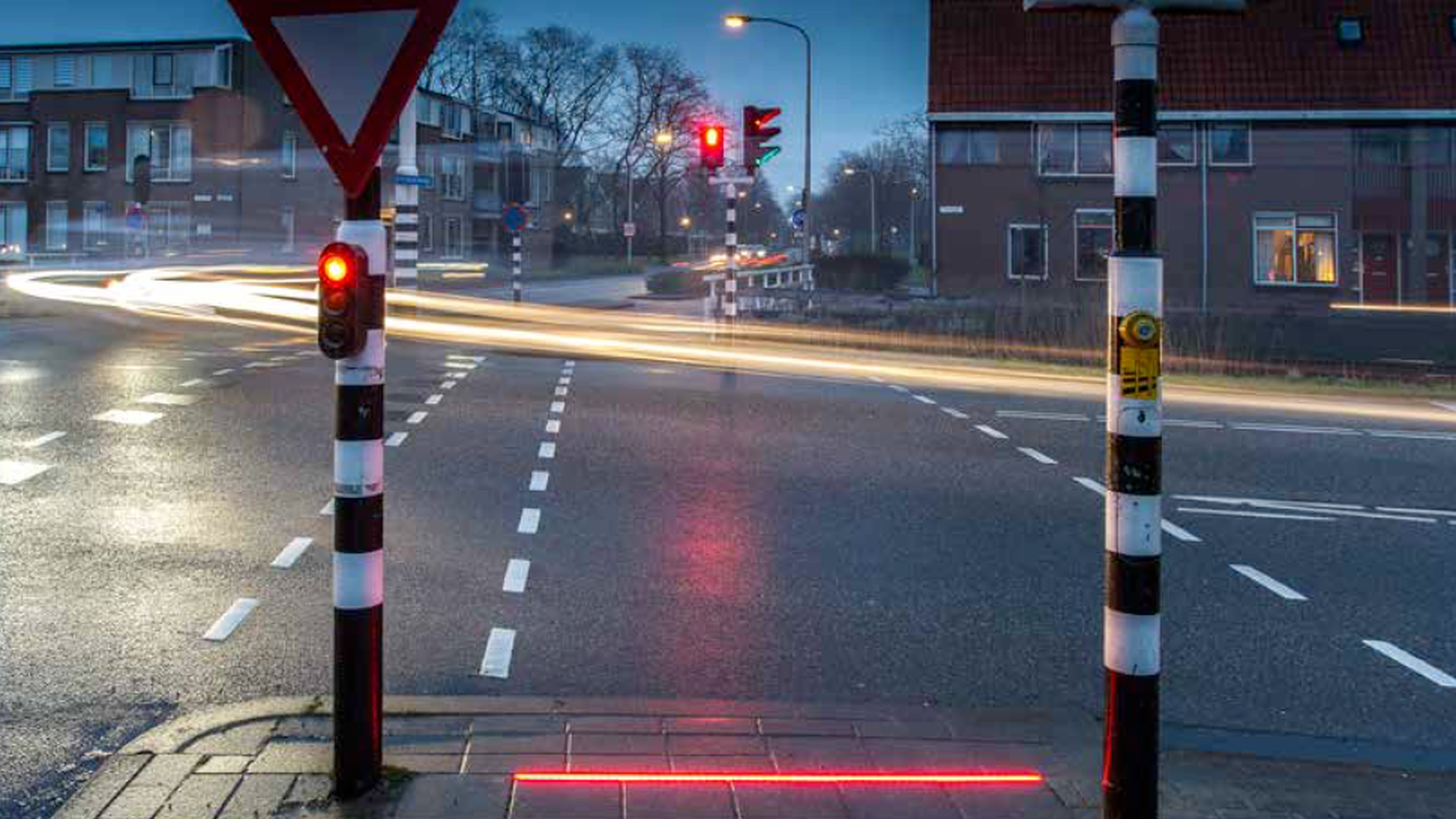 https://www.axios.com/newsletters/axios-login-f4733c1a-7202-4371-9288-56b3a9c90bae.html?chunk=3#story3
TV blackouts mess with March Madness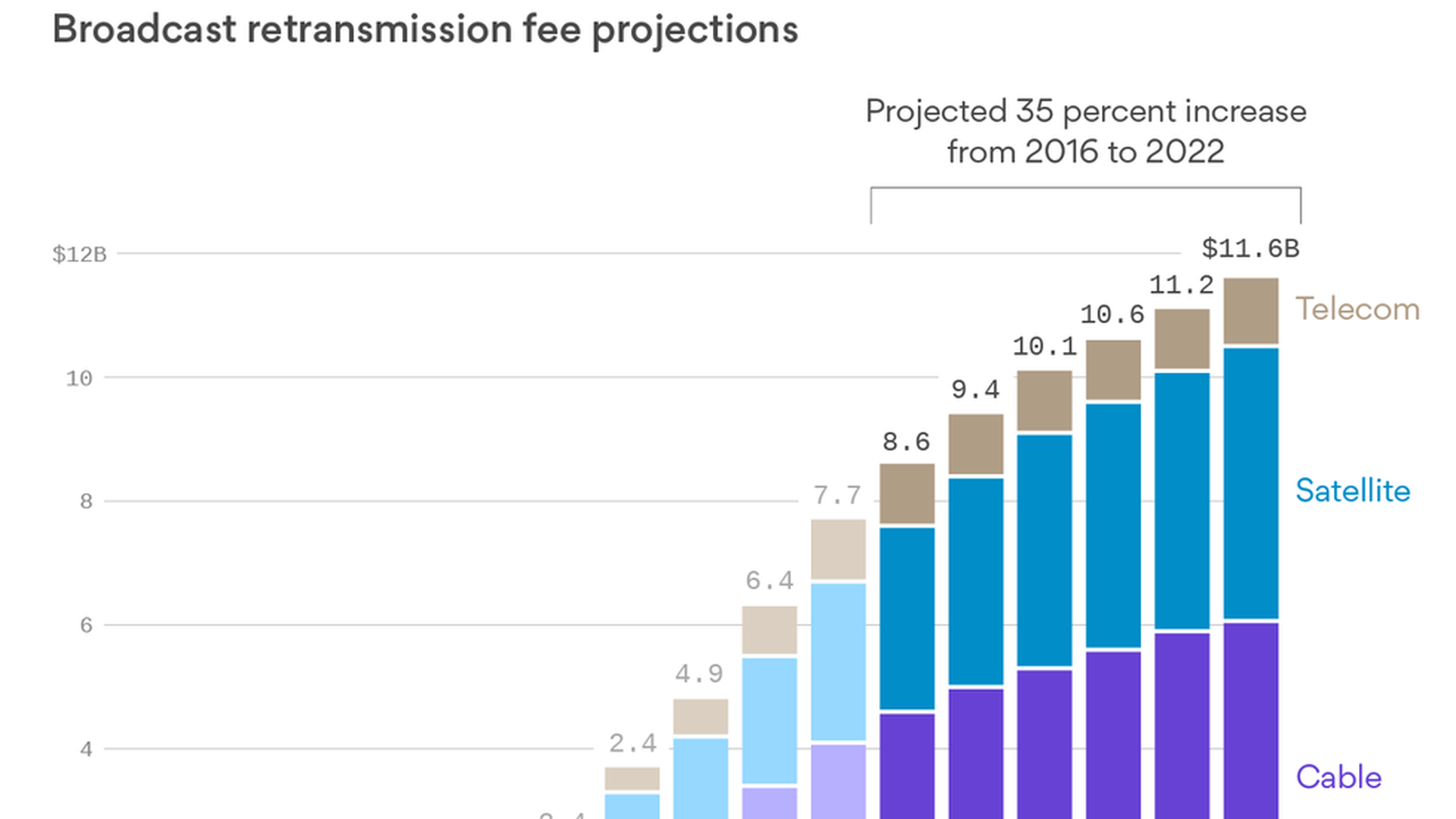 This year will have the most TV blackouts ever, per Axios' Sara Fischer. There have already been more this year (125) than all of 2016 combined (104), and 2017 blackouts so far reached 1462% more than 2010 (8), per the American Television Alliance.
https://www.axios.com/newsletters/axios-login-f4733c1a-7202-4371-9288-56b3a9c90bae.html?chunk=4#story4
D.C. Dispatch: Amazon pushes transportation agenda
About 50 senior Amazon leaders flew in from Seattle this week to meet with the Trump administration and lawmakers on transportation issues, ranging from trucking to drones.
The team, led by SVP of Worldwide Operations Dave Clark, oversees everything that takes place from the time a you buy a product on the website to when the box lands on your doorstep — basically, a ton of transportation logistics. Last night, Amazon hosted a reception for members of Congress who have Amazon jobs in their states and districts.
Why it matters: Amazon needs strong allies in Washington as it moves into delivering goods in addition to selling them. So far, it's a pretty positive story for Amazon: Last month, it announced the creation of an air cargo hub in Kentucky to support its new fleet of Prime Air planes, creating some 2,000 new jobs. In January, the company said it plans to create 100,000 new jobs in the U.S. by 2018 — an effort surely not lost on Trump, who traded barbs with Amazon boss Jeff Bezos during the campaign.
https://www.axios.com/newsletters/axios-login-f4733c1a-7202-4371-9288-56b3a9c90bae.html?chunk=5#story5
One step closer to online privacy rules rollback
Republicans in Congress are barreling ahead to overturn the FCC's privacy rules. The Senate is expected to vote today, clearing the way for the House to follow.
Rolling back the rules would be a victory to both broadband providers (like AT&T and Comcast) and internet companies (like Google and Facebook), who all oppose the rules, and a major loss for privacy advocates who say consumers should have more control over how ISPs use their data.
The bottom line: Right now the $72 billion online advertising market is dominated by companies like Google and Facebook, but broadband providers also want a piece of that pie and say nixing the privacy rules help them compete against the more established web players. Kim has more here.
https://www.axios.com/newsletters/axios-login-f4733c1a-7202-4371-9288-56b3a9c90bae.html?chunk=6#story6
Take Note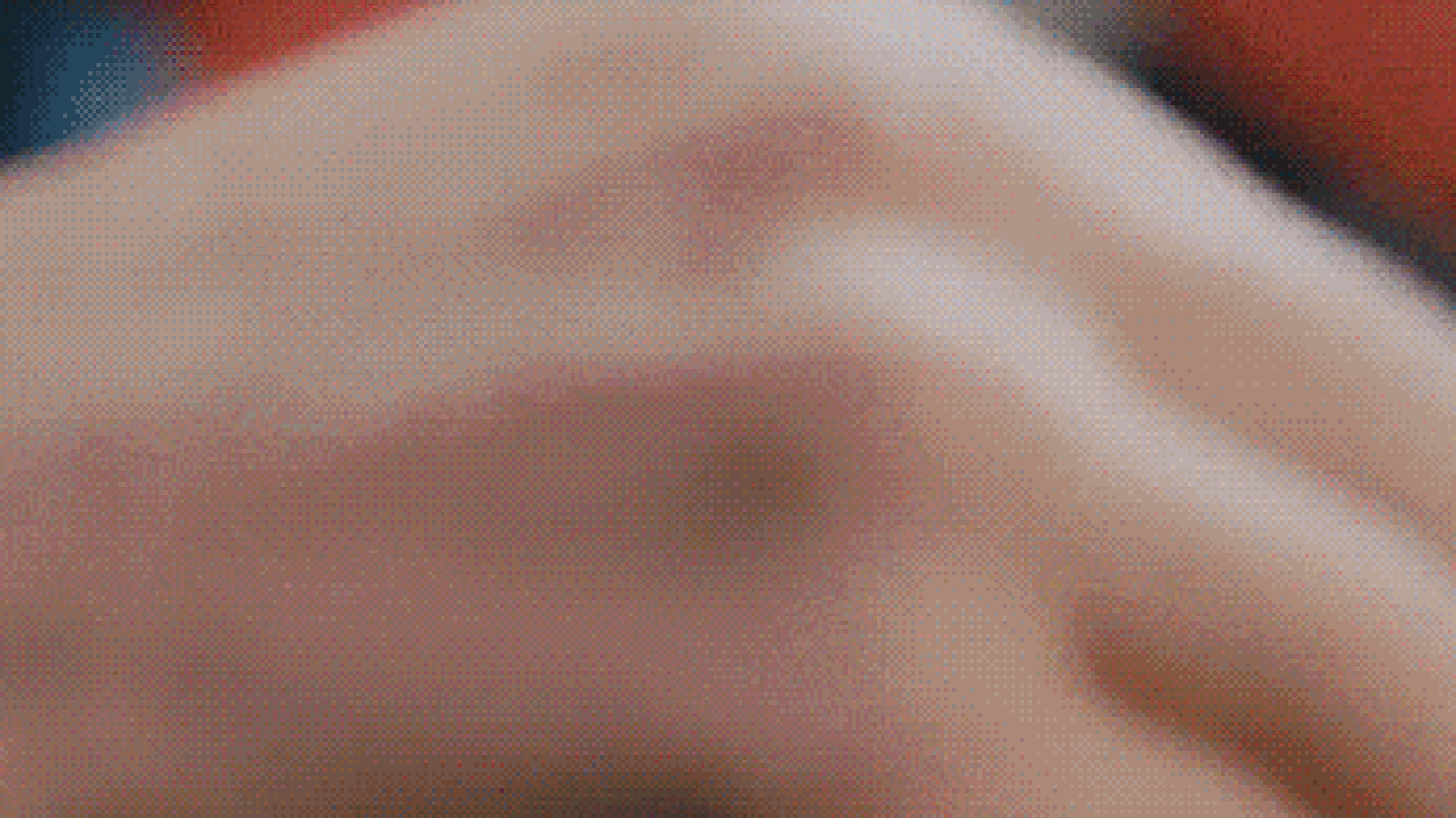 On Tap: The FCC holds its March open meeting this morning, voting on whether to consider efforts to combat robocallers who fake caller ID information. Commissioners will also get an update on the agency's investigation into a recent 911 outage....Also, it's National Puppy Day.
Trading Places: David Heckerman, head of Microsoft's genetics work and a prominent machine intelligence researcher, has left to become chief scientist for San Diego-based startup Human Longevity....Former FCC legislative affairs director Mike Dabbs has joined eBay as senior director of government relations.
ICYMI: Apple has acquired the makers of Workflow, a well-regarded app that automates various iOS tasks....The Pentagon has expressed concerns to President Trump about the level of Chinese state investment in cutting-edge U.S. tech companies, especially ones with military implications....NPR reports that a smartphone and custom attachment could soon be used to assess sperm count, a task that used to require machines that cost up to $100,000.
https://www.axios.com/newsletters/axios-login-f4733c1a-7202-4371-9288-56b3a9c90bae.html?chunk=7#story7
After you Login
If you struggle with writer's block (something we at Login would know nothing about) and are willing to consider drastic measures, check out this evil genius tool that deletes everything you have done if you don't keep writing.