Next week our fabulous media writer, Sara Fischer, is launching her own weekly newsletter, Axios Media Trends. You can sign up here. In the meantime, we have a lot for you in today's Login, so let's get to it.
https://www.axios.com/newsletters/axios-login-ef9b7bfc-c596-4792-a3e5-25b03438066a.html?chunk=0#story0
The hunt for the next Uber CEO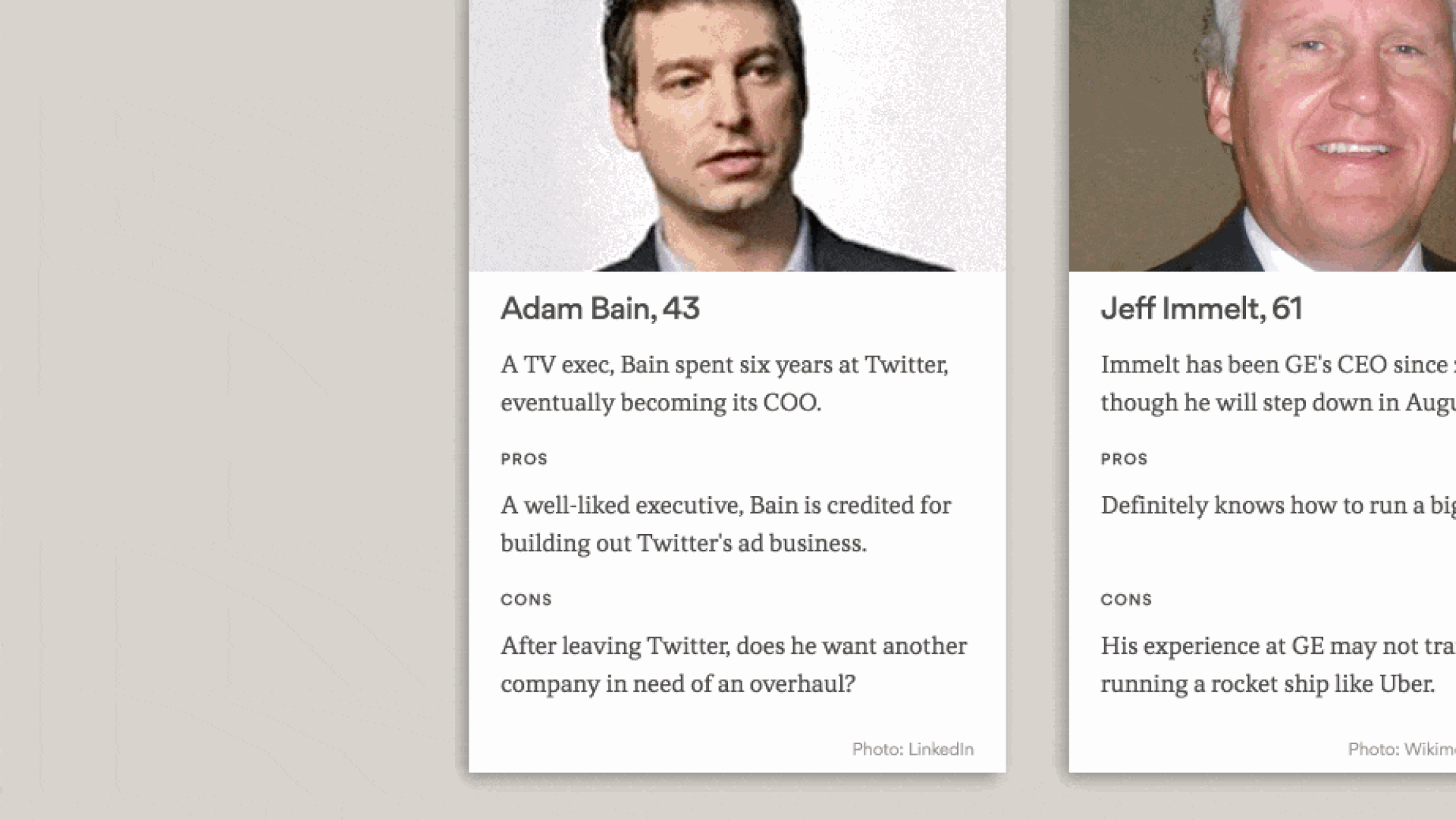 The biggest guessing game in Silicon Valley right now is who might be the next Uber CEO, now that Travis Kalanick has resigned. The company could look to one of several Silicon Valley free agents, including former Twitter COO Adam Bain or ex-SoftBank executive Nikesh Arora. Or the company might choose to poach a leader from another Silicon Valley firm. Then again, the company could look outside the tech industry for a little Fortune 500 stability.
We'll likely be hearing more on this, but we've put together a set of our Axios cards looking at some of the potential CEO candidates. See the full set here.
https://www.axios.com/newsletters/axios-login-ef9b7bfc-c596-4792-a3e5-25b03438066a.html?chunk=1#story1
Q&A: Branson on batteries, Trump, and Uber CEO
Richard Branson was in San Francisco Wednesday as part of a relaunch of Sprint's Virgin Mobile brand. After the event, I asked the Virgin Group chief his views on a variety of topics. I also pressed him for details on a statement he had made earlier in the day that he had a suggestion for Uber's CEO vacancy.
Some key takeaways from our talk:
Just who might Branson have in mind for Uber's next CEO?
"I'll have to let you do some guessing, but, yeah I made a recommendation," he said. "We'll see whether they accept it."
What technology is he most excited about?
Branson pointed to advances in batteries. "There are a couple of breakthroughs that I think are not far off," he said. "I think it may come in time to counteract the damage that Donald Trump has done in his statements about Paris. We're crossing fingers."
Thoughts on President Trump?
Branson acknowledged he is not a fan of Trump. "Everybody knows my views," he said. "I'm somebody that hasn't enjoyed a lot of what has come out of the White House" under this administration.
Read more here.
https://www.axios.com/newsletters/axios-login-ef9b7bfc-c596-4792-a3e5-25b03438066a.html?chunk=2#story2
Startup 8i launches its hologram selfie app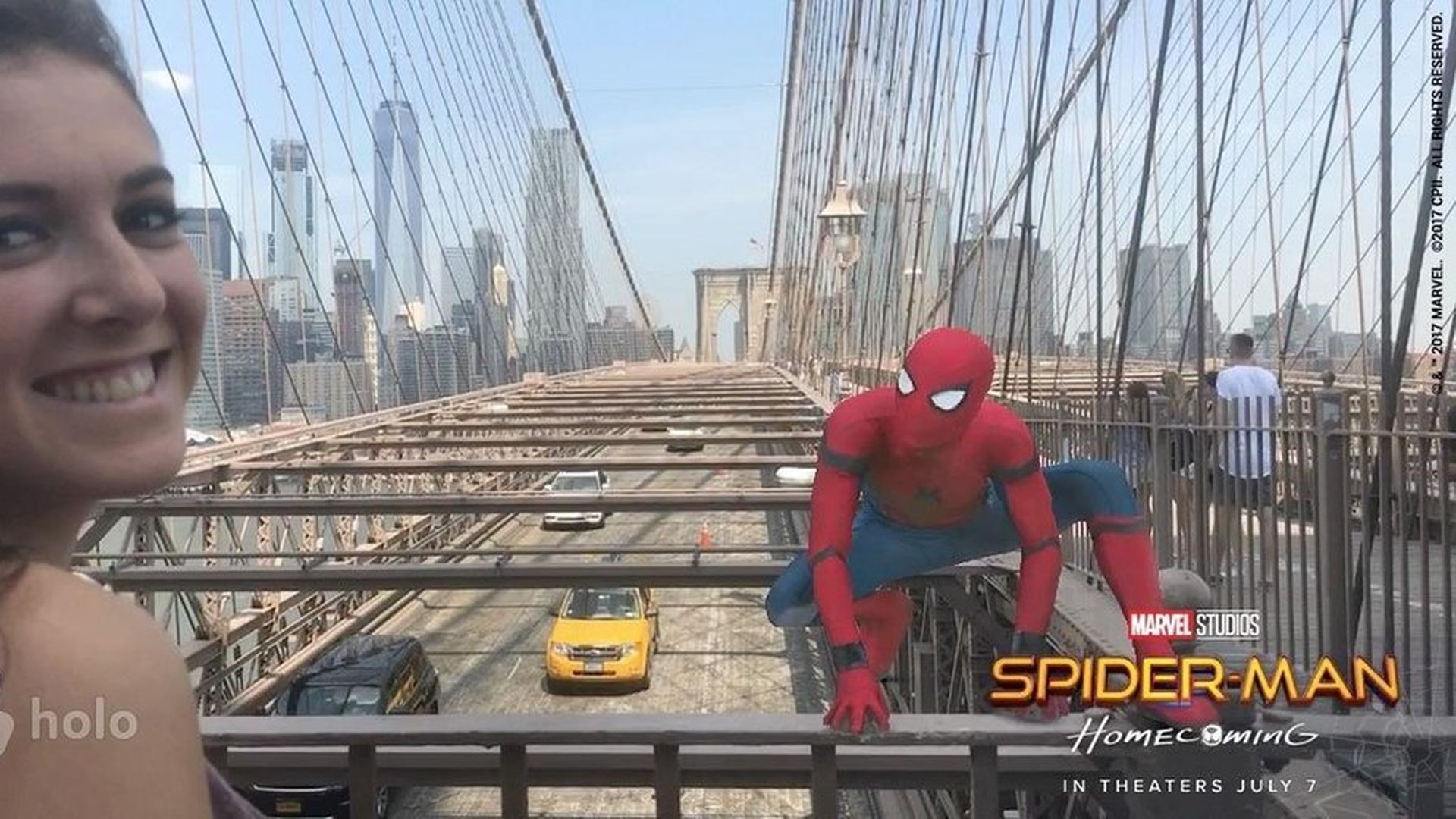 Want to take a picture with a hologram of Spiderman? Well, now there's an app for that.
Details: Virtual and augmented reality startup 8i is releasing its highly anticipated app Holo on Thursday. The iOS and Android app allows people to combine their own videos with pre-created holograms, including branded options from Cosmo and Sony. Other hologram options include a tiger, the llama from Fall Out, Boy's "Young and Menace" video, and a French bulldog in a hot dog costume.
Upcoming: The company, which has strategic investment from Hearst, Time Warner, and Verizon, is promising more types of holograms — like those featuring athletes or celebrities — to be released in the coming months.
"We want there to be a steady stream of new content so you have a reason to keep coming back all the time," CEO Steve Raymond told Axios.
https://www.axios.com/newsletters/axios-login-ef9b7bfc-c596-4792-a3e5-25b03438066a.html?chunk=3#story3
Snapchat's new map feature and the startup that powers it
Snap's launch of its maps feature Wednesday is a big deal for millennials who want to see the location of their friends. But it was also a big milestone for startup Mapbox, whose underlying technology helps make the new feature possible. While the interface and product is result of a lot of hard work by Snap, the underlying map technology draws on work by Mapbox.
More on Mapbox: This is the biggest consumer use yet of Mapbox's technology. The 250-person startup's platform is used by hundreds of companies, many in the enterprise space like IBM and Tableau. You won't hear much from Mapbox or Snapchat on the partnership, but if you look hard enough in the settings there is a small "powered by Mapbox" logo.
Why it matters: While it's nice for Mapbox to have a big consumer-facing customer, the broad adoption also means lots more location data coming back to the company to further refine its mapping information.
https://www.axios.com/newsletters/axios-login-ef9b7bfc-c596-4792-a3e5-25b03438066a.html?chunk=4#story4
Drones, 5G, IoT on Trump's agenda today
"Tech week" continues at the White House, this time with venture capitals and a different set of execs to talk about the next wave of technology and how to finance it.
Michael Kratsios, a Peter Thiel ally and U.S. deputy chief technology officer, said the discussion will include "ways we can expand geographical diversity in venture investment, so that as the tech economy grows communities nationwide can benefit."
Trump will get demos of how drone technology and 5G can be integrated into cities.
Guest list: While a number of high-profile VCs declined to attend, investors from 500 Startups, Mohr Davidow, Revolution and Lightspeed Ventures are among the guests. Companies represented include household names like Honeywell and AT&T along with smaller companies like Airmap and Kespry. David has the rundown.
https://www.axios.com/newsletters/axios-login-ef9b7bfc-c596-4792-a3e5-25b03438066a.html?chunk=5#story5
Take note
On tap: Trump meets with tech startups and investors at the White House (see above)
Trading places: Former Facebook executive John Lagerling is joining Japanese unicorn Mercari as the consumer marketplace's chief business officer...Benchmark's Bill Gurley is leaving the Uber board, to be replaced by colleague Matt Cohler.
ICYMI: Remember that record $100 million fine the FCC proposed slapping on AT&T a while back? It's all but dead, and David explains why...The Trump administration plans to delay and then scrap a rule allowing foreign entrepreneurs to enter the U.S. to build companies...Apple is looking to convince record labels to take a smaller cut of music subscription revenue, sources told Bloomberg...Waymo is asking a judge to find Uber in contempt, saying the company has admitted it knew former executive Anthony Levandowski had taken Waymo documents before it bought his startup.
https://www.axios.com/newsletters/axios-login-ef9b7bfc-c596-4792-a3e5-25b03438066a.html?chunk=6#story6