February 17, 2022
1 big thing: Both sides gear up for tech antitrust showdown
Progressive organizations are going big on anti-monopoly messaging as the U.S. Chamber of Commerce defends Big Tech, Axios' Ashley Gold reports.
Driving the news: As the Chamber launches attacks on antitrust moves against tech's biggest firms, the group Fight Corporate Monopolies launched a new "War Room" campaign today, per an announcement shared exclusively with Axios.
Wednesday the Chamber released a report arguing that proposed antitrust bills in Congress aimed at Big Tech companies like Google, Apple, Meta and Amazon would harm American competitiveness and undermine national security. It also charges that Federal Trade Commission chair Lina Khan is hurting U.S. business.
Fight Corporate Monopolies is shifting from Big Tech to Big Everything: the group was also responsible for the Freedom from Facebook and Google campaign, which aggressively advocated for tech breakups.
Why it matters: The group is betting that blaming big corporations for economic problems across U.S. sectors, including banking, pharmaceuticals and Big Tech, will be a winning message for Democrats in the midterm elections.
"This is a make or break moment for figuring out the right way to not just tell voters which side you're on, but to actually move aggressively to show them whose side you're on," said Sarah Miller, executive director of Fight Corporate Monopolies, and executive director and founder of the American Economic Liberties Project.
Details: Fight Corporate Monopolies is launching a rapid response campaign and a six-figure public opinion research effort, along with preliminary poll results testing sentiment on the power of big corporations.
Helen Brosnan, a Democratic politics veteran who worked on Elizabeth Warren's presidential campaign and for the Justice Democrats, will be executive director of the effort.
What they're saying: Brosnan said candidates who campaign on economics win: "We like to say, 'It's corporate greed, stupid!' We know that 'It's the economy, stupid!' worked in the 1990s."
By the numbers: Preliminary results from the group's first poll conclude that Americans think big corporations harm the economy.
In a poll of 2,401 U.S. adults, conducted by data firm Grow Progress, 58% agreed with the sentence that "Big corporations hurt Americans."
87% of those polled agreed with the notion that "Big corporations have too much power." And 75% of 1,006 respondents agreed that elected officials can and should be responsible for "reining in" that power.
The big picture: Big Tech has an ally in the Chamber of Commerce, which spent $65 million on lobbying in 2021. Executives from Facebook and Microsoft are on the Chamber's board of directors. Google often works with the Chamber.
Context: Congress has yet to pass any major antitrust legislation, although some bills have passed through committee.
2. Meta reorganizes to go on PR offense
Facebook parent Meta is reorganizing its communications and public affairs team to combat an onslaught of negative press and try to repair its reputation, Axios' Sara Fischer reports.
Why it matters: The new structure, according to internal memos obtained by Axios, gives communications and public affairs executives more power across the organization to respond to public relations crises.
Details: In an internal note to employees posted Monday, Nick Clegg — Facebook's newly promoted president of global affairs — said the communications team will be restructured to be more "cross-functional ... to make sure our product and innovation story is heard loud and clear by the audiences we need to reach."
The team will be led by David Ginsberg, a senior product executive who's been with Facebook since 2017. Ginsberg's new title will be VP and global head of communications and public affairs, and he will report to Clegg.
Be smart: In a different staff memo posted Monday, Ginsberg said the new team will be renamed "Communications and Public Affairs" and will focus not just on adopting a new communications structure but also on getting employees and external stakeholders more excited about the metaverse.
Catch up quick: Prior to his new role, Ginsberg led the company's Choice and Competition Team (CCT), a unit responsible for developing product innovations in response to new regulations. He also served as a senior research executive.
The big picture: The new structure gives Clegg full responsibility for making policy decisions on behalf of the company, absolving CEO Mark Zuckerberg from that duty on a day-to-day basis.
Microsoft made a similar move in 2015, when it promoted its general counsel and chief legal officer Brad Smith to president, effectively shifting all public policy responsibilities away from CEO Satya Nadella, The Information notes.
3. Measuring the jumps in Beijing
When Nathan Chen made his medal-winning jumps in team figure skating, viewers around the world knew exactly how high he was flying. That was thanks to new technology from Omega, which uses AI to break down each element of the skater's performance.
Why it matters: New technology helps athletes, judges and fans better understand the fast-paced action of the Olympics.
How it works: Omega placed six cameras around Beijing's Capital Indoor Stadium, where the figure skating competition is taking place.
AI is used to home in on the skater, identify the jumps and measure the height and duration of each one.
The technology also generates heat maps, showing where athletes spent the most time during their performance.
Meanwhile, the same cameras are used in speed skating to help determine which skater prompted a false start.
The big picture: As official timekeeper for the Olympics, Omega is responsible for the timing and measurement of all of the events and also for providing an array of data to athletes and broadcasters.
The Winter Olympics is a smaller affair than the Summer Games with fewer events. For Omega, that meant sending 300 timekeepers and 200 tons of equipment to Beijing, compared to 530 timekeepers and 400 tons of equipment for Tokyo.
While cameras alone are used to measure the jumps in figure skating, other sports use positioning systems and sensors placed directly on the athlete. That, for example, is how Omega measures the height of the tricks being done by snowboarders.
Go deeper: The tech that measures Olympic greatness
4. Take note
Trading Places
Filling the vacancies left when Eric Lander resigned, President Biden on Wednesday named recently retired NIH head Francis Collins to be his top science adviser, while Alondra Nelson will serve as head of the White House Office of Science and Technology Policy.
Jodi Seth, who handled policy communications for Amazon, is joining Lyft as senior director of corporate and policy communications, reporting to VP of Communications Dominic Carr.
ICYMI
Twitter's new CEO Parag Agrawal will soon take "a few weeks" of paternity leave, in a sign of Silicon Valley's evolving norms around parental leave. (Axios)
The U.S. intelligence community warned Wednesday that Russia-sponsored hackers have repeatedly attempted to infiltrate computer networks belonging to Defense Department contractors. (Axios)
5. After you Login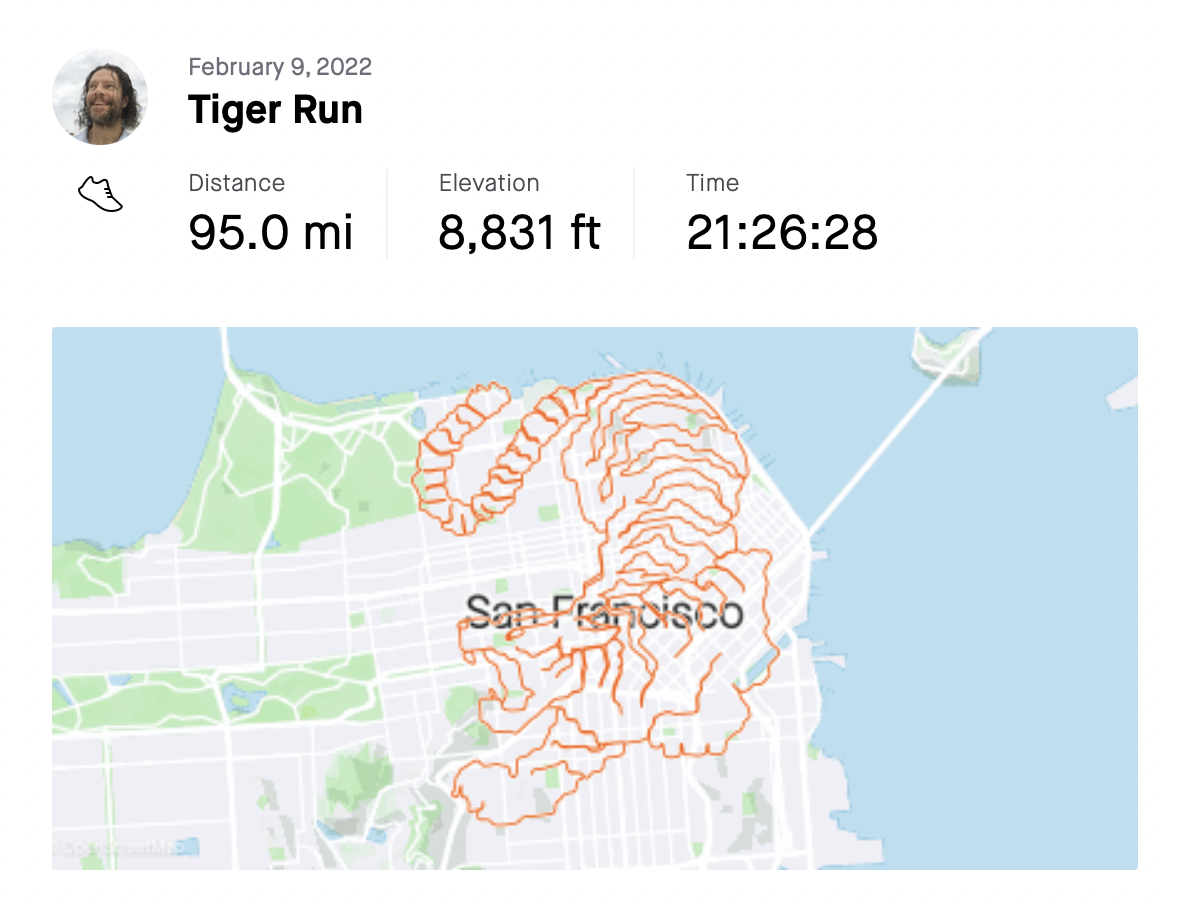 Runner Lenny Maughan, known for using Strava to create art from his workouts, traversed 95 miles around San Francisco to create this tiger image.