Lots of stuff on a variety of fronts today, so let's get to it.
https://www.axios.com/newsletters/axios-login-dad48642-f5b1-4fcb-ad73-33d5e464e22e.html?chunk=0#story0
Twitter still has a verifiable problem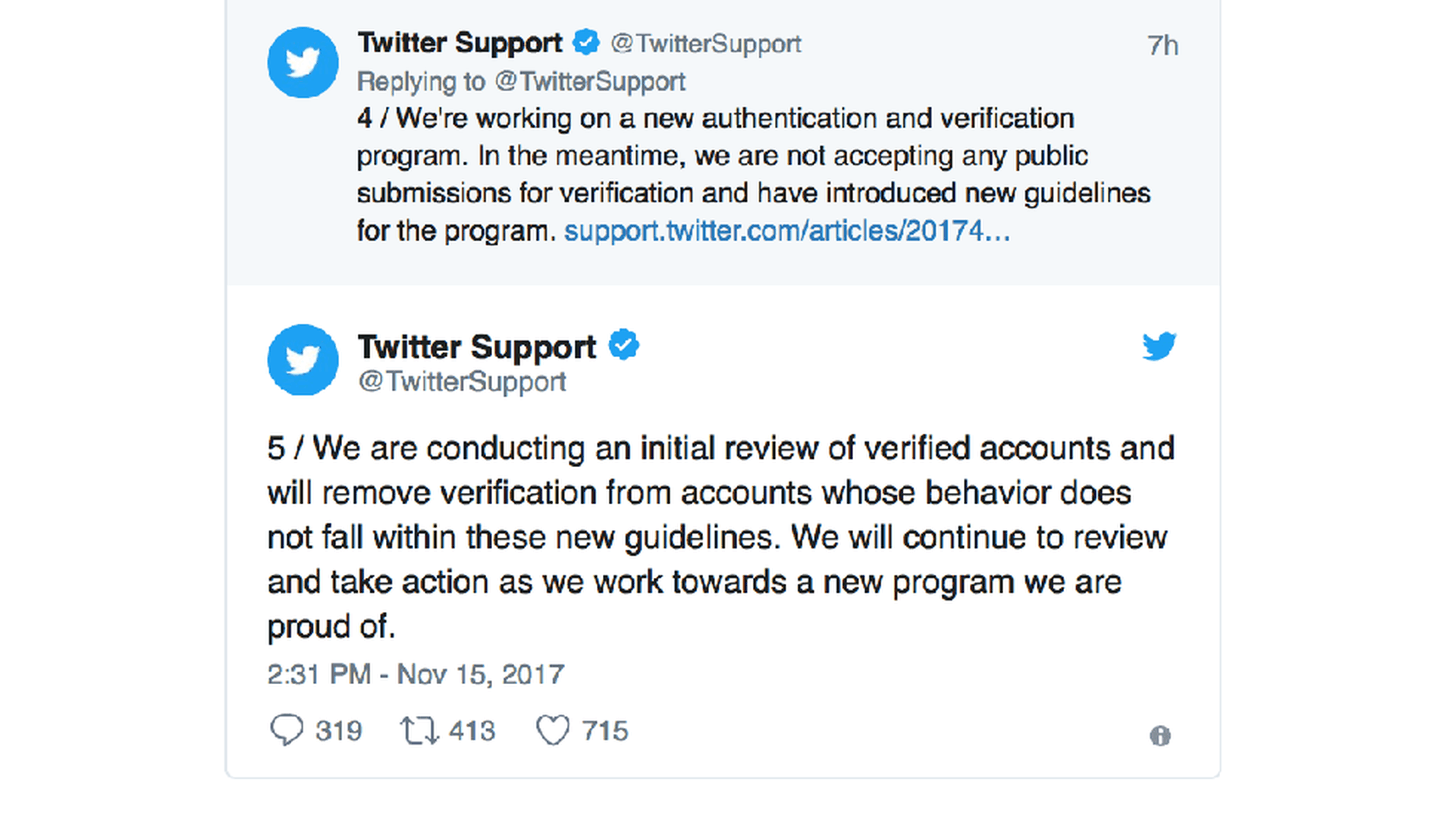 Twitter rolled out a series of changes on Wednesday to its verified accounts program aimed at addressing who is eligible to get the coveted blue checkmark.
Under the revised guidelines, Twitter says it reserves the right to revoke the verified status of any individual, but specifically calls out certain criteria that could lead to a loss of verification.
Included in that is not only the direct harassment or promotion of violence but also being a member of a group that promotes hate, violence or direct harassment of individuals based on their race, gender, gender identity, sexual orientation or other criteria.
Twitter also moved to revoke the verified status of a number of prominent far-right and right supremacists, including Richard Spencer and Jason Kessler, organizer of the Charlottesville rally. This resulted in predictable outrage from those impacted, as well as their supporters.
But it also led to criticism that Twitter wasn't solving the problem it had originally identified. When it first said last week it was pausing its verification program, it noted that the verification of a prominent user's identity had come to be seen as an endorsement.
Wednesday's actions might please those that don't appreciate seeing the blue checkmark adorn the posts of white supremacists, but it doesn't appear to solve the confusion over what verified status is supposed to mean.
Why you'll hear about this again: Twitter hinted more changes are coming. "We will continue to review and take action as we work towards a new program we are proud of," the company said.
https://www.axios.com/newsletters/axios-login-dad48642-f5b1-4fcb-ad73-33d5e464e22e.html?chunk=1#story1
Apple and Google top list of companies avoiding conflict minerals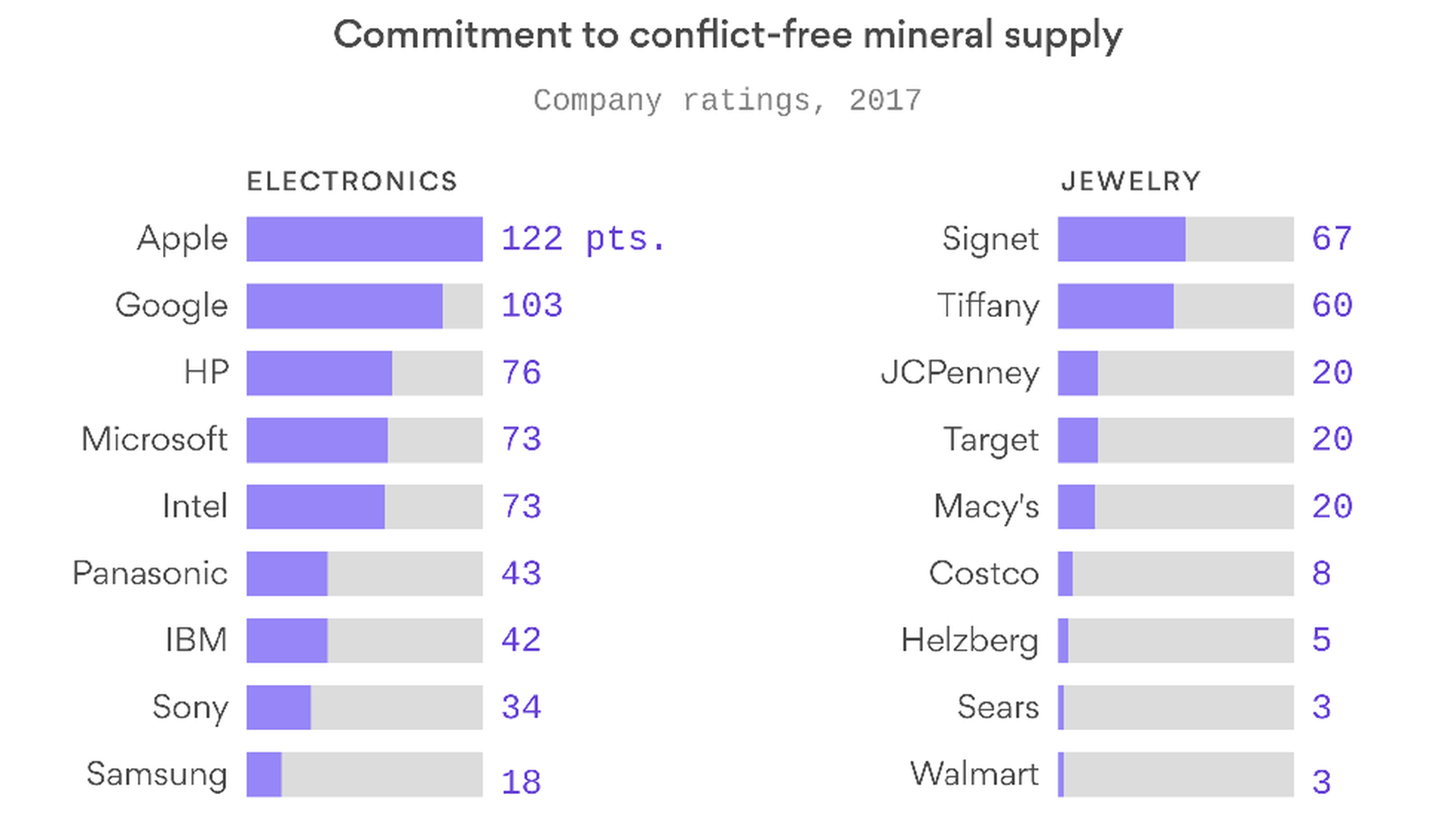 Advocacy group Enough ranks tech and jewelry companies on their use of conflict minerals — things like gold, tin, tungsten and tantalum that are mined in violence-torn parts of the Congo.
Tech giants Apple, Google, Microsoft and HP were at the top of the group's list as taking actions to avoid using conflict materials, while retailers like Costco, Sears, Nieman-Marcus and Walmart were at the bottom.
Not all tech companies good: While the leaders were all big names in tech, a number of companies got low marks, including Samsung and Toshiba.
Not all retailers bad: Similarly, while the lowest marks went to companies that sell jewelry, some such companies got higher scores, including Signet and Tiffany & Co.
https://www.axios.com/newsletters/axios-login-dad48642-f5b1-4fcb-ad73-33d5e464e22e.html?chunk=2#story2
Here are 21 job titles from the future
Job opportunities for truck drivers and cashiers may be dimming, but there are a range of entirely new jobs being created. Professional services firm Cognizant published a report outlining some of those potential new employment opportunities.
Within the next 5 years:
Data Detective
Bring Your Own IT Facilitator
Ethical Sourcing Manager
AI Business Development Manager
Master of Edge Computing
Walker/Talker
Fitness Commitment Counselor
AI-Assisted Health Care Technician
Cyber City Analyst
Genomic Portfolio Director
Man-Machine Teaming Manager
Financial Wellness Coach
Digital Tailor
Chief Trust Officer
Quantum Machine Learning Analyst
Within the next 10 years:Virtual Store Sherpa Personal Data Broker Personal Memory Curator 4Augmented Reality Journey Builder Highway Controller Genetic Diversity Officer
https://www.axios.com/newsletters/axios-login-dad48642-f5b1-4fcb-ad73-33d5e464e22e.html?chunk=3#story3
FCC considers limits on subsidized web and phone access
The Federal Communications Commission will decide Thursday whether to move forward with an effort to cap the amount it spends on subsides for phone and internet service for low-income people, and other changes to the Lifeline program.
Why it matters: There were more than 12 million subscribers to the service as of 2016.
The details: FCC chairman Ajit Pai's proposal includes putting a cap on the program's spending, but does not specify how high it would be, Axios' David McCabe reports. Advocates who support the way the program operates now are especially worried about another proposal from Pai, which would restrict participation in the program to "facilities-based" providers — meaning companies that own rather than rent their network infrastructure.
The commission argues that this will encourage the buildout of networks for low-income people and drive costs down. Advocates for the status quo say it's a bridge too far. "This is heartless," says Jessica Gonzalez of the advocacy group Free Press, adding that the vast majority of people get their Lifeline service through providers who wouldn't be allowed under Pai's proposal. It's also been criticized by head of the conservative Free State Foundation.
While both the cap and the broad new requirements for providers are part of a proposal that will require public comment before it can be voted on again and take effect, commissioners will vote tomorrow on whether to immediately make it impossible for companies that lease their networks to get a higher subsidy offered on tribal lands.
The bigger picture: The Lifeline program is the object of political controversy, with conservatives branding it derisively as "Obamaphone" during the last administration.
Pai has long argued waste and fraud are too common in the program but others say that earlier reforms have significantly addressed those issues.
The chairman has also faced questions about how his efforts to limit Lifeline square with the push for expanded broadband access he has made his signature issue.
What's next? Commissioners will vote Thursday only on whether to officially consider the cap and other controversial elements of Pai's plan. The public will then have a chance to comment on the ideas. Another vote is required to make the changes.
Separately: Pai is reportedly aiming for a December vote on effort to repeal Obama-era net neutrality rules.
https://www.axios.com/newsletters/axios-login-dad48642-f5b1-4fcb-ad73-33d5e464e22e.html?chunk=4#story4
Mobile quiz apps are the latest craze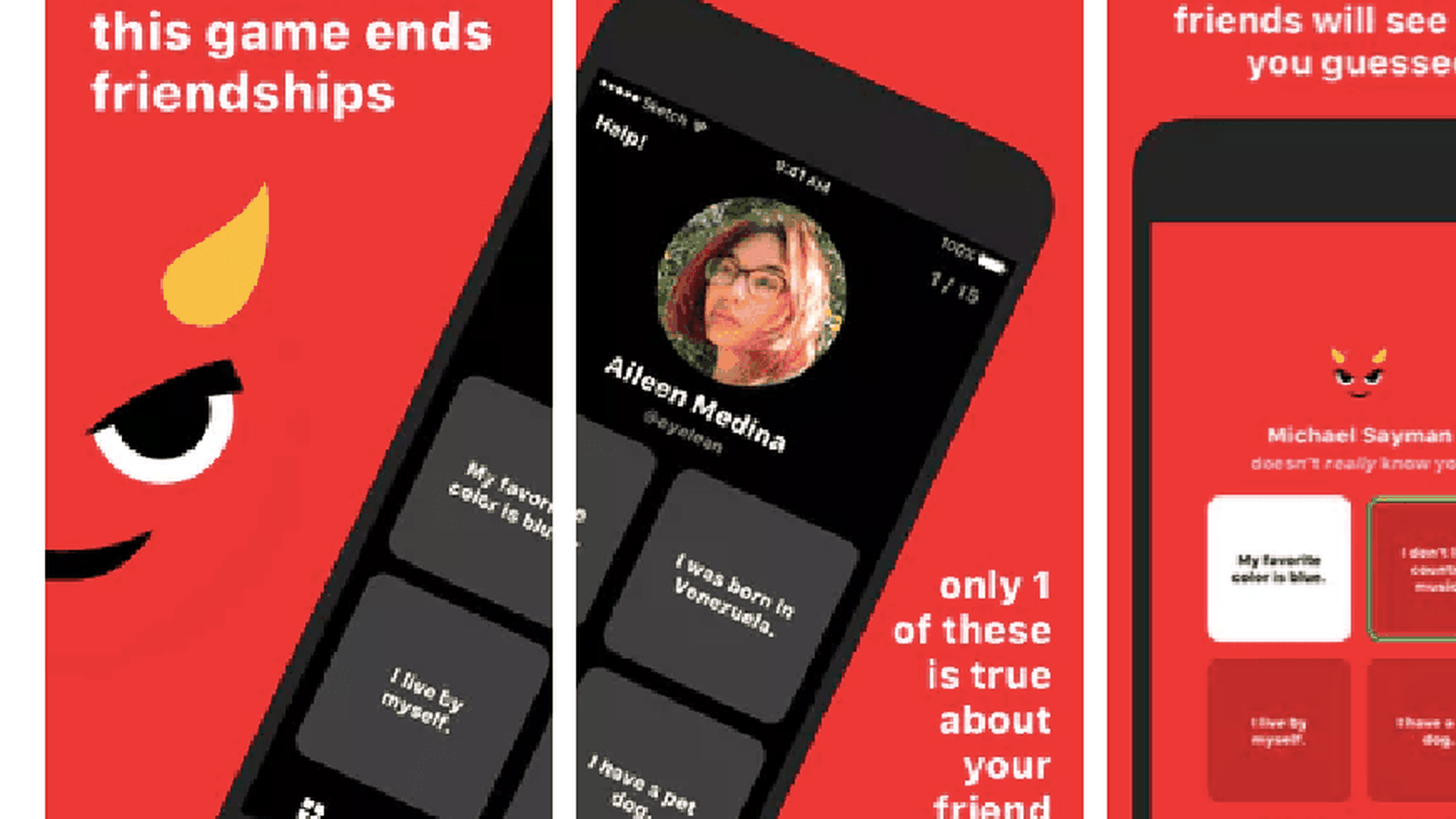 Once known as "Facebook's youngest employee," 21-year-old Michael Sayman, who recently joined rival Google, yesterday released a new mobile trivia app called Lies.
Why it matters: Lies is the latest in a recent trend of question-based mobile social apps to quickly rise in popularity. Just last month, Facebook acquired a similar app, tbh, while two of Vine's co-founders say they found recent success with trivia game show app HQ.
The trend:
tbh: An app for creating polls and sending others compliments. Facebook acquired the app, which quickly became popular among teens, just weeks after its debut.
HQ: Created by two Vine co-founders, HQ is a daily trivia show via its mobile app. Players can win cash prizes.
Polly: An app for creating and answering fun polls. The app got its start by taking advantage of Snapchat as a channel for growth, though it now has a standalone mobile app as well.
Sarahah: The Saudi Arabian-based app debuted earlier this year and lets users send comments or questions to others anonymously. Like other anonymous apps, it has to be careful to fight off potential abuse and bullying.
https://www.axios.com/newsletters/axios-login-dad48642-f5b1-4fcb-ad73-33d5e464e22e.html?chunk=5#story5
Take note
On tap: The FCC has its monthly open meeting (see above)...Tesla is set to talk more about its self-driving truck plans.
ICYMI: Cisco beat earnings estimates, with quarterly revenue inching upward from the prior quarter after several straight quarters of sequential declines, per BI...Recode reports that Amazon has been privately blaming the U.S. Postal Service for delivery problems that led it to scale back its Amazon Fresh grocery delivery service in some areas...A second lawsuit has been filed against blockchain-based project Tezos over its recent initial coin offering.
https://www.axios.com/newsletters/axios-login-dad48642-f5b1-4fcb-ad73-33d5e464e22e.html?chunk=6#story6