If you can't wait for Login each morning, fret not. We have a steady stream of tech news throughout the day at axios.com/technology.
So cool, and yet so impractical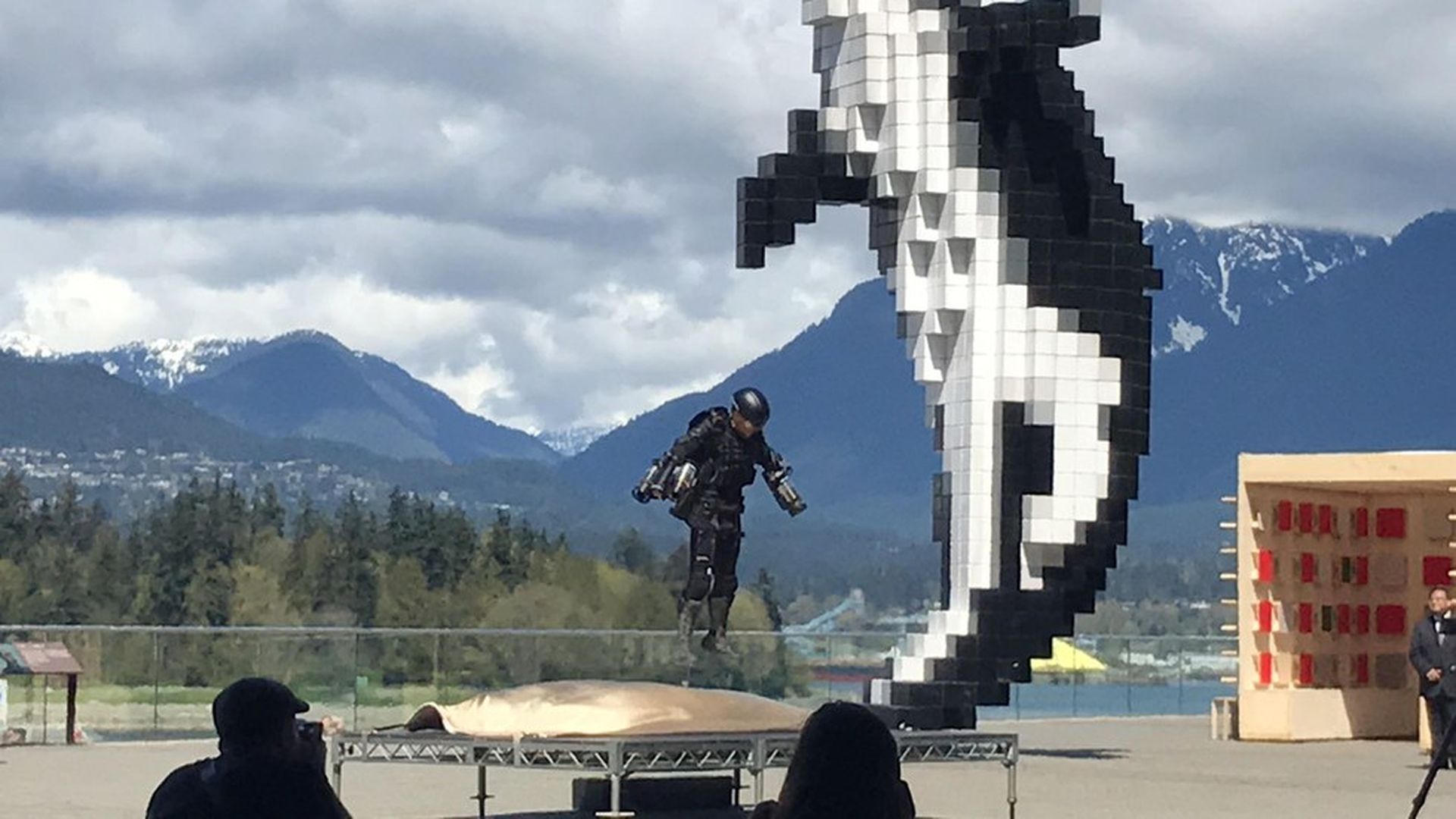 Flying cars, jet packs and an autonomous rolling robot were just a few of the technologies that make a splash at TED this week. They all had quite the cool factor and drew plenty of "oohs" and "aahs," but that wasn't the only thing they shared in common.
They are also all quite impractical, at least for now. The flying cars from Kitty Hawk, for example, are currently limited to flying short distances at low altitude over fresh water. Gravity's jet packs, shown off on the TED stage and demonstrated outside the conference on Thursday, do put the passenger in air, but only for seconds at a time. Not exactly Iron Man territory yet. (There's video here if you want to see it.)
Meanwhile, Gita, a robot that carries your stuff, is ready to roll, but not ready to roll off the production line. The company hopes to have a version for businesses next year, while a consumer model is unlikely to be feasible until 2019.
Chambers and Doerr zero in on startup policy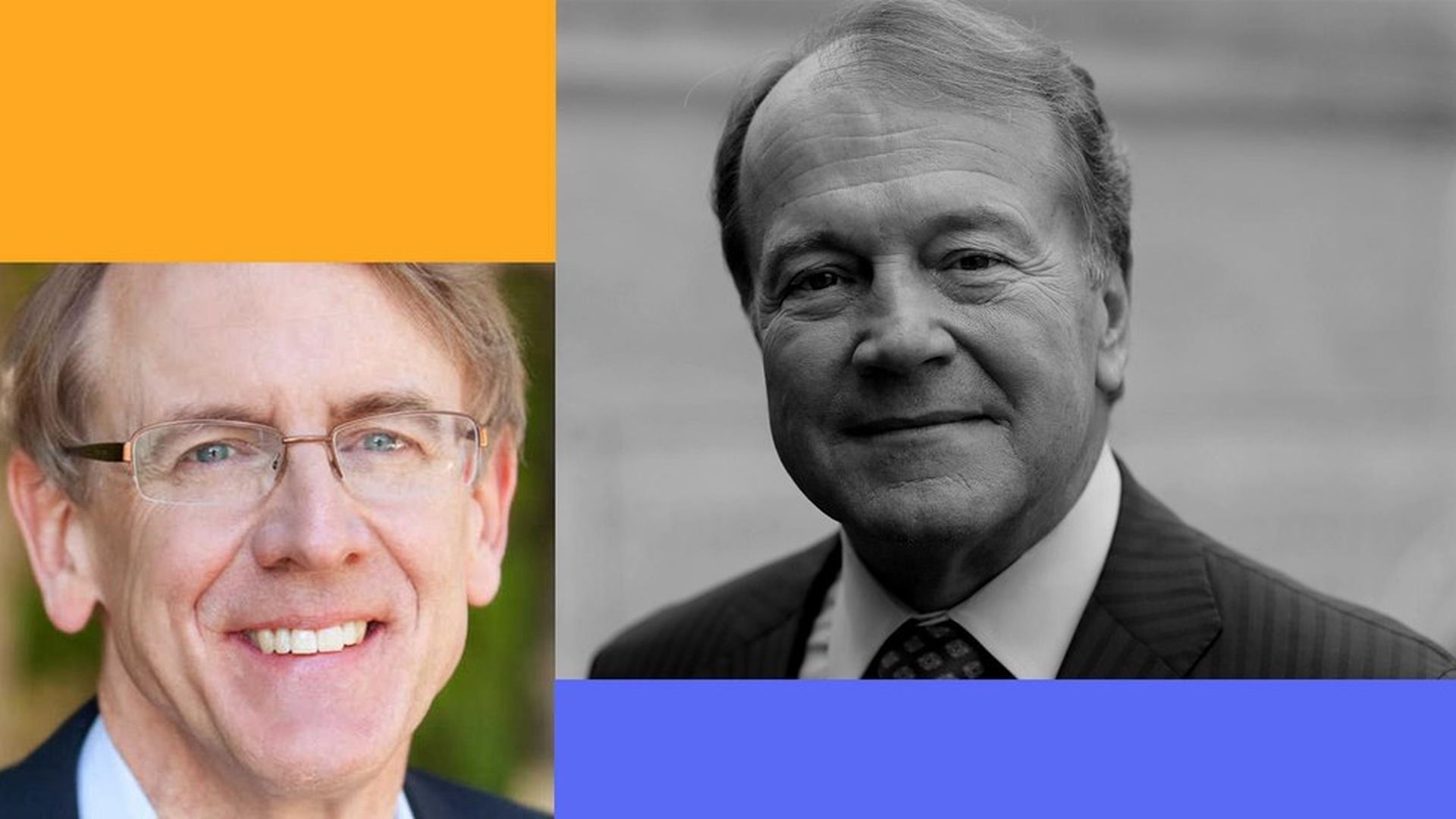 Cisco's John Chambers and Kleiner Perkins' John Doerr are in D.C. this week to push the case for how the government can help spur startup growth. The pair have meetings at both Capitol Hill and at the White House to make their case for the important role startups play in driving almost all incremental job growth.
They met with Kim Thursday, before a full day of meetings. Here are some key quotes.
Chambers: "This is a wake up call for us. Other countries are all looking at innovation, startups, and moving at a speed that we're just not moving. We're going from the country that led to the country that's a slow follower.... I talk to 2,000 - 3,000 startups a month around the world. They've moving with a speed I've not seen before. We need to get this engine going. We can do a million incremental jobs (a year) in America by just focusing on startups."
Doerr: "For a long time we've been arguing we should staple a green card to the diploma of every foreign national who gets an advanced degree in science or technology because that generates startups and generates jobs. I think we can have a more effective environment for startups across the country."
And when it comes to creating jobs, they're optimistic that President Donald Trump's proposal to slash the corporate tax rate from 35% to 15% will help. "Lowering the tax rate, finding ways to bring back tax dollars trapped overseas, that is pretty fundamental — we can use that capital to create more jobs," Doerr said.
For more on their take on Trump, here's Kim's post.
A look at why women and minorities leave tech jobs
It's already known that, as much as the tech industry has a problem recruiting women and minorities, companies also have a tough time retaining those employees.
Now, in the first national study of its kind, the Kapor Center for Social Impact looked at why women and people of color leave tech, something which the organization says costs the industry $16 billion per year.
"The study quantifies what so many anecdotal stories have implied: workplace culture is key," Kapor Center chief research officer Allison Scott told Axios. "You can spend millions on recruiting talent from various backgrounds, but if you can't design a workplace culture to retain them, tech's already-dismal diversity numbers will only get worse.
Here were several findings that stood out:
More than a quarter of all women who left their job voluntarily reported being passed over for promotion, with 27 percent saying that others took credit for their work. (That compares to 22 percent of men, for both categories.)
30 percent of women of color who left their job reported being passed over for promotion, while 17 percent said they were mistaken for someone else of the same race and gender.
As for what they would have liked from their jobs, nearly three quarters said they were looking for better pay, while more than two thirds wanted better company leadership and nearly two-thirds were looking for a promotion and better work-life balance.
LGBTQ employees were more likely to experience bullying at work than any other group.
Take Note
On Tap: Elon Musk speaks at the final day of TED.
Trading Places: Punch-out and Wii creator Genyo Takeda, a 46-year Nintendo veteran, is stepping down as a director in June...A bunch of executives will be out of a job once Verizon buys the assets of Yahoo, according to a leadership structure unveiled Thursday by Tim Armstrong, who will run the combined unit.
ICYMI: Anthony Levandowski, the Uber executive at the center of a dispute with Alphabet's Waymo, is temporarily stepping aside as head of Uber's self-driving car efforts while the case plays out...Microsoft, Intel, Google and Amazon all beat earnings estimates on Thursday, but revenue at Microsoft and Intel was below what some analysts were looking for...A possible Sprint/T-Mobile tops the list of potential telecom tie-ups with the end of the FCC's ban on M&A talk last night...The FCC made the case Thursday for why the net neutrality rollback is good for Silicon Valley, pointing to the success of Google and Netflix before such rules were in place.
After you Login
So, if you were playing along yesterday, it turns out the one musical act I never saw was R.E.M., to my lasting regret and dismay. Thanks to the many, many people who sent in their guesses, and congrats to Matt Lieppe who was the first to get the right answer. The Beach Boys was the most commonly guessed answer, followed by Jars of Clay and Ugly Kid Joe.
For fun, here's where and when I saw some of the other acts.
Indigo Girls - many many times, first time was as a freshman at Miami University in 1993
Melissa Etheridge - multiple times, most recently in Oakland
Toad The Wet Sprocket - also at Miami U, 1994
Jars of Clay - at the Orange County Fair, 1996
R.E.M. - sadly, never :-(
The Beach Boys - in Berlin at age 14, my first big concert
Ugly Kid Joe - in 1995, in Amsterdam
Ani DiFranco - in 1997, in Orange County
Billy Joel & Elton John - twice, both times in San Jose, 10 years apart
Bon Jovi - earlier this year, in San Jose.
Gotta go. Off to the closing party at TED. Please let R.E.M. be the surprise music guest.