Please read slowly, this newsletter has to carry you over until we're back on Monday.
Tech trashes Trump's budget
From Silicon Valley to D.C., the tech industry expressed alarm over the Trump Administration's proposed budget, decrying deep cuts to programs including science, arts, housing and food assistance, transportation funding and public broadcasting.
One of the sharpest rebukes came from Luta Security CEO Katie Moussouris, who took to Twitter with what she told Axios was her visceral, personal reaction to hearing about Trump's budget cuts, especially for programs geared toward the poor. "My mom was a single mother scientist, paid half what men she trained were paid. She'd go without lunch so I could eat. Poverty isn't a crime," she tweeted.
Even Silicon Valley's subway system BART spoke out in a tweetstorm, saying "the President's change in policy would drastically shift funding downstream, and likely hit local users the hardest." It would also put at risk a project expanding service to Silicon Valley.
In D.C., John Holdren, who served as the director of the White House Office of Science and Technology under Obama, released a scathing statement condemning the budget and the ramifications it would have on U.S. leadership in science and technology and for business, "which depends on government services far more heavily than is generally recognized."
California Senator Dianne Feinstein called the budget an "absolute travesty for California," and freshman Senator Kamala Harris called it "disgusting" and vowed to "fight it at every step."
Joe Kennedy, senior fellow at the Information Technology and Innovation Foundation, said in a blog, "If these cuts were to be enacted, they would signal the end of the American century as a global innovation leader."
What's next: Tech is far from the only industry unnerved by the budget, but it may be among the most vocal given its outcry over other Trump policies. Since it's up to Congress to approve the preliminary budget, watch for the industry's lobbying strategy.
The pace of new iMessage apps has slowed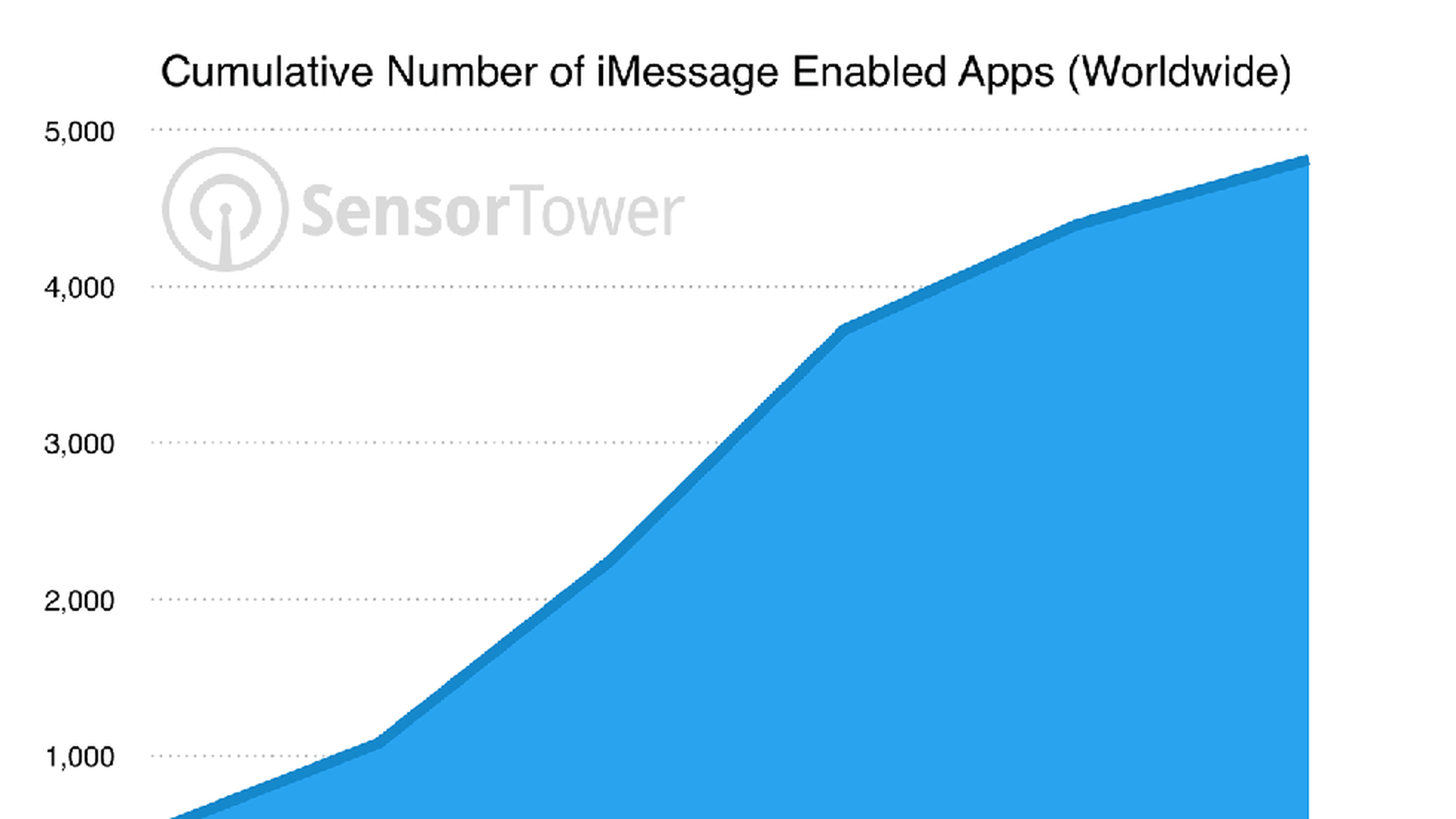 When the App Store opened to iMessage apps in September, everyone was abuzz that Apple's messaging app was the next big platform. Nearly 400 apps debuted in the first 10 days as developers jumped on the new opportunity. In October and November, the number of iMessage apps more than doubled each month, according to data from SensorTower.
And while there are now more than 5,000 iMessage apps, growth has slowed significantly over the past two months, with January showing 18 percent growth and February just 9 percent.
Now, of course, it's normal to see initial enthusiasm taper off, but it does raise questions as to just how big a deal iMessage apps will turn out to be. It will be interesting to see what Apple says at its annual WWDC developer event in June.
Not a surprise: games are the most popular category of iMessage apps, accounting for more than a quarter of the total, followed by entertainment, utilities and social networking.
Tweets of the day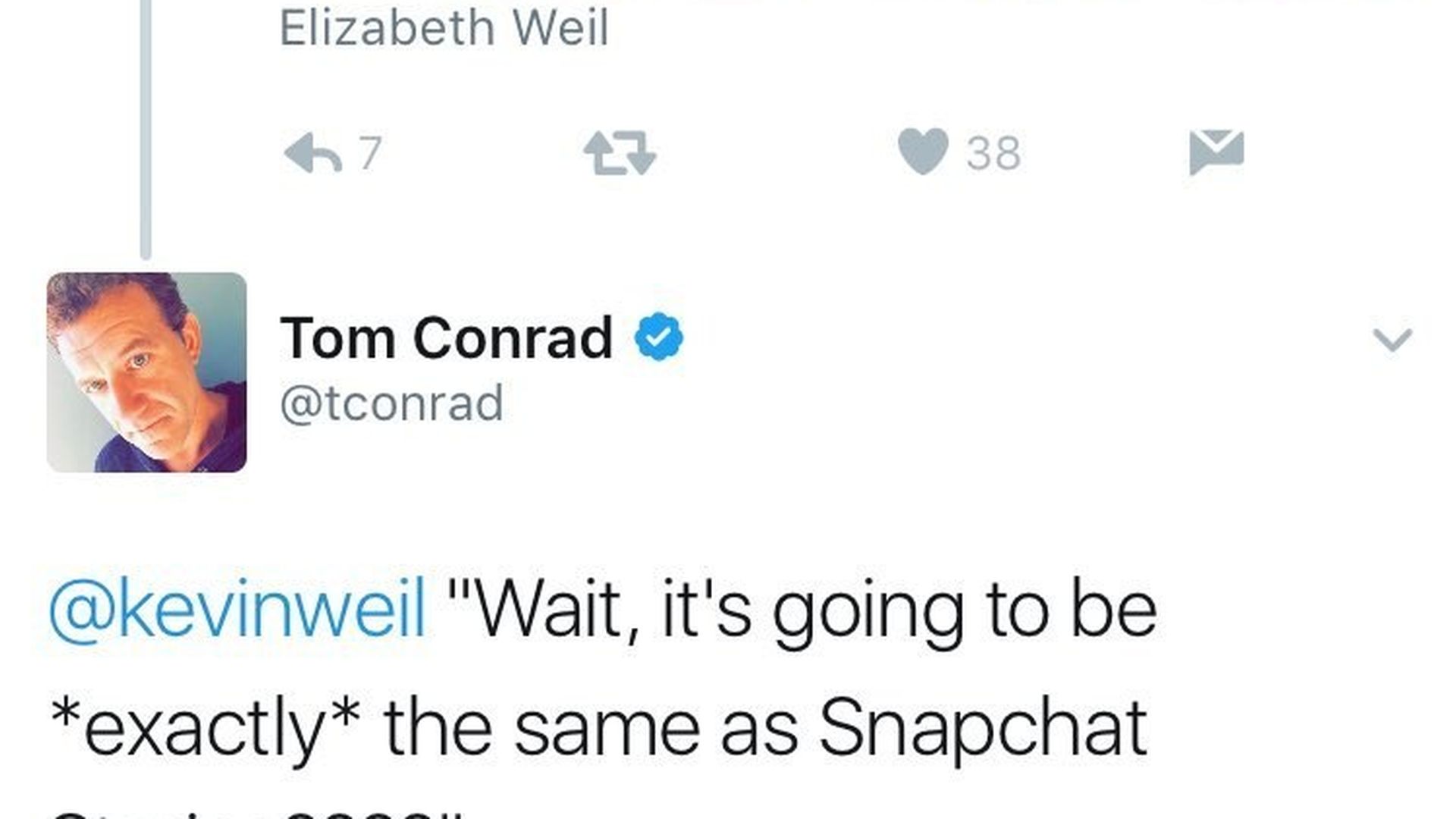 This exchange between Instagram head of product Kevin Weil and Snap VP Tom Conrad was pretty epic. Weil's picture of his twins is still there, but Conrad's sick burn of a reply has sadly been deleted. (Weil tells me the two are friends and it was all in good fun.)
Weekend read: What if bots dished out justice?
Like everyone at Axios, we here at Login are all about smart brevity. However, each Friday we will offer up a link to a longer read that's good to peruse over a long lunch or during your weekend.
David McCabe was intrigued by Mark Cuban's jarring notion that automation could make a philosophy degree soon worth more than one in law. What would an automated justice system look like?
Luckily, he found a piece Jason Koebler wrote on the subject for next month's issue of The Atlantic. He highlights trends in legal chatbots and algorithmic tools used by judges, for example. If this pans out, though, future seasons of Law & Order could be a lot less interesting.
Take Note
On Tap: Green beer.
Trading Places: Uber has hired Capitol Hill veteran Patrick Lyden, a former chief of staff to GOP Congress members Michael Fitzpatrick and Mary Fallin, to join its D.C. government relations effort....Hulu is seeking a new top content executive, according to The Information.
ICYMI: MuleSoft, the latest tech IPO, priced its stock at $17 per share. That was above its previous target range of $14 to $16 per share. The stock will begin trading on Friday.
After you Login
Looking for an entertaining way to get through the iTunes terms and conditions? (That is, if anyone actually feels the need to read it.) Here's the complete, unabridged legal agreement, drawn as a graphic novel by R. Sikoryak.
Enjoy St. Patrick's Day. See you Monday.