New in the the Axios STREAM this morning: a cool card deck on "9 Supreme Court cases that matter right now."
https://www.axios.com/newsletters/axios-am-dbfc9b21-068a-4681-8927-cb01ae5b9fcc.html?chunk=0#story0
1 big thing: Trump the arbitrator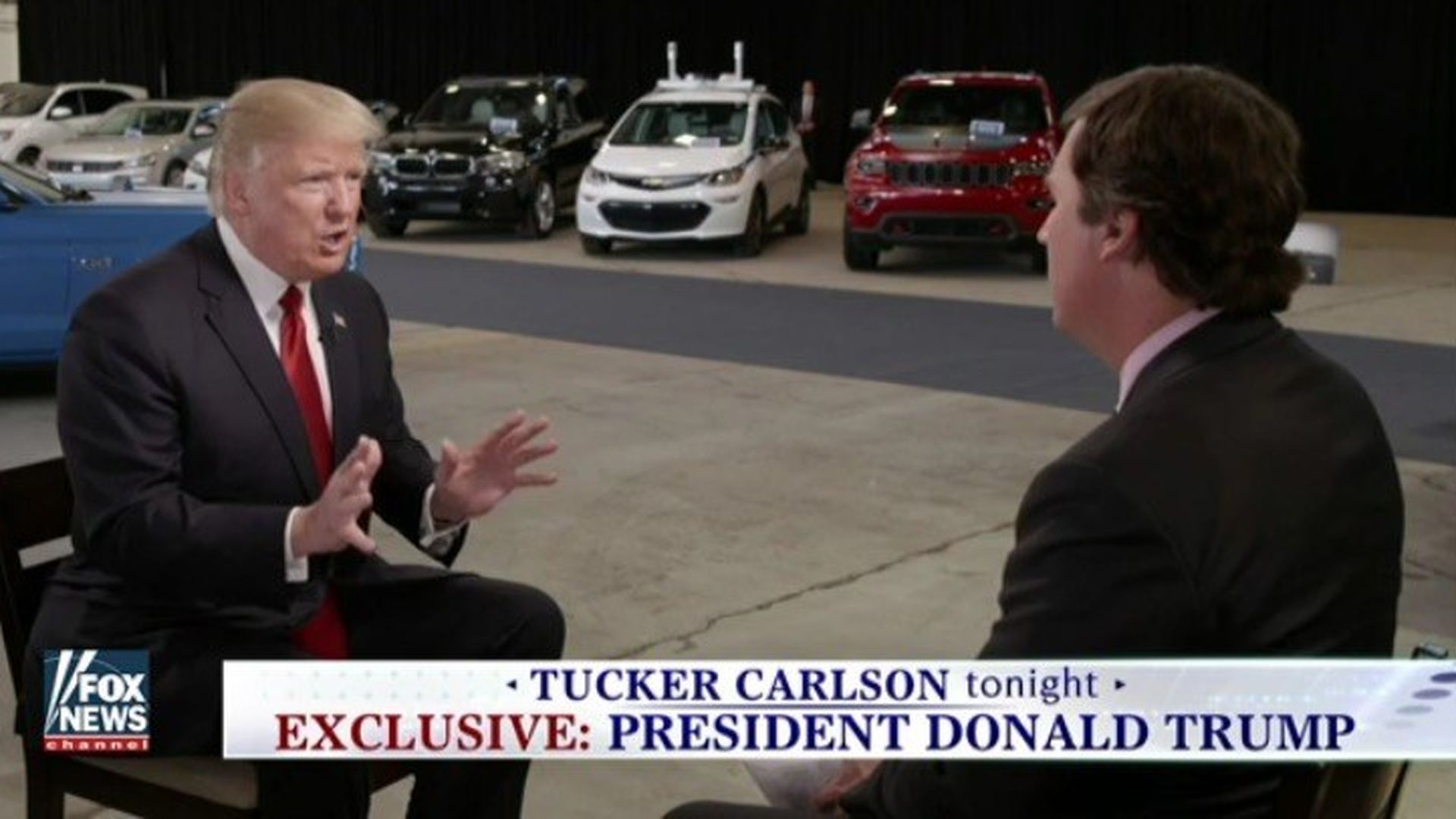 Ryancare is on its way to becoming Trumpcare. White House officials have been telling us that the repair-and-replace bill is more fluid than House leaders are portraying, and now we know what they mean.
Trump, interviewed by Fox's Tucker Carlson in Detroit yesterday, said: "It's very preliminary ... A lot of things aren't consistent [with his campaign message of helping struggling workers]. But these are going to be negotiated. We've got to go to the Senate."
Axios' Jonathan Swan pointed out that the remarks are striking because Speaker Ryan regards the package as a nearly finished product, although aides say some tweaks were always planned.
Asked about a Bloomberg analysis with the headline, "Trump's Counties Lose Out to Clinton's in GOP Health Tax Cuts," Trump replied: "We will take care of our people or I'm not signing it, OK? Just so you understand. This is very preliminary."
"I'm, in a little way, I'm an arbitrator. ... We got a lot of fighting going on."
Be smart: Trump sees and fears the rising unpopularity of the Ryan plan and will gladly accept whatever changes needed to get it through Congress — or drop the entire thing if looks like a political loser weeks or months from now.
https://www.axios.com/newsletters/axios-am-dbfc9b21-068a-4681-8927-cb01ae5b9fcc.html?chunk=1#story1
2. Trump's "hard power" budget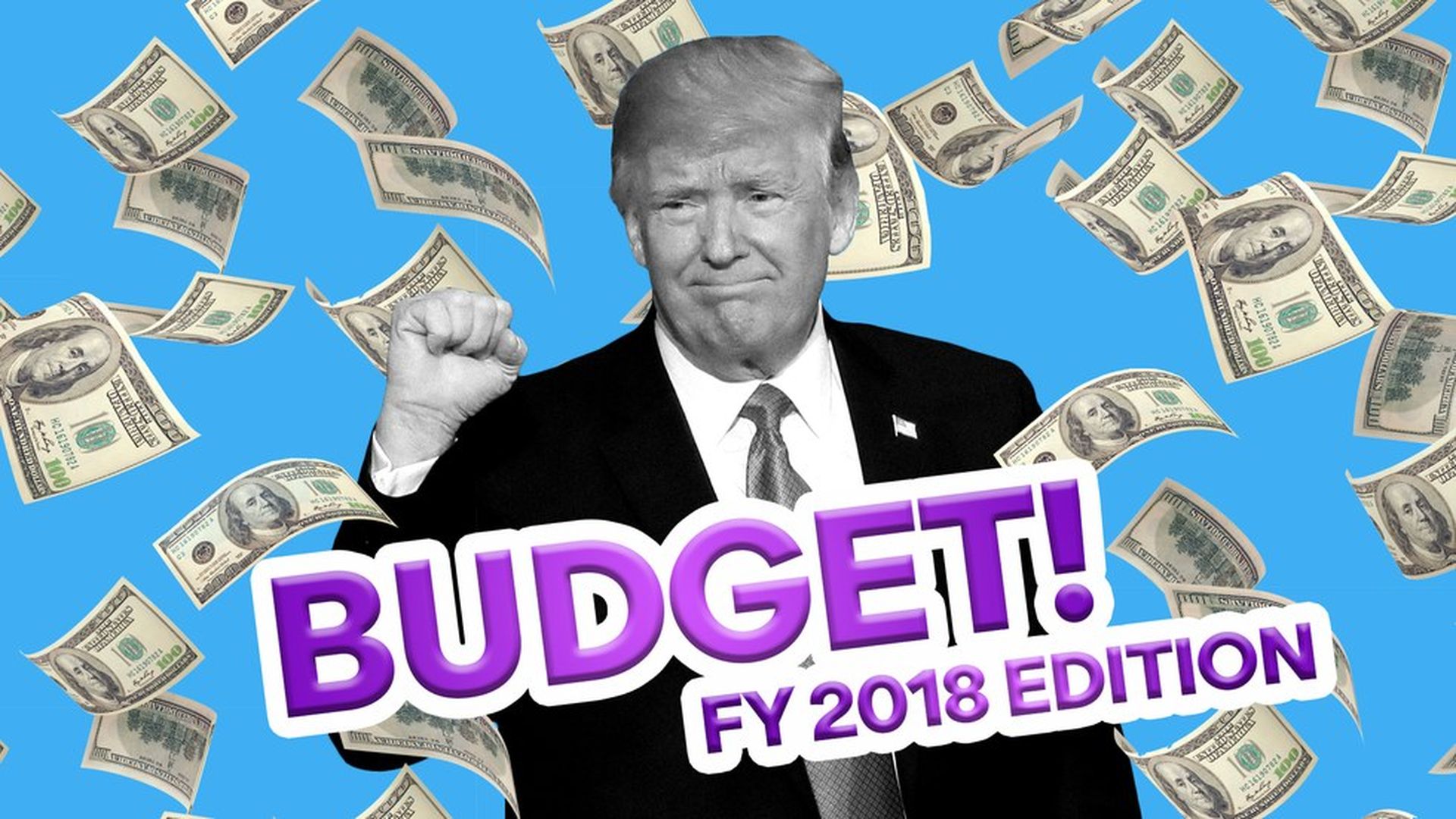 Trump's first budget proposal goes online at 7 a.m. Axios' Jonathan Swan reports it'll be heavy on defense and border security, and light on just about everything else:
Budget Director Mick Mulvaney, who briefed White House reporters yesterday, said we should expect an "America first budget" and "hard-power budget" as opposed to a "soft-power budget": Trump will bolster the Pentagon at the expense of the State Department.
Wall funding: A supplemental 2017 request will include $1.5 billion for the wall this year and $2.6 billion in the 2018 budget. Mulvaney said he didn't know how much of the wall would be built this year — but you can bet it'll end up costing vastly more than these tiny initial requests.
WashPost's Phil Rucker asked Mulvaney how he squared Trump's campaign promise to help the inner cities with plans to cut the HUD budget. Mulvaney replied that the president was going after "wasteful programs ... programs that simply don't work ... and a lot of those are in HUD."
https://www.axios.com/newsletters/axios-am-dbfc9b21-068a-4681-8927-cb01ae5b9fcc.html?chunk=2#story2
3. Budget winners, losers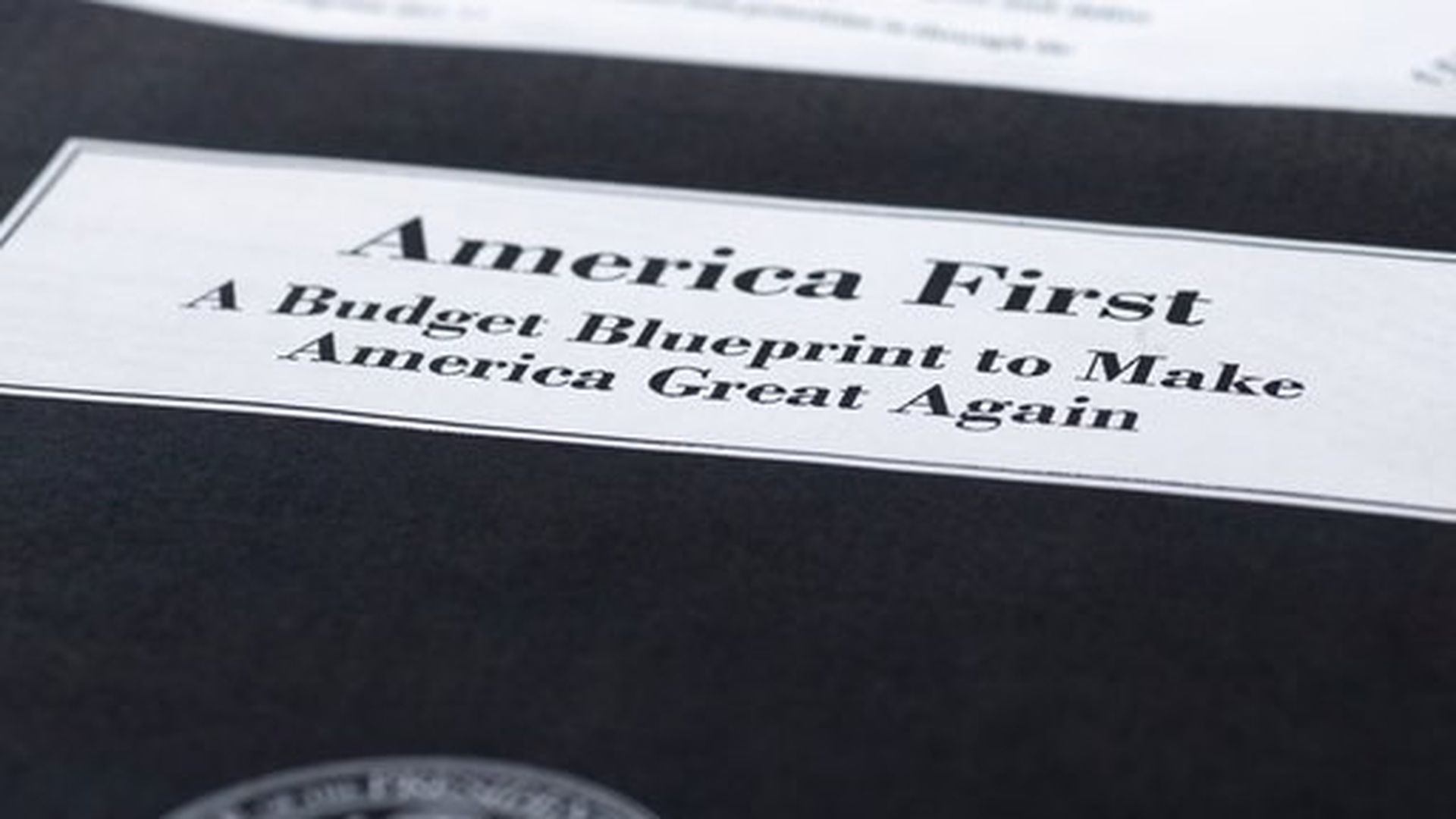 Some programs would lose everything under Trump's budget, AP's Cal Woodward points out:
"Trump proposes to eliminate money for the Corporation for Public Broadcasting, the national endowments for the arts and the humanities and more than a dozen other independent agencies" (including Appalachian Regional Commission, Chemical Safety Board, United States Institute of Peace, Corporation for National Community Service and African Development Foundation).
Winners:
Pentagon: Trump proposes a 10% increase.
Veterans Affairs: up 5.9%
Homeland Security: up 6.8%
National Nuclear Security Administration: up 11%, or $1.4 billion, so that it takes up more than half the Energy Department's budget, which would shrink overall.
Opioid prevention and treatment: a proposed $500 million increase for HHS and Justice.
School choice: $1.4 billion more to expand school choice programs, bringing spending in that area to $20 billion, even as the Education Department's overall budget would be cut by $9 billion, or 13%.
Losers:
EPA: facing a 31.4% cut, or $2.6 billion. The plan would cut 3,200 jobs at the agency.
Health and Human Services: facing the largest cut in dollar terms: $12.6 billion, or 16.2%. The plan would cut $5.8 billion from the nearly $32 billion National Institutes of Health.
State Department and U.S. Agency for International Development: down 28%, or $10 billion. Foreign aid would be reduced, as would money to the U.N. and the World Bank.
Labor Department: more than 20% cut, or $2.5 billion. To be eliminated: a $434 million program that has helped more than 1 million people 55 and older find jobs. Senior Community Service Employment Program is inefficient and unproven.
Agriculture Department: Nearly 21% cut, or $4.7 billion, achieved in part by cutting land acquisition in the National Forest System, rural water infrastructure and statistical capabilities at the department.
Transportation Department: Trump proposes a cut of nearly 13%, including Amtrak, local transit agencies, and rural communities that depend on federal subsidies to obtain scheduled airline service.
IRS: IRS budget is down about $1 billion from its height in 2010. Since then, the agency has lost more than 17,000 employees. Chances of getting audited have rarely been so low.
https://www.axios.com/newsletters/axios-am-dbfc9b21-068a-4681-8927-cb01ae5b9fcc.html?chunk=3#story3
4. The brakes ...
... on Trump migrant restrictions — Honolulu Star-Advertiser: "Trump says a federal judge in Hawaii demonstrated "unprecedented judicial overreach" when he ordered a temporary halt to Trump's revised travel ban."
"U.S. District Court Judge Derrick Watson [in Honolulu] granted the state's motion for a nationwide temporary restraining order on the revised travel ban, saying Trump's order violates the religious establishment clause of the U.S. Constitution."
... on populism in Europe — BBC: "Dutch people rejected 'the wrong kind of populism,' Prime Minister Mark Rutte ... said, as he celebrated victory in Wednesday's election. 'The Netherlands said "Whoa!"' ... [H]is party easily beat the anti-immigration Freedom party of Geert Wilders."
Why it matters: Fellow Eurozone countries France and Germany also face elections this year. The Dutch race was seen as a test of support for nationalist parties that have been gaining ground across Europe.
The reaction: "Wilders insisted 'the patriotic spring' would still happen. The euro gained as the results pointed to a clear victory for the prime minister's party."
https://www.axios.com/newsletters/axios-am-dbfc9b21-068a-4681-8927-cb01ae5b9fcc.html?chunk=4#story4
5. Futurecast: Mark Cuban on AI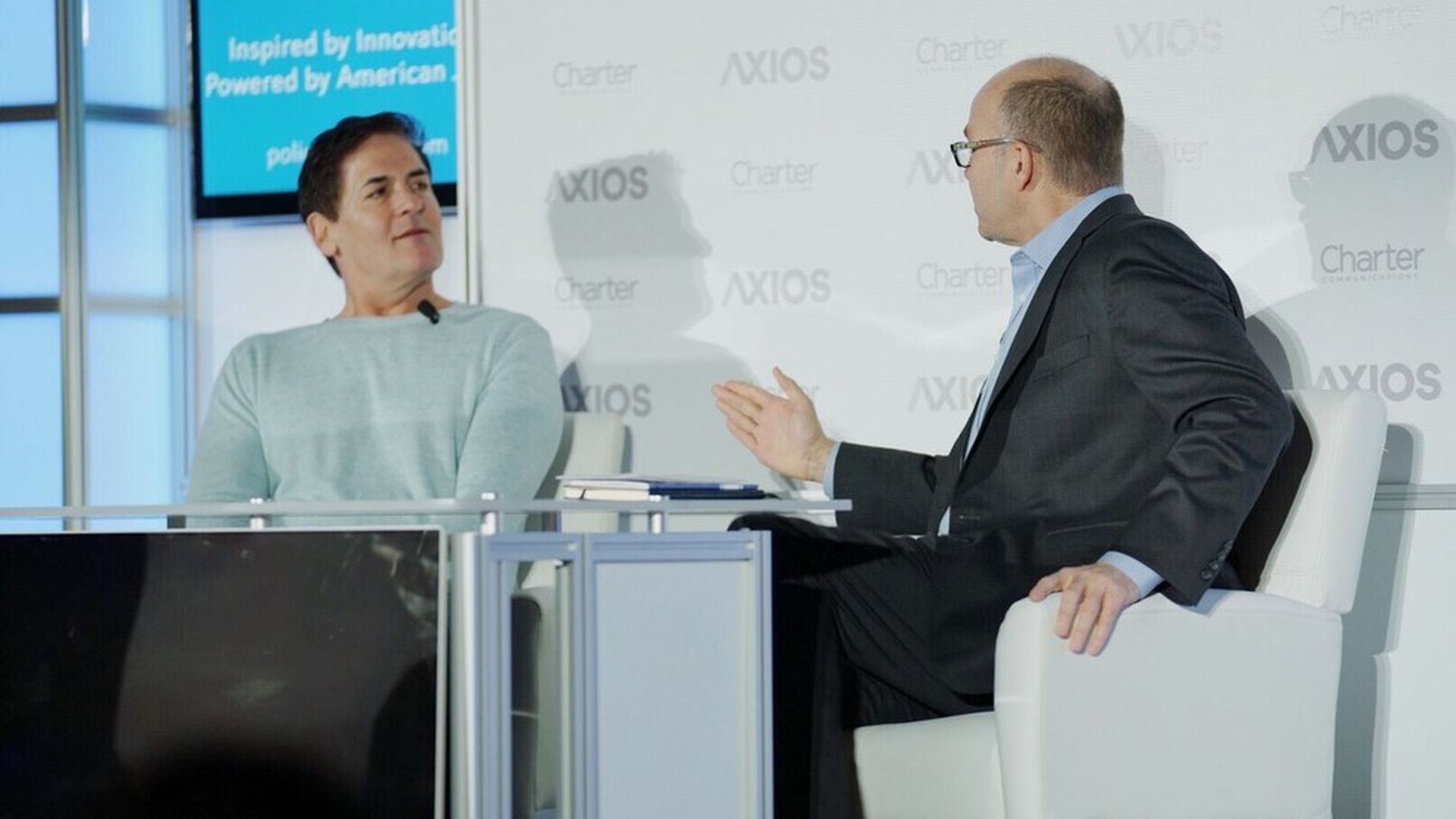 Mark Cuban — owner of the Dallas Mavericks, "Shark Tank" star and billionaire three times over — joined me yesterday for Axios' debut event, Get Connected:
On his obsession with artificial intelligence: "I've been in the technology business a long time and we went from a period where we automated ... journals and 10-key adding machines ... with spreadsheets; then we connected them into networks; and then we connected networks into the Internet. And that was over the course of 30-plus years. What we are going to see over the next 5 years will dwarf that."
"It's going to change media. It's going to change the nature of work. It's going to change what we expect from people. It's going to change the workforce. It's going to change the tax structure."
"If you work for software, you're probably going to need to start looking for a job. ... [B]eing a philosophy major, a foreign language major I think is going to be far more valuable than being an accountant or being a lawyer."
"Our president ... is saying, "OK, we're going to build new factories.' Well, those new factories aren't 1975 factories. The question we're not asking is: 'Those companies who are building factories, what's their net employment going to be in two, three, four years?' And the reality is they're going to have 30%, 40% less employees, and when you have less employees you need less real estate."
https://www.axios.com/newsletters/axios-am-dbfc9b21-068a-4681-8927-cb01ae5b9fcc.html?chunk=5#story5
6. Tops in tech: Google v. Uber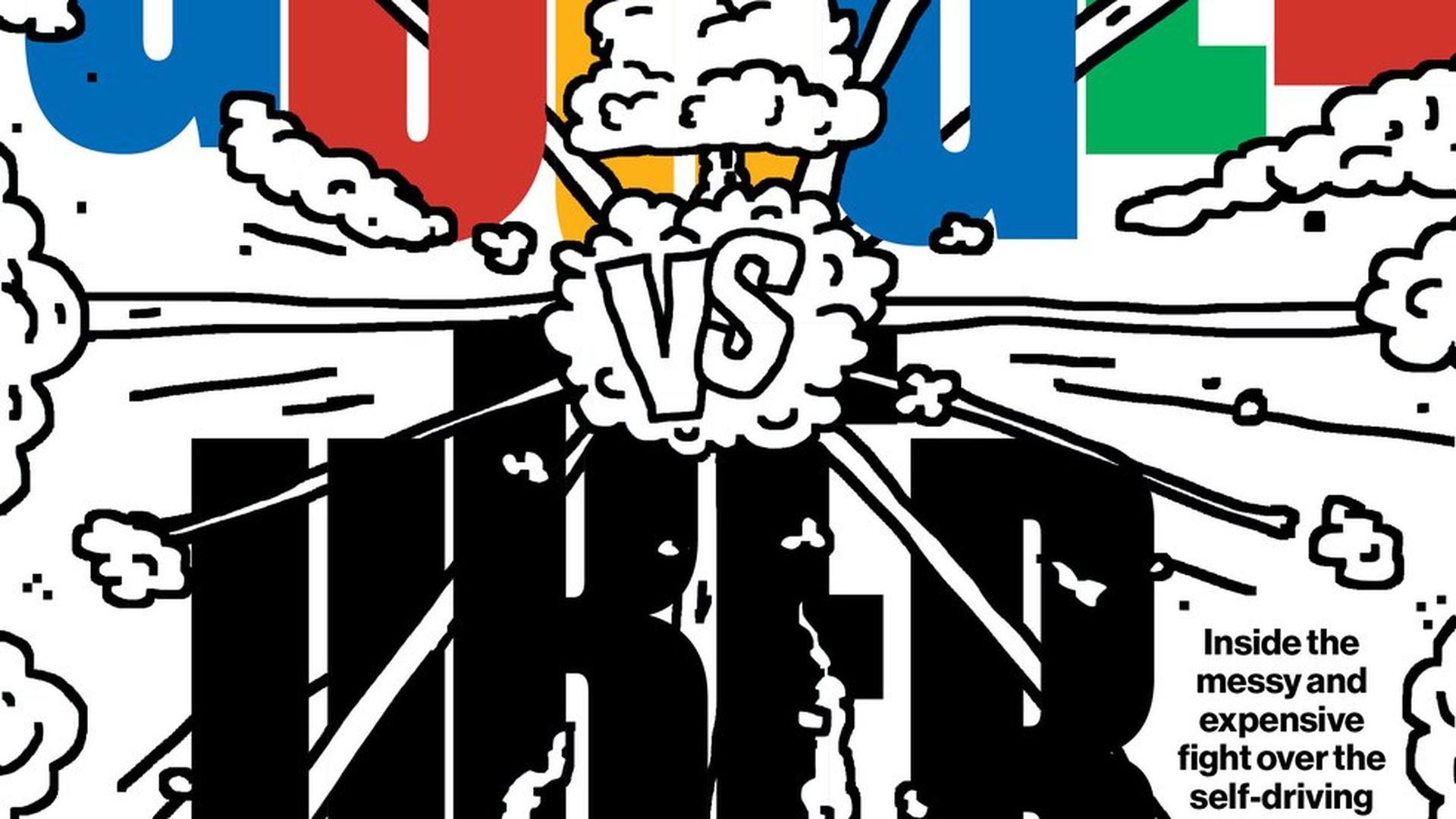 "Fury Road: Did Uber Steal the Driverless Future From Google? Inside the vicious patent fight over self-driving technology," by Bloomberg Businessweek's Max Chafkin and Mark Bergen:
"Self-driving technology has become a fixation for [Uber CEO Travis] Kalanick. Developing a driverless car, he's often said, is 'existential' to Uber. If a competitor managed to get there first, it could easily replicate Uber's core service (shuttling passengers) without its single largest cost (paying drivers)."
"At issue is a business that both companies believe will be worth hundreds of billions or even trillions of dollars a year."
"'Google is the Xerox Parc of self-driving cars,' says George Hotz, the founder of Comma.ai, another autonomous car startup. It's a backhanded compliment: Although Xerox's Palo Alto Research Center invented the modern computer operating system, it didn't bring the invention to market; Apple Inc. did."
https://www.axios.com/newsletters/axios-am-dbfc9b21-068a-4681-8927-cb01ae5b9fcc.html?chunk=6#story6
7. Breaking down the Trump rally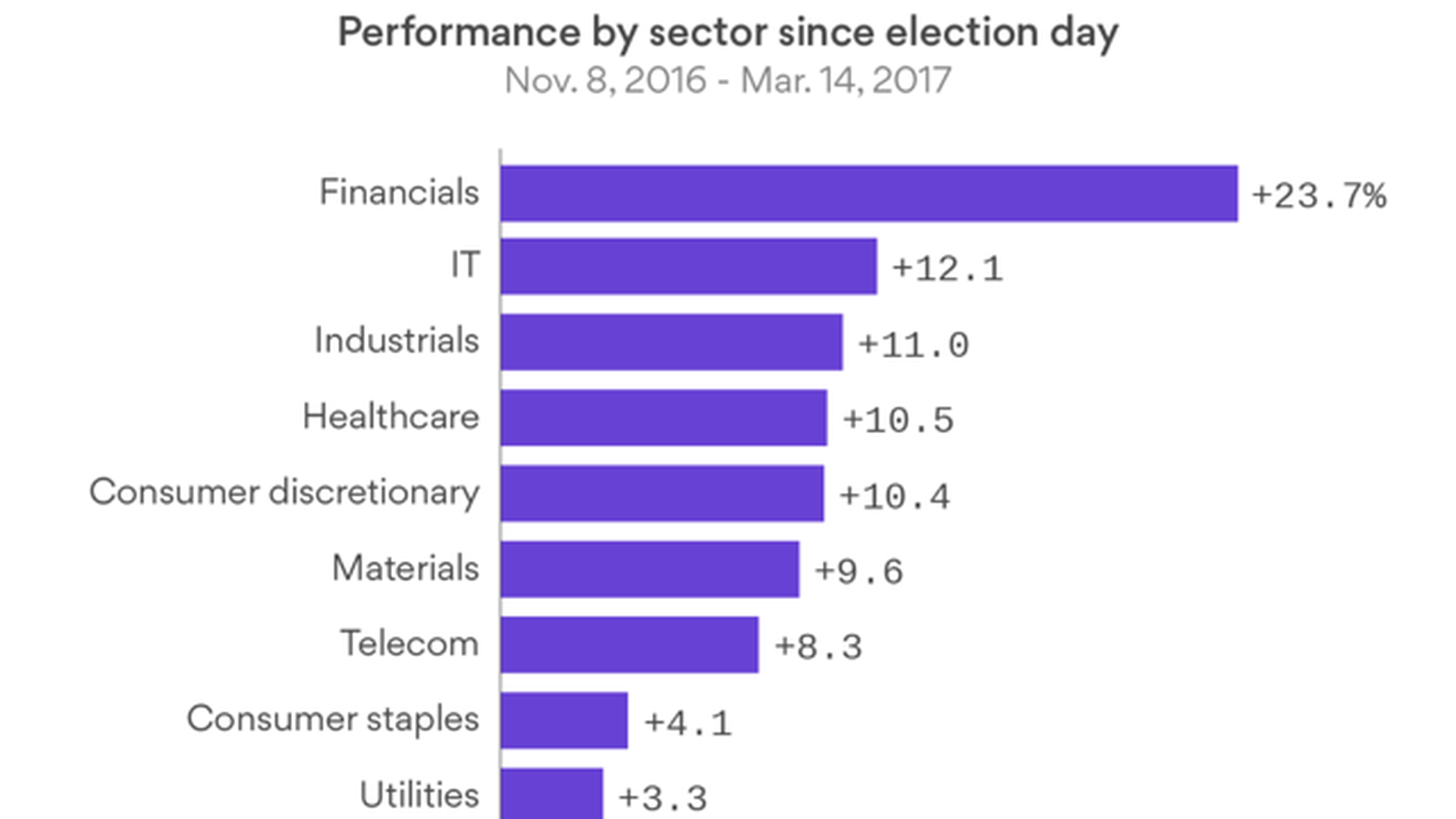 The Trump rally has been on pause for two weeks, but its run since Election Day has been record-setting, Axios' Chris Matthews writes from New York:
The "Trump trade" has been dominated by the financial service sector. Banking analyst Christopher Whalen says that's because banks have the most to gain from deregulation, in the form of a Dodd-Frank overhaul.
Research published by George Mason University's Mercatus Center this summer found income in 2012 would have been $13,000 higher per person had the federal government added no regulations between 1980 and 2011.
But, but, but ... The costs of not regulating business — like worse health and climate change — often don't show up in GDP figures.
The takeaway: Eliminating regulation is the most potent ways for government to boost economic growth, but the market may be overestimating what Trump can deliver without 60 votes in the Senate.
https://www.axios.com/newsletters/axios-am-dbfc9b21-068a-4681-8927-cb01ae5b9fcc.html?chunk=7#story7
8. Tops in media trends
"The New York Times and The Washington Post are at war, and everyone's winning," by
Poynter's Benjamin Mullin:
"As both newspapers unearth scoop after scoop and build their subscriber rolls, Americans find themselves bearing witness to … an old-fashioned newspaper war."
"The battle for supremacy has transcended daily stories … After The New York Times launched its [confidential news] tips page, … The Washington Post and a spate of competitors followed suit."
"Both newspapers are … spending more to cover the White House."
"Both newspapers are … taking a more active role in managing their public images. Faced with a president who is keen to take them down a peg at every opportunity, The Washington Post and The New York Times each took steps to emphasize their roles as sunshine-suppliers — The Post by minting a new slogan ('Democracy Dies in Darkness') and The Times by launching a branding campaign in advance of the Oscars."
https://www.axios.com/newsletters/axios-am-dbfc9b21-068a-4681-8927-cb01ae5b9fcc.html?chunk=8#story8
9. Mark Penn's Republican investment
Stagwell Media LLC, the private-equity fund formed by Mark Penn, today will announce a minority stake in Targeted Victory, the Alexandria-based GOP digital agency headed by CEO Zac Moffatt. Targeted Victory leads digital marketing and fundraising programs for Speaker Ryan and the NRSC, and served the presidential campaigns of Mitt Romney, Ted Cruz, Scott Walker and Rick Perry.
Stagwell's stable: Targeted Victory gives Penn a right-side counterpart to SKDKnickerbocker, founded by Democrats. Stagwell holdings also include the Harris poll, National Research Group, creative digital firm Code and Theory, and PMX Agency.
What it means for Targeted Victory: Moffatt says the move accelerates current expansion into companies and brands: "People underestimate D.C. No other industry moves at the speed of politics."
What it means for Stagwell: Penn told me that paired with SKDK, "Stagwell now has strong political communications capabilities on both sides of the aisle. Commercial clients have a lot to learn from the political model about how to use online communication to more effectively motivate their customers."
Medium post, "Disrupting the marketers: What Stagwell Media's investment means for us, and for the future of marketing"
https://www.axios.com/newsletters/axios-am-dbfc9b21-068a-4681-8927-cb01ae5b9fcc.html?chunk=9#story9
10. 1 fun thing: Mark Cuban on Trump
"He's Zoolander. [Laughter.] ... I'm serious. He's oblivious to everything. He reminds me of the coddled athletes that we have to deal with."
On whether Trump is beatable in 2020: "Yeah, of course. Right? Look, I'm a libertarian at heart ... I like some of his tax code, I like the fact he's trying to reduce bureaucracy. I like the fact that at least he puts in an executive order he wants to minimize lobbying and its impacts."
"This is a guy who called me on the phone and said we were the Bobbsey Twins. 'Oh, you're just like me, Mark. We're the Bobbsey Twins.' That's what he said. How scary is that? But the reality is 90% of the people who voted for him think he's doing a great job."
"I swear he takes naps all day ... He gets done work at 7, 8 o'clock so he can go watch 'O'Reilly' and 'Hannity,' whatever, and sit on the couch after eating a day of Kentucky Fried Chicken, a steak, and McDonald's. You turn on the shows. What's the first thing you do? You fall asleep."
On whether he's thinking about running: "Yeah ... I mean, there's no rush ... [I]t's only 60 days in, and there's still the opportunity that he will do a great job. ... I want him to succeed."