Axios Login
February 21, 2019
D.C. readers: Join Axios' Mike Allen and Evan Ryan tomorrow at 8:30am for our next News Shapers event.
They'll sit down with Gov. Kate Brown and Gov. Chris Sununu, along with actress Jennifer Garner and Save the Children CEO Mark Shriver, to talk about how we can improve and expand education in America.
1 big thing: The world's first $2000 smartphone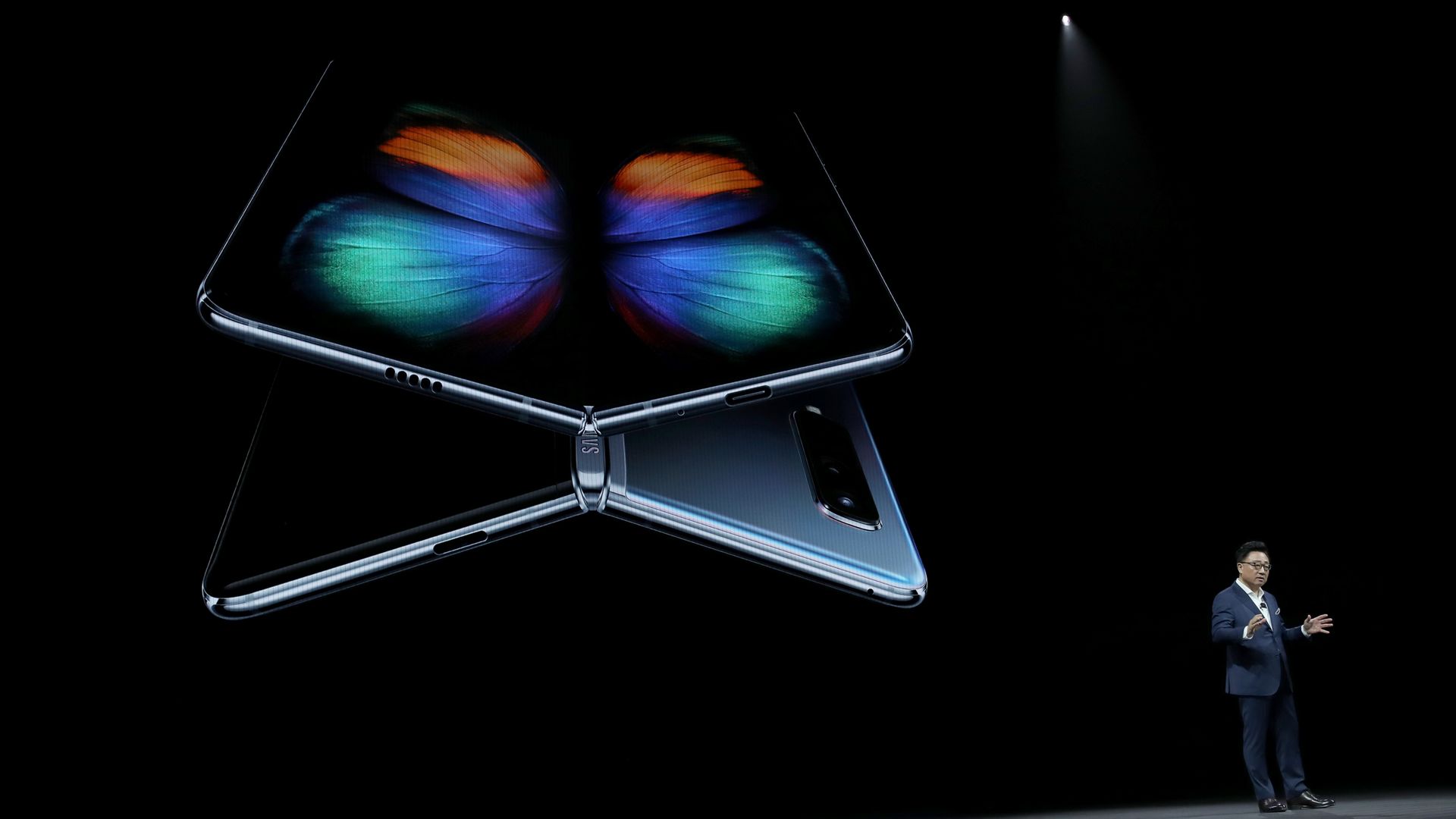 When Samsung showed off its foldable smartphone Wednesday, there were some "oohs" and "aahs." But when the company announced the phone would start at $1980, the enthusiasm turned to groans and dropped jaws.
Why it matters: The announcement pushes the price of smartphones — or at least one phone — to previously unheard of altitudes, raising the question, "Just how high can smartphone prices go?"
The bottom line: A tiny fraction of folks will pay $2,000 or more for a smartphone provided it is significantly luxurious and makes them the coolest executive or celebrity in the room.
That's clearly the market Samsung is going for with its Galaxy Fold, though it didn't specifically say who might buy the new device.
For most people, though, current top-of-the-line smartphones are already stretching their budgets.
It wasn't that long ago that $800 was seen as the highest starting point consumers would stomach.
Flashback: In 2015, I predicted that Samsung had gone too far and that $900 would prove to be the high water mark for non-Apple phone prices.
"The era of the big-bucks phablet is coming to an end," I boldly and wrongly declared.
Meanwhile, high-end phone prices have moved steadily upward in recent years even as the market has matured, with consumers showing plenty of appetite to pay up for larger screens and better cameras.
Yes, but: There's a difference between a little year-over-year price creep and introducing a phone that costs more than a high-end smartphone and tablet combined.
The Galaxy Fold raises other questions, too, including whether the world really needs a foldable phone. For the uninitiated, the Galaxy Fold consists of a smaller "cover screen" and then the big unfolding tablet-size one that appears when you open (aka unfold) the device.
The pros: A foldable phone lets you have something that's easy to hold and can often be put in a pocket, while also offering more screen real estate for browsing the web or watching a movie.
The cons: Obviously first and foremost is the cost. But the Galaxy Fold is also thicker when folded up than a traditional phone, and its folded-up screen is just 4.6 inches diagonally.
While this effort is sleeker than past attempts, others have introduced devices that took a roughly similar approach with less advanced technology.
One of the more recent attempts was ZTE's Axon M, which had similar pros and cons, albeit at a price tag that was less than half of the Galaxy Fold.
What's next: Expect more foldable devices, with Huawei, Xiaomi and Lenovo all in various stages of development.
2. What's cool about Samsung's Galaxy S10
Samsung's other big announcement Wednesday was the upgrade to its main smartphone line. The Galaxy S10 comes in four flavors: a small-screen S10e, the mainstream S10, a larger-screen S10+, and the Galaxy S10 5G, designed for the new cellular networks that are just coming online.
What we're seeing: After a couple of hours with the Galaxy S10+, I found that a number of aspects felt quite familiar — in a good way. Several of my favorite features on the Huawei Mate 20 Pro are also present on Samsung's new phones, including...
A triple rear camera with standard, zoom and wide-angle lens. The wide-angle lens is particularly nice for landscape shots.
An under-the-glass fingerprint reader lets you unlock your phone with just a press where it feels most natural without giving up valuable screen real estate. Samsung promises even faster and more accurate scans with its ultrasonic technology.
Reverse wireless charging — that is, using your phone to charge another device, is another great feature present on both devices. Samsung pitches it as a way to charge your Galaxy Buds headphones or another Samsung phone, but it also works with the iPhone.
The bottom line: Most American consumers were never going to get their hands on the Huawei phone, so it's nice to see these features come to a device many people here will buy.
Watch the S10+ in action in this hands-on video.
3. Facebook hit with another FTC complaint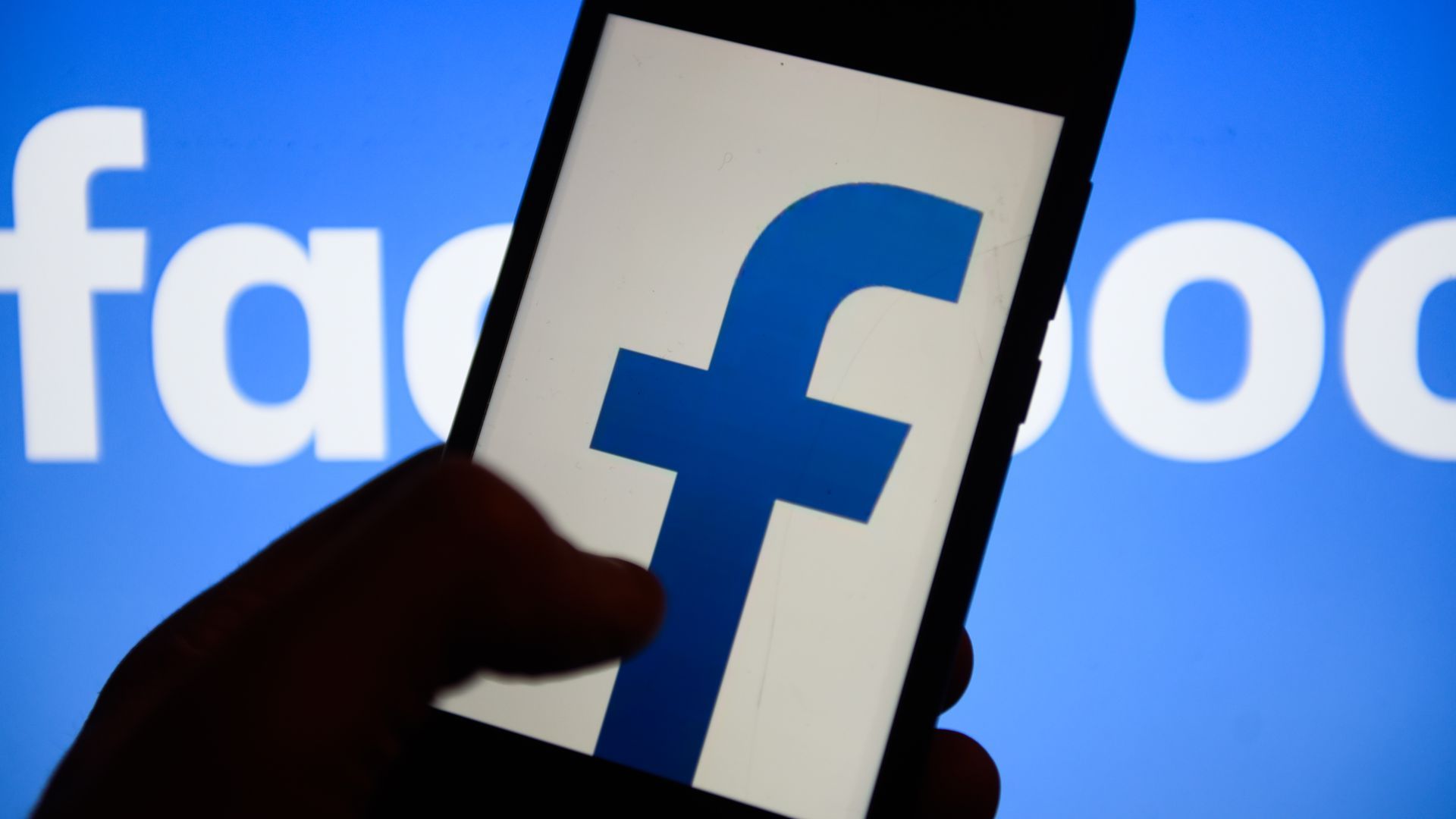 A coalition of groups are filing a complaint with the Federal Trade Commission Thursday alleging that Facebook violated children's privacy and unfairly pushed them to make purchases in applications hosted on its platform, Axios' David McCabe reports.
Why it matters: The filing adds another item on the FTC's long list of Facebook issues to investigate. The agency's inquiry into the social network's privacy practices, in light of an earlier settlement it reached with the company, became public after the Cambridge Analytica revelations a year ago.
Details: The organizations, including childhood media advocates Common Sense as well as other advocacy groups, are making two main charges...
Facebook violated the federal prohibition on "unfair" practice by deceiving kids into making purchases and then making it hard for them to get a refund. "Facebook took advantage of unsuspecting kids, one of whom employees referred to as a 'whale,' using casino parlance to refer to the child's high volume of purchases," their complaint says.
Facebook violated a major child privacy law.
ICYMI: The complaint follows the release of information about the purchases uncovered by Reveal, an investigative reporting outlet, through court documents in a case over the issue settled in 2016.
4. Macs' move to ARM creates uncertainty
Apple is widely expected to move its Mac line to custom ARM-based chips in the coming years.
What we're hearing: Although the company has yet to say so publicly, developers and Intel officials have privately told Axios they expect such a move as soon as next year.
Bloomberg offered a bit more specificity on things in a report on Wednesday, saying that the first ARM-based Macs could come in 2020, with plans to offer developers a way to write a single app that can run across iPhones, iPads and Macs by 2021.
The first hints of the effort came last year when Apple offered a sneak peek at its plan to make it easier for developers to bring iPad apps to the Mac.
Why it matters: The move could give developers a way to reach a bigger market with a single app, although the transition could be bumpy. For Intel, of course, it would mean the loss of a significant customer, albeit probably not a huge hit to its bottom line.
Our thought bubble:
If anything, the Bloomberg timeline suggests that Intel might actually have more Mac business in 2020 than some had been expecting.
The key question is not the timeline but just how smoothly Apple is able to make the shift. For developers, it will likely mean an awkward period of time supporting new and classic Macs as well as new and old-style Mac apps.
History lesson: Apple has already made several big shifts in the 25 year history of the Mac, moving from Motorola chips to PowerPC processors and then to Intel. It's also moved from the classic Macintosh operating system to the Unix-based Mac OS X.
5. Quick Takes
1. Samsung-Instagram: As part of the Samsung launch on Wednesday, the company announced a partnership with Instagram that will see the Facebook-owned social network's technology integrated directly into the camera app.
Our thought bubble: This is the kind of thing many heavy Instagram users will appreciate — and also similar to the kinds of arrangements that had some critics howling last year.
2. Google reorg: As David scooped yesterday, Google is reorganizing its policy team.
Our thought bubble: While Facebook has drawn a disproportionate share of regulators' attention and critics' ire, Google knows it has a ton of data and could find its practices under the microscope at any moment.
3. Sony-Light: Computational photography startup Light is announcing a deal with Sony to bundle Light's technology for melding the images taken from multiple cameras with Sony's sensor technology. Light says the first devices are due out from phone makers later this year, but declined to say which brands are doing so.
6. Take Note
On Tap
Dropbox, Roku and Hewlett-Packard Enterprise are all scheduled to report earnings.
Trading Places
ICYMI
7. After you Login
Check out a "firefall" at Yosemite, when, as ABC News puts it, "the setting sun illuminates Horsetail Fall to make it glow like a cascade of molten lava."