Good morning. Lots to get to, but first a few announcements. Once again, we have guests, as today's newsletter is going out to those attending the Techonomy conference, where I will be moderating a session Tuesday on the state of VR and AR.
Also, for our readers in Philly — Vice President and Dr. Biden, along with Sean Parker, are joining Axios' Mike Allen Wednesday to discuss the future of cancer care and you're invited. Mike will also explore this topic with the CEO of Celgene Mark Alles, Cancer survivor and advocate Stefanie Joho, and deputy director of the Kimmel Cancer Center at Johns Hopkins, Elizabeth Jaffee. RSVP here.
https://www.axios.com/newsletters/axios-login-8125370c-c749-44f5-9478-17168e64ad73.html?chunk=0#story0
Q&A: How emoji decisions are made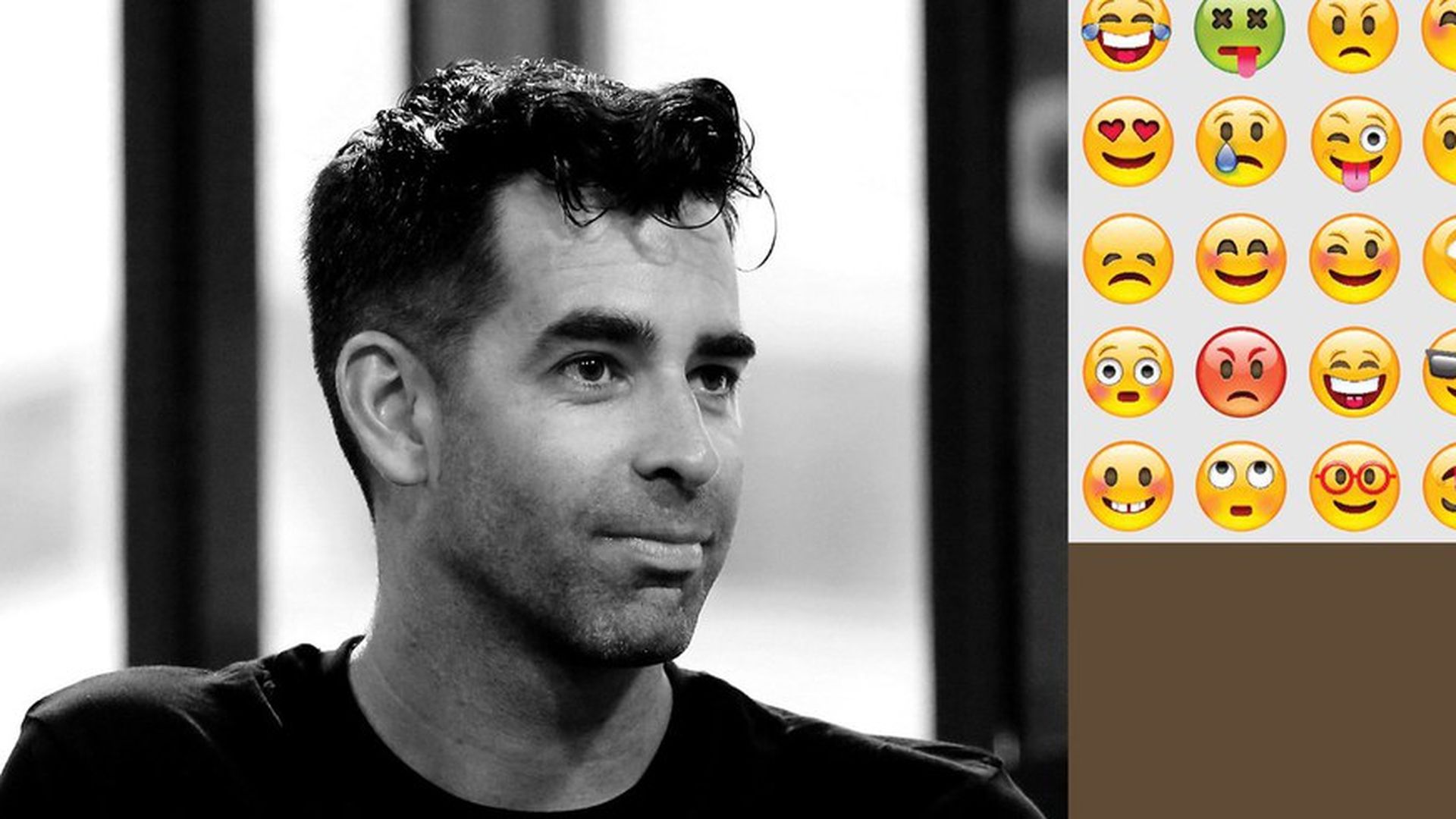 Emojis — the little icons used to represent everything from human expressions to various foods — are wildly popular around the world as a form of expression and communication. But less widely known is that these little icons are chosen and managed by the Unicode Consortium, a nearly 30-year-old organization that's also responsible for all the letters and characters in our smartphone keyboards. Its members include major companies like Apple and Google.
The big question: So just how do these decisions get made? To find out, Axios' Kia Kokalitcheva met with Jeremy Burge, founder of Emojipedia and the vice chair of the consortium's emoji subcommittee. Here's some lightly edited answers:
What are some of the hardest decisions you guys have had to make?
"The hardest decisions are always about anything that multiplies the number of emojis. So it's easy enough to approve one new emoiji — to say, here's a softball because there's already a baseball — that's fine, it's fairly self-contained. Whereas when you talk about race, gender, hair colors in particular at the moment, like, that means there could be thousands more possibilities."
"This year there was the gender-neutral child, adult, and older adult added, and some people felt that was a good decision and were happy with it…[O]n the other hand then you get, 'What happens when you include them in the family combinations?'...and suddenly you get hundreds of combinations."
Is there an added dimension of difficulty because you want to be inclusive and represent people in the world?
"There's a responsibility there and how much does the responsibility weigh in? It's easy for me because I want to see more people represented...and maybe it's easy for me to say as a white dude, I'm represented on the keyboard pretty well already. [B]ut I start with what I'd like to see and work with the process to come out with an outcome…the system works reasonably well...the vendors [are] bringing their users' voices to the table...[I]t's how the skin tones happened — because people mostly contacted Apple."
iOS 11 has the Animoji -- what are your thoughts?
"I haven't played with them [myself]. I think it looks fun. [T]he clever thing is that it's got nothing to do with emoji. It's its own thing. It's more like a little movie-maker thing. I don't think it's gonna replace emoji in any way, it looks pretty time consuming...I don't think [when replying] "I'm gonna be there in 10 minutes" [you will send out] an animoji of you as a pile of poo to say that."
How often do you use emoji and how?
"Every day. Sometimes to be on brand. I'm mostly a clarifier — you say what you want to say, and then you add the emoji to clarify what you just said."
https://www.axios.com/newsletters/axios-login-8125370c-c749-44f5-9478-17168e64ad73.html?chunk=1#story1
First weekend: Use of iPhone X outpaces iPhone 8 but trails other launches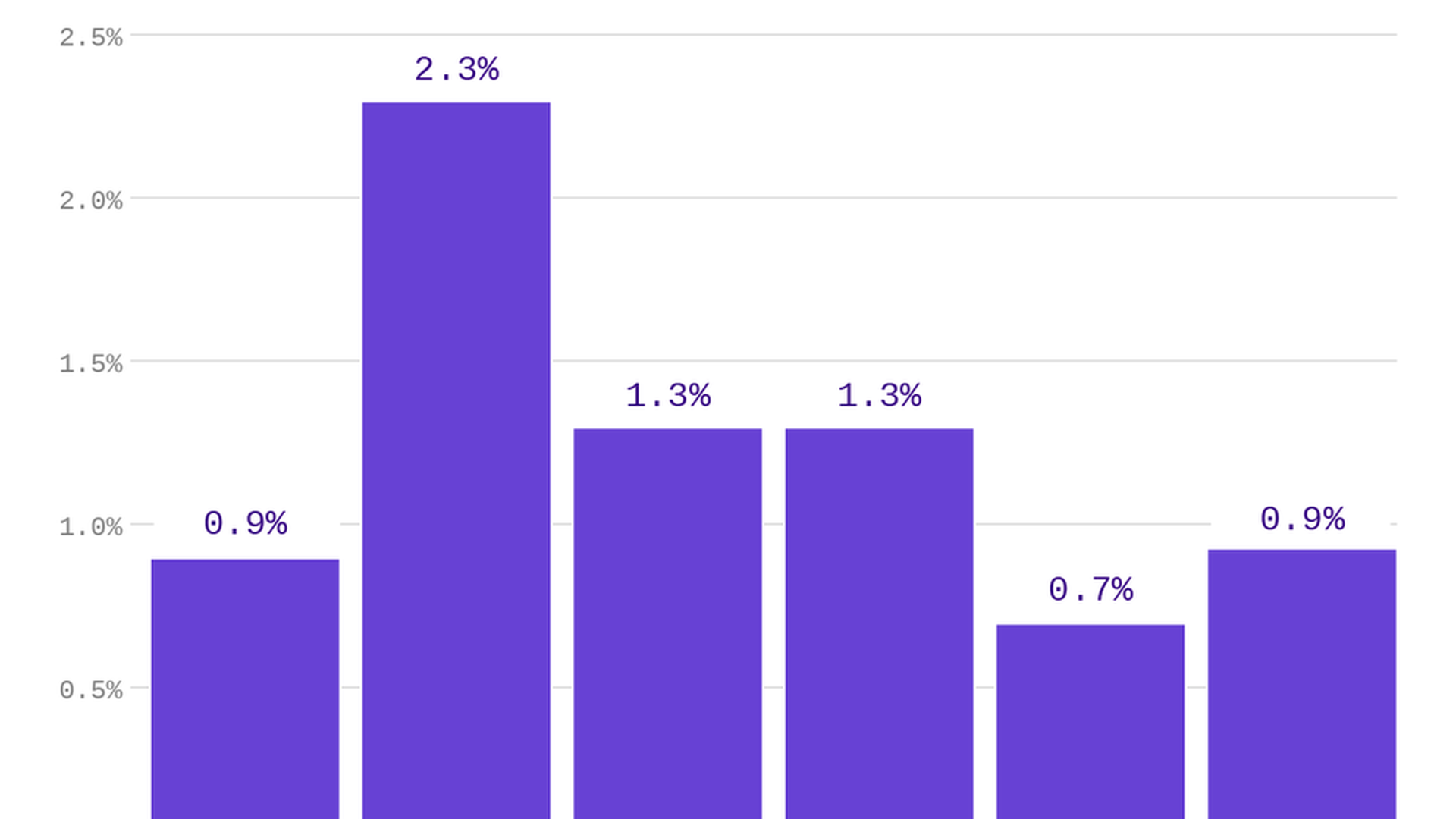 After the first weekend, more people are using an iPhone X than were doing so after the first weekend of the iPhone 8, according to data from mobile engagement firm Localytics.
What we're hearing: "So far, it seems that Apple's risk in introducing a much higher priced model (iPhone X devices are available for either $999 or $1,149) is paying off, as the iPhone X grabbed 0.93% of the overall market share for iPhones after the first weekend of sales," Localytics said in a report issued this morning. Combined, the iPhone 8 and 8 Plus accounted for 0.8% market share after their first weekend.
Yes, but: Localytics added that this launch trails other recent launches including that of the iPhone 6, 6S and 7. The data reflects the number of people that have turned on and started using apps on the device rather than just those who have bought or received a phone.
"While this may seem slightly concerning, it's important to consider that there are significantly more iPhones in the market today than in 2014. While the iPhone 6 was a major upgrade at the time, it did not pack the punch that Apple has introduced with the iPhone X. If Apple's prediction that the 2017 holiday quarter will be one of its best ever comes true, it's likely we will see adoption of the X grab more of the overall market share than its predecessors did after the first months in the market," according to the report.
Separately, Loup Ventures put out a report Sunday saying that the iPhone X appears to be sold out at Apple Stores nationwide, though lead times on orders have shortened somewhat.
Also: Some Apple customers are finding the latest iPhones struggle with their vowels.
https://www.axios.com/newsletters/axios-login-8125370c-c749-44f5-9478-17168e64ad73.html?chunk=2#story2
Broadcom makes $100 billion Qualcomm bid official
Broadcom on Monday officially offered to buy chipmaking rival Qualcomm for around $103 billion, or $70 per share in cash and stock, not inclusive of roughly $22 billion in assumed debt, Axios' Dan Primack reports.
Why it matters: If completed, this would be the largest pure technology merger of all time.
D.C. angle: Broadcom last week announced that it would move its headquarters from Singapore to the U.S., in part due to the prospect for tax reform. The reality, however, is that the relocation was largely to smooth the way not only for this transaction, but also future M&A efforts. Even if the tax overhaul falters, Broadcom plans to proceed with both the move and the Qualcomm buy.
It also is worth noting that this is not the only major transaction either company is involved with. Broadcom still is working toward regulatory approval of a $5.5 billion purchase of Brocade, while Qualcomm remains in the midst of a $47 billion deal for NXP Semiconductors.
https://www.axios.com/newsletters/axios-login-8125370c-c749-44f5-9478-17168e64ad73.html?chunk=3#story3
Scrapping merger doesn't solve anything for T-Mobile or Sprint
It's not a huge shock that Sprint and T-Mobile couldn't come to a deal. SoftBank owns the majority of Sprint and Deutsche Telekom has a controlling interest in T-Mobile US. In any sort of deal, one side would invariably lose control while still having a big financial stake in the combined company's health.
The big picture: That said, in not reaching a deal, T-Mobile and Sprint are still left with their longtime challenge, being smaller players in a business where scale matters a lot. It costs the same to build a competitive nationwide network whether it is full or not. You still need tons of stores and a giant ad budget even if you have fewer customers.
My thought bubble: Without a deal, each can consider other types of deals, such as a tie-up with Charter or another cable company. But it's perhaps just as likely that the two end up back at the bargaining table.
Also: Sprint announced Sunday it had struck a deal with cable player Altice USA to use its network to offer phone service.
https://www.axios.com/newsletters/axios-login-8125370c-c749-44f5-9478-17168e64ad73.html?chunk=4#story4
Twitter under more fire after blocking searches for "bisexual" and "queer"
Twitter came under fresh criticism over the weekend after the service blocked some search results using a variety of terms related to the LGBTQ community including both "bisexual" and "queer."
Even as photo and video searches for these terms were blocked, critics said plenty of white supremacist and other hateful content remained on the site.
Why it matters: It's the latest criticism against Twitter for its uneven policing of content on its site. Twitter declined to comment beyond a vague tweet that said it had "identified an error with search results for certain terms."
This isn't the first time Twitter has been confronted for blocking LGBTQ-themed content, nor is Twitter the only tech giant to struggle with these issues. Google's YouTube came under fire after it was flagging a wide swath of LGBTQ videos as "restricted content."
You can read more here.
https://www.axios.com/newsletters/axios-login-8125370c-c749-44f5-9478-17168e64ad73.html?chunk=5#story5
Salesforce using Dreamforce to get personal
Salesforce will take over San Francisco this week, literally. The company's annual Dreamforce conference is expected to draw 170,000 attendees. That's more than the population of Sunnyvale, Calif., and more then enough to overwhelm the SOMA district around San Francisco's Moscone Center.
What we're hearing: As for news, Salesforce is focused on taking more of its service's core capabilities and making them available to customers for their custom use.
Of particular note, the company is taking its Einstein decision-making capabilities and making them available for customers to predict the outcome of any Salesforce field using the AI technology.
Another component of the MyEinstein offering uses data from Salesforce to power automated chatbots.
Also at the event, Salesforce plans to announce MySalesforce, which lets its customers easily make their own branded iOS and Android apps using data stored in the service.
What we're seeing: Beyond the product news, Salesforce is also continuing to raise the bar for what inclusivity and accessibility look like at a tech conference. Last year, the company added stickers to allow attendees to indicate their preferred gender pronouns. This year, the company will also offer gender neutral bathrooms, mother's rooms, multiple skin tones for speaker microphones, plus ASL interpreters and Ava technology for those who are deaf or hearing impaired.
https://www.axios.com/newsletters/axios-login-8125370c-c749-44f5-9478-17168e64ad73.html?chunk=6#story6
Take note
On tap: Techonomy takes place in Half Moon Bay, Calif. Salesforce's Dreamforce conference takes over San Francisco this week (see above). Web Summit takes place in Lisbon.
Trading places: BitTorrent creator Bram Cohen has a new company, Chia Networks, that aims to offer a blockchain-based cryptocurrency that is more decentralized and less wasteful than Bitcoin and others.
ICYMI: Axios' Sara Fischer discusses Asia-Pacific's advertising boom...Saudi Prince — and major tech investor — Alwaleed bin Talal was reportedly arrested in Saudi Arabia as part of a crackdown. The prince holds large stakes in Twitter, Lyft, and Apple...Documents released over the weekend indicated that Russian venture capitalist Yuri Milner made early investments in Twitter and Facebook with the help of funds linked to the Russian government...A group of tech giants says that, following some changes, it now supports an anti-sex-trafficking bill that puts more responsibility on internet services to monitor content on their sites.
Worthy read: Check out this piece by David Brock on the history of PowerPoint.
https://www.axios.com/newsletters/axios-login-8125370c-c749-44f5-9478-17168e64ad73.html?chunk=7#story7