Phew. Thanks for opening me. I feel much better than in that crowded inbox. Has anyone ever told you that you have a lot of e-mail?
Adobe's CTO on what's next after subscription Photoshop
For the last couple of years, Adobe has been focused on shifting its business model so that customers pay monthly for products like Photoshop and Illustrator.
Now it's the products themselves that need to shift to adjust to a world of artificial intelligence and virtual reality.
"This is not a market that is very forgiving of companies that don't continually ask what is around the corner," CTO Abhay Parasnis told Axios.
Here's what Parasnis says is in Adobe's future:
Making tasks like photo and video editing as simple as dictating what you want done
Tapping machine intelligence to make better sense of vast image libraries
Creating programs that bring illustration into three dimensions for virtual reality
For more, including video demos of what Adobe is up to, check out my story.
Using data to pinpoint voters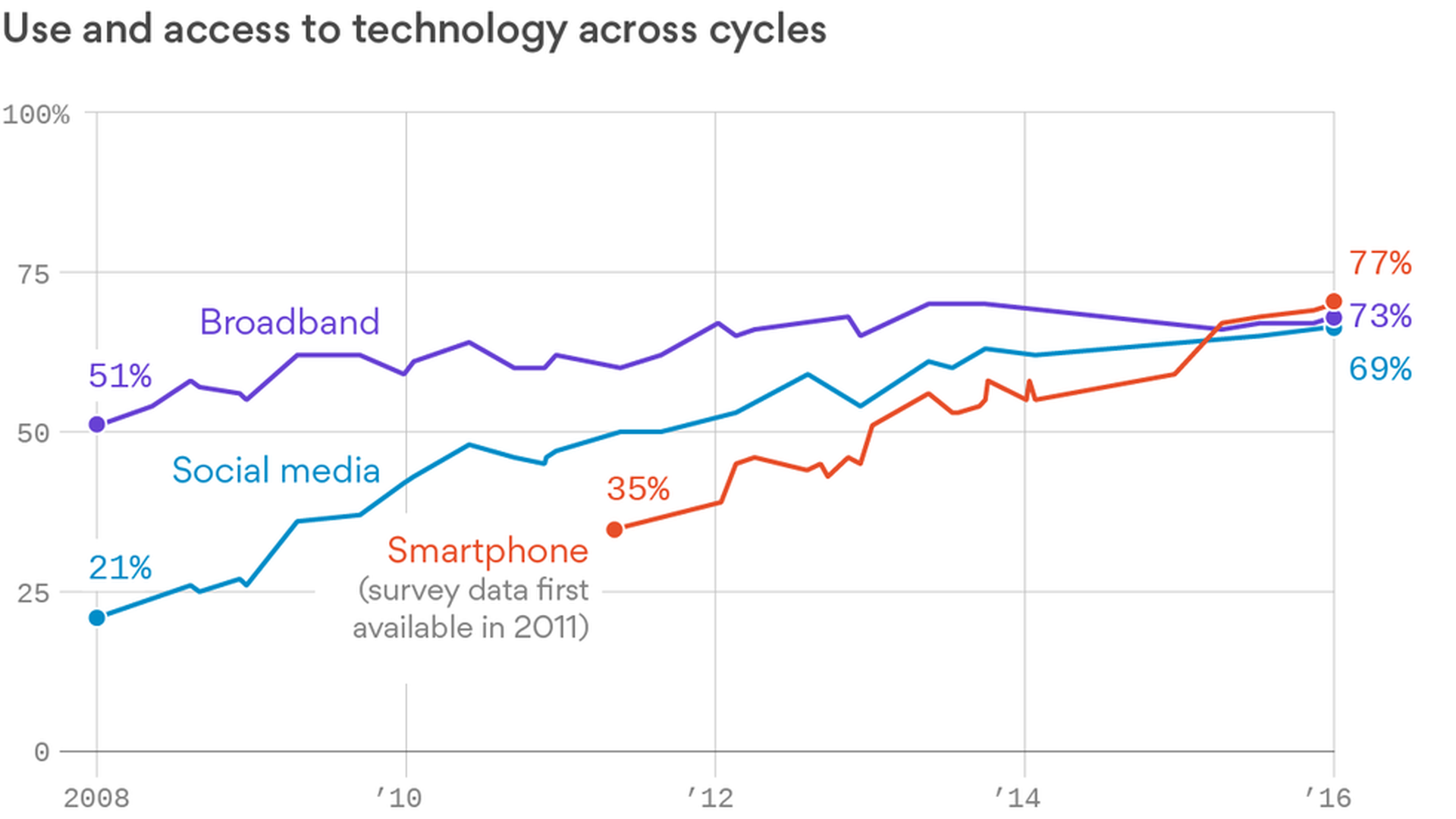 Voter outreach, once a manual, often door-to-door task has grown increasingly digital in recent years. Initially, that mostly meant e-mail lists of donors and supporters. Increasingly, though, it's a field dominated by machine learning about who is and isn't likely to vote and be persuaded by a candidate.
Axios took a look at how campaigns collect data and target voters over the past three cycles:
In 2008: Voter persuasion was still done via direct mail, email marketing and TV. Facebook and YouTube weren't major advertising distributors.
In 2012: Campaigns began matching offline data with online data to hyper-target ads. Candidates had social media presences on Spotify, Pinterest and Instagram — none of which existed in 2008.
In 2016: Digital modeling tools could predict which voters were persuadable based on internet consumption data. Facebook and Google became primary campaign ad platforms for reaching specific voters.
What to expect in 2020: Machine learning — using ever-increasing voter data — will further automate the work of voter targeting, and reaching new audiences like future voters. The RNC, for example, is building complex profiles of households to pinpoint the new eligible voters to register once they turn 18.
App makers: Pay attention to what Spotify and Waze just did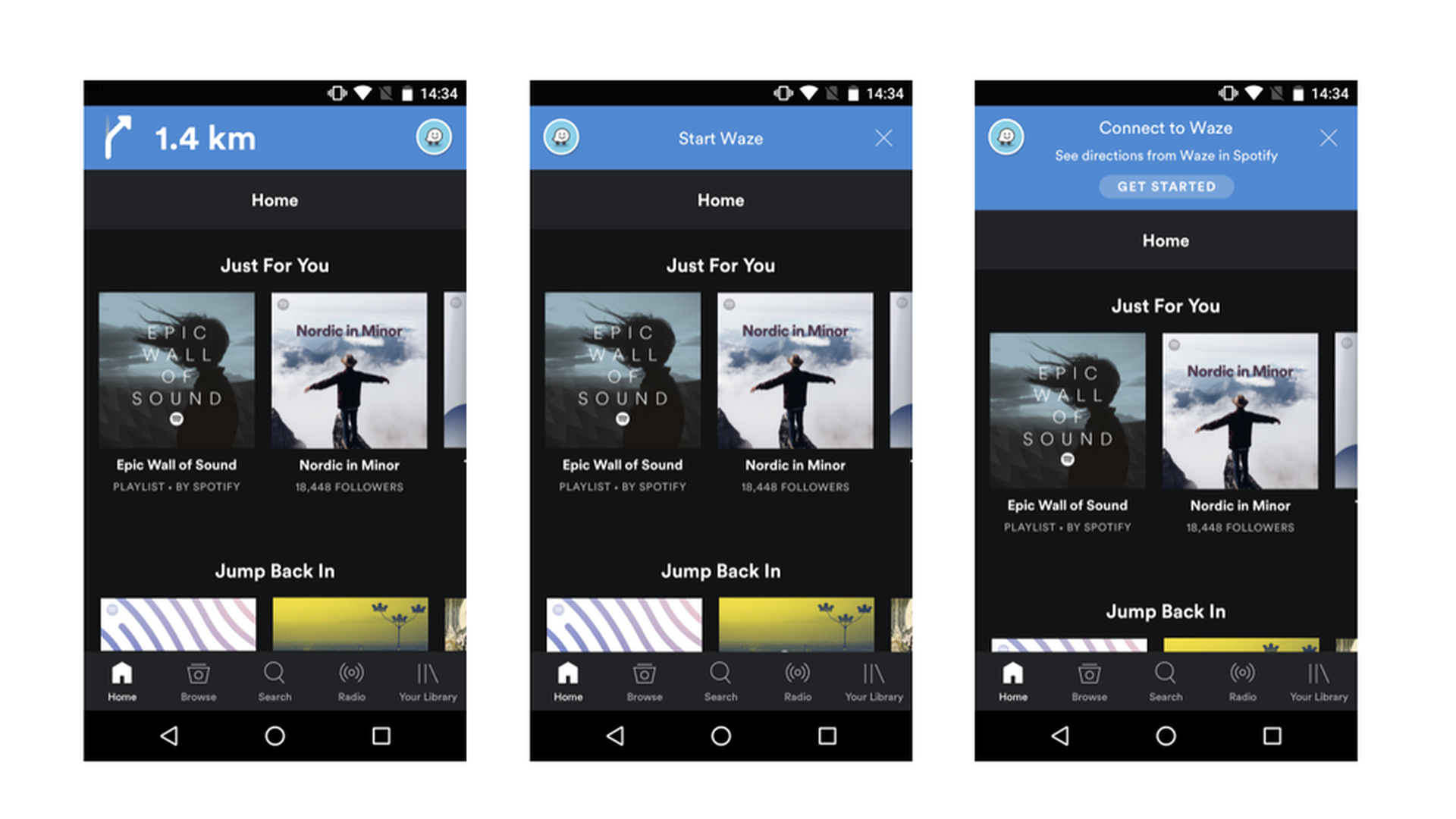 Here's hoping yesterday's partnership between Spotify and Waze is a sign of things to come. The music service is partnering with the Google-owned navigation app to allow you to listen to your music from within Waze and see your directions from within Spotify. Unfortunately it's only for Android users (at least for now).
Why this matters: It's just the kind of integration that make sense on a small screen where it either isn't possible or practical to have multiple apps visible simultaneously. Now, if I could just get directions and control my music from within Pokémon Go, I'd be set.
Why ride-sharing is the key to self-driving cars
The key to advancing self-driving car technology is to team up with ride-sharing services, at least according to Toyota.
Doing so spreads the cost and offers customers an easy way to try out the technology, according to Hilary Cain, Toyota's director of technology and innovation policy, who spoke at SXSW Thursday. Plus, once cars can drive themselves, why leave them parked?
It also explains why Toyota announced last year it was investing in Uber.
After you Login
Thanks for reading! This newsletter doesn't write itself. First off, I get a lot of help from Kim Hart and David McCabe in DC, and Kia Kokalitcheva in San Francisco. But we can't do it without you. Send your tips to ina@axios.com or just hit reply.