Axios Login
March 24, 2017
Regardless of what happens on Capitol Hill later today, we're here to make sure you have continuous technology coverage.
Andy Rubin is still hanging out with Masa Son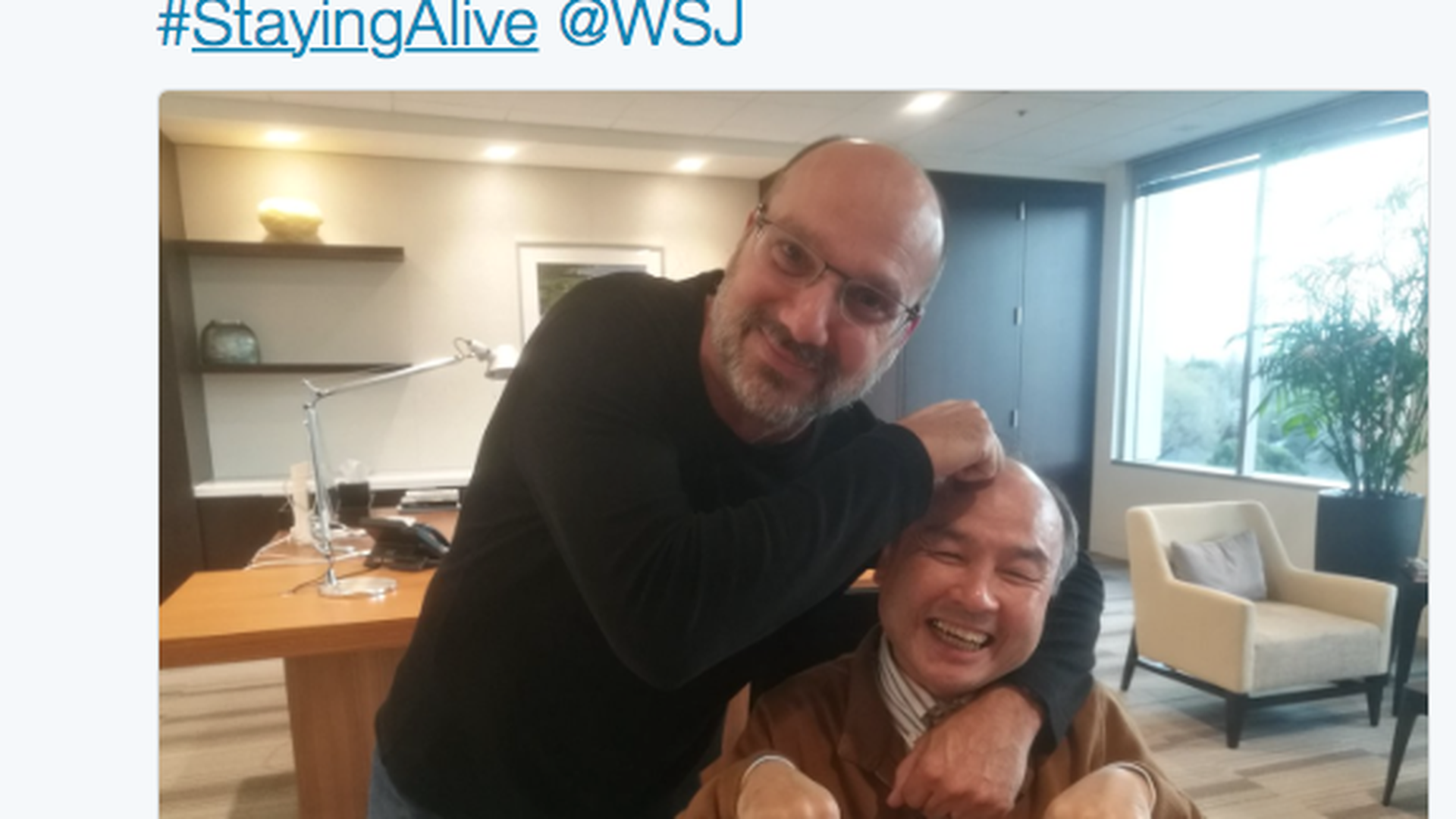 Earlier this week the Wall Street Journal reported that Masayoshi Son had pulled a planned $100 million investment in Essential, the new mobile startup from Andy Rubin. The investment would have valued the company, which has yet to launch its first product, at $1 billion.
Rather than respond directly, Rubin tweeted a picture of himself giving Masa Son a noogie along with a link to a video of Bruce Springsteen's "Staying Alive." Of course, the photo doesn't necessarily mean Masa is back as an investor, I'm told. But clearly the two are still pals.
A spokesperson for Essential declined comment.
Bitmoji tops list of fastest-growing apps in America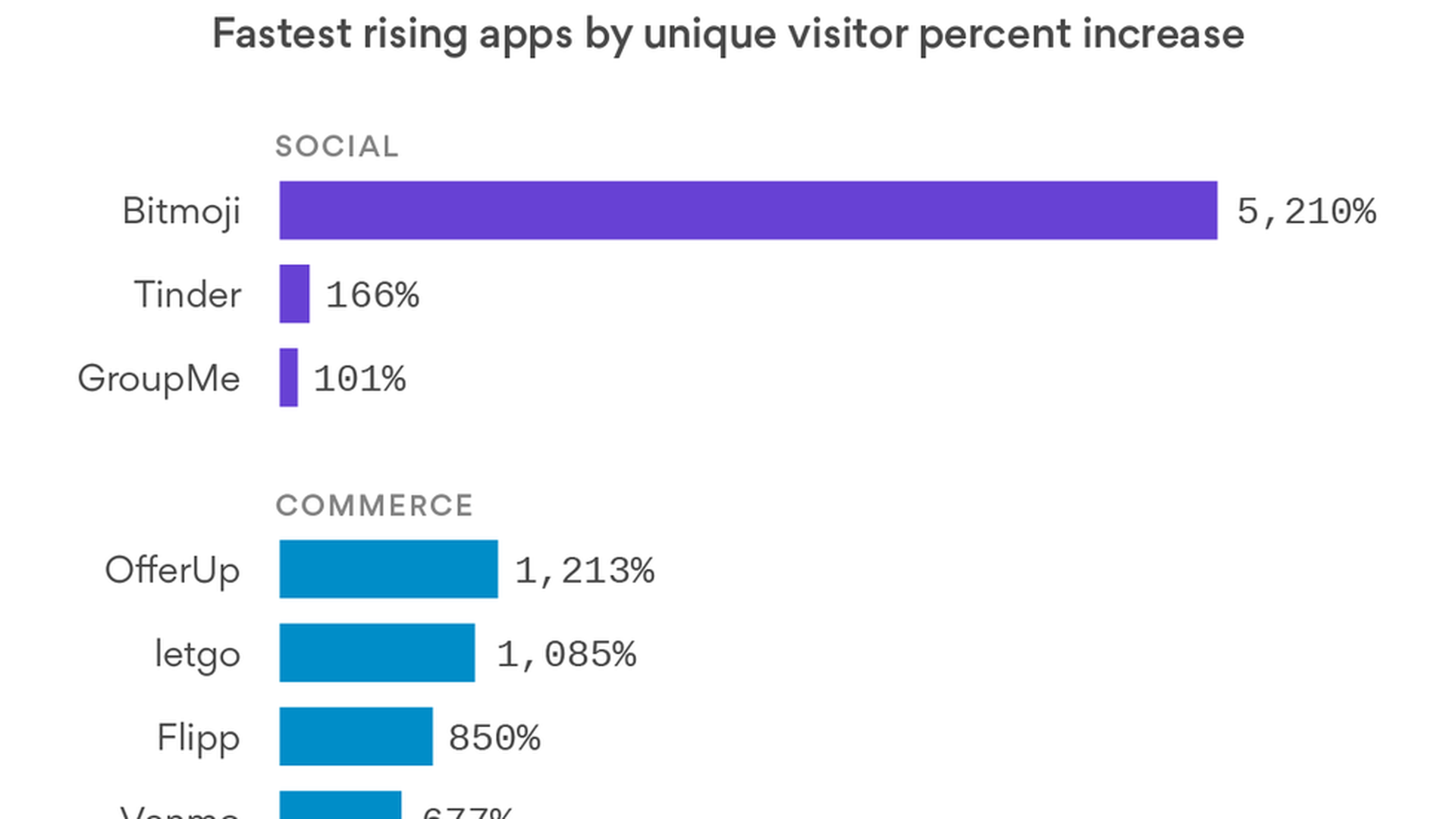 Just how big is Bitmoji? Well, it's the fastest-growing app in America, per comScore, with a more than 5000% increase in monthly unique visitors over the past two years, Sara Fischer reports.
E-commerce apps OfferUp and letgo are the 2nd and 3rd fastest-growing apps. The findings from comScore's latest study highlight three of the fastest-growing mobile market trends:
E-commerce: Letgo (3), OfferUp (2), Flipp (4), Venmo (5) and Wish (7), are facilitating real-world marketplace transactions.
Travel: Uber (6), Waze (8) and Lyft (9) help users travel from one point to another via auto.
Social connectivity: Tinder (10), Bitmoji (1) and GroupMe (11) facilitate gatherings and social interaction.
What this says about our app usage: Before smartphone app usage came to dominate mobile time spent, consumers mostly used the internet to bring real-world interactions online, like dating, mail, and shopping. The rise of these three mobile app trends show how much the app economy is moving towards improving things that still happen in the real world, such as car travel, group get-togethers, and local commerce selling/trading.
Davos establishes a Silicon Valley presence
Later this morning, the World Economic Forum will inaugurate its new research center in San Francisco, Kia reports. Its aim is to study the impact and potential benefits of digital technologies on societies and jobs. Areas of focus will include artificial intelligence, automation, policies, and ethics, and partners span universities, tech companies, and governments.
As it becomes increasingly clear how deeply automation is changing society, institutions of all stripes are trying to predict the impact. For example, in 2014, Stanford University announced its own 100-year project to track the effects of artificial intelligence on every aspect of people's lives.
D.C. Dispatch: Matsui floats plan to retrain workers affected by automation
Speaking of automation, Rep. Doris Matsui, who represents Sacramento, has some ideas for helping workers whose jobs are affected by it:
Fund programs through the Department of Commerce to retrain displaced workers, or workers who are at risk of losing their jobs in the future, in STEM jobs.
Forgive up to $100,000 of the federal student loans of recent graduates who volunteer with those programs.
"There are people who have a lot of outstanding loans — they're recent college graduates," Matsui told Axios. "Maybe you might want to train some people at, let's say, a community college and it has a loan forgiveness on your end." She says community colleges, more so than four-year institutions, have the capacity to host the training programs.
Why it matters: Matsui's proposal is one of the first concrete ideas floated in Congress for how the government could help retrain workers in response to automation. It's an issue that's likely to get more attention as more autonomous vehicles hit the road and other industries begin to experiment more seriously with automation. Rep. Ro Khanna from Silicon Valley has also said that workers need to learn how to adapt to new technologies. David McCabe has more here.
This iPhone app wants to build the world's largest art database
Ever wonder how much that painting in your office lobby or parents' living room is worth and where it came from? There's an app for that.
Magnus — which aims to be the "Shazam of the Art World" — released a new version this week that lets you take a photo of a piece of artwork on your phone, and the app will pull up the artist's name, price, and history. It also gives you the option to create your own digital collection.
CEO Magnus Resch, who privately funds the company, told Axios' Alayna Treene that the app uses visual search technology to immediately recognize over 8 million works in its growing database, and the company adds over 100,000 new images each month. The database is grown through crowdsourcing information, which is then processed and verified by the company before being made available on the app.
Take Note
On Tap: TGIF
Trading Places: GOP digital strategy veteran Matt Lira will work on innovation issues for the White House, per Recode.
ICYMI: Theranos is offering additional shares to late stage investors who promise not to sue....Marketo, which helps companies market themselves, apologized after one of its own promotions was panned as sexist....Twitter is considering whether to build a paid version of its TweetDeck software....500 Startups founding partner Christine Tsai posted an important essay on how embracing diversity means really understanding the different needs of one's workforce.
Correction: Yesterday in a Trading Places item, Login said that Human Longevity was a Bay Area startup; they are actually based in San Diego.
After you Login
Do you work better with the sound of a typewriter playing in the background? How about an entire typing pool? Here you go.