Axios Login
June 05, 2019
Counting this pithy intro, today's Login is 1,427 words/< 6 min. read.
1 big thing: Apple's strong-arming for privacy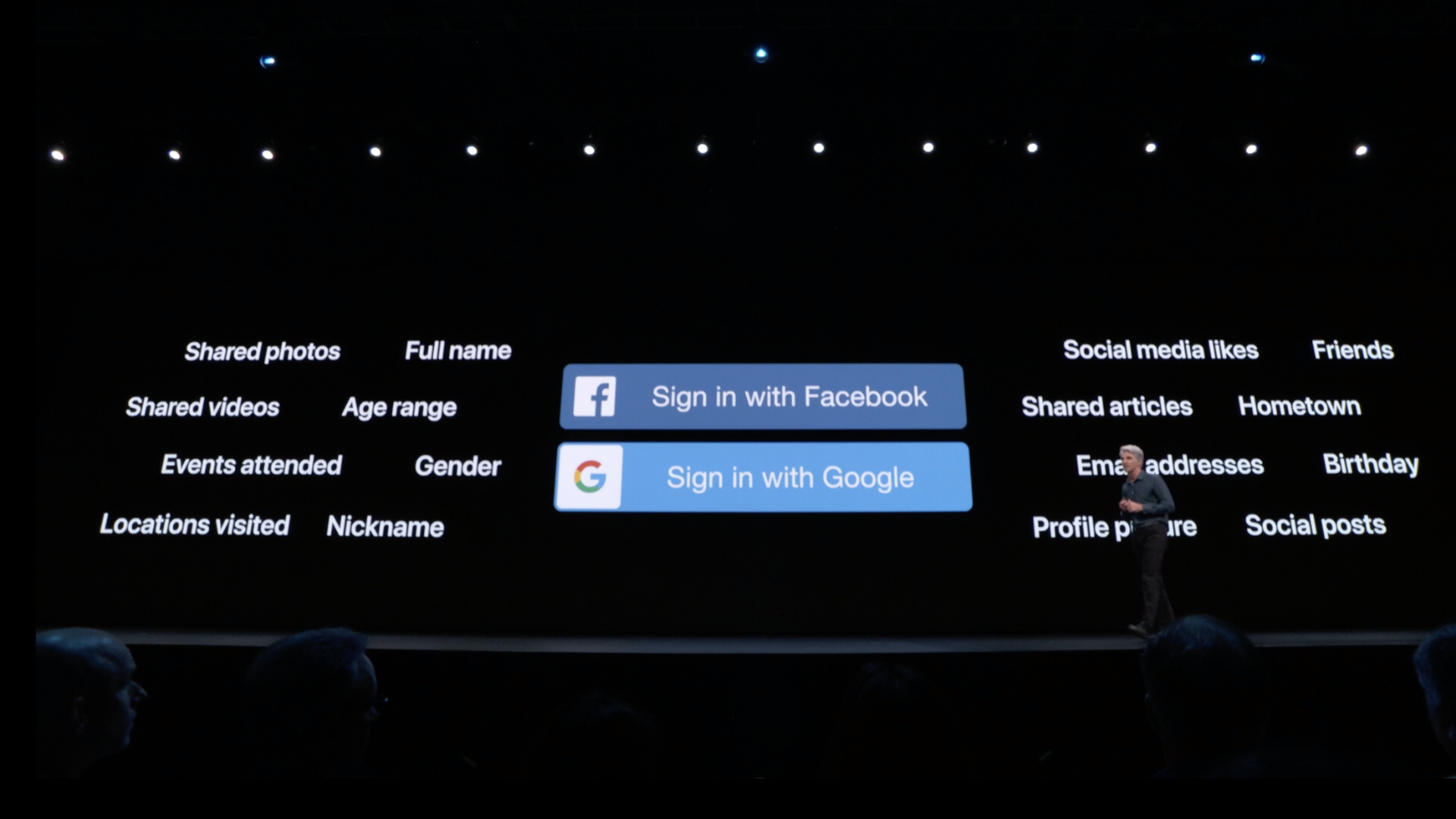 Regulators are increasingly policing Big Tech's privacy violations while also investigating the same companies for anticompetitive behavior.
Now Apple has thrown them a curve ball: It's leveraging its platform's market power to help users protect their privacy.
Driving the news: The new "Sign In with Apple" service, announced Monday, aims to offer apps and websites a privacy-protecting alternative to using Google or Facebook as a means of authenticating user logins.
As Google and Facebook have taken mounting heat for their user-data-driven advertising models, Apple has positioned itself as a privacy-respecting alternative.
The catch: Apple will require iOS app developers that offer Google, Facebook or any third-party authentication to also offer Sign In with Apple.
What they're saying: Apple defends the move as a benefit to both consumers and developers, noting that it's collecting no new data and only mandating the authentication be an option.
Apple says its option is also better for developers, allowing them to avoid having to share user data with Facebook and Google.
Yes, but: Critics say that Apple may not be capitalizing on user data today, but its good intentions shouldn't be a justification for insisting its feature be used in order to offer an app on the platform it controls.
There's a concern that Apple could change its tune once Sign In with Apple is used in millions of apps.
And while that would be a giant shift from today, when Apple CEO Tim Cook insists privacy is a human right, a future executive could change course.
The big picture: Sign In with Apple wasn't the only Apple move this week in support of protecting customer privacy. The company also announced...
Plans to limit the types of advertising that can be used in apps that target kids.
Changes to MacOS that will reduce access that security software and hardware makers have to the kernel, the operating system's foundational level.
An option to allow users to share their location just once with an app, rather than give it extended permission.
The other side: Apple this week also reversed an earlier position that limited choice in the name of protecting users.
The company previously barred app developers that make tools to track and limit kids' screen use from using a feature designed for businesses to monitor users' behavior.
App makers cried foul, suggesting Apple was limiting competition to its own Screen Time feature.
Apple is now letting the competing apps use such technologies to deliver parental controls as long as they don't share the data or use it themselves.
The bottom line: In most cases and for many consumers, Apple's stricter privacy protections will be welcome. But given Apple's total control over what apps iOS will run and what features they offer, it's also important to keep an eye on how Apple wields that power.
2. What's actually changing with iOS 13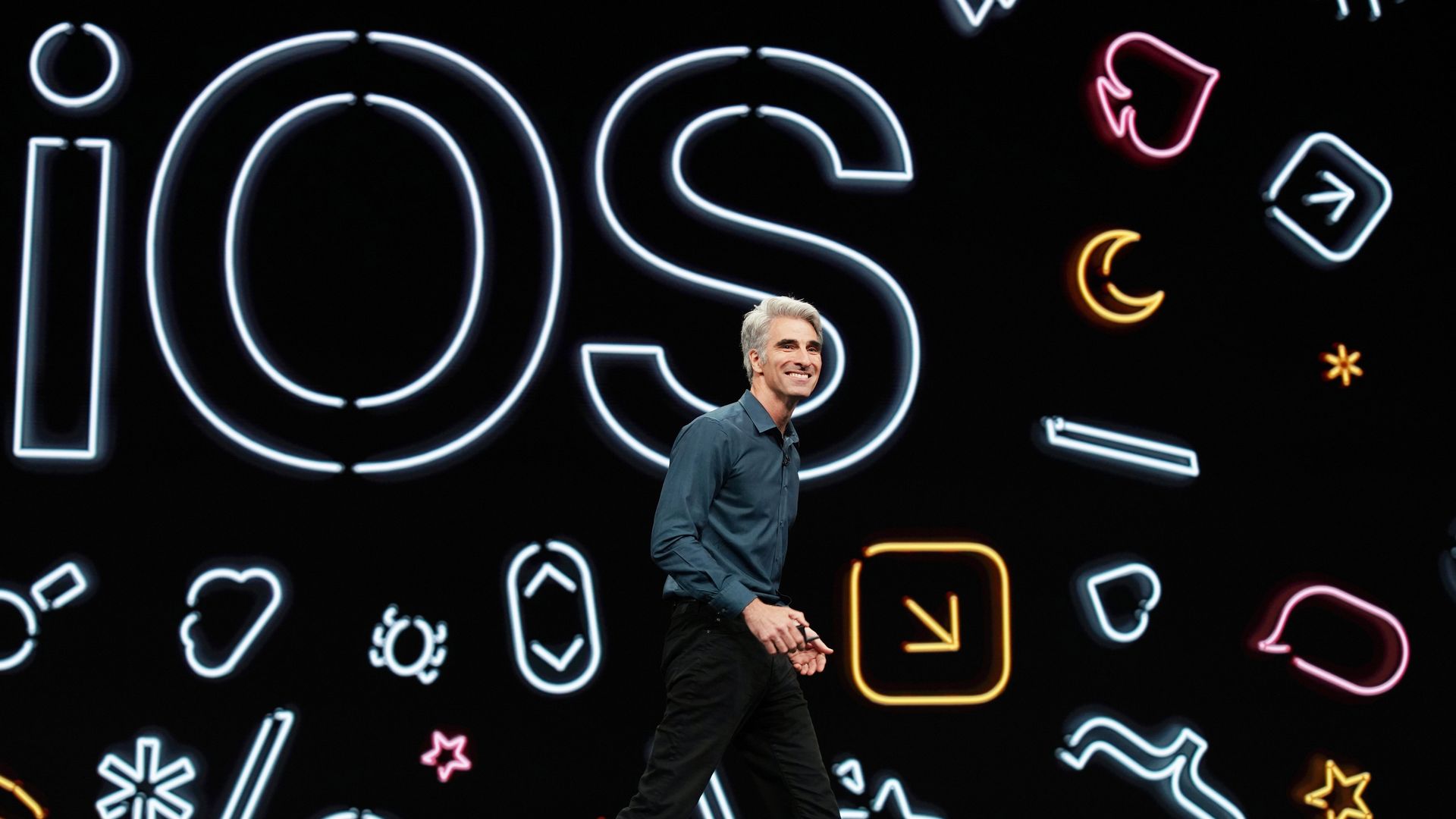 By the end of its developer conference keynotes, Apple often has users drooling for all the ways their existing iPhones will be better with the next version of the operating system.
This year, though, the changes seemed more modest than in years past.
Why it matters: IPhone sales have already been struggling as users keep their devices longer and most people who can afford a high-end smartphone have one.
Yes, but: The more Apple uses software upgrades to improve all iPhones, the less incentive existing owners have to invest in new phones.
So in some ways, the ho-hum operating-system upgrade could help Apple sell more iPhones this fall, provided there are hardware improvements.
Details: There are changes to be sure (full list here), including...
Significantly improved photo and video editing, Dark Mode and improved Apple Maps.
New augmented reality capabilities, Memoji stickers, and the type of tracing keyboard long found on Android devices.
My thought bubble: There just didn't seem to be a killer feature — the kind of thing that made me want to download the beta onto my everyday phone as soon it was available despite warnings not to.
Flashback: Standout features seen in Apple's past annual iOS releases...
3. What Axios knows about you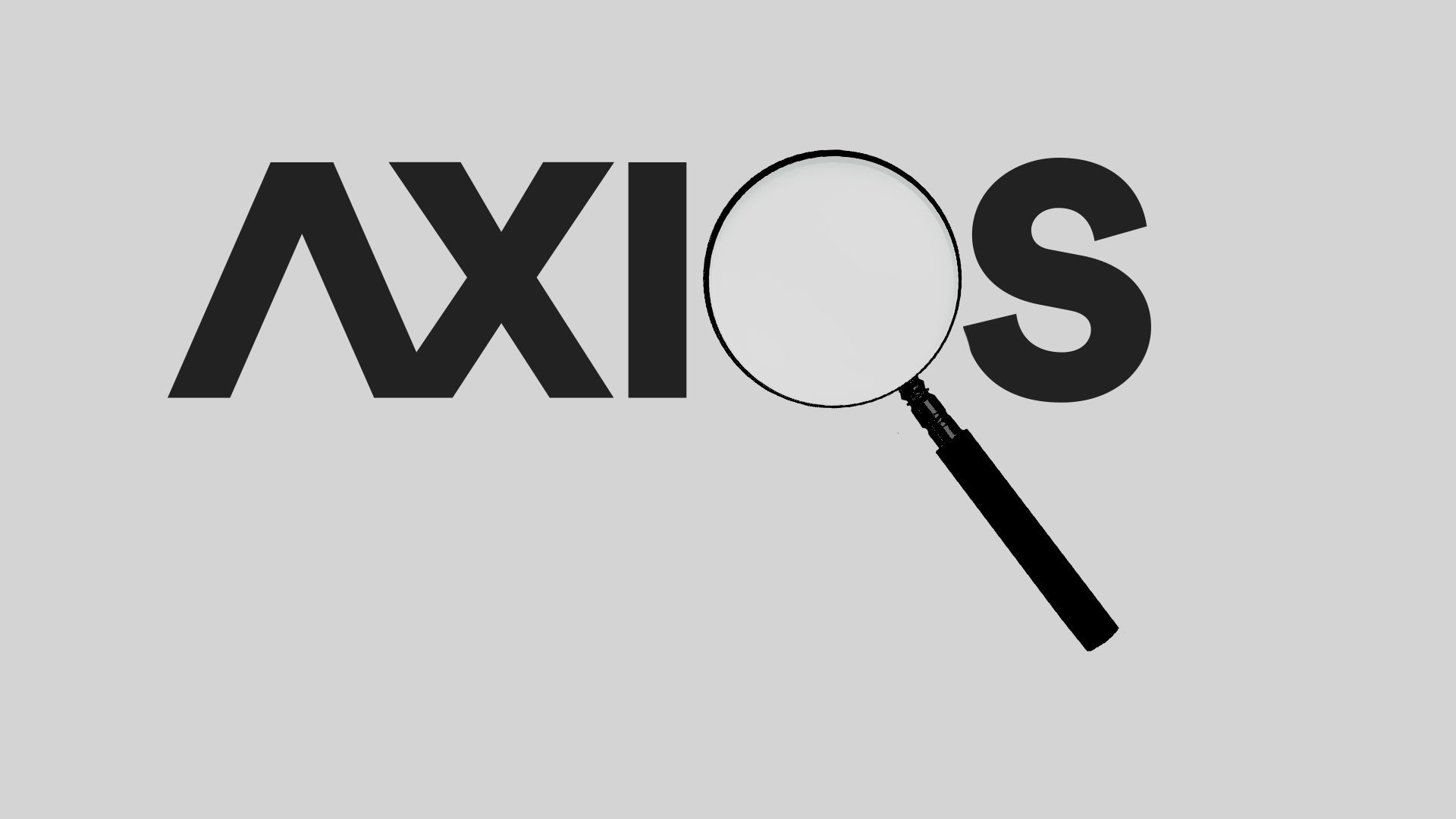 We've been examining the privacy practices of everyone from Facebook and Google to Tesla and Intuit.
So it's only fair that we also put ourselves under the microscope. And, while we aren't a tech giant, we do collect information like other media companies.
Details: Axios' Kim Hart has all the details, but here are the highlights (you can also read Axios' privacy policy)...
1. How Axios gets information: Axios currently makes money primarily through advertisements on its website and newsletters.
When you sign up for newsletters, you provide an email address and the topics you are interested in. You also provide certain information when completing surveys or entering contests.
Axios does not collect any information when readers contact its newsroom through its email tip-line.
Axios uses "cookies" and other technology to track how you interact with content. This does not reveal who you are, but it's used to help tailor ads that are displayed while you are on the site.
Axios gets information from third-party data providers to learn more. For example, if you are a registered Axios user and also a registered user on another news site, and allow that site to share your info with other data providers, that data provider can share those details with Axios.
2. How Axios uses data: Your data is primarily used to deliver Axios services you've signed up for, like newsletters.
Axios removes personally identifiable information, like your name, for anonymity. This info is used to determine which articles are most popular, how users are getting to them, and how often they may return to the site.
Using anonymized data, Axios shares ad performance data back to advertisers. This may include how many people viewed or clicked on an ad, or your estimated income range based on data from a third-party vendor.
3. What Axios doesn't do with your data: Axios does not track your location, or track your activity on sites not owned by Axios.
Axios does not sell PII to data brokers.
Axios does not collect information on people beyond the content they read on the site and some data related to it, like their general location when reading.
If, based on your IP address, Axios believes you are outside the U.S., it does not collect any data about you or serve ads to you.
4. What you can do: If you don't want Axios to collect any data about you, you can...
Unsubscribe to Axios newsletters or promotional emails (every email has an "unsubscribe" link).
Change your browser settings to block cookies.
Go deeper: Read the rest of the series.
4. Helping robots survive the real world
Axios' Kaveh Waddell has details on a new software startup going after the hardest problems in robotics: the weird and always changing real-world scenarios that trip up robots today.
What's new: The company, Robust.AI, boasts an all-star roster and has raised a seed round from Playground Global, based in Palo Alto where it's also headquartered.
Its co-founders include NYU machine learning expert Gary Marcus and MIT's Rodney Brooks, whose previous robotics venture, Rethink Robotics, rose to prominence before folding last year.
They want to build a new "operating system" for robotics that combines deep learning with ground rules about how the world works — the critical element Marcus says is missing from most robotics companies.
What they're saying: "Right now, robots can only work in very limited environments," Marcus tells Axios. "They're not very flexible — they're more like automation than they are like autonomy."
His vision: "A general-purpose set of tools for endowing robots with an understanding of the world and situational awareness."
This new approach is intended prepare robots for the chaotic environments where they currently cannot easily operate — like inside homes, on construction sites, and in the wild stretch between the sidewalk and your doorstep.
The bottom line: Robust.AI hopes its new, hybrid approach can leapfrog it over legions of failed robotics companies.
5. Take Note
On Tap
Amazon's re:Mars conference takes place through Friday in Las Vegas.
Apple's WWDC continues in San Jose, California, through Friday.
ICYMI
YouTube decided that conservative creator Steven Crowder's attacks on Vox journalist Carlos Maza didn't violate its terms of service. (The Verge)
Anonymous workplace social network Blind says Tesla is preventing employees from using its app. (CNET)
The SEC is suing Canadian chat app Kik, alleging that its $100 million token sale in 2017 should have been registered as a securities sale. (Axios)