Axios Login
June 29, 2017
Login is taking the July 4th week off, but fret not. You can stay up on the latest news in the frequently-updated Axios tech stream. Here's how to put us on your phone's home screen:
*Android: When you're at Axios.com on the Google Chrome browser, click the menu bar on the top right and select "Add to Home Screen"*iPhone: When you're at Axios.com on the Safari browser, click on the 'share' button at the bottom center of the screen and then click "Add to Home Screen"
Twiggle CEO: How computers can learn to talk to humans
Last year brought a ton of talk that chatbots were ready to take over the job of customer service. While the reality failed to live up to that hype, a number of companies big and small are still convinced the concept is right, even if it may take a bit longer.
One believer: Amir Konigsberg, CEO of Tel-Aviv-based Twiggle, is convinced. His firm uses artificial intelligence to teach retailers' search engines to better understand what potential customers want when they type search terms into an online engine.
The company: Twiggle is backed by Alibaba and is partnering with "three of the world's top 20 retailers" to improve their search capabilities. (Konigsberg says he can't divulge names because the product is still being tested by these companies). It wants to transform the interaction between a customer and a search engine to resemble that between a customer and a sales person, solving difficult natural language processing problems along the way.
Chris Matthews has much more in his Q&A with Konigsberg.
The explosion of personalized data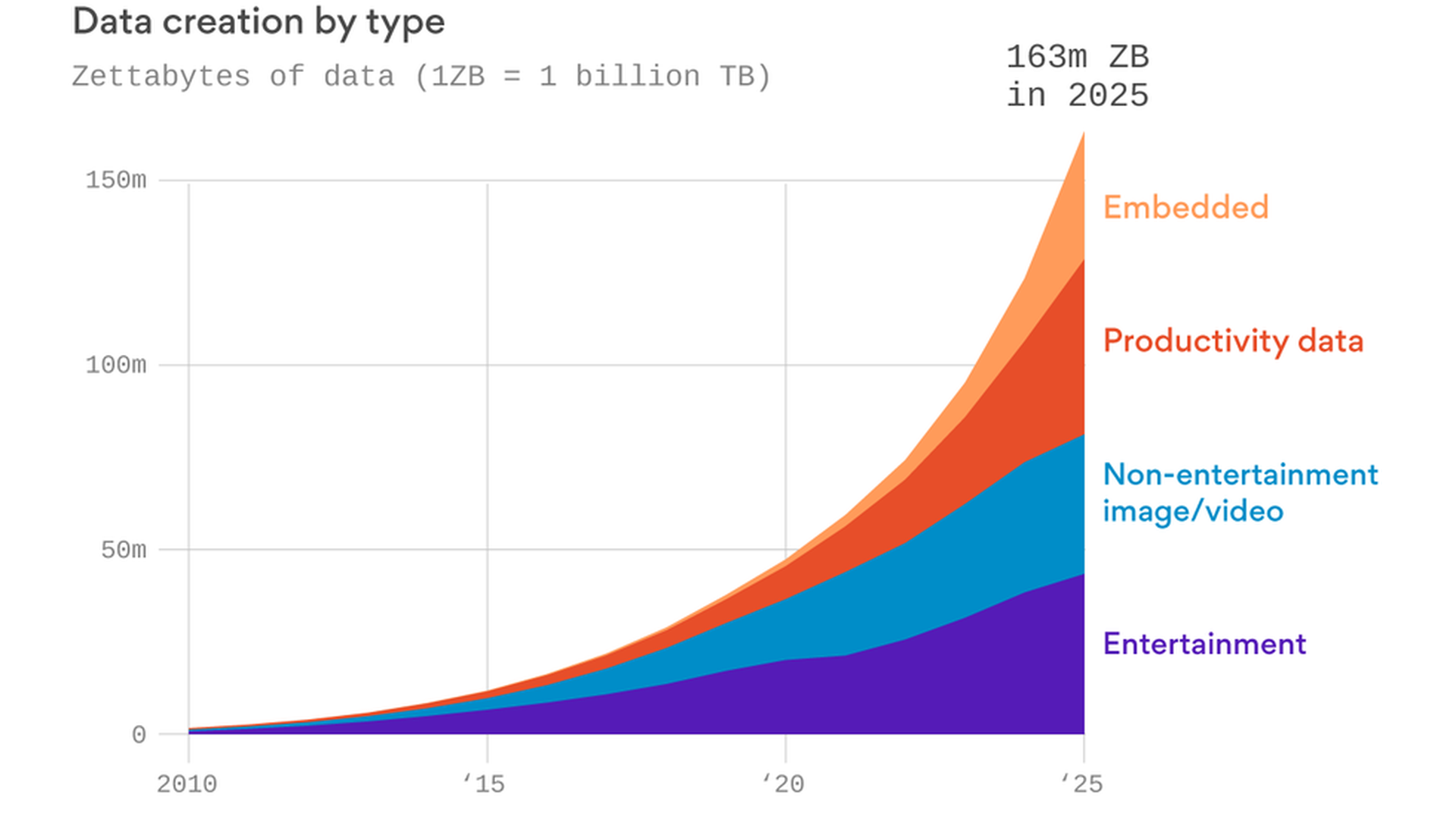 Data created by machines talking to other machines and interacting with people — known as embedded data — is expected to grow sharply over the next decade, according to IDC Research.
Staggering stat: IDC predicts that by 2025, the average connected person will interact with connected devices nearly 4,800 times per day, or once every 18 seconds.
Sara Fischer has more here.
Self-driving cars and the debate over big data
One of the many issues around self-driving cars is all the data they generate and just who will own all that information. That subject dominated the conversation at an all-day workshop yesterday put on by the FTC and National Highway Traffic Safety Administration.
The privacy advocate point of view: "It's pretty obvious that a lot of people are chomping at the bit for this information: marketers, insurers, employers," Joseph Jerome, policy counsel for the Center for Democracy & Technology, said. "We really have to think about what sort of inferences could be resulting from this information. Are we going to be sharing this with health care providers? Are we going to be sharing this with insurers?"
The industry point of view: "There's going to be a lot of data generated by the vehicle that frankly the consumer has no understanding of or any utility value for, and it doesn't even speak to their particular [personally identifiable information] or any impact upon them personally, but it is the lifeblood of how the manufacturing community evolves and develops safety systems," David Strickland, a former NHTSA administrator who works with a coalition of companies working on self-driving cars, said.
Why it matters: The kind of data gathered by a vehicle is potentially valuable for all kinds of corporate uses — from figuring out insurance rates to advertising — but that raises all the more questions for consumers as we get closer to a driverless future. David has more here on FTC acting Chair Maureen Ohlhausen's warning about over-regulation in this area.
WeWork takes brand beyond its own real estate
WeWork is best known for its dozens of hip office buildings around the world where startups and freelancers can rent out desks by the month and mingle with each other. But the company is also working to extend its brand beyond the walls of its own buildings.
Why it matters: WeWork's business model has faced skepticism, especially from the real estate industry, due to its reliance on the current startup boom. Showing that it's not limited to its current real estate holdings could help the company, currently valued at more than $17 billion, counter some of that apprehension.
Kia has more details here.
Review: New Eero improves on the original Wi-Fi mesh system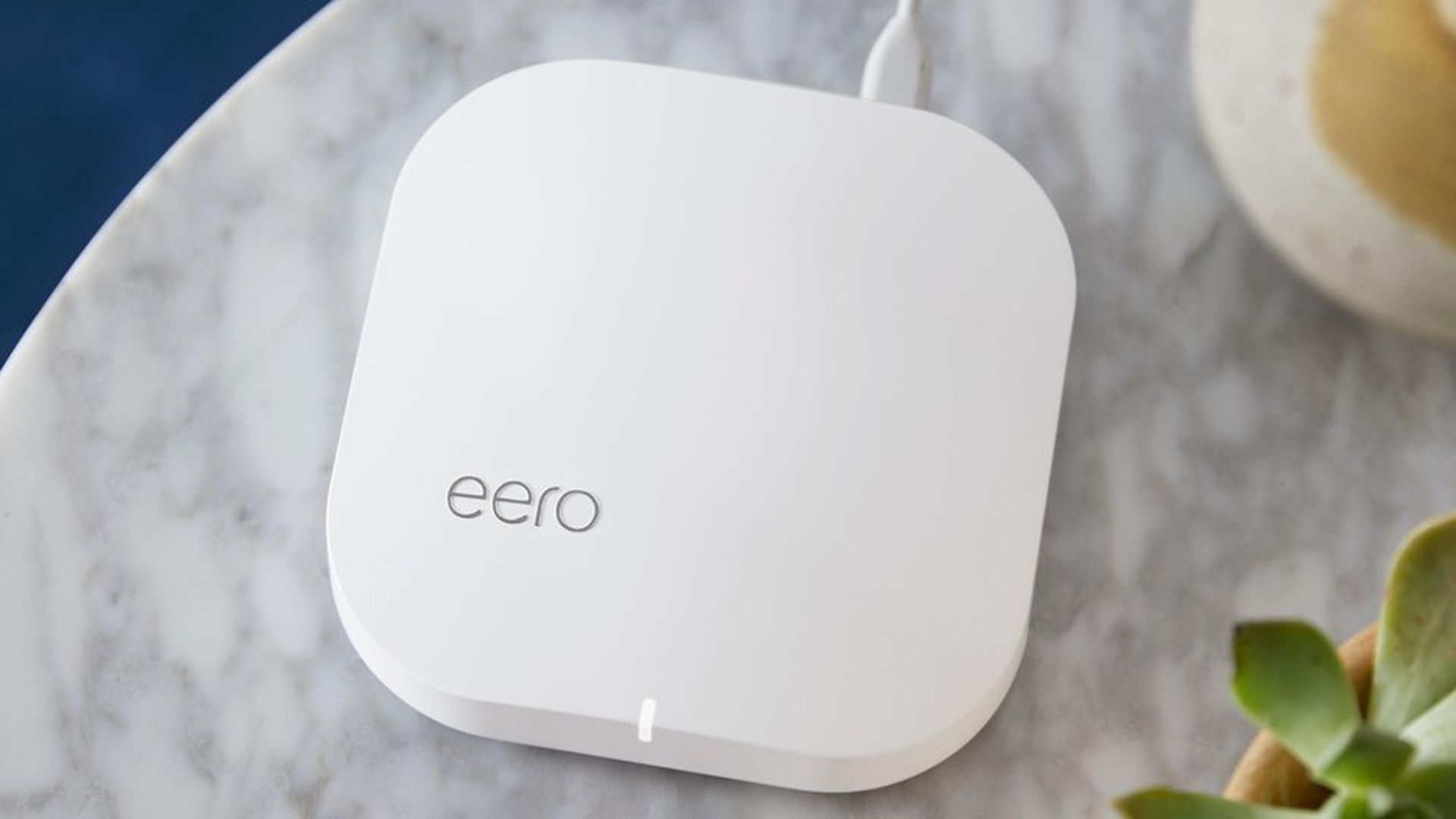 When it debuted a couple years ago, Eero was the first to aggressively promote the concept of placing multiple networking boxes around the home for better Wi-Fi. Now, as Eero's second-generation product hits the market, the company is far from alone, facing competition from other startups as well as traditional networking companies like Belkin and Netgear.
Original version: I eagerly bought the first Eero system due to poor in-home Wi-Fi coverage in an old San Francisco building. While it improved a bad situation, the Wi-Fi in the back of the house still left much to be desired. Eero's original system consisted of three identical units, while the new standard $399 system is one main system and two smaller "Eero Beacon" devices.
Testing new version: I initially tried a mix of three new devices and one older Eero and it actually made things slower. But, when I went with just the new Eero-and-two-beacon system, I found it delivered a significant speed bump (as measured by the Speedtest app) of about 25% faster downloads.
Read more of my review here.
Take note
On tap: Mobile World Congress Shanghai continues...Salesforce's TrailheaDX developer conference wraps up in San Francisco; I'll be doing the closing interview with Lost and The Leftovers creator Damon Lindelof this afternoon.
Trading places: The Democratic National Committee has hired former Uber executive Raffi Krikorian to be its chief technology officer...President Trump plans to nominate Brendan Carr to the remaining open Republican seat on the FCC, the White House said last night; the move gives Chairman Ajit Pai another ally in his effort to roll back net neutrality and other regulations.
ICYMI: This morning, an ex-Binary Capital employee sued for alleged harassment; Jonathan Teo, the third partner at the embattled VC firm Binary Capital, has offered to step down...Wreaking havoc, rather than making money, may be at the heart of the most recent ransomware attacks...Samsung is going to start building washing machines and other appliances from a new $380 million plant in South Carolina...CastAR, an augmented reality startup founded by former Valve employees and backed by Andy Rubin, is said to be shutting down...Happy 10th Birthday, iPhone.
After you Login