Axios Login
September 18, 2017
I had to go to bed early. Did Login win an Emmy?
Rajeev Suri interview: Making peace with Apple and rejuvenating Nokia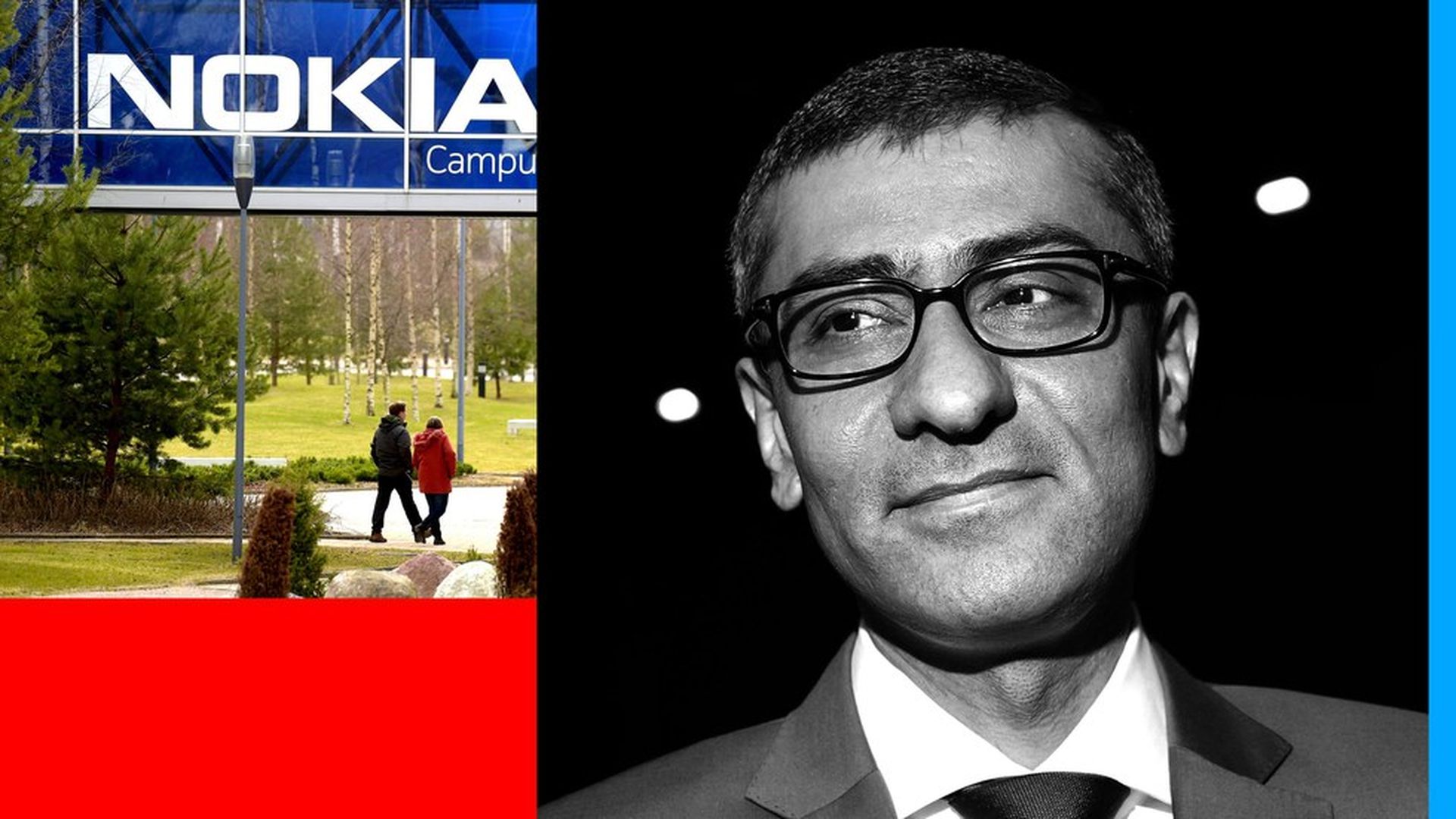 Most Americans haven't heard much from Nokia since it ceased being a serious player in cell phones. But CEO Rajeev Suri is a couple years into a 10-year plan to make the Finnish company great again.
What's been happening: Since becoming CEO in 2014, Suri has doubled down on the company's network equipment efforts, bought Alcatel-Lucent, and sold off the company's mapping unit.
Axios spoke with Suri at last week's Mobile World Congress Americas. Here are some highlights:
How 'bout them Apples? One piece of the strategy that tends to be overlooked, Suri noted, is the company's deal with Apple in May. Not only did it get Nokia a nice chunk of change upfront and ongoing patent royalties, but it also turned a foe into a customer, he said.
"Now it's a collaboration," Suri said. "We meet regularly and want to expand that."
Expansion plans: Suri says Nokia is boosting its networking business, offering a wider range of gear to cable companies, web giants and companies in industries ranging from energy, transportation, and the private sector.
The company also is focused on its far smaller unit, Nokia Technologies, which manages patent and brand licensing as well as incubation efforts in virtual reality and health care. But while it is a fraction of the company's revenue, it is a big part of Suri's 10-year-plan to return Nokia to household name status.
Return to phones: He's even put the Nokia name back on cell phones, though the company isn't making the devices itself. Instead, the company has a multi-year deal with a new Finnish company, HMD Global, which makes a range of cell phones bearing the company's brand.
Yes, but: The effort still has got a long way to go. Even Suri showed up to our interview sporting an iPhone, though he was quick to spin that as just evidence of how well the relationship with Apple is going.
Apple's Face ID appears to be face recognition done right
There's been a lot of concern raised by Apple's use of face recognition on the iPhone X, but the company says much of those fears have been misplaced.
Apple says it treats facial features much like it does the fingerprint today — as highly useful but very personal information that should be kept securely only on the device and not made available to Apple or anyone else.
My take: There are many reasons to worry about how facial recognition technology could be used in the coming years and now is probably the time to be having those discussions. But targeting Apple simply because it is so high profile is a mistake, and critics risk damaging their credibility. After all, there will likely be far more important fights later against the misuse of such technology.
Perhaps the scariest part to Face ID is the potential to inure us to the significant potential harms of face recognition technology when used improperly.
Caveat: We haven't seen Face ID at work in the real world. There could yet be any number of issues related to security or just how well it works against different populations.
Another take: Microsoft's Troy Hunt has an interesting essay weighing how Face ID compares to other authentication methods in terms of both security and ease of use. Hunt writes: "It's not 'less secure than a PIN', it's differently secure and the trick now is in individuals choosing the auth model that's right for them."
Senators take on Silicon Valley over sex-trafficking bill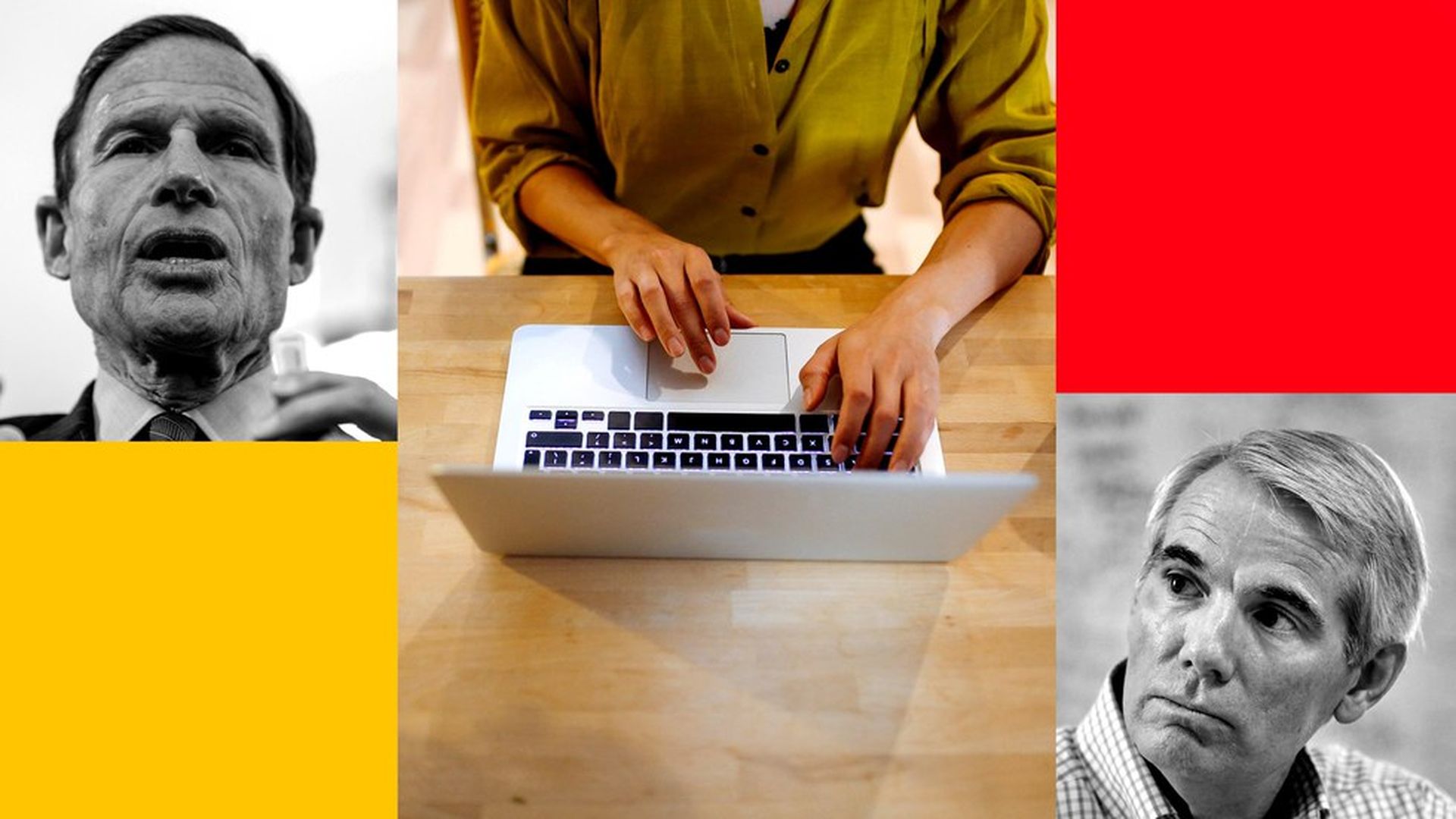 Silicon Valley appears set for a showdown in the Senate over a sex-trafficking bill that would increase the responsibility of internet giants to police the content that appears on their site.
Republican Sen. Rob Portman and Democratic Sen. Richard Blumenthal say Silicon Valley seems to have a cultural aversion to any sort of efforts to be regulated, but the two said they aren't going to be deterred by the tech companies' opposition.
"I think that's just the opening to the conversation," Blumenthal said in an interview with Axios' David McCabe. "These are people who don't like this crime any more than we do. They're parents, they're citizens, they're human beings. I mean, they have a company to run, but — and I may sound naive — but I think it's still possible to reach some common ground or at least address some of their concern."
What's next: The lawmakers said they don't expect to try to attach their bill to legislation that funds the armed services — as has been speculated — instead opting to proceed through the standard process of vetting the bill through hearings and markups. They'd like to resolve the issue by the end of the year.
"I think we're gaining a lot of momentum, I really do," Portman said. A similar bill in the House is considered harsher, and has not attracted as much attention as the Senate proposal.
David has more from his interview with the two senators here.
Silicon Valley street festival portends our AR future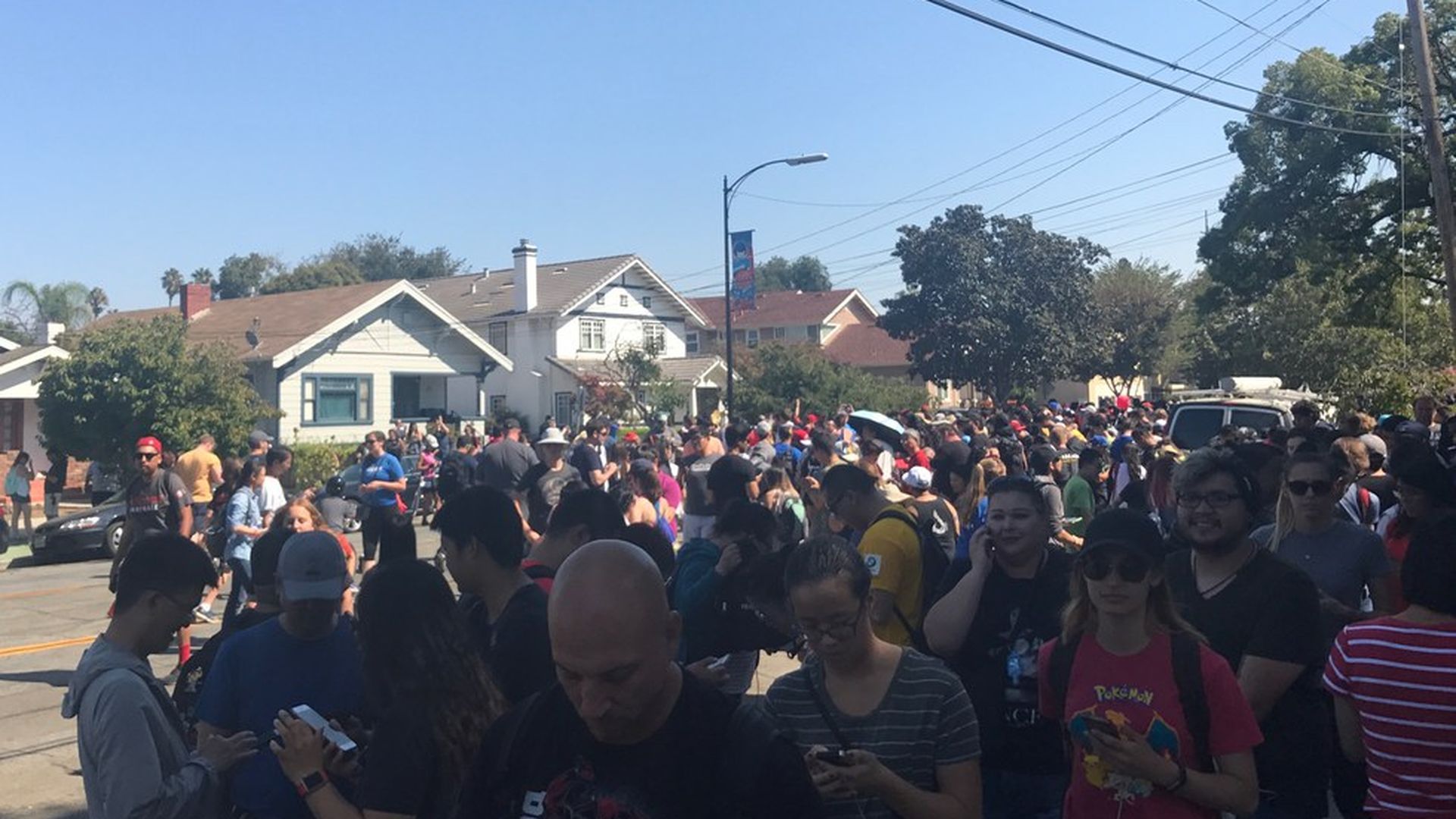 The city of San Jose, Calif., held its annual Viva Calle SJ event Sunday, encouraging citizens to walk, bicycle, and rollerblade through a seven-mile swath of the city.
Something new: There was one big difference this year: Pokémon Go creator Niantic partnered with the event's organizers to augment the bands and other real-world festivities with thousands of virtual creatures.
Being a diligent reporter (and huge Pokémon Go addict) I had to check it out. The event proved that, while there are far fewer people in total playing the game, those that continue are still significant in number and are very passionate about the game. Hundreds and hundreds of Pokémon Go addicts turned out, spare batteries in hand, for a chance to catch normally infrequently seen creatures, such as Lapras and Charmander.
The big question: There is no doubt the event was a hit for the Pokémon Go fans — but that's not surprising as anywhere that makes it easier to catch virtual creatures would be popular. Less certain was the notion that the presence of the Pokémon Go crowd would add much to the street fair itself, aside from making the streets more crowded with pedestrians not looking up from their phones. However, a chat with some event volunteers suggested that the boost in numbers was a welcome addition. We'll see if they have us back next year.
Take note
On tap: TechCrunch Disrupt runs today through Wednesday in San Francisco...Mozilla and the Internet Archive are hosting a big event in San Francisco to discuss the fate of net neutrality, with panelists including: U.S. Rep. Ro Khanna, former Federal Communications Commission chair Tom Wheeler, and former FCC official Gigi Sohn.
Trading places: Equifax said late Friday that two top executives would "retire" in the wake of its massive data breach. Both its chief security officer and chief information officer are stepping down, effective immediately.
ICYMI: Axios' Mike Allen offers a close look at how members have begun exploring possible legislative action against tech giants like Facebook, setting the stage for a potentially massive battle in the midterm election year of 2018...Slack announced Sunday it has raised $250 million in a new funding round led by SoftBank's Vision Fund; the financing values the company at more than $5 billion, Bloomberg reports...Microsoft's Bing joins Google in showing fact checks alongside some search results, per The Verge...Alphabet's Waymo wants a judge to delay the trial in its trade-secrets theft case against Uber, saying it needs time to process new information, according to Recode...Google launched Tez, a mobile payments service for India...The NYT writes that although many Amish communities eschew televisions and cars, cell phones and computers are starting to make inroads, posing challenges.
After you Login
Check out the #unqualifiedfortech hashtag to see just how many of us followed a circuitous path to tech. (I majored in English and political science, for the record.)