We're back. Did you miss us? If you like Login, tell your friends to sign up here. If not, have your enemies sign up.
The battery technology Samsung wishes it had last year
A small San Diego-area company plans to reveal a new technology later on Tuesday that it says can be put into smartphones and prevent standard lithium-ion batteries from overheating.
Ahead of the announcement, Amionx executives told Axios they have developed a fuse that kicks in when a battery hits a certain voltage, temperature or current threshold. That prevents problems caused by external heat, overcharging or an internal short. The company is a spinoff of American Lithium Energy Corp. which has used the technology in more than 20,000 batteries for the military. Former Qualcomm president Steve Altman is an investor and president of Amionx's board of directors.
The approach, Amionx tells me, adds minimal cost and can be integrated into traditional battery manufacturing techniques and could be commercially ready in as little as six months.
The key question is whether the smartphone manufacturers will find Safe Core as appealing as Amionx makes it sound. The company is relying on licensing its technology to others and so far the company has yet to sign on any of the major phone makers.
How GOP data operation helped Trump win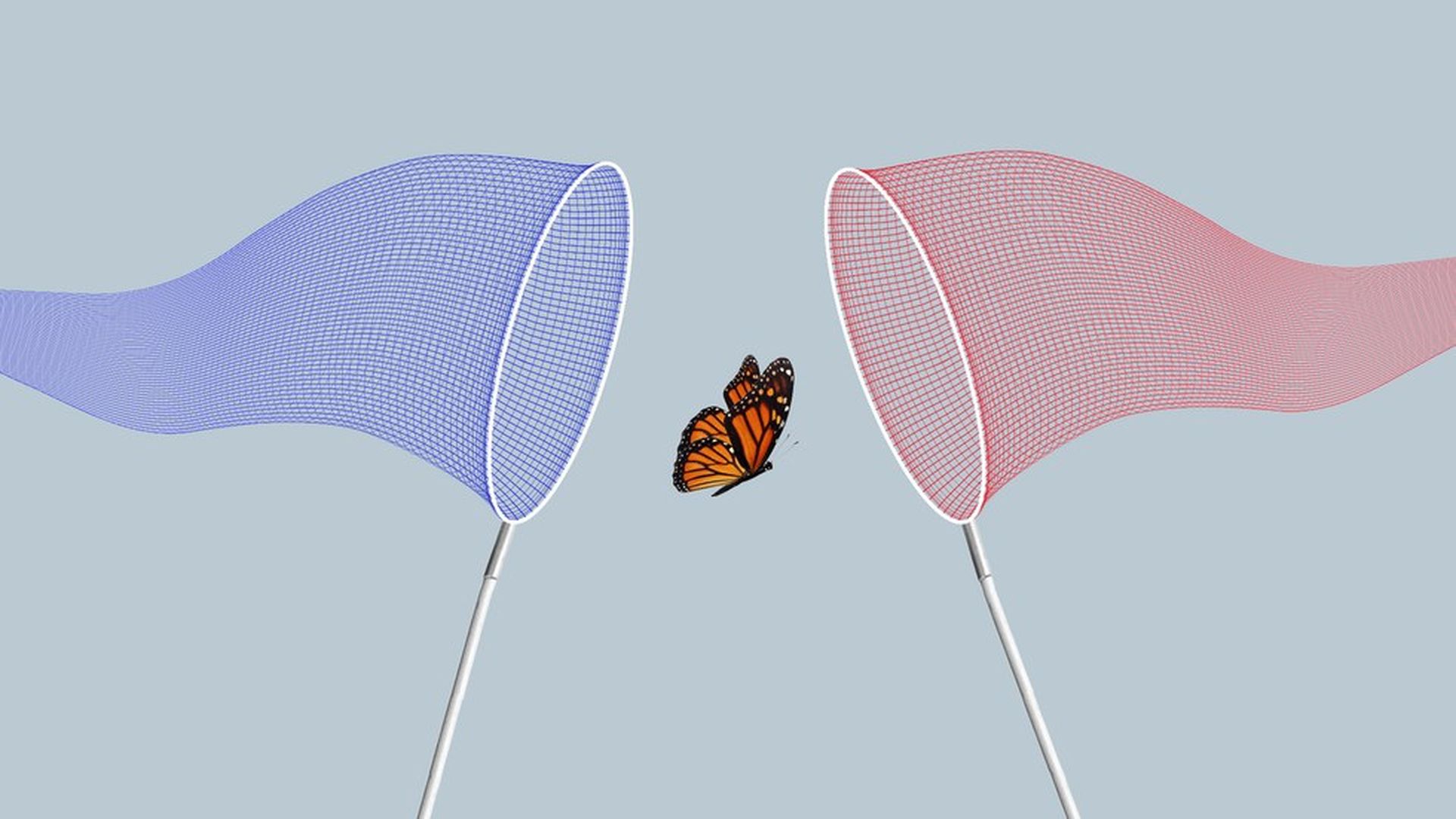 The Democrats' data machine that worked so well to elect Obama in 2008 and 2012 may have worked against Clinton in 2016, according to Sara Fischer and Kim Hart, who talked to more than two dozen staff involved in both campaigns' data operations. You can read their full take here, but here are some highlights:
Like Clinton, the Democratic campaign's strategy was disciplined and precise, using data to acutely target voters that were pegged as most likely to be swayed.
Like Trump, the Republican campaign's strategy was opportunistic and experimental, especially on Facebook, using data to identify wider sets of potential voters and to target broader audiences.
"The Clinton campaign was run like a management consulting firm," said one former Democratic party official. "The Trump campaign was run like a family business."
Why Trump's strategy worked: The Clinton campaign's data-driven tactics may have been too precise against a non-traditional candidate and a wildly unpredictable news environment. The Trump campaign's reliance on intuition over data drove their message to people and places they would've never otherwise reached, like white, male voters in Wisconsin and Michigan — the voters that delivered his victory.
Intel's Mobileye deal could spark buying spree
With publicly held Mobileye soon to be a part of Intel, big car manufacturer interest could shift to privately held automated driving companies, including Quanergy and Velodyne.
"All the major carmakers have become a lot more flexible in working with West Coast VC-backed startups after their own past, slow, internal efforts and a competitive push from Uber/Google/Apple," CrossPacific Capital (and Glympse board member) Greg Tarr told Axios. GM's $1 billion acquisition of Cruise was the eye-opener for folks in Silicon Valley and Detroit alike.
This CB Insights report offers a good overview of the space.
Pi-Day Walk-Out
Tech employees are planning to walk out of their companies' shiny office complexes to head down to Palo Alto this afternoon for a Pi-day anti-Trump rally. (At 1:59 pm PT, to be exact…since 159 is the next three digits after 3.14, naturally). You can read the the group's manifesto here.
Nonprofits will staff 15 booths in Civic Center Plaza, some offering free legal advice to refugees and undocumented workers and others organizing for the 2018 election cycle.
Speakers include execs like LinkedIn VP Aatif Awan, but also workers who worry about deportation like Facebook janitor Maria Gonzalez.
Hacking the corporate tax reform debate
House Ways and Means Committee Chief Tax Counsel Barbara Angus said Monday that the tech industry should offer a high-level case for corporate tax reforms (i.e., why the current system doesn't work) but also work with policy folks on the technical details.
She said companies need to "engage with policymakers and lawmakers about the specifics…so that decisions aren't made in a bricks and mortar world."
But what are those specifics? David McCabe caught up with Dean Garfield, president of the Information Technology Industry Council, who outlined three positive tax changes:
A reduction in the overall corporate tax rate.
A switch to a "territorial" tax system, which would limit the U.S. taxes paid on the money American companies make overseas.
Making it possible to repatriate cash earned abroad "without a high degree of friction or high cost."
What else to watch: How tech reacts to a possible border adjustment tax hitting firms that import goods.
Take Note
On Tap: The hip geeks continue partying in Austin (except Kim—she's temporarily stranded in Chicago). If you aren't at SXSW, this Onion story from 2013 tells you most everything you need to know. If you are, take some Advil. It's morning, sleepyhead.
Trading Places: Jeff Bezos has a new "shadow" at Amazon. Jeffrey Helbling, a former Kindle VP, is now Bezos' technical advisor. Helbling's predecessor, Maria Renz, recently took up a new post at Amazon.
ICYMI: Square has signed up Mount Koya, a 1,200-year-old Bhuddist Temple in Japan as the newest—and oldest—customer to use its credit-card processing technology.... Startups Yext and Okta filed to go public... No, your microwave is not spying on you. We can't vouch for your smart TV, however.
It's customary to tip if you have enjoyed a meal at a restaurant. The same goes for Login. But we want your scoops, not your money. Send news tips to ina@axios.com, or just hit reply.