Axios Login
November 04, 2020
A lot happened last night — and a lot is still happening. Catch up quick on the current state of play as with this morning's Axios Today podcast, featuring Axios' Jonathan Swan and Hans Nichols. And for continuing up-to-the-minute election coverage, go to Axios.com.
Back in Login land, we made a goof yesterday that garbled the first paragraph of Login's top story. (We are very sorry!) You can read the correct text here.
Today's Login is 1,424 words, a 5-minute read.
1 big thing: How the internet became election ground zero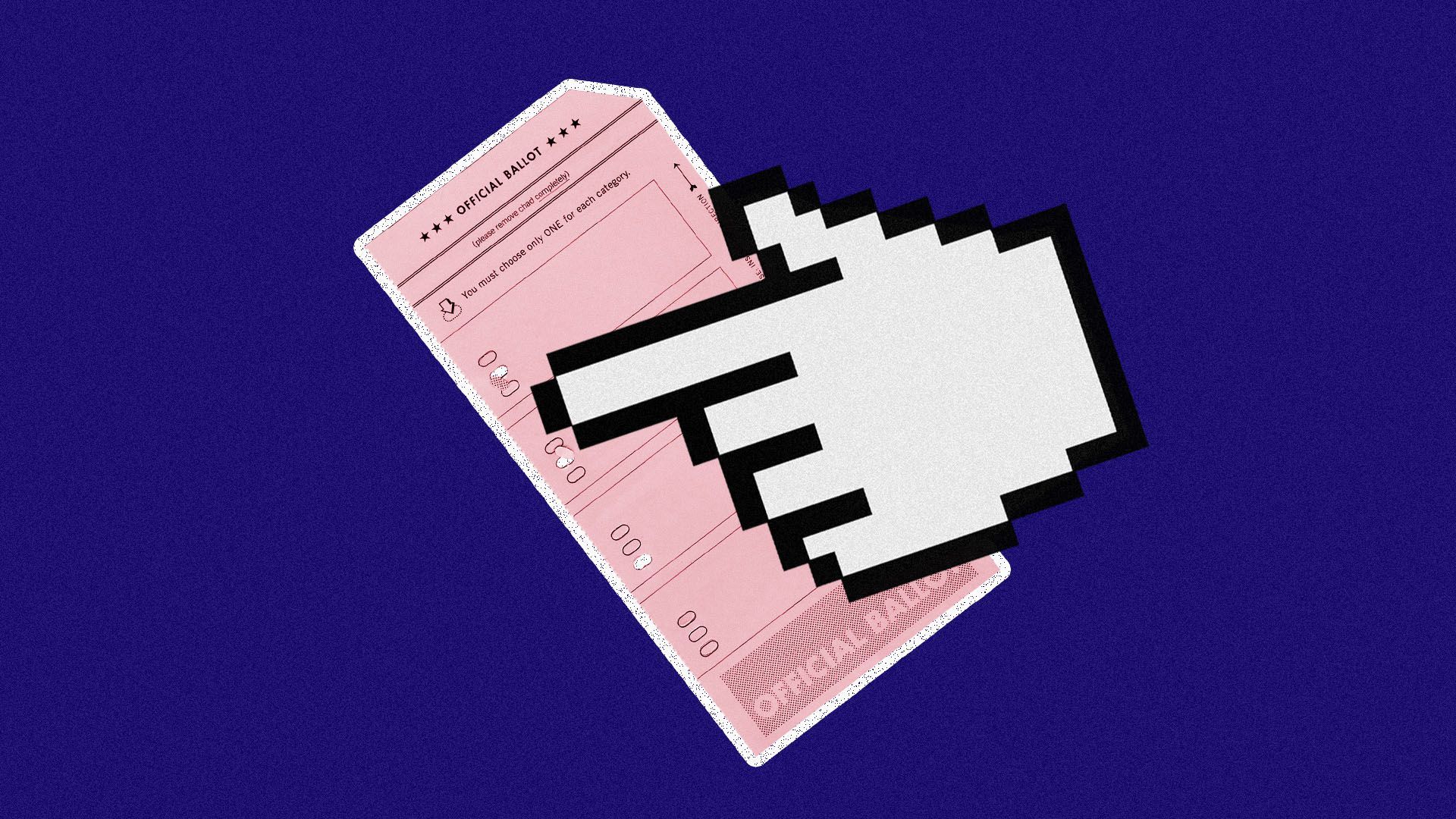 Since we are still waiting to find out how this year's presidential race turns out, we thought we'd take a look back at how the internet has come to dominate the American political system over the past three decades.
Catch up quick: Here's how the evolution has unfolded so far, as Axios' Scott Rosenberg lays it out:
1992
The internet was still largely an academic network, but the Democrats' Clinton/Gore ticket made "building an information superhighway" a key plank of their pro-tech campaign.
Their victory opened the gate to the federal government's commercialization of the public-sector internet, blowing up the "Big Tech platforms" of their time — America Online, Compuserve, and Prodigy — and ushering in the web era.
1996
The web had begun to spark early-adopter enthusiasm but most voters weren't online.
When the septuagenarian GOP candidate Bob Dole tried to promote his campaign's website at the end of a TV debate, he botched the web address.
2000
Four years of dotcom-bubble internet growth made this the first election in which the online world played a significant role.
The Clinton impeachment saga left in its wake big political email lists and charged-up partisan websites that jumped into the fray when the election outcome turned into a legal siege in Florida.
2004
Howard Dean's campaign on the left and, on the right, the rise of the "warbloggers" (post-9/11 hawks who brought conservative energy to the blogosphere) established a teeming new underbrush of digital activism that stoked political controversies online — notably, the debunking of Dan Rather's CBS story questioning Bush's military service and the "swiftboating" of John Kerry.
2004 laid the groundwork for today's political environment of partisan trench warfare, online echo chambers, and competing-reality narratives.
2008
Obama's victory rested in part on his campaign's online fundraising and organizing savvy on an internet where Facebook and Twitter were both newcomers.
Democrats failed to follow up online post-election, ceding the digital advantage to a fired-up, Tea Party-inflected right.
2012
The first social-media election saw the stirrings of misinformation campaigns, including "birtherism" and controversies around the attack on the U.S. Benghazi mission. But online ad spends remained minuscule.
Leaked video from a Romney fundraiser — showing the GOP candidate talking about 47% of Americans who don't pay taxes — foreshadowed a future of information wars.
2016
Welcome to the social-media Thunderdome! Trump's upset win rested on many foundations, but cornerstones included a smart use of targeted online advertising and a flood of disinformation from both foreign and domestic sources.
Trump turned Twitter into a blaring megaphone for his political tactics and personal obsessions, effectively outmaneuvering the old-line political media and setting the election-news agenda.
2020
Facebook, YouTube, Twitter along with Snapchat, Instagram, TikTok and other services: These platforms are where Americans now wrestle with their electoral choices, share news and argue over truth. They're also where campaigns spend an increasing share of their ad dollars.
With the coronavirus pandemic limiting in-person contact, the internet has become the primary channel for politics — putting a hot spotlight on the platforms' rule-makers and fueling charges of censorship and bias.
2. Election Day's misinformation spikes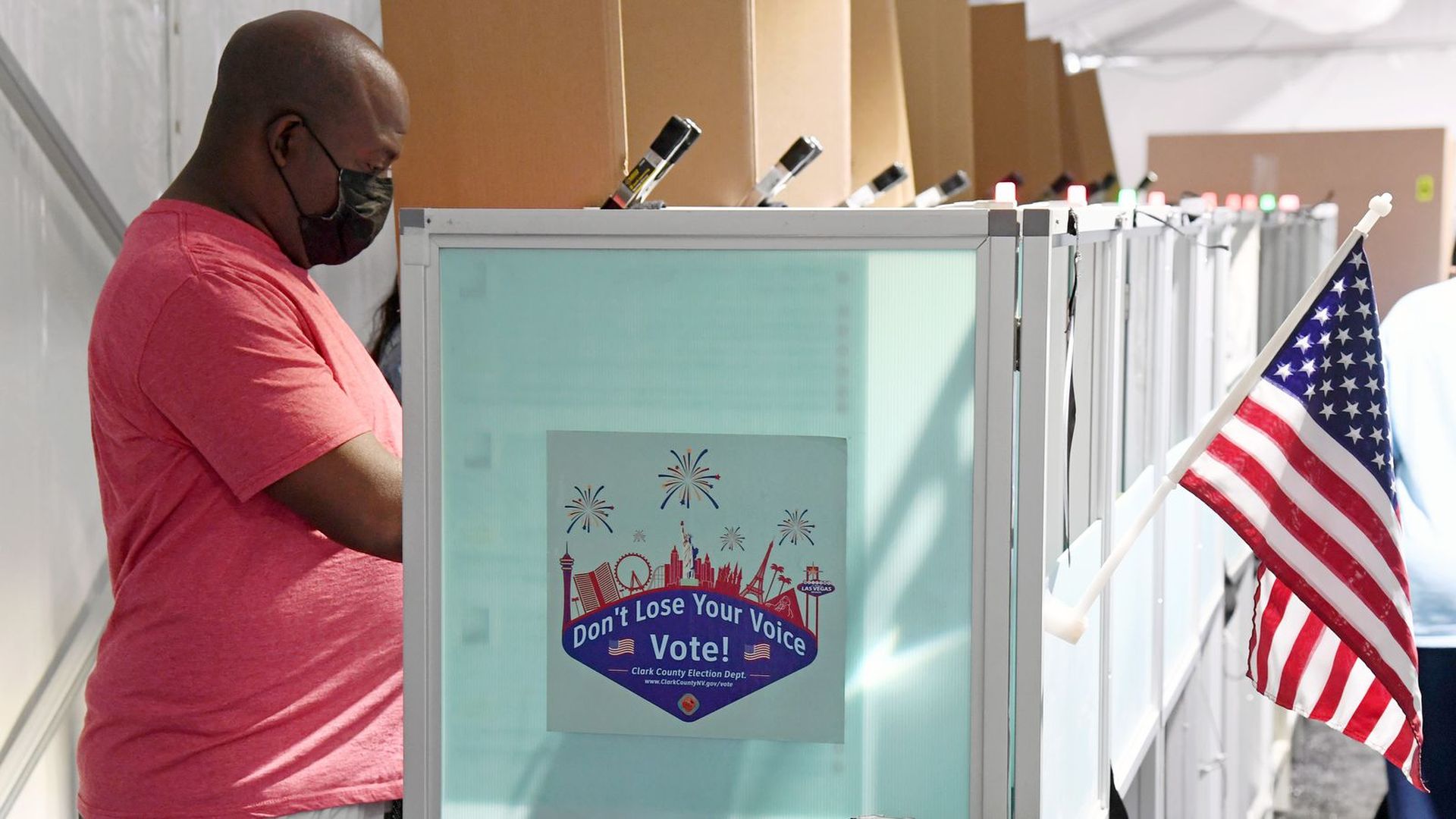 Election security officials and disinformation experts were on high alert Tuesday over signs that Election Day misinformation aimed at suppressing votes circulated widely, much of it outside the immediate view of companies and policymakers, Axios' Ashley Gold and Sara Fischer report.
The big picture: Coverage has focused on what social media giants are doing to stop the spread of misinformation, but a lot of what was circulating Tuesday wasn't on public platforms but in texts, robocalls and private chat servers.
Driving the news: The FBI told reporters Tuesday it was investigating robocalls falsely telling people they can vote Wednesday if the lines are long, per Politico's Eric Geller.
The disclosure follows media reports, including from the Washington Post, suggesting a suspicious campaign had made some 10 million robocalls warning people to "stay home," scaring them from in-person voting around the country.
New York Attorney General Letitia James' office is investigating robocalls encouraging people to stay home Tuesday, her office announced.
Online misinformation was running rampant in Pennsylvania, including in posts from Philadelphia's Republican Party, which was tweeting unverified photos and claims about voting.
Twitter labeled a number of high-profile accounts tweeting out state victory claims before they met the service's standard, including posts from Florida Sen. Rick Scott, the Team Trump Campaign account and the @Ppollingnumbers account.
Robocalls have turned out to be one of the easiest ways for misinformation to spread.
Michigan Gov. Gretchen Whitmer tweeted that an unknown party was spreading misinformation via robocalls in Flint. Michigan Secretary of State Jocelyn Benson said in a statement that the robocalls are an attack on voting rights and urged readers to trust only information coming from reliable media, voting clerks and officials.
Messaging platforms have also proven a haven for misinformation. At least two dozen groups on WeChat have been circulating posts meant to frighten Chinese Americans into staying home on Election Day, ProPublica reports.
In the weeks leading up to the election, misinformation targeted at Indian American voters has also spread widely on WhatsApp, which is widely used among the South Asian diaspora.
Yes, but: Misinformation's spread on private channels online isn't a sign that it's disappearing from the public internet.
President Trump took to Twitter and Facebook overnight to falsely suggest he had won the election, in a preview of claims he would make shortly thereafter in a live address. Both platforms added flags to Trump's post directing users to authoritative election information, while Twitter took the firmer step of also hiding the tweet behind a warning and blocking it from being "liked" or retweeted without comment.
Untrustworthy, highly partisan sites have been especially active in publishing false or misleading election-related claims in recent weeks, according to NewsGuard, which rates the reliability of news sites.
NewsGuard also finds that more than three dozen Facebook groups have become "super-spreaders" of election misinformation.
Meanwhile: There's also the potential for glitches to unintentionally spread incorrect information. Some Instagram users saw messages Tuesday that said Election Day was "tomorrow." Instagram blamed a software problem, per Protocol.
3. Misinformation doesn't stop with Election Day
The opportunity for election-related misinformation didn't end when the polls closed yesterday, especially since the presidential race remains too close to call, Ashley and I report.
Why it matters: With passions running high on all sides, experts warn that fresh opportunities to sow division may crop up in the coming days.
Details: Disinformation experts from the Election Integrity Partnership told reporters in a call on election night that, with so many results still not in, we're in an "information vacuum" — an environment in which misinformation thrives.
One-off instances of misinformation online can become part of broader narratives.
Another thing to look out for, according to the experts at the Election Integrity Project: Those looking to wreak havoc online are waiting for an excuse to act, such as a tweet from the president or a violent protest.
With one-time QAnon supporter Marjorie Taylor Greene winning a seat in the House, office-holders are likely to continue to serve as conduits for misinformation as well.
What they're saying: Laura Rosenberger, director of the Alliance for Securing Democracy, told Axios she's "worried about the potential for foreign actors to take advantage of this period by falsely claiming that interference or hacks occurred, in order to cast doubt on the integrity of the process."
"Trump's baseless claims of fraud increase the potential for that, as adversaries could seek to provide evidence for him, or simply add to doubts."
4. Calif. passes gig economy ballot measure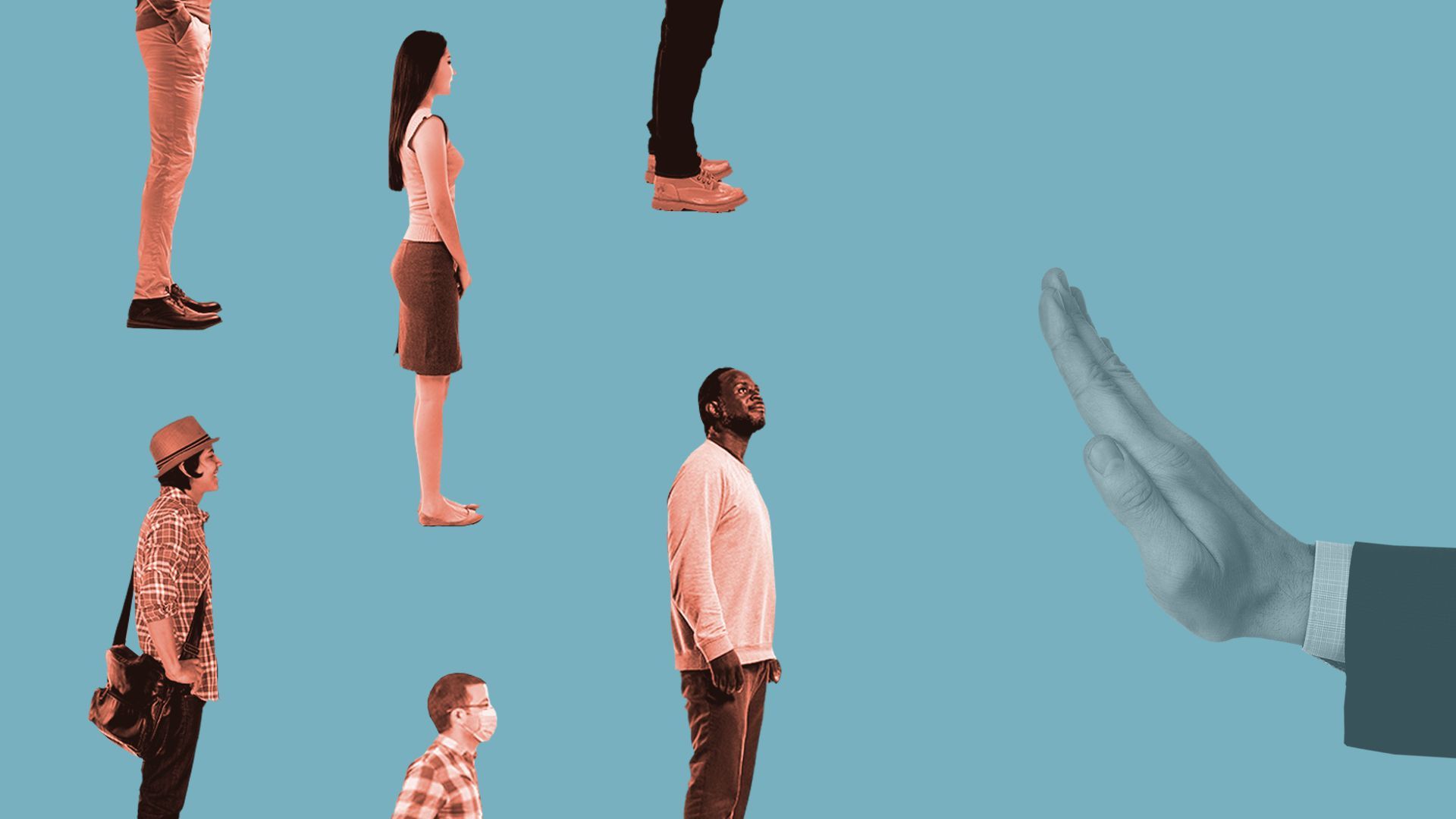 California's Proposition 22, the ballot measure backed by gig companies like Uber, Lyft, Instacart, and DoorDash to cement their drivers' status as independent contractors, passed easily Tuesday, Axios' Kia Kokalitcheva reports.
The big picture: The companies put about $200 million behind the measure after a new state law went into effect in January aimed at forcing them to classify their drivers as employees.
By the numbers: About 58% of California voters approved in favor of the measure, per the California Secretary of State's Office.
Polls in recent months showed a slight lead for the "Yes" campaign and a lot of undecided voters.
The opposition only raised just under $20 million, mostly from unions.
Of note: This proposition is hard to undo or change.
It includes a provision that requires seven-eighths of the state legislature to amend the law — and any change has to be consistent with the proposition's original purpose.
Any other kind of change would require another ballot measure.
Meanwhile: Californians also voted to approve Prop. 24, meant to strengthen California's first-in-the-nation online privacy law. The measure ends certain compliance loopholes and establishes funding to stand up a new agency to enforce the law.
They voted down Prop. 21, which would have let local governments expand rent control laws, aimed in part at easing the Bay Area's housing crunch.
Go deeper: The gig economy is on the ballot
5. Take Note
On Tap
Trading Places
ICYMI
6. After you Login
I thought you might need something relaxing, so check out this video of an octopus that changes color when it dreams.