Axios Login
August 23, 2022
Happy Tuesday. I mean, it does kinda look like a pepperoni pizza.
🔍 Situational awareness: Former Twitter security chief Peiter "Mudge" Zatko filed a complaint with the government alleging that the social platform misled regulators and its own board about its commitment to data security and reducing spam.
Today's newsletter is 1,109 words, a 4-minute read.
1 big thing: Yelp to flag crisis pregnancy center listings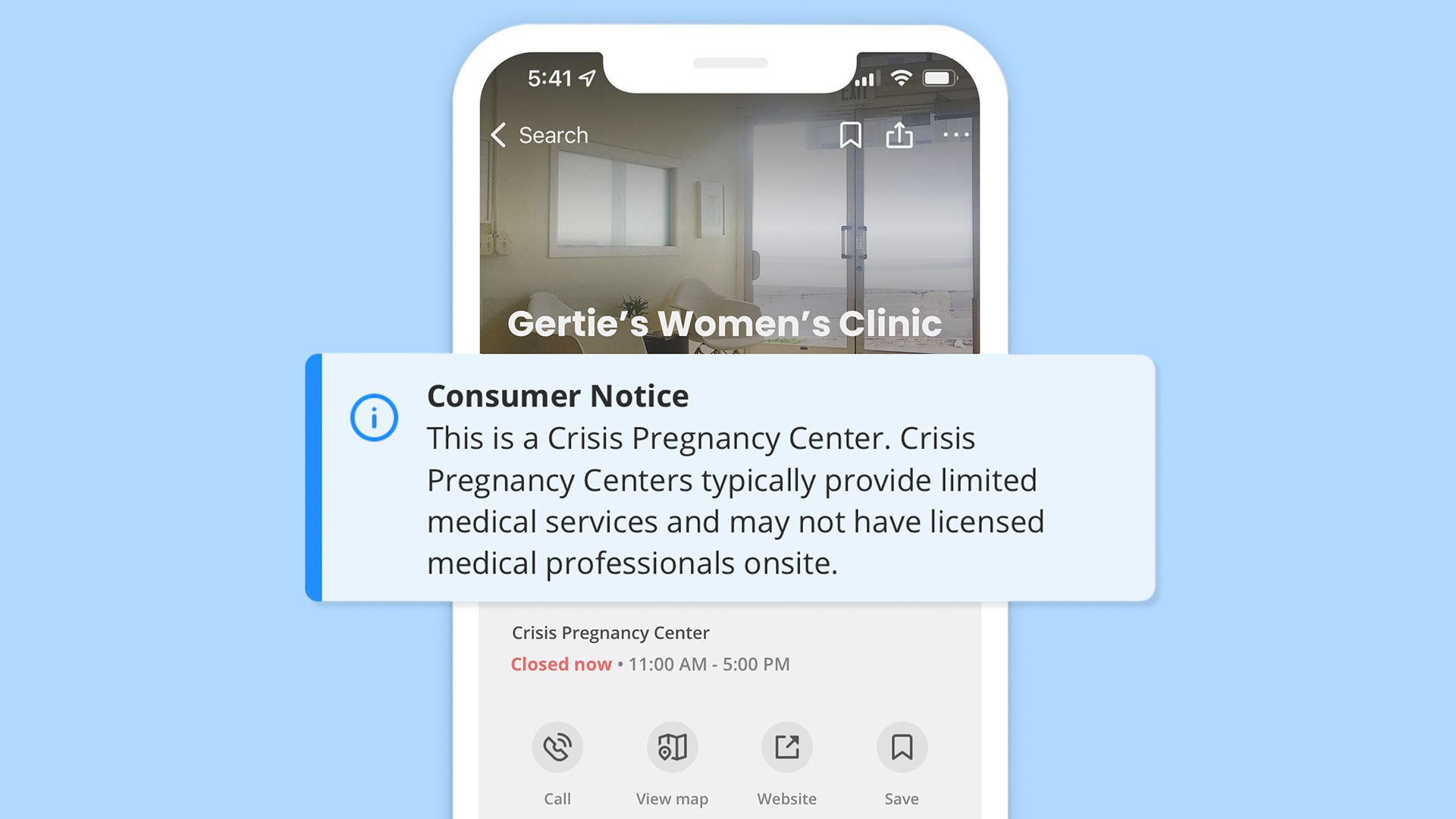 Yelp is adding a prominent consumer notice to crisis pregnancy center listings to more clearly distinguish them from clinics that provide abortion services, in a policy change shared first with Axios.
The big picture: Yelp's move is the latest tech-company response to a post-Roe world in which abortion information has become a significant online battleground, with both sides of the debate applying intense pressure.
Driving the news: Starting today, Yelp will add a consumer notice to both faith-based and non-faith-based crisis pregnancy centers noting that they "provide limited medical services and may not have licensed medical professionals onsite."
It's the latest in a series of moves Yelp has made since 2018, when CEO Jeremy Stoppelman directed the company to make sure crisis pregnancy centers were differentiated from abortion clinics in the company's listings.
Yelp has since recategorized thousands of service providers as crisis pregnancy centers.
Catch up quick: Crisis pregnancy centers do not offer abortion services but promote themselves to people seeking abortions and then typically counsel the patients to go through with their pregnancies.
What they're saying: "After learning about the misleading nature of crisis pregnancy centers back in 2018, I'm grateful Yelp stands behind these efforts to provide consumers with access to reliable information about reproductive health services," Noorie Malik, Yelp's vice president of user operations, told Axios in an email interview.
"It has always felt unjust to me that there are clinics in the U.S. that provide misleading information or conduct deceptive tactics to steer pregnant people away from abortion care if that's the path they choose to take," Malik said.
Yes, but: Just noting that crisis pregnancy centers provide limited medical services doesn't address all the criticisms around such facilities. However, Malik said it should further help those seeking abortion services to find what they're looking for.
"Not all consumers visiting a crisis pregnancy center's business page may be seeking out abortion services," Malik said
She said that Yelp would "increase efforts to better match" people who were specifically seeking abortion services with health providers that offer them, and make it less likely such users will see crisis pregnancy centers in their search results.
Between the lines: Tech companies are caught in the middle of the information fight sparked by the Supreme Court's elimination of a national right to abortion.
What's next: The largest tech companies are also re-examining their policies.
2. Elon Musk subpoenas Jack Dorsey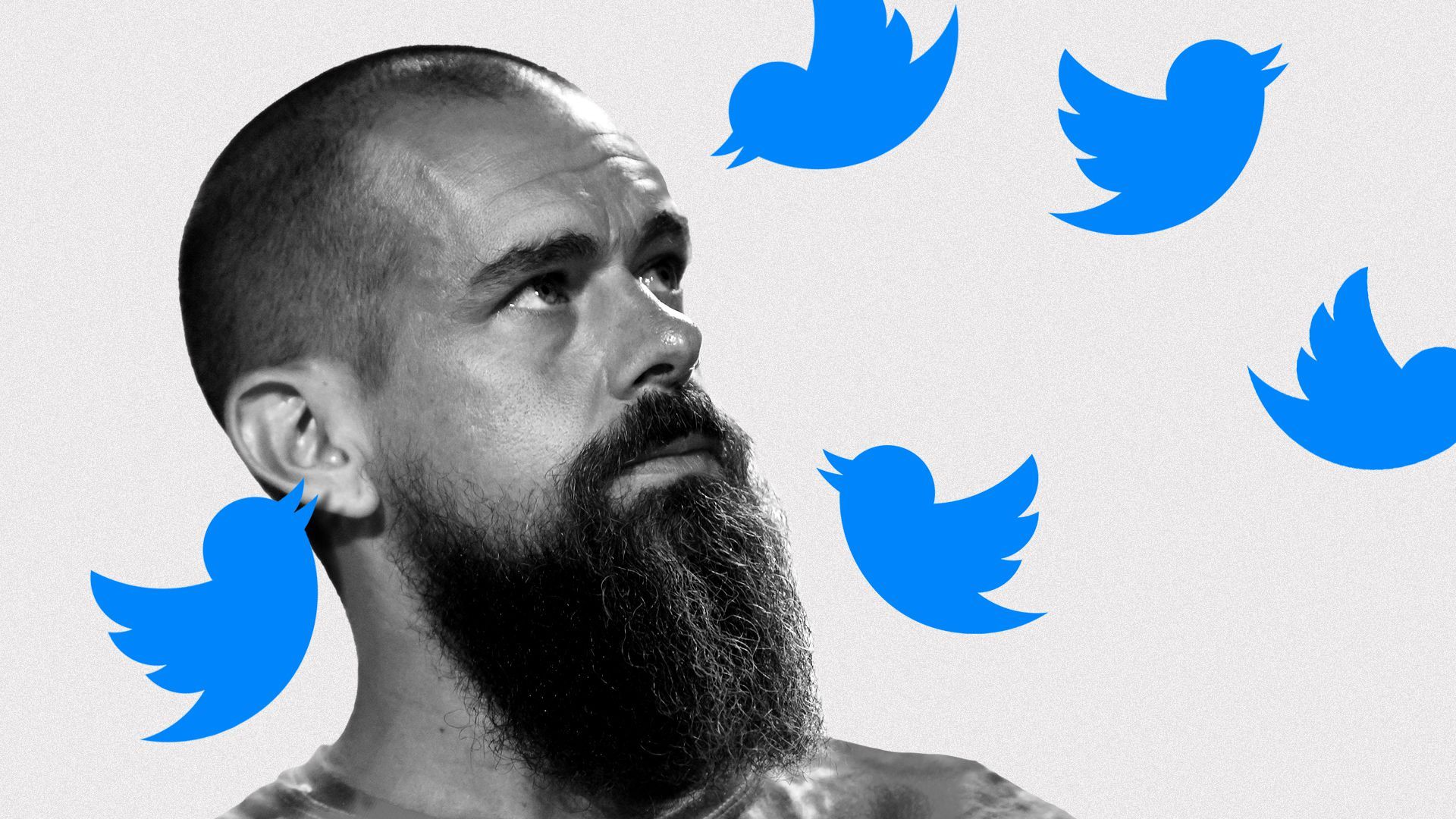 Elon Musk has subpoenaed former Twitter CEO and co-founder Jack Dorsey for documents that could support his legal push to get out of his $44 billion agreement to buy the company, Axios' Sara Fischer reports.
The intrigue: Dorsey and Musk are close, and Dorsey has encouraged Musk's takeover bid publicly and privately, so it's unclear why Musk would need to need to subpoena him for further documents that would support his case.
Details: According to the subpoena, Musk's legal team is looking for Dorsey to provide information pertaining to Twitter's user base and the number of spam accounts on its platform.
For example, it wants access to "documents and communications" regarding Twitter's use of "monetizable daily active users" as a "key metric." It also wants information on the "impact or effect of false or spam accounts on Twitter's business and operations."
The big picture: That information is central to Musk's argument that Twitter has not been forthcoming about its user data, giving him the right to back out of the deal.
Musk's legal team last week subpoenaed a former Twitter product executive who was ousted earlier this year.
Twitter has argued that Musk's argument is legally weak and based on inaccurate info.
Former Twitter security chief Peiter Zatko's newly filed whistleblower complaint on the social media platform's measures to limit spam could shed new light on this ongoing information tug of war.
What to watch: The two parties are expected to meet in trial at a Delaware Chancery Court on Oct. 17, unless they settle out of court before then.
Go deeper: A timeline of the Musk-Twitter deal so far
3. Quick takes: Global chip forecast cut
1. World Semiconductor Trade Statistics, the agency that tracks global chip sales, has cut its forecast for the rest of 2022 and next year based on actual second quarter results. It now sees global chip sales this year reaching $633 billion, up 13.9%, with 2023 sales expected to rise 4.6%.
Why it matters: Although chip sales are still growing, the rate has slowed considerably — and the industry has plenty of fresh capacity expected to hit the market in coming years, raising fears of a glut.
2. Instagram is internally testing a "candid challenges" feature similar to popular social app BeReal, which has its users take a picture to share with friends at a random time each day.
Between the lines: BeReal is convinced that it has built something more lasting than just a set of features — like the timed photo and the fact that it combines a selfie with an image using the phone's main camera.
Yes, but: The startup graveyard is littered with companies that also believed their core features or community couldn't be duplicated or lured away.
3. Bipartisan lawmakers from both House and Senate introduced a new version of a bill that would require big tech platforms to pay some U.S. publishers for their content, Sara reports.
The catch: The law would not apply to publishers with more than 1,500 employees, excluding many of America's most prominent news outlets.
4. Take note
On Tap
Gamescom takes place online starting today and in Cologne, Germany, tomorrow through Sunday.
Trading Places
American Airlines named former Deere information chief Ganesh Jayaram as its new chief digital and information officer.
Richard Ho, an early engineer on Google's Tensor project, is joining chip startup Lightmatter as vice president of hardware engineering.
ICYMI
Zoom cut its revenue forecast for the year, saying it now expects single-digit percentage growth, sending shares lower. (CNBC)