Good morning from Houston, where Amy Harder and I are at the big CERAWeek by IHS Markit energy conference.
Oh, and happy birthday to Peter Wolf, who brings us back to the '80s with today's intro tune . . .
https://www.axios.com/newsletters/axios-generate-fff87449-f354-49dc-83b3-6b1bd20290c0.html?chunk=0#story0
Big Oil and OPEC try to seize climate narrative
Some of the most powerful figures in global energy markets sent a clear signal in Houston early this week: The world will and should move to a lower-carbon future — but on their terms.
What they're saying:
OPEC Secretary General Mohammed Barkindo, in repeated appearances, has warned against overemphasis on specific energy sources. He instead called for focus on technology that reduces emissions from heavy use of fossil fuels (his members' products) that he says will dominate energy markets for decades to come.
BP CEO Bob Dudley, in a major speech here, called for governments to put a price on carbon, and also said that "we need to be agnostic about fuels and focused on a race to lower emissions."
"We have never denied the science. We want to debate the policy," ConocoPhillips CEO Ryan Lance said onstage.
Saudi Aramco CEO Amin Nasser offered an extended warning Tuesday against what he called unrealistic expectations about the penetration of alternative energy and electric vehicles (more on that below).
The big picture: Taken together, the speeches at the big CERAWeek conference thus far — and the scarcity of environmental voices onstage — have provided a window into how the oil industry believes energy transition should unfold.
Essentially, that's with a slow transition to cleaner technologies over time. But the conference has not featured voices that say far more aggressive policies are needed to avoid the most dangerous levels of warming.
To be sure: A number of the biggest companies, including BP and Shell, have been expanding their investments in areas like renewables and EV charging. But it's still a very small portion of their spending.
https://www.axios.com/newsletters/axios-generate-fff87449-f354-49dc-83b3-6b1bd20290c0.html?chunk=1#story1
Fact-checking Zinke's claims on wind and birds
Amy unpacks one of Interior secretary Ryan Zinke's onstage comments...
The claim: Zinke told oil-and-gas industry executives Tuesday that wind turbines kill as many as 750,000 birds a year, repeating a criticism made by other Trump administration officials.
The bottom line: Zinke is exaggerating the figure beyond virtually all published estimates. But more importantly, turbines are a drop in the bucket when it comes to the human-related causes of bird deaths, context Zinke didn't provide.
https://www.axios.com/newsletters/axios-generate-fff87449-f354-49dc-83b3-6b1bd20290c0.html?chunk=2#story2
In Houston, a Saudi twist on peak oil
The power of ideas: Nasser says he's not worried about peak oil demand. But the Saudi Aramco CEO is worried about how fashionable the idea has become these days, arguing that unrealistic hopes could lower needed global development of fossil fuels.
What he's saying:
"We must challenge mistaken assumptions about the speed with which alternatives will penetrate markets, and leave people no doubt that misplaced notions of peak oil demand and stranded resources are a dire threat to an orderly energy transition and energy security."
Nasser also says the industry will need to invest over $20 trillion over the next 25 years to meet rising demand for oil and natural gas.
Why it matters: His remarks during a speech to the conference highlight the growing prominence of debates over when the global thirst for oil will stop growing and head downward.
One level deeper: The comments by the CEO represent a de-facto rebuttal to forecasts that global oil demand for oil, Saudi Aramco's core product, could peak in the not-too-distant future.
For instance, some Bank of America Merrill Lynch analysts predicted in a recent note that the peak could occur by 2030 thanks to very fast EV adoption beginning in the early 2020s.
However, the main forecasts of the International Energy Agency and OPEC see demand rising through at least 2040.
https://www.axios.com/newsletters/axios-generate-fff87449-f354-49dc-83b3-6b1bd20290c0.html?chunk=3#story3
Trade matters: tariffs and the TPP
Trade has always been a big part of the energy sector, but two topics are prominent in the news recently...
Breaking news: Eight oil-and-gas trade groups have released a letter to President Trump warning that tariffs could cause delays or cancellation of pipeline projects. Groups including the Association of Oil Pipe Lines and the Interstate Natural Gas Association of America write:
"While we discourage you from imposing steel tariffs, we urge you at least to allow exemptions when steel products needed for energy production, processing, refining, transportation, and distribution are not sufficiently available in domestic markets."
The big picture: An overarching theme at CERAWeek has been industry fears that steel tariffs will drive up costs and their entreaties to the White House to ease the plan. Those hopes were dealt a blow Tuesday with the resignation of White House economic adviser Gary Cohn.
"[T]here are now zero powerful West Wing voices willing to spend all their political capital to persuade the president to kill these tariffs," my Axios colleague
Jonathan Swan writes
.
The concern: "Energy executives say the Trump administration's proposed steel and aluminum tariffs could bump up the cost of big-ticket projects needed for rapidly rising U.S. shale oil and gas output by three to 10 percent," Reuters reports.
And don't forget: Zinke defended the tariffs on Tuesday after addressing the CERAWeek conference.
* * *
TPP: Over in our Expert Voices section, the Atlantic Council's David Livingston writes that 11 countries in the Asia-Pacific will sign the Trans-Pacific Partnership trade agreement this Thursday, while the TPP's original catalyst — the U.S. —watches from the sidelines. Of all the groups ruing what could have been, America's advanced energy sector must be left particularly disheartened.
Why it matters: The TPP was expected to reduce costs for imported renewables. Not only will these savings not be realized, but new steel and aluminum tariffs may add around 2 cents per watt to utility-scale solar projects, in addition to the increase of 10 cents per watt from the recent solar tariffs.
https://www.axios.com/newsletters/axios-generate-fff87449-f354-49dc-83b3-6b1bd20290c0.html?chunk=4#story4
Houston notes: OPEC, offshore drilling, ANWR
The OPEC-shale meeting: Amy chatted with Timothy Dove, CEO of Pioneer Natural Resources, about Monday night's dinner between big U.S. shale producers and OPEC ministers.
She notes that the sheer existence of the dinner indicates the seriousness that OPEC is taking U.S. producers. Read her piece here.
An offshore test: Zinke called the March 21 Gulf of Mexico lease sale a "bellwether" for the industry's interest in offshore acreage at a time when onshore shale development is booming in the Permian Basin region of Texas and New Mexico.
"We will see what the future of offshore is in comparison to the Permian," he said.
ANWR test: ConocoPhillip's Lance offered a qualified yes when I asked him on the conference sidelines whether there's industry interest in developing the Arctic National Wildlife Refuge, where drilling is no longer banned.
"Industry will be interested once we see new data and if we see the prospectivity of the area, but the challenge is to go get that data" and see how competitive the resources are, he said.
EVs: Bloomberg has a nice roundup of the discussion here thus far.
https://www.axios.com/newsletters/axios-generate-fff87449-f354-49dc-83b3-6b1bd20290c0.html?chunk=5#story5
In focus: global gas markets and supplies
The conference focus today turns to natural gas markets, and one thing we'll be listening for is talk on LNG supply fears.
What's happening: Three of the world's most powerful energy companies are warning about a mismatch between global demand and supply opening up during the 2020s.
"Like most people, we believe [that] early-mid next decade, we will see the supply-demand gap developing again, and it will convert from a buyer's market back into a seller's market, and it will require some elevated contractual gas prices to incentivize new greenfield developments," Lance said onstage yesterday.
Via Reuters, "Chevron Corp. said on Tuesday it expected supply shortage in the global liquefied natural gas (LNG) market by around 2025."
Royal Dutch Shell said in a late February report that final investment commitments in LNG projects worldwide have stalled since 2015. And, this creates the risk of a supply-demand gap opening in the mid-2020s, they said.
https://www.axios.com/newsletters/axios-generate-fff87449-f354-49dc-83b3-6b1bd20290c0.html?chunk=6#story6
The big picture: Oil and tech converge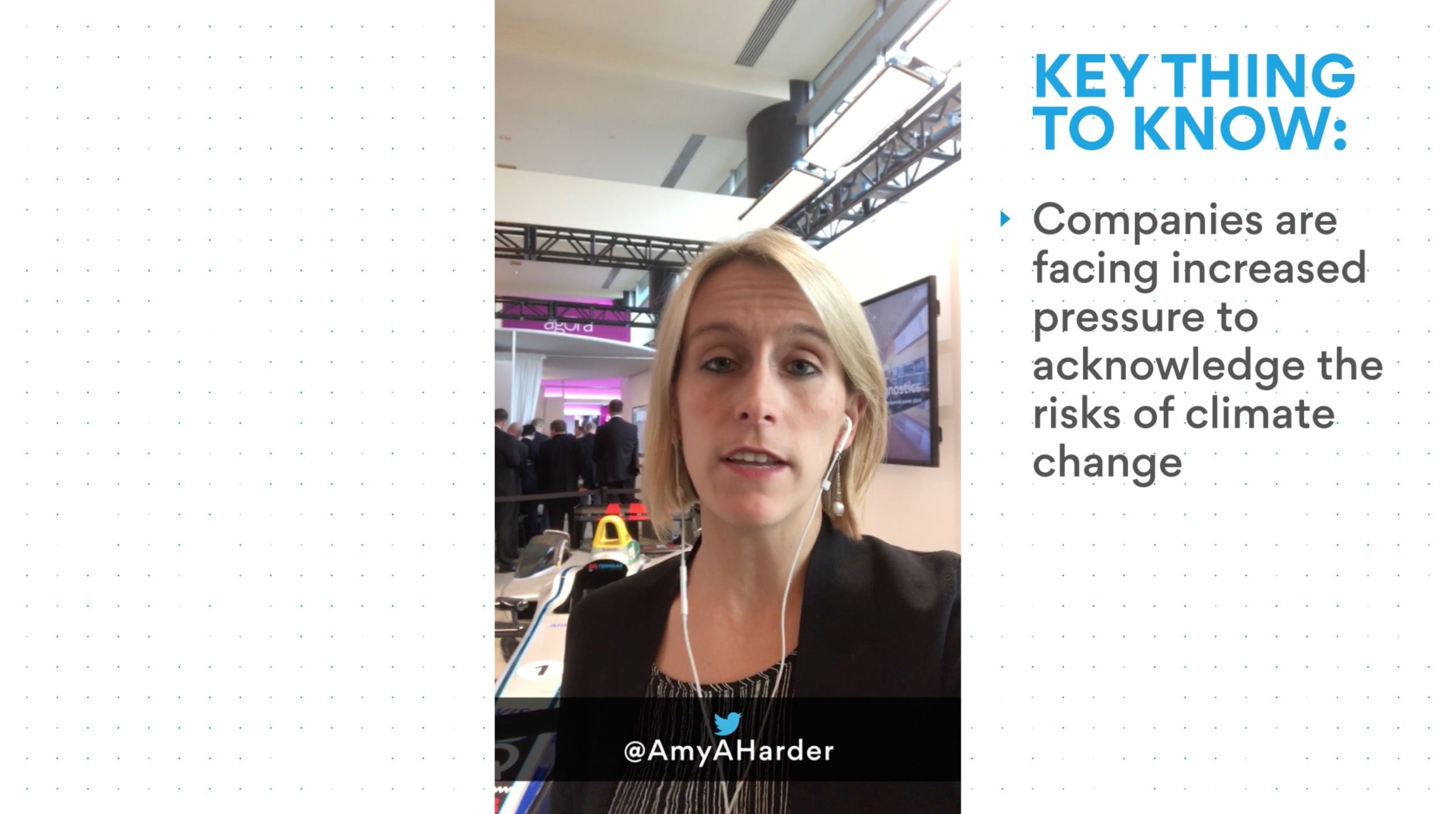 One more note from Houston: Amy created a quick, cool video explainer on one of the big themes in CERAWeek — the oil-and-gas industry's intersection with the tech sector as companies face pressure over global warming.
https://www.axios.com/newsletters/axios-generate-fff87449-f354-49dc-83b3-6b1bd20290c0.html?chunk=7#story7
Quote of the day
"No one really gives a sh*t about gas. Who enjoys filling up their car? Nobody. It's not a pleasant experience. It's a necessity. We have to educate the consumer. They don't want an education."
— Michael Lorenz, EVP of petroleum supply for Sheetz, at a CERAWeek breakfast panel yesterday