Axios Generate
July 15, 2022
🍺 Yes, that's right! Today's newsletter, edited by Mickey Meece, has a Smart Brevity count of 1,175 words, 4.5 minutes. 
🥁 The great drummer Stewart Copeland of The Police celebrates a birthday this weekend, so his talent animates today's intro tune...
1 big thing: Takeaways from climate legislation's demise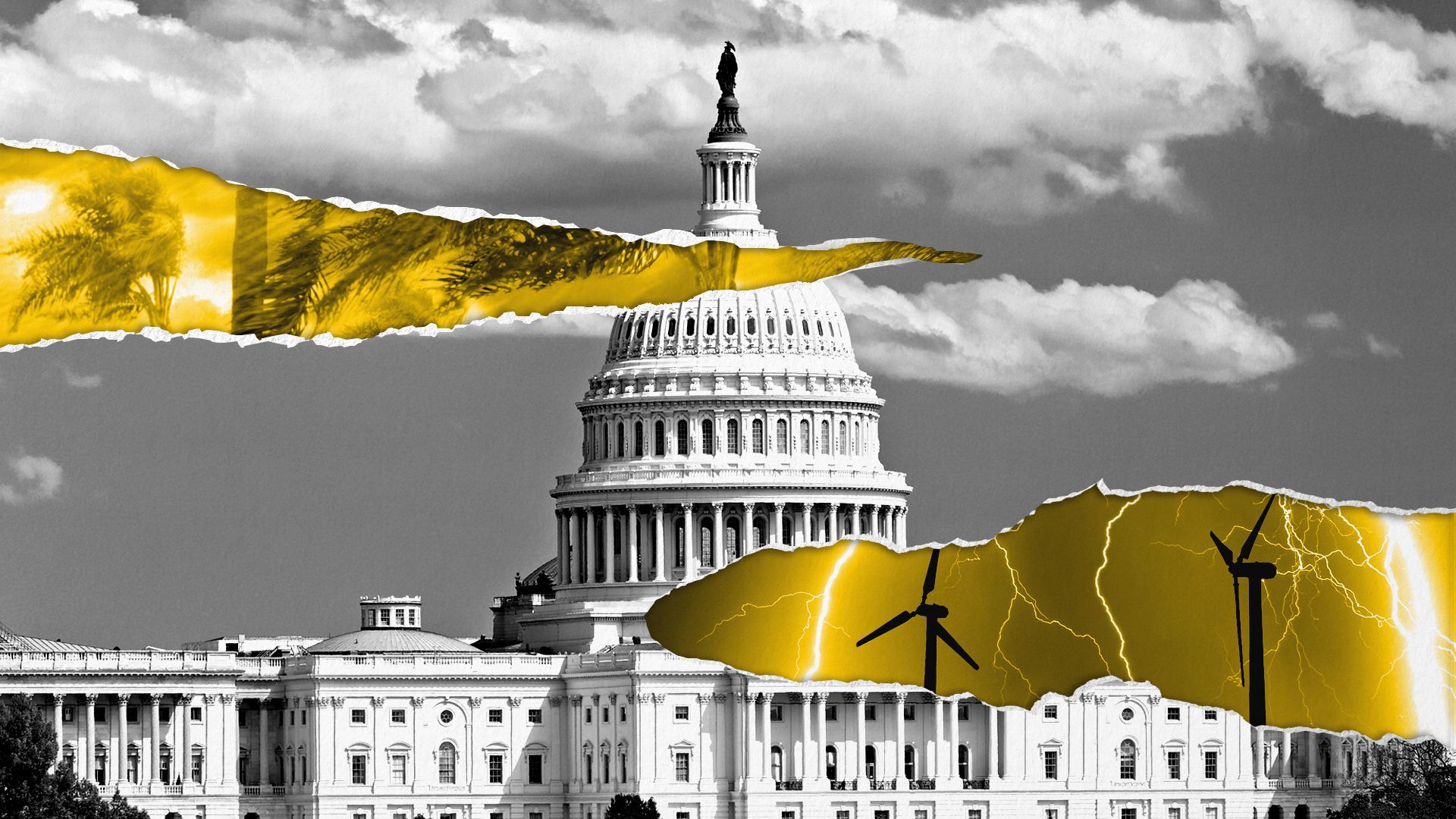 ICYMI late last night, talks to revive a sweeping clean energy incentive package collapsed in the Senate, Ben writes.
Driving the news: Sen. Joe Manchin (D-W.Va) flatly told Democratic leader Chuck Schumer he's out on a spending and tax plan with climate measures, per a Democrat briefed on the talks and several reports.
The evenly divided Senate means Manchin's stance kills those provisions, which were already scaled back from White House goals.
There's little chance of revival — perhaps for many years — because Democrats will likely lose at least the House in the midterm elections. Axios' Hans Nichols has more on last night's news.
A few quick takeaways...
1. It's a body blow for domestic targets for cutting planet-warming gases.
Democrats were seeking hundreds of billions of dollars worth of new and expanded incentives for electric cars, renewables and other climate-friendly projects.
A Rhodium Group analysis yesterday showed that under existing policy, the U.S. will badly miss President Biden's target of cutting emissions 50% below 2005 levels by 2030.
Global climate efforts run partly on peer pressure, so it could also make it harder for U.S. officials to urge tougher steps in other nations.
2. Biden is immediately under new pressure to push the limits of existing powers.
One example: "With legislative climate options now closed, it's now time for executive Beast Mode," Sen. Sheldon Whitehouse (D-R.I.) tweeted last night.
He called for a suite of stronger emissions regulations, but other steps too, such as the Justice Department weighing "tobacco-style climate litigation."
Keep an eye on whether Biden now takes a more aggressive stance on restricting fossil fuel projects.
3. But Biden also faces new constraints. The Supreme Court in late June curtailed the breadth of EPA's options on power plant regulations.
The decision is likely to more broadly constrain executive agencies' running room when they seek to act without explicit congressional authorization.
In addition, high gasoline prices make it more politically difficult for Biden to take steps that thwart oil-and-gas development (even though new projects don't really affect near-term prices).
4. The future is...the future. The energy tax package indeed looks dead.
But talks over Biden's "build back better" plan have taken various twists and turns over the last year and a half, so insert shrug emoji here.
2. 🛢️Catch up fast on oil: exports, diplomacy, prices
🇪🇺 "Europe has surpassed Asia to become the top consumer of American oil for the first time in six years," Bloomberg reports, noting the shift "underscores how significantly Russia's invasion of Ukraine has redirected energy supplies."
🗣️ "On the eve of a meeting of finance chiefs from the world's major economies in Bali, Indonesia, Treasury Secretary Janet Yellen continued to push for a price cap on Russian oil, calling it "one of our most powerful tools" to alleviate the painful leaps in energy and food prices," the New York Times reports.
📈 "Oil prices rose on Friday after a U.S. official told Reuters an immediate Saudi oil output boost is not expected, with further support from indications that the U.S. central bank could raise interest rates less aggressively than anticipated," Reuters reports.
3. The climate connection to Europe's blazes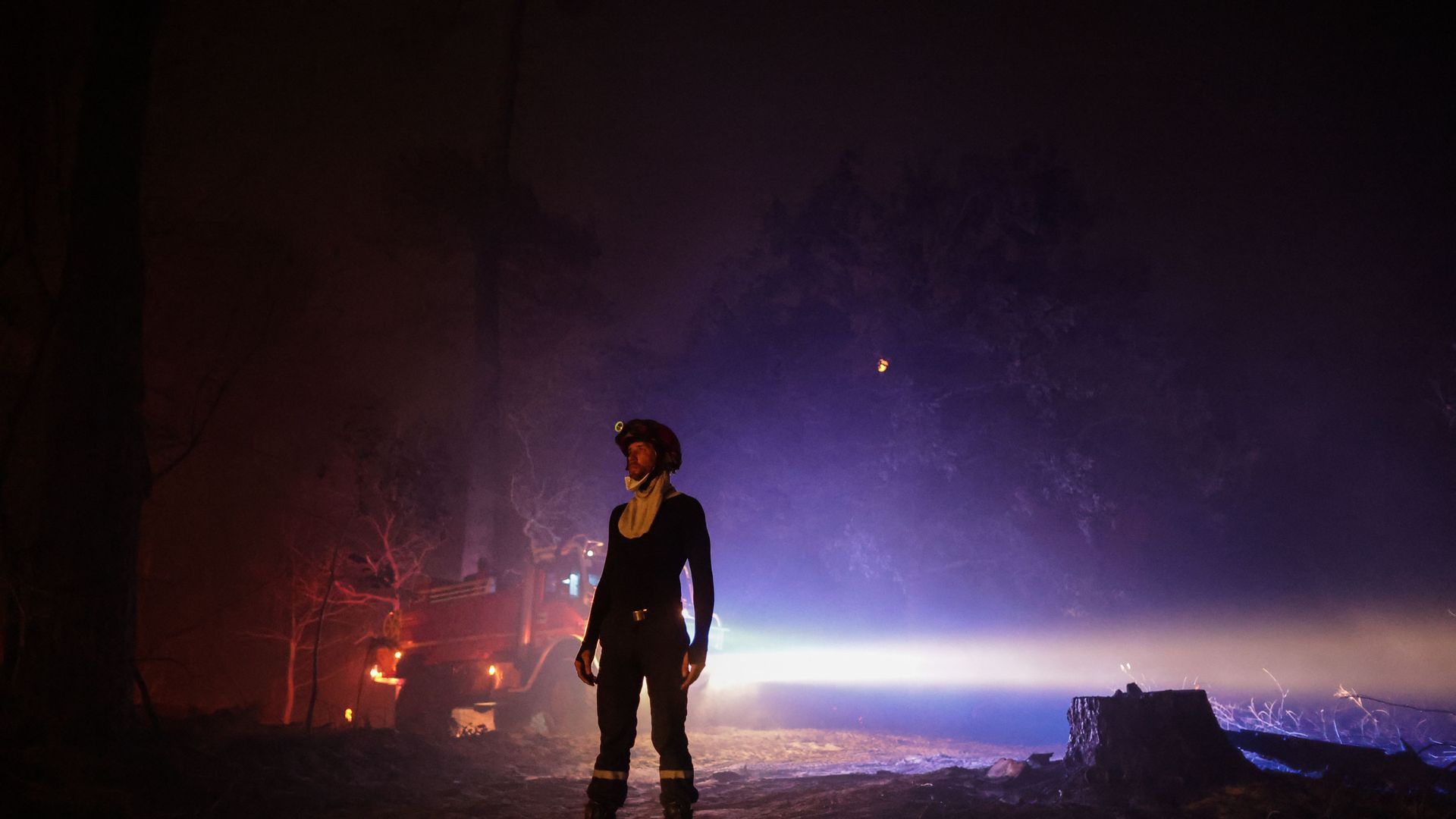 A dangerous heat wave is fueling fires across Europe and climate change is "aggravating the situation, making countries more prone to wildfires and increasing the intensity of such events," a new EU report warns, Axios' Rebecca Falconer reports.
Driving the news: Thousands of firefighters are battling blazes in searing heat across the continent.
The fires have forced thousands of people to evacuate in France, Spain, Portugal and Croatia, as Europe faces another potentially record-breaking heat wave for a second consecutive month.
Threat level: Studies show that as the climate warms the frequency of heat waves dramatically increases, raising the risk of wildfires.
The big picture: The report by the European Commission, the executive arm of the EU, published Thursday examines how to employ integrated fire management practices across member countries.
4. A hot year so far
Stepping back from the immediate extremes in Europe, China and elsewhere, 2022's on track to be a very warm year globally, Ben writes.
The big picture: NOAA's latest monthly report finds a 99% chance that 2022 will rank among the 10 warmest in records dating back to the late 1800s. But it sees only an 11% chance of a top 5 ranking.
The intrigue: Could that change? "La Niña years tend to be cooler than average, making it much less likely to set record or near-record temperatures," Penn State climate scientist Michael Mann tells me.
"But you never know," he adds. "The fact is that the warming trend is so dominant now that even La Niña years can set near-record temperatures. So I wouldn't rule 2022 out just yet."
The bottom line: 2022's heat is illustrative of the wider and dangerous warming unfolding, regardless of where it ends up in the rankings.
"It's the multi-year trend we want to focus on, as it averages out the year-to-year fluctuations from El Niño and La Niña, volcanic eruptions, etc.," Mann said via email.
5. Finance spotlight: batteries, cement, hydrogen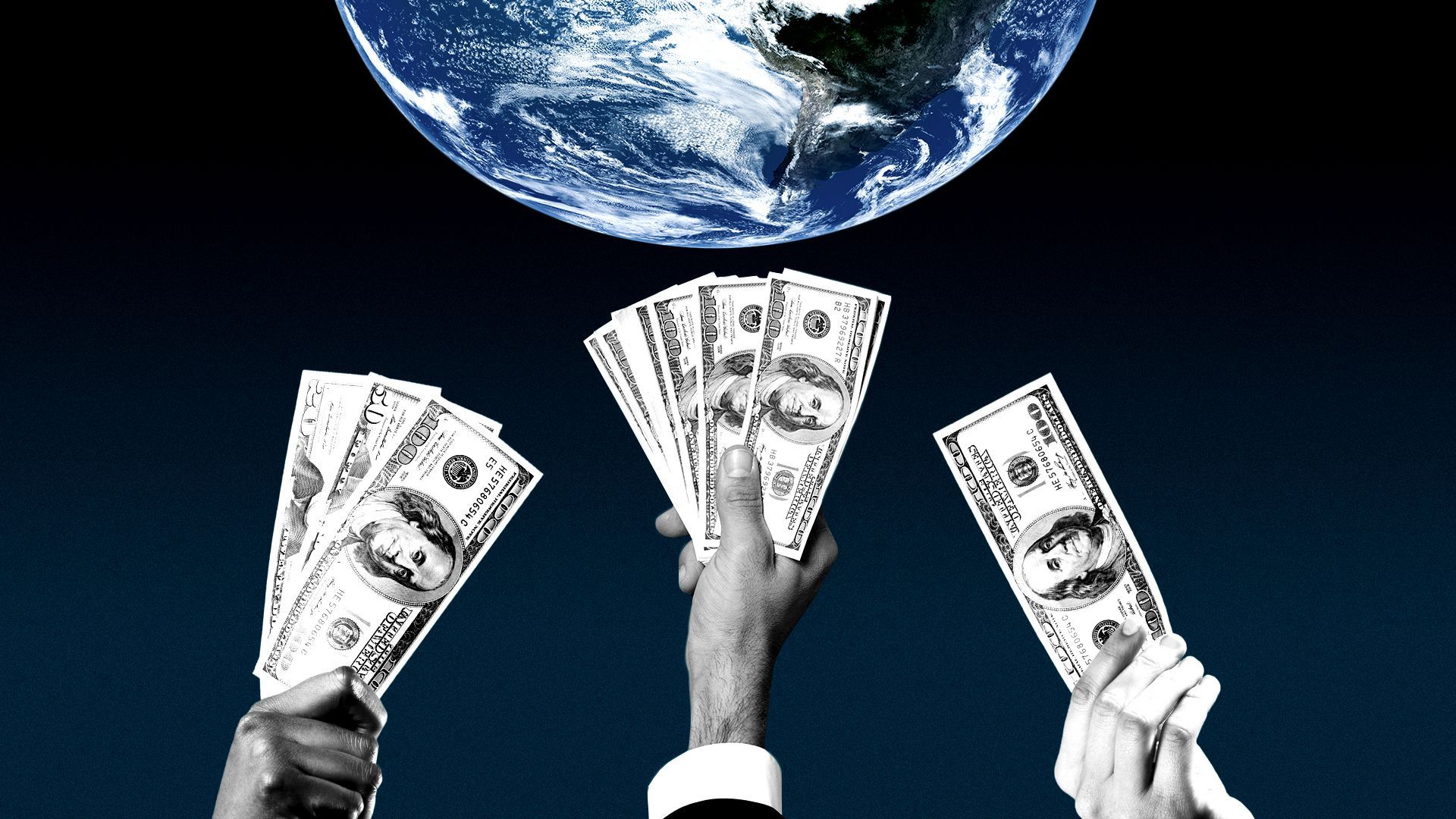 🔋Powin, a U.S. grid-scale storage company, snagged a $135 million equity investment led by GIC, which is Singapore's sovereign wealth fund.
Why it matters: This type of investment from a firm such as GIC shows that grid-scale storage is a focal point not just for the U.S. and Europe, but large global investors as well, Axios' Alan Neuhauser reports.
🏗️ Terra CO2 Technology, a company looking to commercialize low-CO2 cement using alternative feedstocks, landed $46 million in Series A finance led by Bill Gates' Breakthrough Energy Ventures and LENx.
Why it matters: Cement — the key ingredient in concrete — is a big deal from a climate standpoint, with production accounting for an estimated 7% of global CO2 emissions.
⚡Amazon's climate fund is investing in Sunfire, a German green hydrogen company, though it didn't disclose the amount.
Why it matters: "Hydrogen, when produced with renewable electricity, is a promising pathway for decarbonizing industries not as amenable to electrification, like aviation, steel production, heavy-duty trucking, and cargo shipping," Amazon said in the announcement.
6. A GOP generation gap on climate change
A wide-ranging new Pew Research Center poll shows large age-related divides in Republicans' views on global warming, Ben writes.
Driving the news: Nearly half of Republicans (or who "lean" Republican) age 18-29 say the federal government is doing too little on the topic. But as you can see above, this concern drops off pretty sharply with age.
There are also generational splits over policy, though carbon emissions taxes and incentives for carbon capture have more unified backing.
Our chart only shows the youngest and oldest cohorts polled, but the full poll looked at four age groupings.
Of note: The poll's margin of error for specific age groups by party is bigger than the +/- 2.2% for overall party samples, but the results clearly show divides even with those uncertainties.
The big picture: 79% of Democrats and Dem-leaners say President Biden's climate policies are taking the country in the right direction, compared to 15% in the R and lean-R camp.
The big poll has a lot about views on policy, extreme weather and more. Check out the whole thing.
Editor's note: The 6th item has been corrected to note that nearly half of Republicans age 18-29 think the government is doing too little, not nearly half of all Republicans.
📬 Did a friend send you this newsletter? Welcome, please sign up.
🙏Thanks for reading and have a great weekend!