Axios Generate
April 11, 2017
Good morning and welcome back to Generate, where your host is happy to have contributions today from talented Axios colleagues Amy Harder (who will be a regular) and Shannon Vavra. You can find them both on Twitter at @amyaharder and @shanvav. Let's dive in...
Notes from the oil patch
Wait, did the movie There Will Be Blood (the source of the GIF above) really come out 10 years ago? That went by fast. Anyway, here's a a few tidbits about oil powerhouses caught my eye over the last day . . .
Chevron: CEO John Watson chatted with the Columbia Center on Global Energy Policy for their latest podcast.
Tepid on Paris: Watson's public stance is kind of meh. He doesn't align with conservatives calling on the U.S. to bail outright (a stance that appears to be losing political ground), but he doesn't praise the accord like some of his peers in the Big Oil CEO club. "It's a beginning, but we need to understand a lot more about the commitments, about how we are going to have certainty, and what the costs of those commitments are, particularly to the U.S. government and to the U.S. consumer," he said of the climate accord.
NAFTA: His message to policymakers is don't mess with it too much, because it has been good for all three nations involved. "It creates jobs and creates well-being in all three countries."
Permian basin drilling: He's psyched about it. The roughly $2 billion in Permian investment planned in 2017 "could grow in future years."
Shell: The BBC has the latest on leaked recordings and internal emails that have surfaced in recent days about the oil giant's 2011 deal to secure access to a promising oilfield off Nigeria's coast.
"Shell has admitted for the first time it dealt with a convicted money-launderer when negotiating access to a vast oil field in Nigeria," the BBC reports. BuzzFeed and the Italian newspaper Il Sole 24 Ore reported on the murky deal and the investigations into it.
Russia and America: "In a crazy twist of international events, Russia's state-owned oil company Rosneft might end up owning Citgo, a US energy company based in Houston, Texas," CNN reports on the complicated arrangement. It hinges on whether Citgo's parent company, the Venezuelan state oil giant PDVSA, can repay a loan to Rosneft.
"In hotly worded letters to the Trump Administration in recent days, members of Congress and senators warned that it could be a big problem for US national security if Russia gets a hold of Citgo," CNN notes.
From Amy's notebook: Calling the bluff on carbon taxes
Get up to speed: Yesterday Axios energy reporter Amy Harder explored one of the biggest barriers to carbon taxes gaining any political traction: the refusal of Democrats and green groups to trade away regulations in return, and the refusal of Republicans and industry to accept EPA climate rules on top of a tax.
Now she's got a little more on that topic …
One level deeper: David Bookbinder, former chief climate counsel for the Sierra Club and now a fellow at the right-leaning Niskanan Center, which advocates for a carbon tax, says there's more than meets the eye when it comes to the carbon tax versus climate regulations debate.
What he's saying: Environmental groups publicly say they wouldn't trade climate regulations at the Environmental Protection Agency for a carbon tax, but privately the groups say they would if the price is right, Bookbinder asserts.
"Like most entities that have no experience in actual negotiations, they [environmental groups] believe that they can't say publicly that they will make the trade until the R's put the tax on the table," Bookbinder tells Axios.
Our thought bubble:
At least one side is going to have to be the first to show a willingness to compromise privately and eventually publicly to break the logjam that is this perennial carbon tax debate. So far, that's not happening. A spokesman for the Sierra Club declined to comment on the record about their official position, which is that they wouldn't support a trade of EPA regulation for a carbon tax.
U.S. carbon footprint shrinks—again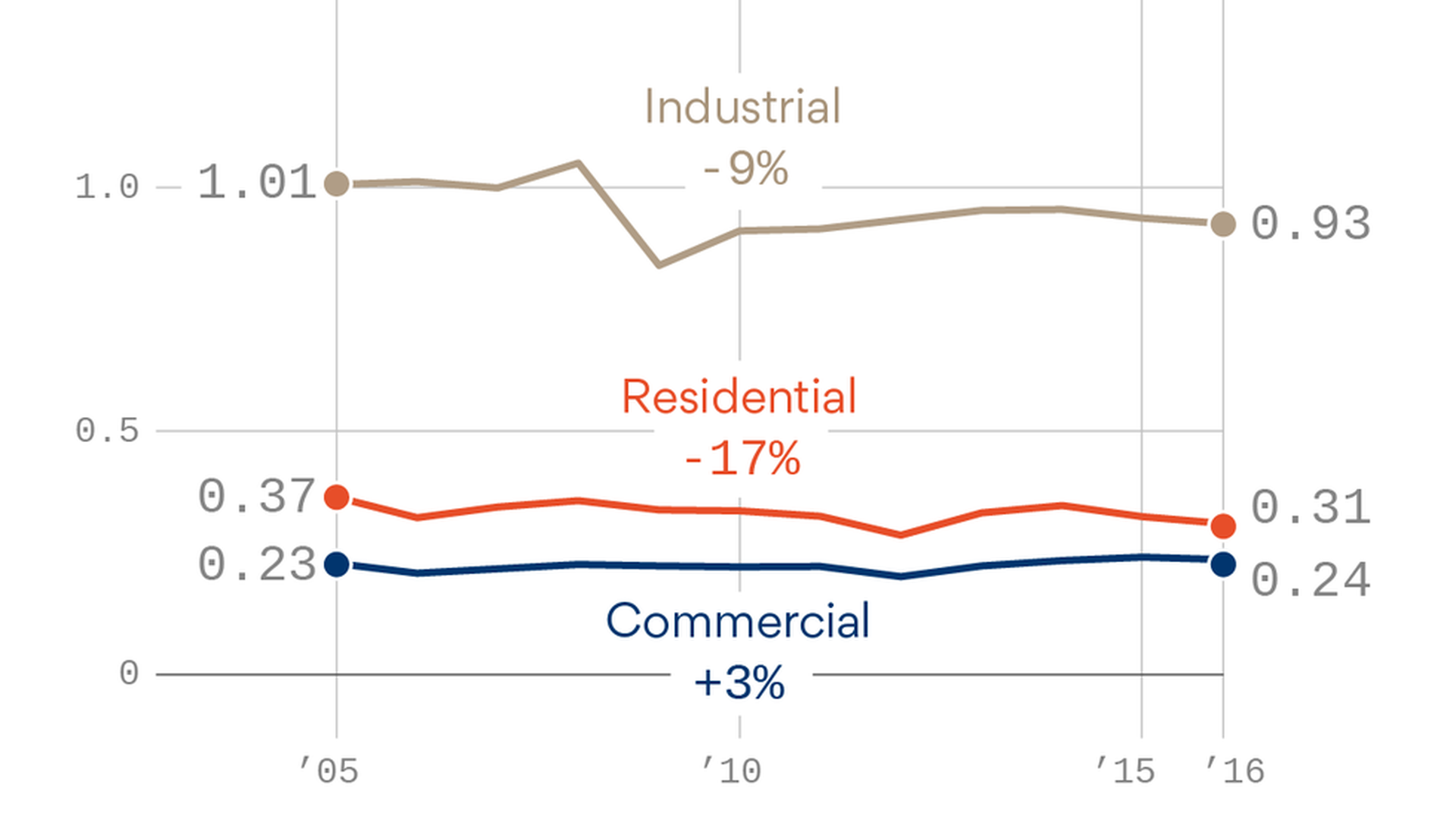 U.S. carbon emissions from energy dropped another 1.7 percent in 2016, largely because natural gas and renewables are displacing coal in power production, data from the federal Energy Information Administration shows.
Why it matters: It's a clear signal that President Trump's effort to revive the coal industry's fortunes by cutting regulation is an uphill battle against underlying market trends.
Emissions from electric power fell by almost 5 percent. Total CO2 emissions are around 14 percent below 2005 levels, putting the U.S. roughly halfway toward meeting its pledge under the Paris climate accord to cut emissions by 26-28 percent by 2025.
The emissions drop last year was smaller than the 2.7 percent decline between 2014 and 2015. Energy accounts for nearly all U.S. carbon emissions.
To be sure: Not everything is trending downward. Emissions from transportation rose by almost 2 percent last year as vehicle travel increased amid low gasoline prices. Transportation overtook the electricity sector as the largest U.S. carbon emissions source in 2016, according to EIA.
What happens in Rome
From the Axios stream, my colleague Shannon Vavra summarizes coverage from Italy about what did and didn't happen when Energy Secretary Rick Perry went to Rome for the G-7 meeting of energy ministers . . .
No comment: The U.S. delegation to the G7 was the only country not to sign a draft joint-statement that included a commitment to follow the Paris climate agreement's provisions, according to the AP. As a result, the group didn't issue a statement at all.
Why the U.S. didn't sign: It's still reviewing its position, per the Italian development minister. Energy Secretary Rick Perry also wanted to include references to coal and fossil fuels in the statement, Reuters reports.
Thanks Shannon! Here's a bit more . . .
Not business as usual: The unusual absence of a communique from the meeting signals how the lack of a White House position on the Paris climate agreement is starting to percolate into diplomacy.
The suspense won't last forever though. White House press secretary Sean Spicer said recently that the U.S. plans to announce its plans ahead of the late May G-7 meeting that Trump will attend.
The headline of Bloomberg's piece on Perry's Italian adventure adds some drama: "Trump Faces Showdown With G-7 Over Climate Stance Next Month."
Tesla and Trump
Tesla CEO Elon Musk is among the executives who will meet with President Trump at the White House on Tuesday. Mike Allen sets the stage in Axios AM this morning. Speaking of Tesla ...
Worth a lot: On Monday, trading sent the electric vehicle and solar company's valuation past GM to make it the most valuable U.S. automaker, Reuters reports.
Kim Hart sizes up the news and injects some caution over in the Axios stream.
Bubble?
Over at Business Insider, Matthew DeBord
argues
that "none of this makes any sense. The Los Angeles Times notes that the company's surging valuation puts an even more intense spotlight on the company as it prepares to launch its Model 3 sedan later this year.
"The propulsive rise in Tesla's stock — up more than 70% since December — amps up the pressure on the company and its visionary chief executive, Elon Musk, to deliver near-flawless performance," their story states.