https://www.axios.com/newsletters/axios-am-528ab52b-7e0b-461f-96bf-c25c379af61e.html?chunk=0#story0
1 big thing: Trump and the CEOs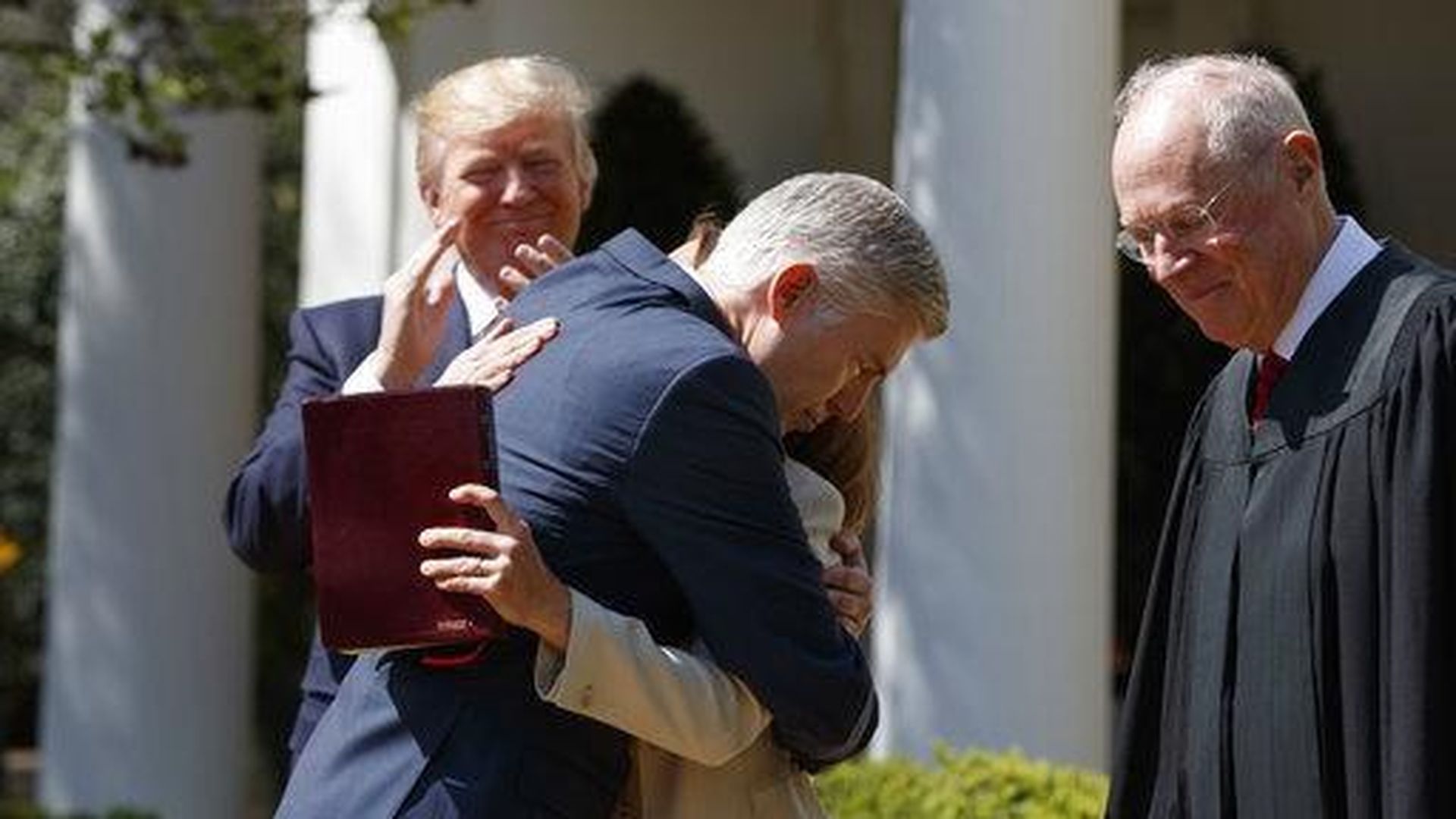 How to finance Trump's infrastructure plan, which depends on leveraging public funds with many more private dollars, will be one of the top topics as President Trump meets at 10:45 a.m. with a who's-who of CEOs (Elon Musk, etc.) assembled by Blackstone's Steve Schwarzman, who heads the President's Strategic and Policy Forum.
The summit is a time to shine for Jared Kushner's Office of American Innovation. Cabinet members will lead sessions on commerce, education, environment, budget and transportation.
Why it matters: After Trump got skunked on health reform, he needs to find other ways to put points on the board. The corporate heat can help him with Congress — and back him up where Congress won't.
Mood music ... "Why Trump's $1 trillion infrastructure plan could wind up in a ditch," by Politico transportation reporter Lauren Gardner: "His hopes for a 'very bipartisan' bill are running into the same kinds of political forces that torpedoed the Obamacare repeal."
What the White House is reading: UBS Americas President Tom Naratil is out this morning with a report laying out the need to get "civic capital" off the sidelines to meet Trump's infrastructure goals. (Cheat sheet)
https://www.axios.com/newsletters/axios-am-528ab52b-7e0b-461f-96bf-c25c379af61e.html?chunk=1#story1
2. Left rising on Facebook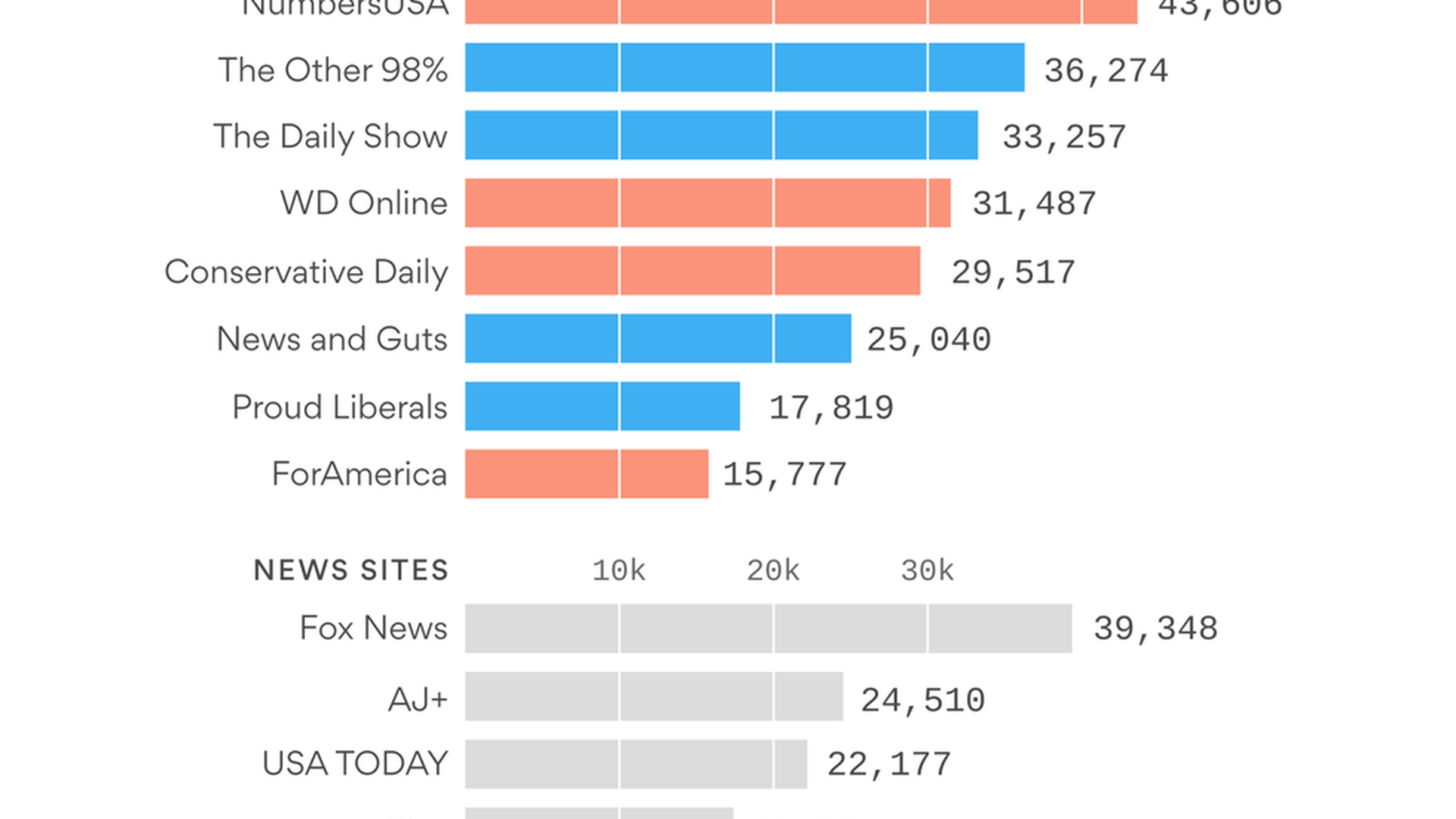 A majority of the most-engaged partisan Facebook pages are left-leaning or affiliated with Trump resistance movements, according to NewsWhip, the social analytics measurement company.
Axios' Sara Fischer reports that even more telling is that most of the left-leaning pages are out-performing some of the most trafficked news competitors in overall engagement.
Why it matters: Facebook is a good tool for observing the rise of political movements. And its role in activism will only grow bigger. New tools, like call-to-action buttons, fundraising buttons and buttons to contact elected officials, combined with traditional tools, like mass event invitations, make it easy for political groups to form and spread on Facebook.
https://www.axios.com/newsletters/axios-am-528ab52b-7e0b-461f-96bf-c25c379af61e.html?chunk=2#story2
3. Family foreign policy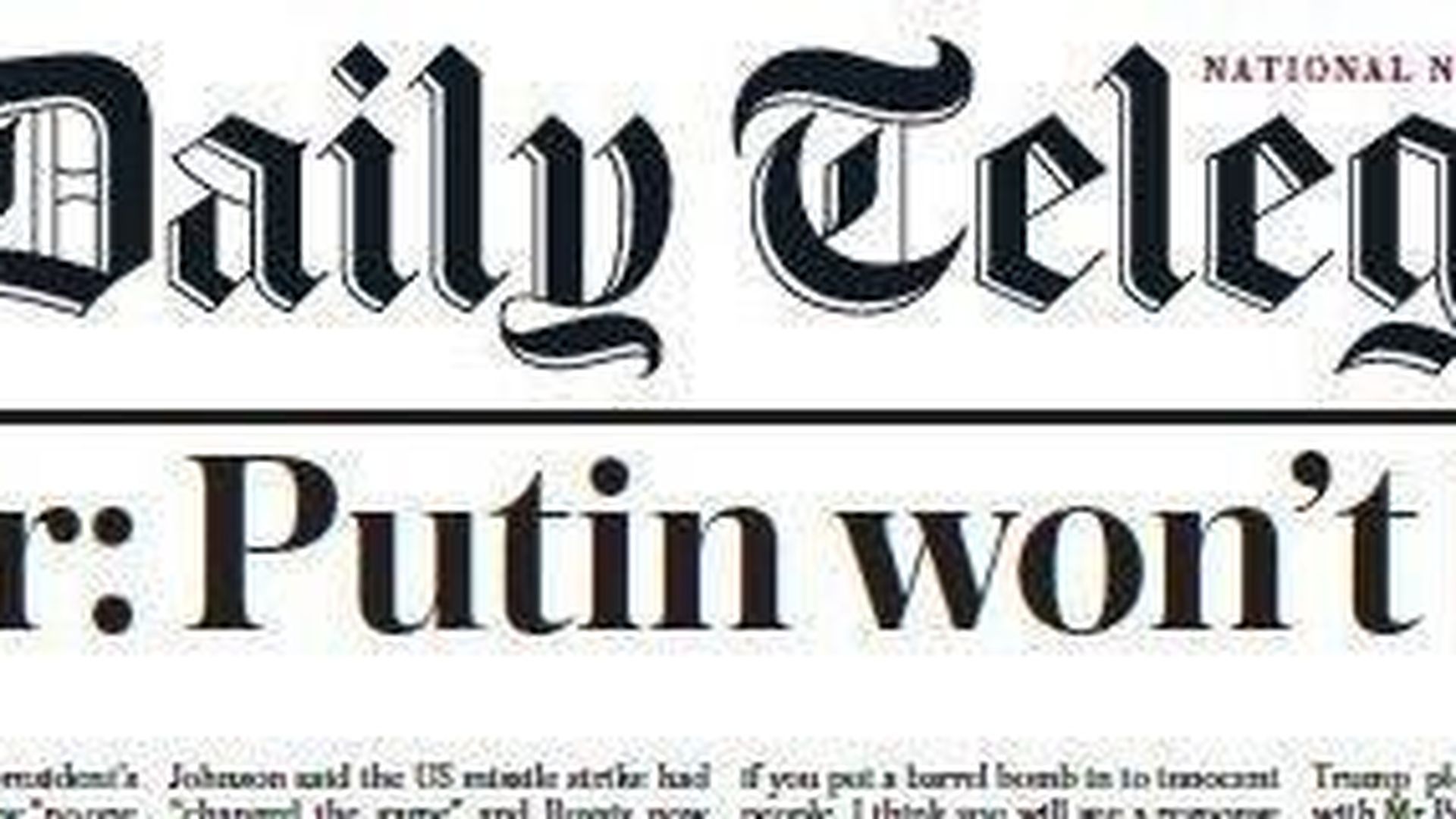 Lead story of London's Daily Telegraph: "Trump's decision to launch a cruise missile attack on Syria proved he is not in league with Russia and will not be 'pushed around' by Vladimir Putin, the US President's son has told The Daily Telegraph. Eric Trump said his father was not intimidated by President Putin's talk of war, and there would be 'no-one harder' than President Trump if they 'cross us.'
"He also confirmed that President Trump's decision to bomb a Syrian airbase ... was influenced by the reaction of his sister Ivanka, who said she was 'heartbroken and outraged' by the atrocity.
P.S. Wall Street Journal lead story, "U.S. Hints at Tougher Stance On Syria: Discussion of wider retaliation comes as Tillerson heads to meetings in Russia."
P.P.S. AP's Jonathan Lemire: "Donald Trump Jr. ... will not be a candidate for governor of New York next year but is not ruling out a possible run for office in the future. ... 'I am not running in 2018.'"
https://www.axios.com/newsletters/axios-am-528ab52b-7e0b-461f-96bf-c25c379af61e.html?chunk=3#story3
4. A lonely beat
Politico's Mike Grunwald has carved out a lonely beat looking at what Trump does, rather than what he says:
His latest ... "Trump's Secret Weapon Against Obama's Legacy — Using an obscure law called the Congressional Review Act, the president and his allies in Congress are quietly wiping out parts of his predecessor's regulatory regime":
The Congressional Review Act, a 21-year-old law that created a fast track for wiping out "midnight rules" finalized late in a presidential administration, had been used only once before this year. But Trump and the Republican-controlled Congress have already deployed it 11 times to strike down Obama-era regulations. In fact, those 11 CRA resolutions are the only substantive bills Trump has signed so far; it's quite possible that the CRA will produce the entire legislative legacy of his first 100 days.
https://www.axios.com/newsletters/axios-am-528ab52b-7e0b-461f-96bf-c25c379af61e.html?chunk=4#story4
5. Grading Trump
Shot ... Michael Gerson, former top aide to George W. Bush, in WashPost column, "The struggle to give a soul to a soulless presidency": "Would this divided, chaotic White House, as it stands, be ready for a major shock such as a terrorist attack or a serious military move by a rival power? There is every reason to think it would not be ready."
Chaser ... Ian Bremmer, in his Eurasia Group email update for clients: "[F]or all the concerns that [P]resident [T]rump's 'finger on the button' would be a menace, the response to [S]yria's chemical weapons strikes was restrained and commensurate."
https://www.axios.com/newsletters/axios-am-528ab52b-7e0b-461f-96bf-c25c379af61e.html?chunk=5#story5
6. Watergate never goes away
Four movies or documentaries are in the works on Watergate, a friend points out:
"Felt" is the story of Deep Throat, FBI official Mark Felt, told primarily from the perspective of his family. Liam Neeson plays Felt. Julian Morris plays Bob Woodward. Filming is complete and the movie is expected to be released this year. Directed by Peter Landesman.
The film rights to "The Last of the President's Men," Woodward's book on Nixon aide Alexander Butterfield, who disclosed the secret White House taping system, has been sold to Steve Golin's Anonymous Content (which did "Spotlight," the 2016 Best Picture on the Boston Globe investigation of Catholic priests). Screenwriter and director Rod Lurie is working on the screenplay and meeting regularly with Butterfield and Woodward.
Actor Robert Redford is planning with NBC for a possible documentary that focuses on the Senate and House investigations of Watergate in 1973-74, when bipartisanship was still possible in Washington.
ABC has commissioned a primetime special on Watergate timed to the 45th anniversary of the 1972 break-in at the Democratic headquarters in the Watergate office building.
Asked for comment, Woodward told Axios AM: "History is never over."
https://www.axios.com/newsletters/axios-am-528ab52b-7e0b-461f-96bf-c25c379af61e.html?chunk=6#story6
7. Pulitzer winners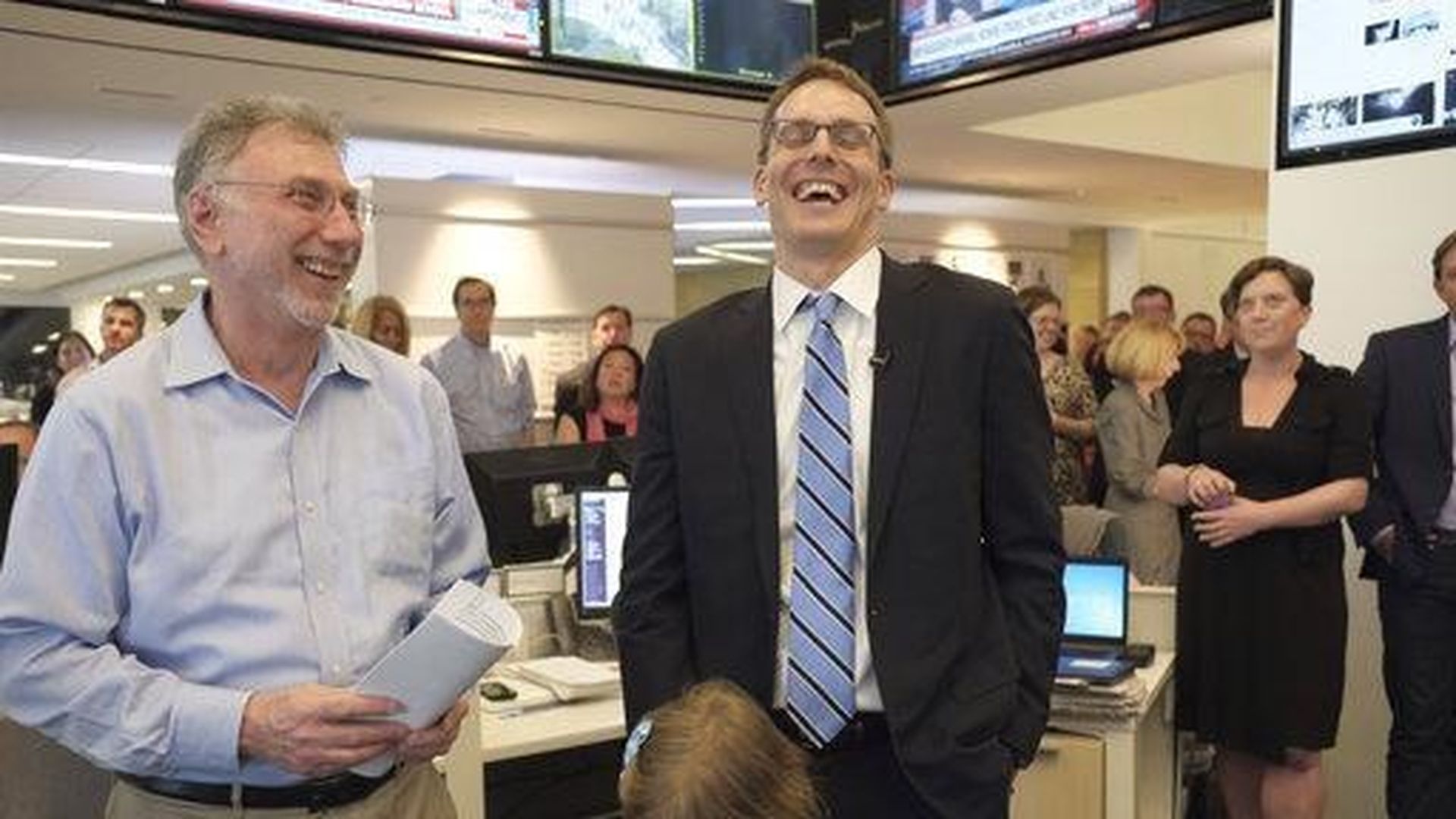 https://www.axios.com/newsletters/axios-am-528ab52b-7e0b-461f-96bf-c25c379af61e.html?chunk=7#story7
8. Will London fall?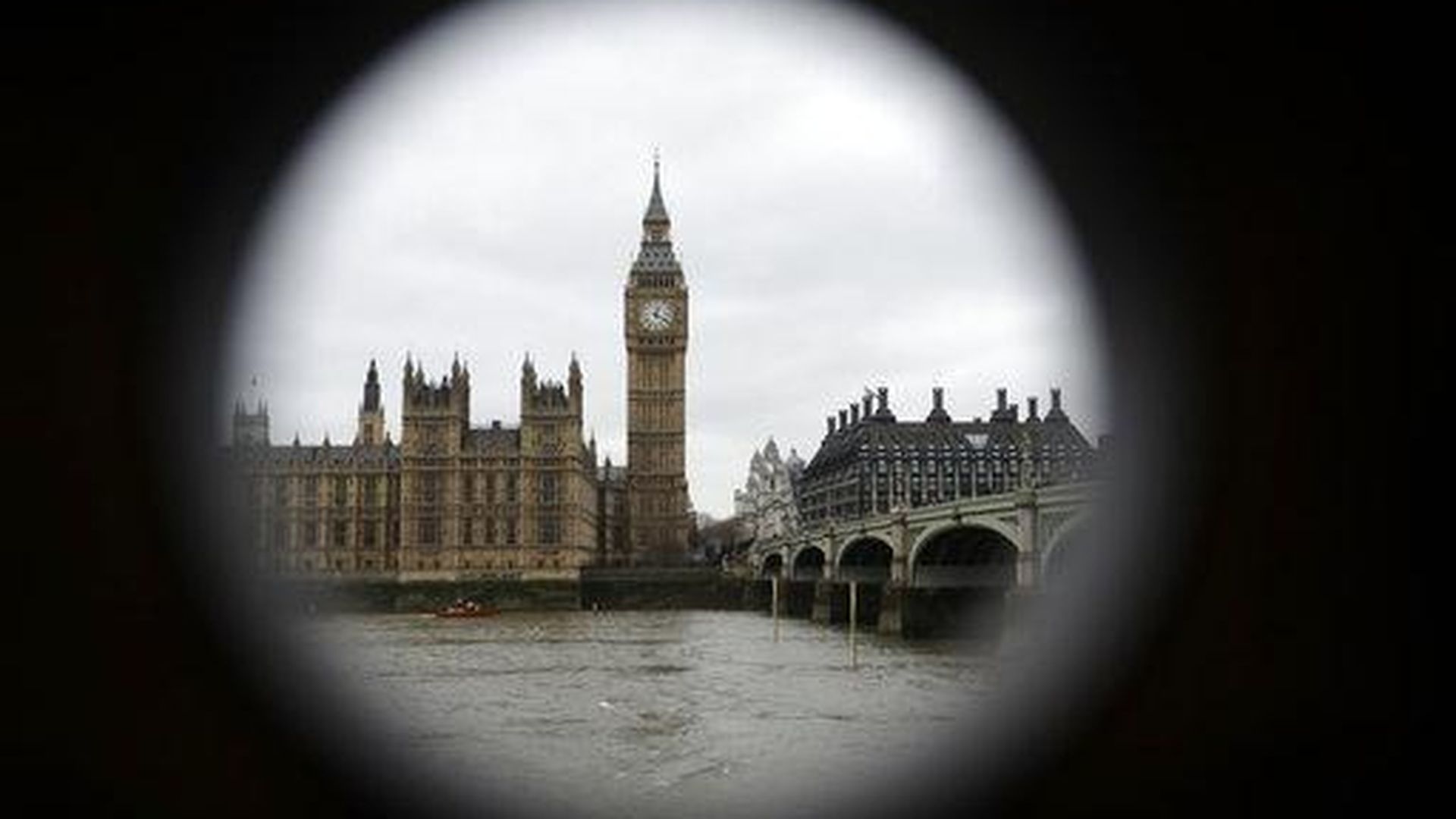 Dominating the front page of today's N.Y. Times, "A Mighty City Trembles at a Global Crossroad: With Britain Leaving Europe, Can London Remain a Capital of the World," by Sarah Lyall:
"Modern London thrives on the idea that one city can be a global melting pot, a global trading house, a global media machine and a place where everyone tolerates everyone else, mostly. The thought is that being connected to the rest of the world is something to celebrate. But what happens to London when that idea unexpectedly falls away?"
Why it matters: "To many people in the capital, the vote last year feels like a rejection not just of Europe but also of the values embodied by London, perhaps the world's most vibrantly and exuberantly cosmopolitan city. ... Brexit has thrown into disarray this great experiment in tolerance."
https://www.axios.com/newsletters/axios-am-528ab52b-7e0b-461f-96bf-c25c379af61e.html?chunk=8#story8
9. Le Pen's polls slip slightly
Catching up on the French election, two Sundays from now ... Bloomberg posts a page of graphics:
"Leftist maverick Jean-Luc Melenchon continues to move up in the polls, turning the April 23 contest into a four-person race. Political newcomer Emmanuel Macron, who is jockeying with far-right Marine Le Pen of the National Front for first place, has heightened his attacks. Socialist Benoit Hamon is in the rear among the five main candidates. The top two will go into the May 7 runoff." Polls suggest Le Pen loses a runoff because supporters of other candidate coalesce against her.
Why it matters: The French election is the main event in a series of elections around the globe testing the sweep and persistence of the nationalist, populist tide that swept British out of the EU and Trump into the White House.
https://www.axios.com/newsletters/axios-am-528ab52b-7e0b-461f-96bf-c25c379af61e.html?chunk=9#story9
10. 1 fun thing: We've all been there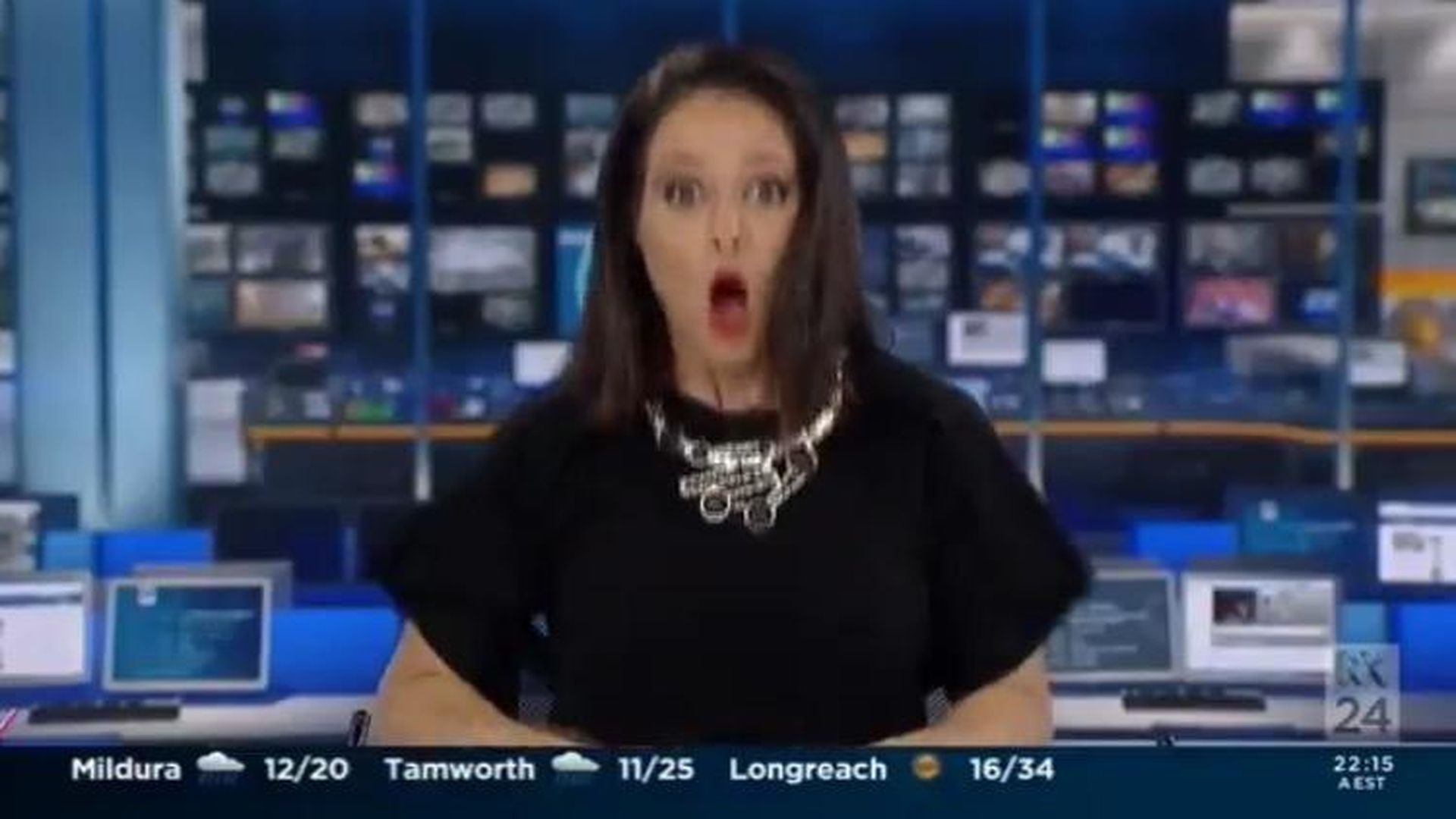 Viral video ... Australian newscaster is seen looking startled as she suddenly realizes the camera has returned to her after a prerecorded package: "Now to sport ... "