Axios Generate
April 10, 2017
Good morning and welcome back to week six of Generate! Has it been that long already? That went by fast. I'm already nostalgic for the early days, which might or might not explain the 80's-era image below. Let's move on with a reminder that you can sign-up for all the free Axios newsletters here. Ok let's dive in . . .
Bracing for oil's 'decade of disorder'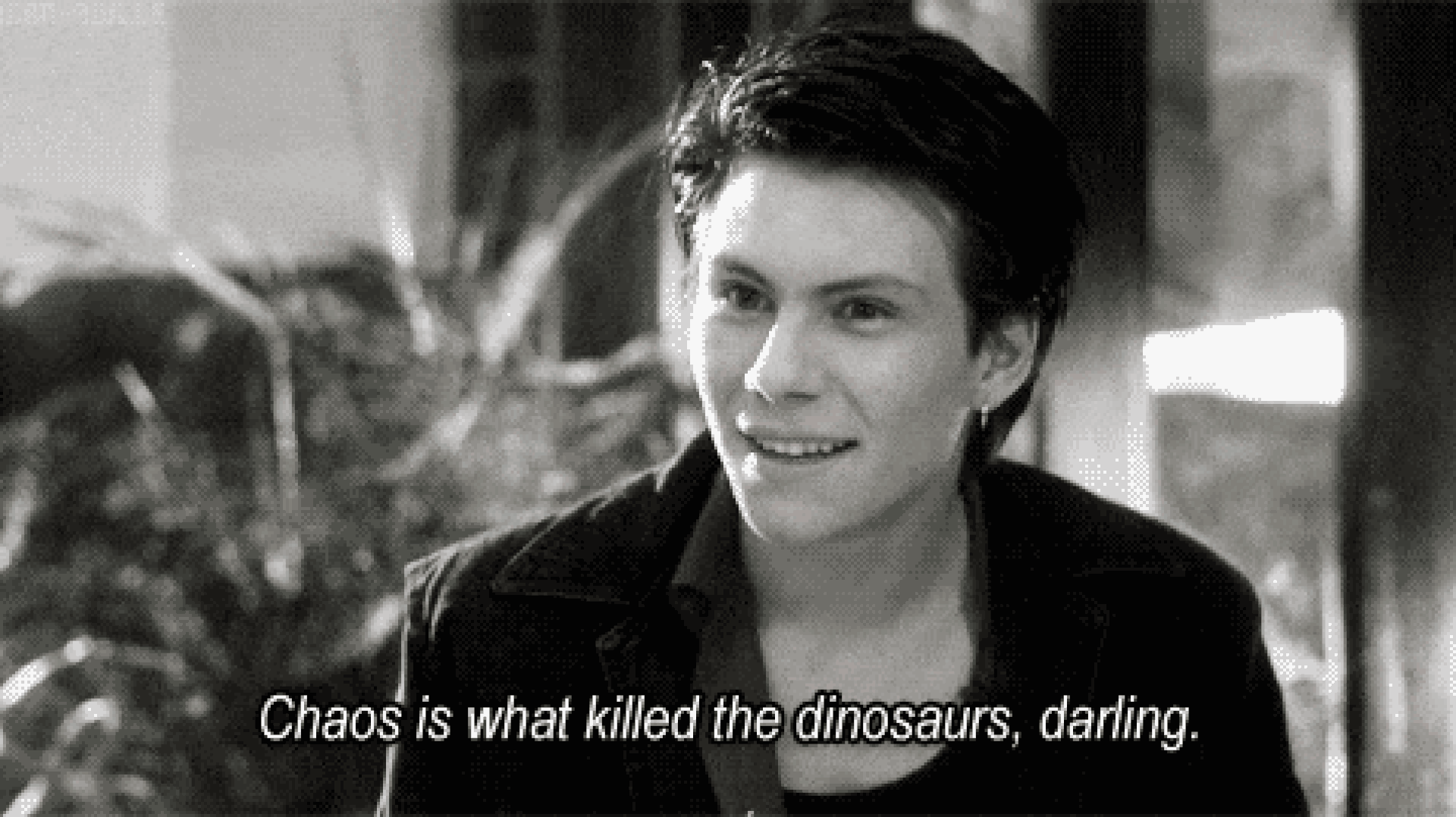 Get ready: The latest edition of Platts' Capitol Crude podcast that's out this morning brings fresh warnings about future oil supplies from a couple people who know their stuff.
Uh-oh: Longtime analyst Adam Sieminski, the former head of the Energy Information Administration, is the latest expert to warn that even though the world is swimming in oil these days thanks to the shale boom, the global supply-demand equation could get way more precarious in coming years.
"I am thinking the decade of the 20s is going to be one of difficulties. That's why I called it the decade of disorder. We are not getting enough capital investment now. I don't know that shale is going to be able to do it all," said Sieminski, who was previously Deutsche Bank's chief energy economist.
Sieminksi, now with the Center for Strategic and International Studies, says the market will become more vulnerable to upheaval in one of the major producing countries taking supplies offline, such as Venezuela and the two million barrels per day it produces. "The possibility of things sort of very rapidly leading into shortages could give you that disorder that I was talking about," he said.
Supply shock warning: It doesn't get much rosier when Michael Cohen, head of energy markets research at Barclays, looks into his crystal ball. He also warns that a supply crisis could happen in the next decade.
"The question is whether the market will see that eventuality and try and price it in beforehand," Cohen said. He argues that oil prices next year need to rise into mid-60 dollar range to spur adequate investment to meet what Barclays estimates will be annual demand growth in the 800,000-900,000 barrel-per-day range in coming years.
It's not the tax, it's the EPA.
Axios' Amy Harder asked an administration official about the prospects of a carbon tax, given that it has been rumored as a possible policy the White House could embrace. The official said the biggest reason it won't fly is because Democrats and environmental groups won't support eliminating EPA carbon regulations in exchange for a carbon tax.
"We know we wouldn't get what we needed," the official said. "We're not going to get EPA preemption."
The backstory: Some fossil-fuel companies have indicated they could support a carbon tax if all EPA regulations related to climate change were eliminated. That trade has long been considered a non-starter with most Democrats and environmental groups. It still is.
Line in the sand: Officials at both the Sierra Club and the Natural Resources Defense Council, two of the most influential environmental groups in the U.S., both told Axios they wouldn't accept a carbon tax in lieu of EPA climate regulations.
Our Thought Bubble: Even if some congressional Republicans were to publicly support a carbon tax — a big if — this EPA issue would still be a sticking point. Former President Barack Obama had said for years EPA climate regulations should have been the stick to prod Congress to act on climate legislation. Now, it's the logjam preventing any climate compromise.
"We could spend time coming up with this grand compromise and then start working with the Hill and it would all collapse" over the EPA issue, the administration official said. "We wouldn't waste our time on it."
Obama's last climate adviser takes stock
Brian Deese was President Obama's top White House climate adviser for his final two years in office — a busy time that included the Paris agreement.
On-the-record: An extensive interview that Deese, now a senior fellow at Harvard's Kennedy School of Government, gave to the U.K.-based Carbon Brief went up this morning. A few highlights from the 7,000-plus word chat.
Mixed emotions: Deese uses the words "damaging" and, internationally, "embarrassing" to describe Trump's moves to unwind Obama's climate policies. But... at several points he also argues that Trump has limited ability to alter the underlying expansion of low-carbon sources.
"I anticipate that they will have significantly less impact on those market trends than some of the more dire predictions suggest," he said.
Economic risk: A common theme in the interview is that the U.S. stands to lose out economically if it backs away from the Paris agreement, missing out on markets for tech including carbon capture and nuclear.
Strategy: Deese highlights a consistent trend in polling — there's support for carbon emissions limits but, at the same time, climate isn't a priority for voters.
"The question is, 'How do you overcome that?' Increasingly, the answer is connecting this to local issues that affect people in their lives today," he said, noting issues like western wildfires and frequent flooding in Florida and elsewhere.
The future:
Deese points out that the world is not on track to hold the rise in global temperatures to under two degrees celsius above pre-industrial levels, the target of the Paris climate accord. But he believes there are still "real, credible" pathways to get there that don't require belief in "unicorns and fairytales."
Lightning round
We're all counting on you: Spring is here and that means summer is close and that means . . . oil traders are looking ahead to the U.S. summer driving season for Americans to help rebalance the market, Bloomberg reports.
"Hedge funds increased bets on higher West Texas Intermediate crude prices for the first time in six weeks, shrugging off rising U.S. supplies, as the coming driving season is expected to help ease the glut," they report.
Tesla: The EV and solar company is out with new images of its solar panels made by Panasonic, Electrek reports.
"Tesla told Electrek that once the new Panasonic module will go into production at Gigafactory 2 this summer, they will be used for all new residential projects going forward," they report.
The world in charts:
Click
here
to see International Energy Agency chief Fatih Birol's presentation to the April 9-10 G-7 energy minister's meeting in Rome. Want a concise snapshot of some big global trends? He's got you covered.
One cool thing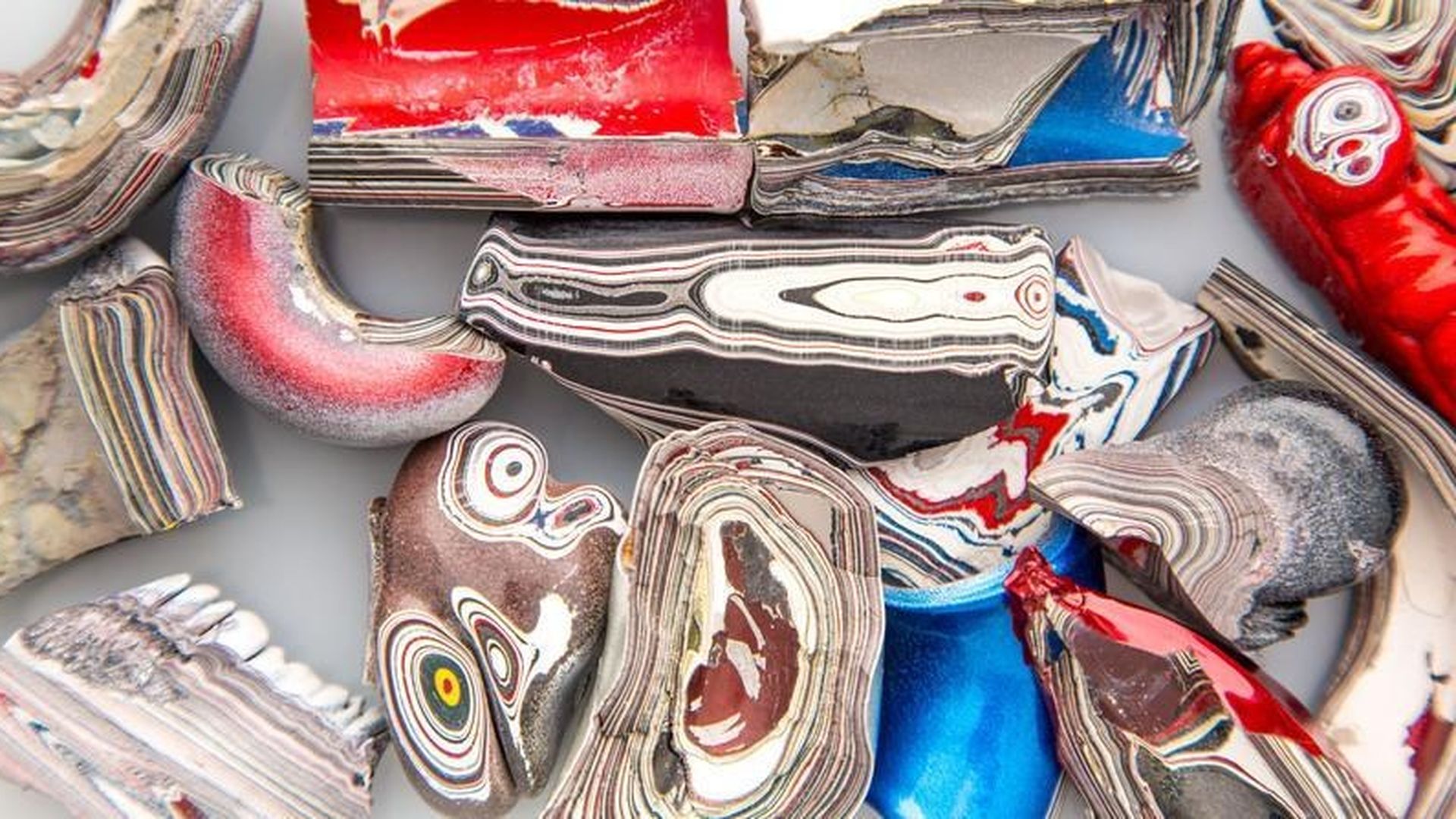 Atlas Obscura looks at a cool relic of U.S. auto history: the colorful "motor agate," a byproduct of vehicle painting techniques from decades ago.
Beginning in the 1930s, spray painting techniques produced "large nuggets of excess paint, built up in layer after layer of color," which would harden right alongside with cars' coatings, their story notes.The globs were generally thrown away, but some of it is still around, and it's pretty cool looking (and makes nice jewelry).
Have a look at some of this "Fordite" above.
Thanks for reading! Today I'll be watching for anything good from the G-7 energy ministers meeting in Rome, where U.S. Energy Secretary Rick Perry is taking part. And please check out the Axios Stream for coverage of tech, healthcare, politics and more. I'll see you back here tomorrow, and as always, your tips and feedback are welcome at [email protected].