Axios Generate
July 28, 2017
Happy Friday! I buried the title of a great Rolling Stones song in the newsletter today. Can you spot it? Let's head into the weekend with something great from the same era.
Raising eyebrows at DOE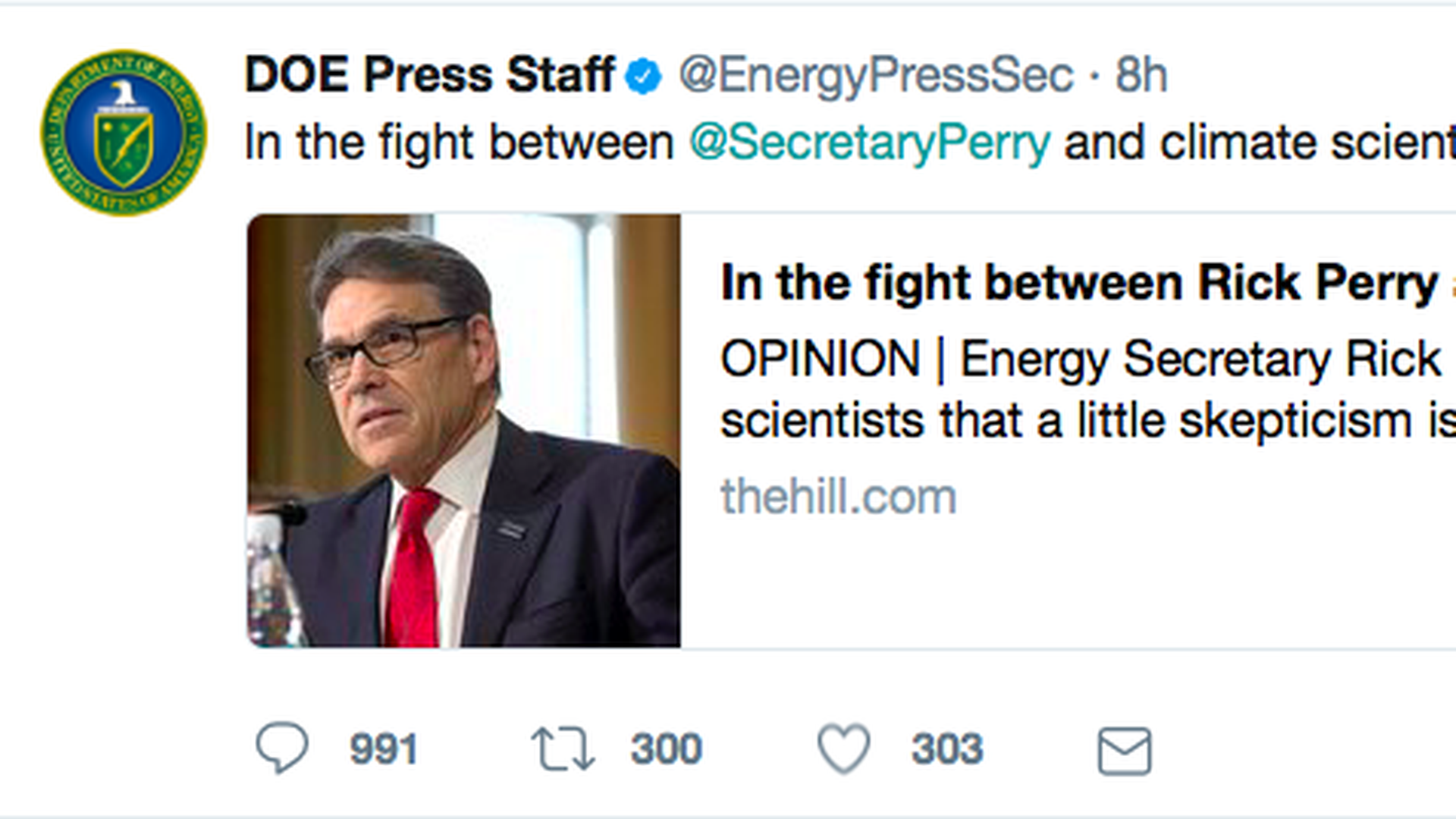 As Mike Allen often writes in Axios AM...
This is not normal: The Energy Department's PR shop yesterday used their official Twitter feed to highlight the notion that secretary Rick Perry is "winning" a "fight" against climate scientists.
The tweet, which drew lots of attention and criticism from the left, links to an op-ed in The Hill by Canadian economist and climate skeptic Ross McKitrick that praises Perry for questioning the dominant scientific views about human-driven global warming.
Quick take: The decision to highlight the column — and repeat phrasing about fighting scientists — underscores the Trump administration's head-on confrontation with the scientific mainstream. Plus, DOE is a major funder of scientific research.
It's a contrast with the impression given by some Cabinet nominees during their confirmation hearings. In a piece this week, E&E News noted that Perry, EPA administrator Scott Pruitt and Interior secretary Ryan Zinke have taken a harder line since taking the helm of their agencies than they did during the confirmation process.
DOE did not respond to an inquiry about the tweet.
Amy's notebook: 1st EPA chief on Pruitt's climate debate
From Axios' Amy Harder...
I wrote yesterday about how Pruitt's proposed climate science debate is under fire from both supporters and critics of his wider agenda. On Thursday I talked with Bill Ruckelshaus, the very first administrator of the EPA when Republican President Richard Nixon created it in 1970. He was more muted in his response, and raised an interesting point.
Quoted: "We've had a fairly sophisticated scientific review for climate and public health and environmental issues, and I don't see an awful lot gained by going through the same thing again," said Ruckelshaus, who turned 85 this past Monday. "If he wants to do it and he has a balanced committee, and it isn't something biased toward a preconceived point of view, it shouldn't hurt."
My thought bubble: Those are big "if's." A worthy discussion about the precise extent of the human-induced causes of climate change and the range of consequences would be healthy, but many are worried that Pruitt won't have a balanced committee and will come into the debate with preconceived views dismissing climate change as an issue altogether.
Electric Vehicles in context
More on the U.K.'s big move: HSBC is out with a short note that gets to the importance of newly announced U.K. plans to ban sales of new gasoline and diesel cars by 2040.
While it's largely aimed at conventional pollutants, it will have climate co-benefits at a time when U.K. carbon policy has been more focused on electricity — which has seen major reductions in the last quarter century thanks to coal's decline — than transport.
Transportation is the largest share of U.K. GHG emissions at 26%, which matters a lot given the nation's target of an overall emissions cut of 80% by 2050 compared to the 1990 baseline.
Jigsaw puzzle: A pair of University of California-Davis experts have a new post that explores why, despite a surge in pro-EV policies and industry plans, electric passenger cars are just one piece of a much bigger challenge in curbing worldwide oil thirst.
Passenger vehicles account for 26% of global oil use. Even if Europe mandated all electric sales in 2030 and China followed suit by 2035, oil still would not peak by 2040, according to Amy Myers Jaffe and Lewis Fulton.
But they preview an upcoming paper that shows how complimentary policies — like car-free zones in cities, aggressive government EV policies, growth in ride-sharing with electric fleets, and more sustainable freight options — could bring about peak demand as soon as 2030 under one scenario modeled.
Overall, they see trends converging that provide a "reasonable chance" of demand peaking by 2040.
Barriers: As Tesla starts rolling out its Model 3 sedans, MIT Technology Review has a detailed look at the challenges to bringing EVs to the mass market.
Good weekend listens, part 1
Clack upside the head: Greentech Media's Interchange podcast chats with Christopher Clack, a lead author of the study rebutting research which claimed the U.S. could be powered exclusively by renewables by mid-century.
Quick background: There's a big tussle in the green energy advocacy world over the all-renewables idea led by Stanford's Mark Jacobson, and we looked at Greentech's interview with Jacobson here.
Key points: The hour-long Clack interview is worth a listen, but here's the nuts and bolts...
Variables: Jacobson's work is "masquerading" as a grid integration analysis, as opposed to looking at whether the gross renewable resource is theoretically large enough, which Clack agrees it is. That's no small thing, he notes, due to considerations of transmission, cost, siting, and variables that are impossible to forecast properly under a 100% renewables scenario.
What would have to happen: "Let's say we have a 100% [renewables] system, hypothetically. Now you have got think about working out forecasting of load and of the weather, because that's your fuel source now, seasons or years ahead of time with really good accuracy so that you know how much energy to store, how much to shed, how much to transmit, how much to consume, and you need to do that all the time, predicting far enough ahead that you will never run out of power, because you have got nothing there as backup."
Reordering economy: Clack says getting to 100% renewables would require a reordering of the energy system and the industrial economy that's unnecessarily daunting compared to deep decarbonization with heavy renewables penetration — say 80% for instance — combined with other zero-carbon tech like nuclear and natural gas with carbon capture.
Not an option: "The more options we have the more chances we have of succeeding, and the issue [of climate change] is so big that I don't think failure can be an option in this case."
Weekend listens, part 2
Sanctions in focus: The latest Platts Capitol Crude podcast out this morning looks at the politics and industry impact of legislation that would expand sanctions against Russia with new limits on energy projects, as well as potential Trump administration actions against U.S. imports of Venezuelan crude.
(Editor's note: It was taped before the Senate cleared the House version of the Russia sanctions bill yesterday, but still on point.)
One takeaway is that thwarting Venezuelan crude imports would leave Gulf Coast refiners, who rely on heavier grades, in a tough spot, especially because the Keystone Pipeline isn't up and running yet to help cost-effectively expand Gulf Coast access to Canadian heavy oil.
"In the end what you would end up seeing is these Gulf refiners are going to be paying for more expensive crude replacement on the spot market, which there is not a lot of anyway, or they are just going to end up having to cut refinery runs," says analyst Joe McMonigle, who was the DOE chief of staff under George W. Bush.
Carbon taxes: The conservative American Enterprise Institute's latest Banter podcast has an interesting debate over proposals to tax carbon emissions and prospects for political action.
Elon Musk's dream: WBUR's On Point with Tom Ashbrook hosts a discussion with journalists and academics about the feasibility and status of Musk's proposed "Hyperloop" rapid-transit idea.
EPA refutes Schnare's criticisms
Yesterday's Generate highlighted claims by a former high-level official on the Environmental Protection Agency's transition team, David Schnare, who alleged in a column that Pruitt did not "engage" with senior career managers and at one point ordered an action "not permitted under law" (a cryptic claim that Schnare did not elaborate on in the column).
Striking back: Spokeswoman Liz Bowman said Schnare's allegations are "false," and disputes his claim that he was in line for a top spot before clashing with Pruitt. Bowman said via email:
"His claims are wildly untrue and his references to things like 'professional ethics' and 'sensitive issues' and 'actions taken outside the law' without any specificity, tends to point to a lack of veracity in his claims. All Schnare saw while he was here was Administrator Pruitt's first two weeks of nearly exclusive meetings with career senior staff at all the program offices, and regular or at least weekly, meetings with career and political staff on a variety of issues."
News from the Hill: sanctions, climate, Interior controversy
Sanctions: Congress has forced Trump's hand now that the Senate on Thursday approved the House version of a sanctions package targeting Russia, North Korea, and Iran. The White House has given mixed signals about whether Trump will sign it, but it has a strong veto-proof majority in both chambers anyway.
Why it matters for energy: The bill thwarts participation by U.S. companies in Arctic, shale, and deepwater projects in which Russian interests have at least a 33% stake. The inclusion of that threshold is a partial win for oil companies that had lobbied against a tougher version of the bill that the Senate approved in June.
Breaking news: This morning, Russia announced they plan to seize two U.S. properties and order the State Department to reduce its American embassy staff in Russia in retaliation, multiple news sources reported.
Interior: Top Democrats on two House committee are asking the Interior Department's inspector general and the Government Accountability Office to investigate reports that Zinke pressured Alaska GOP Sen. Lisa Murkowski to reverse her opposition to the Senate health care bill (which she later helped to defeat).
Climate: The Office of Management and Budget has posted more records of meetings this month between outside parties and federal personnel about EPA's looming proposal to formally start rescinding former President Obama's Clean Power Plan. You can find them here, here, and here.
Why it matters: A flurry of meeting record postings is sometimes a sign that a long-awaited regulation is going to surface soon. EPA's effort to pull back the power plant regulation will be among the agency's most closely watched moves under Trump, and it's certain to be litigated once it's eventually finalized.