Axios Generate
July 27, 2017
Good morning and welcome back to Generate! I buried a Neil Young album title in today's newsletter. Can you spot it? He's really good, by the way. Let's get to the news . . .
Behind the scenes: Trump's EPA and DOE
Two new accounts of theTrump administration's takeover at the Energy Department and Environmental Protection Agency are making the rounds.
Our thought bubble: The two accounts, taken together, highlight the wider and unprecedented internal struggles inside the federal government as the unorthodox Trump team pushes a suite of massively controversial policy shifts. As my colleague Mike Allen regularly writes in Axios AM, this is not normal.
Vanity Fair article: Michael Lewis reports that DOE's new regime hasn't tapped the massive institutional knowledge retained at the agency, which includes a vital security portfolio on nonproliferation, oversight of U.S. nuclear weapons, and grid protection.
President Trump's team eschewed the types of in-depth briefings that have defined prior transitions, according to the lengthy story.
Quoteable: "My team prepared its own books. They were never given to anybody. I never had a chance to sit with [the Trump people] and tell them what we're doing, even for a day. And I'd have done it for weeks," former chief risk officer John MacWilliams tells Lewis.
Some tidbits alleged by the story:
Trump's White House asked the agency's inspector general to resign in the "mistaken belief" that he was an Obama appointee, and only reversed course after lawmakers intervened.
Trump's team didn't touch base with the agency's chief financial officer, who is now gone.
As incoming Energy secretary Rick Perry was going through his confirmation process, he only spent "minutes, not hours" with former secretary Ernest Moniz, a nuclear physicist.
Pushing back: DOE spokeswoman Shaylyn Hynes tells Axios:
"To publish the absurd claim that the Secretary of Energy 'has never been briefed on a program—not a single one' discredits this entire article. It is filled with biased, factually inaccurate and completely subjective claims made by some who were clearly very bitter turning over the reins of DOE to a new Administration. It reads like a cheap tabloid piece and does not warrant any further response."
***
Inside EPA column: A former member of Trump's EPA's transition team writes a critical account of his experience with new Administrator Scott Pruitt. David Schnare's column includes claims that...
Pruitt "chose not to engage closely with the senior career managers."
At one point, Pruitt ordered a course of action from career staff on a topic that Schnare "firmly" believes was "not permitted by law." He doesn't give details.
Pruitt is addressing science in the wrong manner (Schnare, a conservative who laments climate "alarmism," is nonetheless critical of how Pruitt is addressing science.)
Pruitt's push for a "red team—blue team" process to debate climate science "grows out of ignorance of the scientific process or science itself."
EPA did not respond to a request for comment.
Oil earnings roll in: Shell boosts profits despite oil prices
Driving the news: Oil-and-gas giant Royal Dutch Shell reported $3.6 billion in second-quarter profits this morning, which is three times the net earnings from the same period last year but below the first quarter.
CEO Ben van Beurden said in a statement that the company has adapted to modest oil prices with a disciplined and focused approach to capital efficiency, costs, new project delivery, and divestments.
Big picture: Shell's latest report arrives shortly after the U.K. and France announced new targets for phasing out sales of petroleum powered cars by 2040.
Impact of EVs: Van Beurden chatted with CNBC and Bloomberg TV this morning about the growth of electric vehicles, which he welcomes, and what it will — and won't — mean for long-term oil demand. He noted continued liquid fuel needs, especially growth in oil demand in areas like shipping and aviation.
"Even in the most aggressive scenario, where policies really work at their best, where technology really makes a lot of strides in the near future, oil [demand] is not going to peak before the late (2020s) or early 2030s, and when it does peak it's not going to go out of fashion overnight," he told CNBC.
More in oil: Two other European majors — Statoil and Total — reported earnings this morning, revealing "sharp increases in cash flow from operations in the second quarter as profits beat analyst expectations," Reuters notes.
Yes, but: The big U.S.-based oil-and-gas producer ConocoPhillips reported a $3.4 billion second-quarter loss on Thursday morning. However, as AP and others note, the results and the company's cash flow beat expectations.
Toyota claims big leap forward in EV battery tech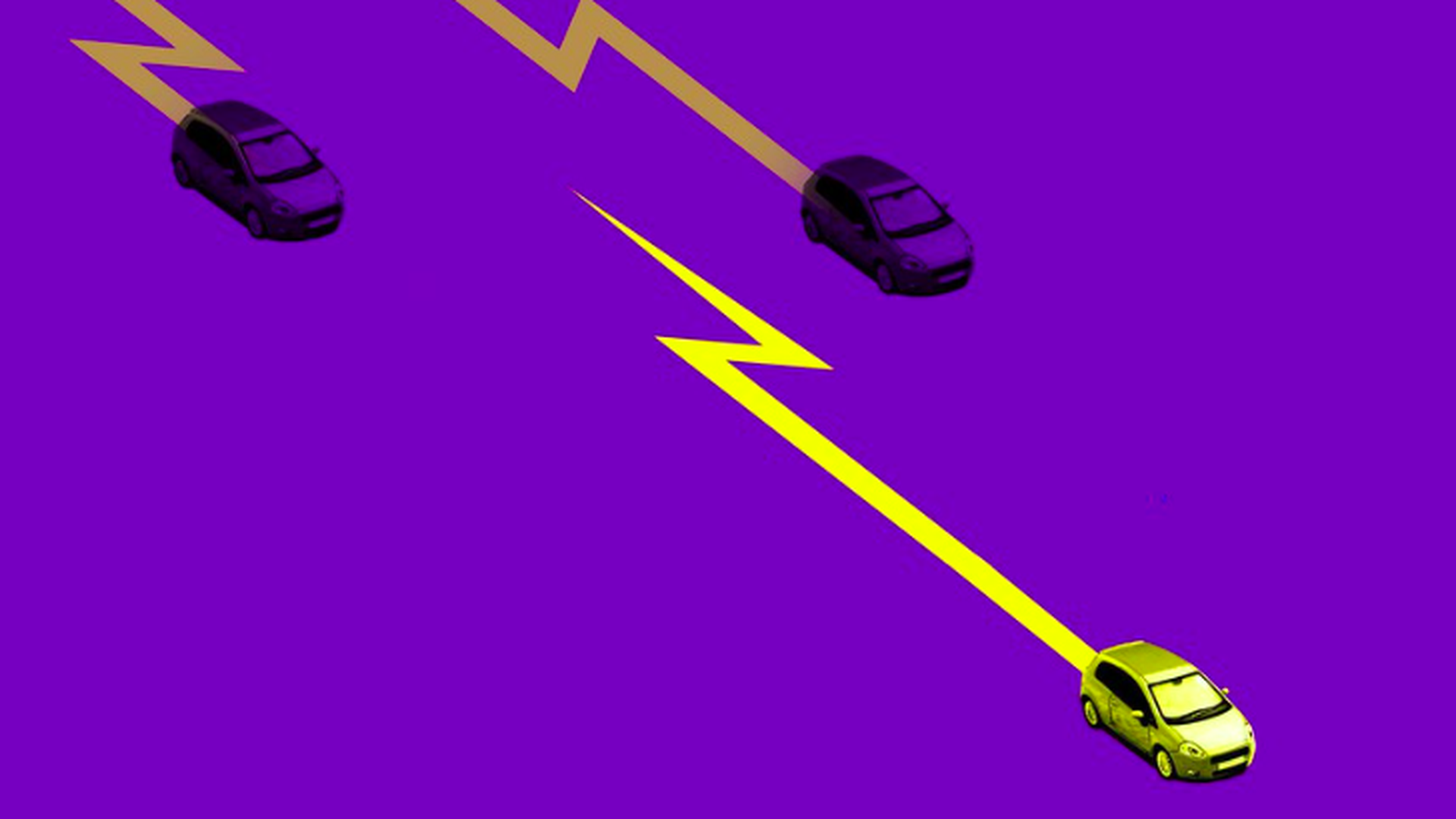 My colleagues Christopher Matthews and Steve LeVine have a new piece in the Axios stream on some potentially big news in electric mobility...
In an unusual statement, Toyota says it is nearing a breakthrough in a type of lithium-ion battery system that has vexed researchers for decades. The company also says it plans to unveil a family of electric cars with a jump in currently available driving range, in the early 2020s.
Why it matters: Given the high stakes and risk of embarrassment if something goes wrong, Japanese companies virtually never flag a big tech breakthrough before it is actually produced and delivered to the market. Hence, Toyota's comparatively specific announcement suggests it is reasonably confident that it really has mastered a new battery technology, says Venkat Viswanathan, a professor at Carnegie Mellon University.
Click here for the rest of the story.
More on batteries: Over at The Conversation, Kyoto University researcher Ben McLellan has an interesting look at the raw material chain for lithium-ion batteries and the environmental impact of accessing the resources.
Why it matters: There's no free lunch. While electrification is an important way to curb use of fossil fuels and carbon emissions, there's still a important environmental footprint when it comes to digging up the needed materials.
Zinke said to threaten Alaska energy over Murkowski's health care vote
A rather alarming story from an Alaskan newspaper caught the eye of Axios' David Nather this morning. Here's what David reports...
Big story in the Alaska Dispatch News this morning: They report that Interior secretary Ryan Zinke told both of Alaska's senators that Lisa Murkowski's vote not to start the health care debate will hurt Alaska's future with the Trump administration. Dan Sullivan, the state's other senator, said the call he got from Zinke sent a "troubling message."
Political ramifications: If true — White House and Interior Department spokespeople didn't respond to the paper's requests for comment — it would be an unusually blunt retaliation for a senator's vote. And it raises questions about whether other GOP senators will get the same treatment. Nine Republicans voted against the Senate's repeal-and-replace plan on Tuesday, and seven voted against clean repeal yesterday.
Energy ramifications: Some of the issues that could be on the line, according to the Alaska Dispatch News, include the nomination of Alaskans to Interior posts, the expansion of drilling in the National Petroleum Reserve, and future opportunities to drill in the Arctic National Wildlife Refuge.
Power sector notes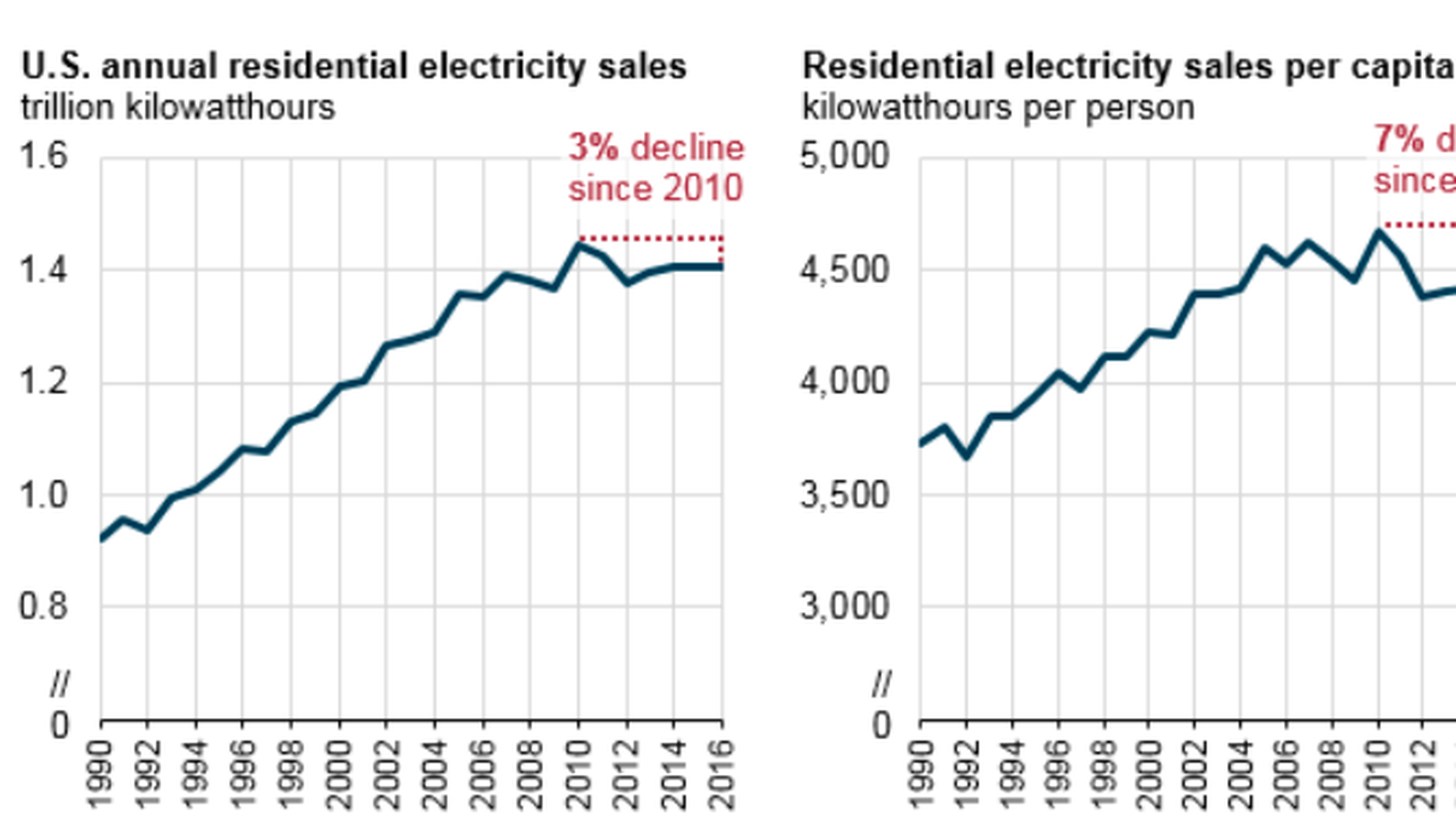 Less power: A short new Energy Information Administration report shows that residential power sales in the U.S. have declined since 2010 after steadily rising for decades (see chart above).
Why it matters: Lower power sales present business challenges for utilities, while helping curb carbon emissions. Factors behind the decline include: warmer winters in southern states, greater efficiency of appliances and bulbs, conservation incentives from power companies and other parties, and growth of home solar systems.
***
Prairie wind: Invenergy and GE announced yesterday that they're currently building the country's largest wind farm, a 2,000 megawatt project in Oklahoma they're calling Wind Catcher that will create power from 800 GE turbines once up and running in 2020.
Utility giant American Electric Power is investing over $4 billion to buy the project, and plans to bring power from the wind farm to customers in Arkansas, Louisiana, Oklahoma, and Texas. The investment also includes AEP's plan for a 350-mile high-voltage power line.
Why it matters: It's another sign of the growth of wind power into a mainstream power source and, as Bloomberg notes here, represents the evolution of some of the nation's biggest utilities.
"AEP is now shuttering money-losing coal plants and diversifying its power mix along with the rest of the utility sector as renewable energy becomes cheaper and coal units more costly to maintain," Bloomberg writes.
Attacks on EPA's climate debate go beyond usual suspects
My Axios colleague Amy Harder reports...
Pruitt's decision to host a public debate (possibly on TV) about climate change science is facing criticism from former heads of the agency and also industry officials who generally back what Pruitt is doing as administrator.
Why it matters: The criticism indicates that many experts outside the Trump administration and Republicans in Congress don't think debating climate change science is a worthy expense of the government's time and money.
Quoted:
"You don't debate on TV what are essentially solutions to an existential challenge for us, and that's why this proposal is ludicrous," Gina McCarthy, the most recent EPA administrator under former President Obama, told Axios Wednesday. "It's not going to compete with Game of Thrones, I'll tell you that."
Christie Todd Whitman, an EPA administrator under George W. Bush, said the exercise is "just mind-boggling." She also discouraged any scientists, nearly all of whom agree human activity is driving climate change, from taking part. "It's more dangerous to give credibility to people that really don't deserve it," Whitman told Axios Wednesday.
Industry view: Some fossil fuel industry officials who generally back what Pruitt is doing at the agency — unraveling nearly all of Obama's regulations — said the debate doesn't seem to have a point.
Amy's got more about this in the Axios stream here.
One really cute thing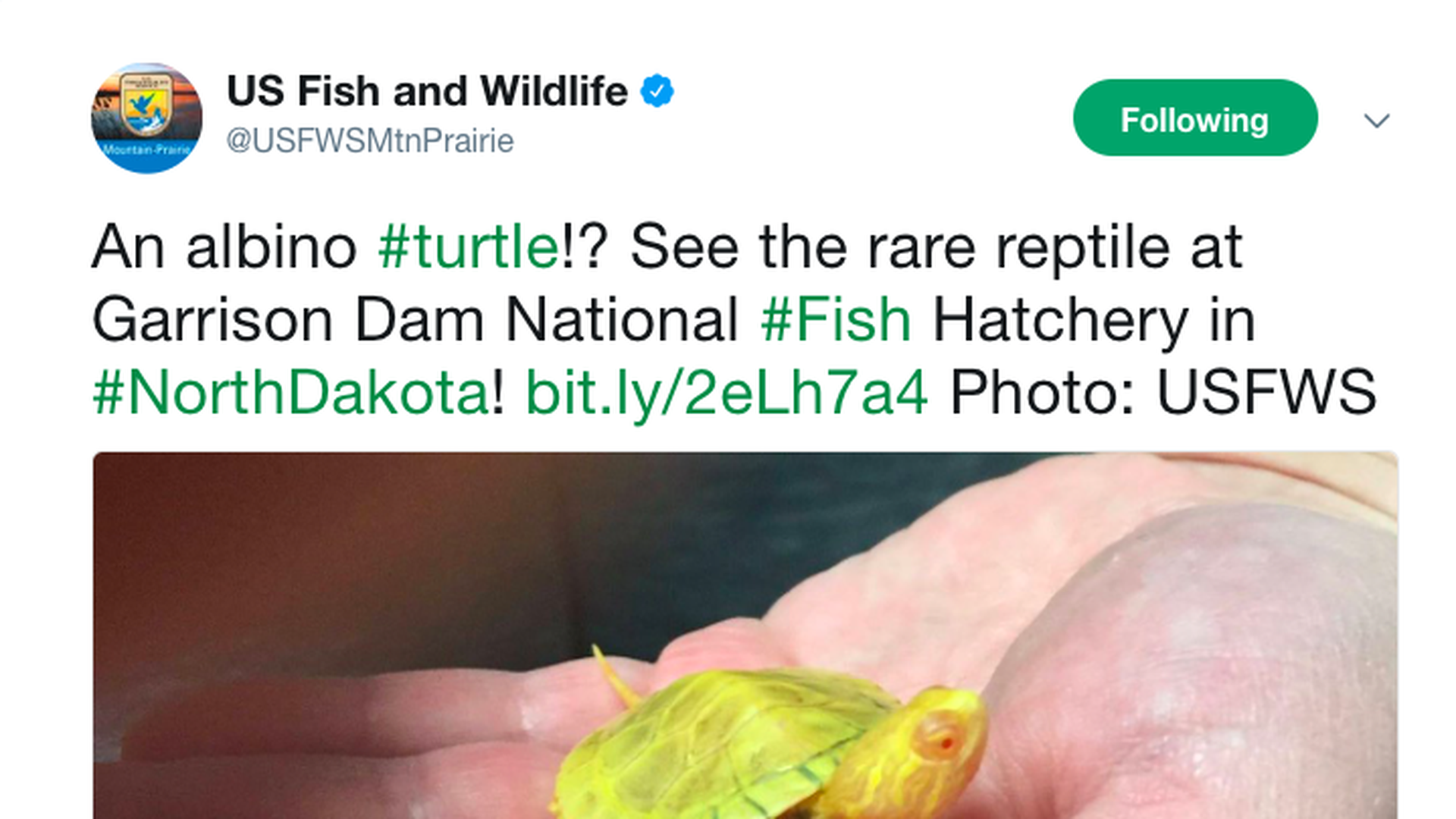 This one comes via the Fish and Wildlife Service's Garrison Dam National Fish Hatchery in North Dakota.