Axios Generate
January 03, 2023
🥂 Hello readers, hello 2023! Today's newsletter has a Smart Brevity count of 1,258 words, 5 minutes.
🇨🇭Axios will be at the 2023 World Economic Forum in Davos, Switzerland. Want to attend one of our events? Request an invite.
🎶 Shawn Lee of Young Gun Silver Fox celebrated a birthday over our break, so they've got today's intro tune...
1 big thing: The real-world effect of Elon Musk's online drama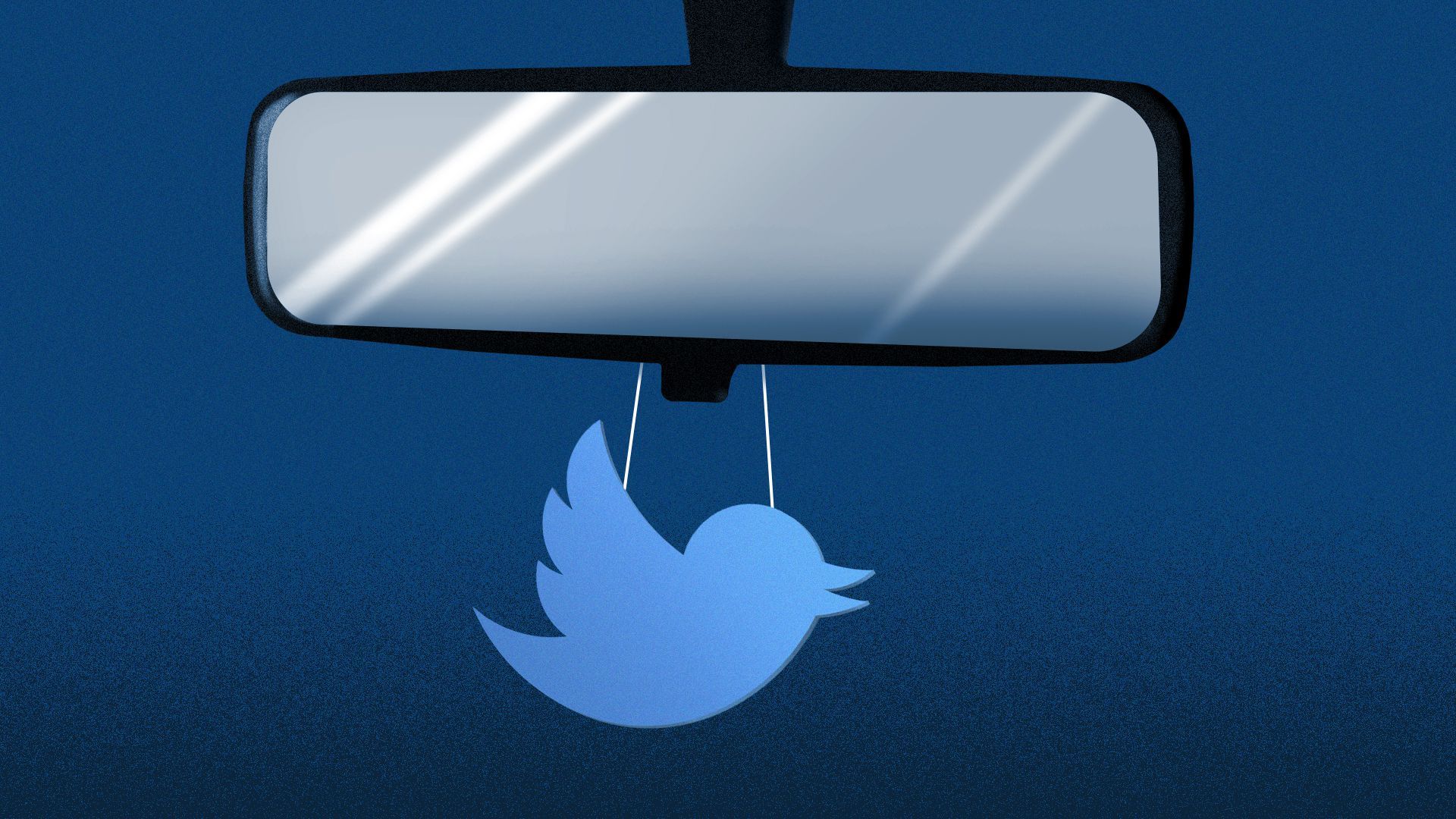 Tesla's future sales could help answer a defining question of the social media age: how much Twitter reflects the real world versus distorting it, Ben writes.
The big picture: Elon Musk's Twitter purchase in October is amplifying his rightward shift. Think support for Ron DeSantis, belittling trans people and more.
Driving the news: Tesla yesterday reported 405,278 deliveries in Q4, a record that nonetheless fell short of analysts' expectations.
But it's an incomplete snapshot of buyer sentiment. Musk's Twitter purchase only closed in late October, and also the numbers partially reflect orders before Q4.
The intrigue: It's hard to know how much the online drama will spill into consumer behavior going forward.
It's a cousin of a question that has roiled Democrats: whether strategists confuse Twitter sentiment with the party's wider electorate.
Threat level: Signs of consumers abandoning Tesla are largely anecdotal, though a mid-November Morning Consult survey found erosion of Tesla's favorability among Democrats.
"If the Tesla brand becomes increasingly right-leaning, that could put it out of alignment with core electric vehicle purchasing profiles," it notes.
The intrigue: Brand image is just one thing worrying Tesla investors as the share price has plummeted.
There are also concerns about Twitter distracting Musk, and wider economic headwinds, to name just two.
What they're saying: "We believe early signs of any brand deterioration related to Musk could be seen in the 4Q numbers, but ultimately 2023 will be the barometer year for Tesla," Wedbush Securities analyst Dan Ives said via email.
"Musk opened up the political firestorm and that's not a good thing when selling to the masses."
Yes, but: Isolating the effect of Musk's politics on Tesla sales is tricky.
"Among the challenges to defining shifts in Tesla demand is the larger car-buying atmosphere, where demand is universally dropping," iSeeCars.com executive analyst Karl Brauer said via email.
He also said that while Musk may turn off some buyers, there may be new interest from people "previously apathetic" about Musk and Tesla or unaware of him.
2. First look: Energy group expands its horizons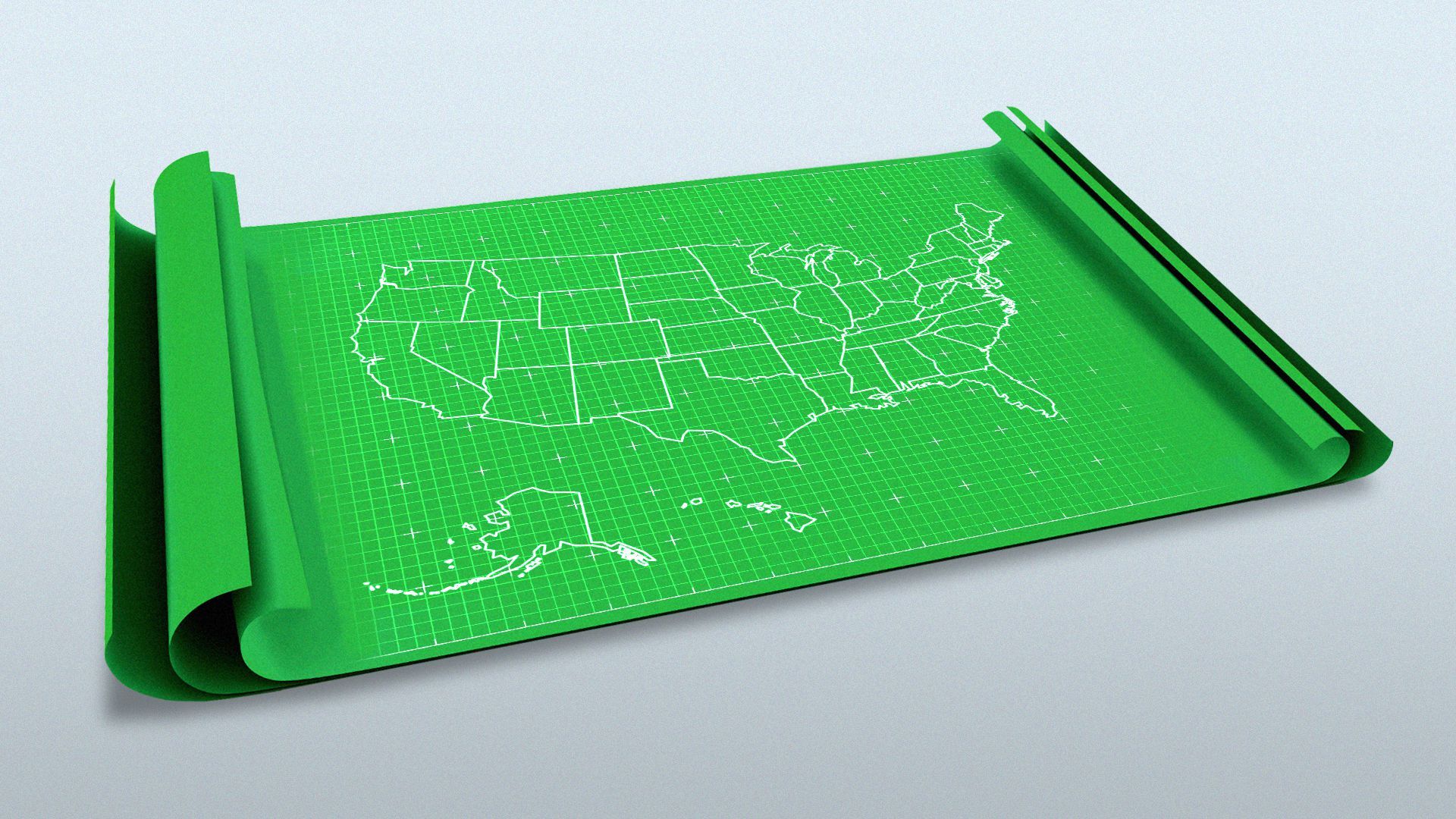 A key advocacy group for low-carbon energy companies will today announce a rebranding and expansion into more states, Ben writes.
Driving the news: Advanced Energy Economy is becoming Advanced Energy United as the group widens its scope to include more northeastern and western areas.
Overall, it plans to be active in 18 states this year, up from 12 since its 2011 founding, with additions or deeper work in areas including New Mexico, Maryland and Massachusetts.
Why it matters: The expansion reflects an important shift for low-carbon companies the group represents — renewables, EVs, energy storage, nuclear, efficiency and more.
After the passage of the 2021 infrastructure law and last year's climate law, there's fresh emphasis on state policies that translate federal investments into real-world projects.
Zoom in: The group's priorities include transmission and shrinking wait times (called the "interconnection queue") for connecting renewables to the grid, president Heather O'Neill said in an interview.
The big picture: They will focus on state carbon-free energy goals and implementing the federal laws, she said.
"State houses, governor's offices, and public utility commissions all across the country have to commit to unlock all of those benefits of that clean energy transition," O'Neill said.
"And so that expansion and growth of Advanced Energy United is really a recognition of this moment in time and all the work that needs to happen in the states to fully recognize and accelerate this transition."
3. Biden's EV holiday gift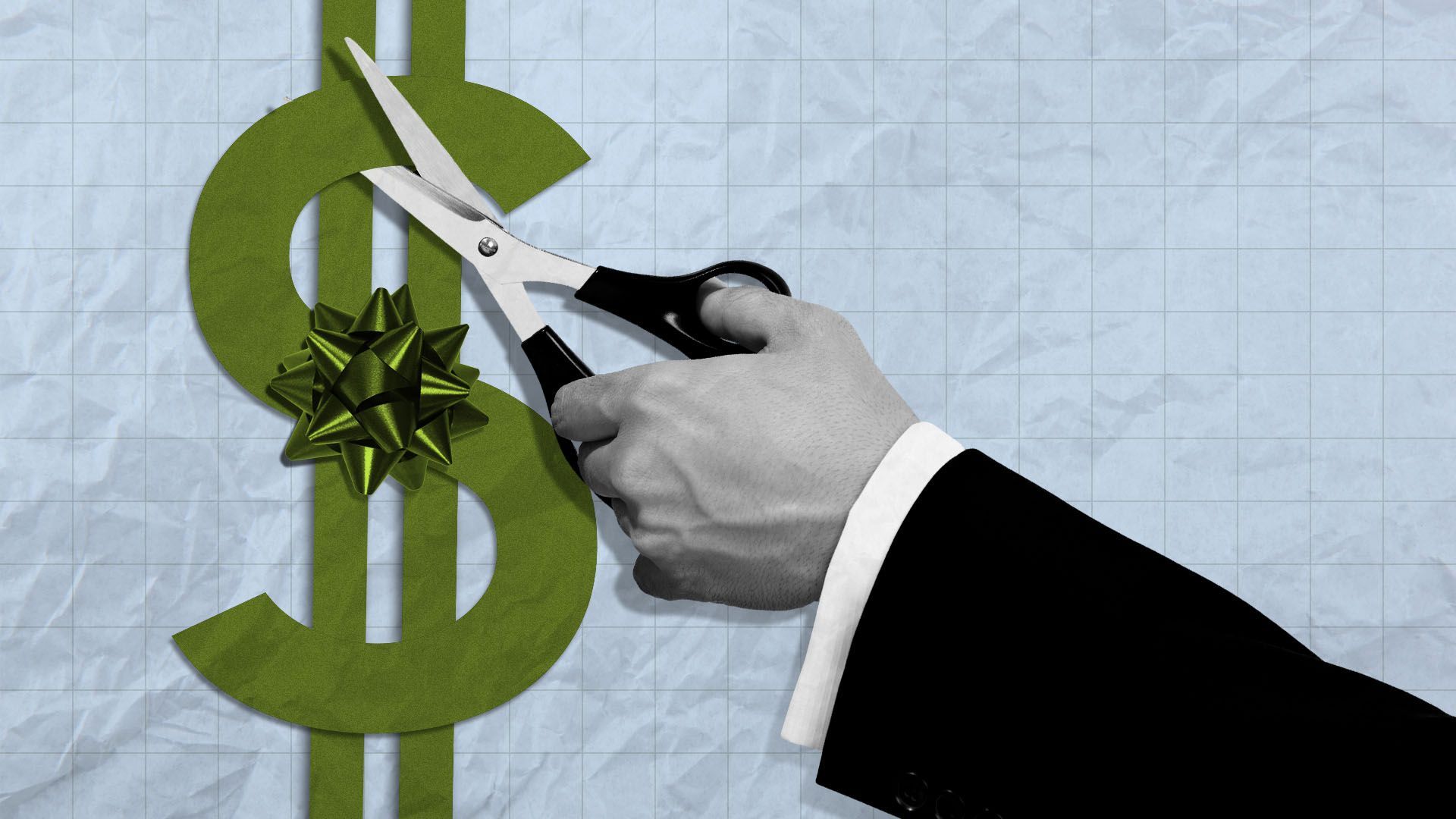 The global auto industry got a holiday gift from the Biden administration, which signaled it would make flexible supply requirements for a new, expanded EV tax credit, Axios' Jael Holzman reports.
Why it matters: More EVs may qualify for the credit — which was expanded under the Inflation Reduction Act — than the industry first expected.
Driving the news: The Treasury Department said last week it would use a broad definition for "free trade agreement" for mineral sourcing requirements in the credit.
Treasury is expected to issue a proposed regulation in March formally enacting these requirements.
The department also said EVs manufactured outside the U.S. can still qualify for the credit if they are leased (Reuters).
Between the lines: It's surely a breath of fresh air for companies across the global EV manufacturing space after the language threatened to kneecap the credit's effectiveness.
The IRA tied half the credit to EVs being made with minerals from the U.S. or nations with free trade agreements.
However the law didn't define a "free trade agreement," and regulators are exploring a definition that may let more cars qualify.
Zoom in: While initial reporting hinted this was Treasury capitulating to pressure from Europe, companies across the EV supply chain asked for this approach.
The Alliance for Automotive Innovation — which represents Ford and General Motors as well as foreign automakers — asked Treasury for a wide definition of the trade agreement.
What we're watching: How the Treasury defines "foreign entity of concern" under the IRA and whether EVs can have Chinese parts but still qualify for the credit.
Bonus: Manchin's climate deal gets rolled – again
With Treasury's announcement, it's safe to say Sen. Joe Manchin (D-W.Va.) is getting rolled by Biden over the deal he struck on the IRA, Jael writes.
Why it matters: Manchin, who chairs the Senate's energy committee, is starting to publicly fume against the president for finding ways around the spirit of the deal.
Details: In exchange for his vote on the IRA, Manchin made Democrats include the mineral requirements for the tax credit — and he wanted them to be protectionist.
Manchin also wanted Democrats to pass legislation to speed up government approvals for energy and mining projects.
Neither ask happened — and now he's fuming.
What they're saying: Manchin responded to the Treasury's announcement by accusing the Biden administration of "bend[ing] to the desires of the companies looking for loopholes" and called on Treasury to "pause" the credits from taking effect.
For more content like this, join the waitlist for Axios Pro Energy Policy, launching this year.
4. Atmospheric rivers line up for California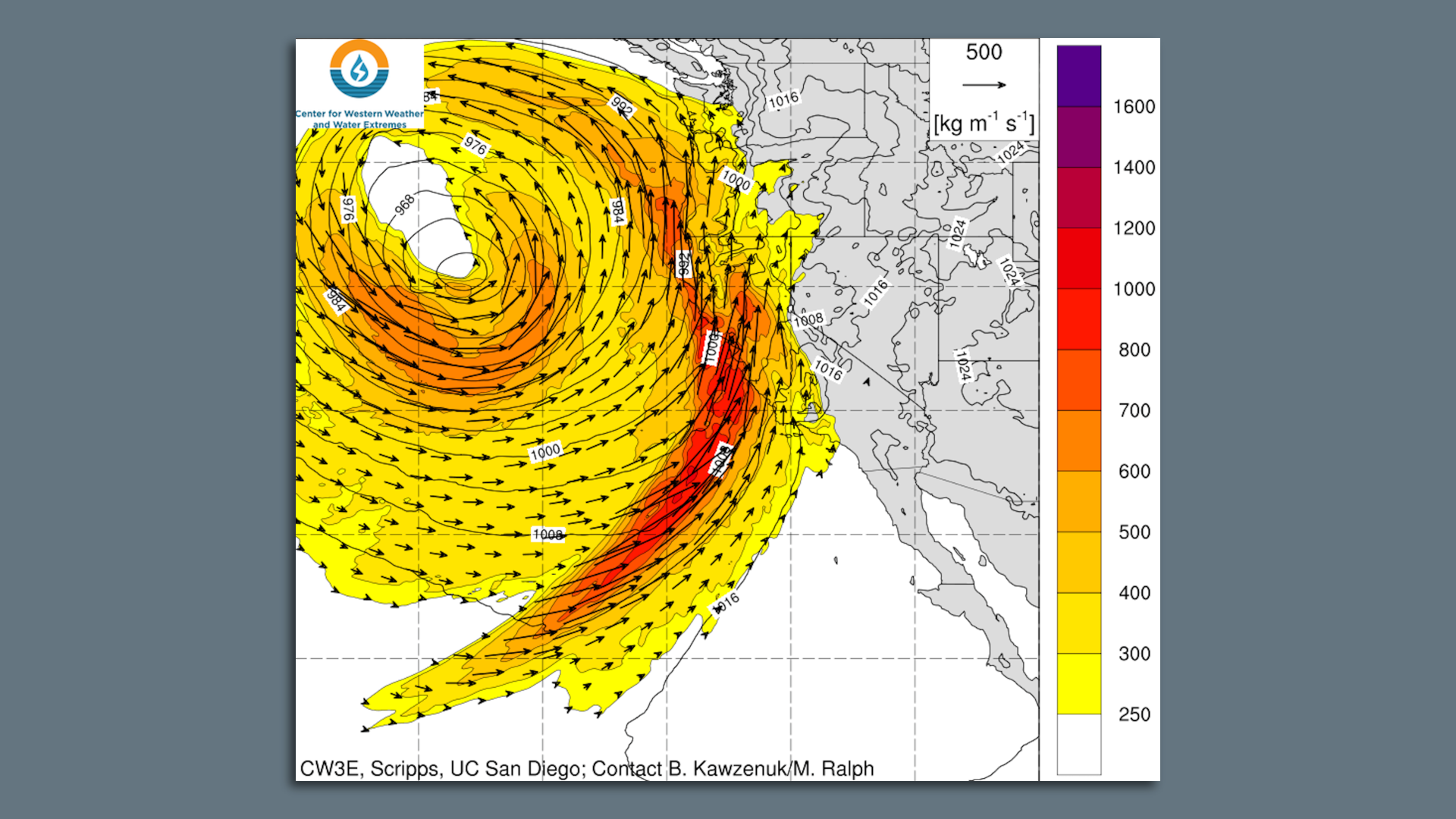 Californians are bracing for more heavy rains and mountain snows as potent atmospheric river storms batter the state, Andrew writes.
The next big storm starts late Tuesday night and lasts through Thursday.
The big picture: Atmospheric rivers are narrow currents in the air that carry vast amounts of water vapor thousands of miles from the tropics to more northern latitudes.
Recent storms have proven deadly in Central California, as levees broke over the weekend.
The likelihood of another 3 to 10 inches of rain, damaging winds and 2 to 3 feet of additional mountain snow Tuesday night through Thursday has forecasters increasingly concerned.
Threat level: Climate change is adding even more moisture to atmospheric rivers, enabling them to dump higher rain and snow totals.
What they're saying: "To put it simply, this will likely be one of the most impactful systems on a widespread scale that this meteorologist has seen in a long while," the NWS Bay Area office said in a forecast discussion Monday afternoon.
What's next: Forecasts call for a parade of storms to affect California into mid-January, raising the possibility of significant flooding.
5. Charted: What's thwarting U.S. crude output
A big oil market story in 2023 will be whether slow U.S. oil production growth will accelerate, Ben writes.
The intrigue: The latest Dallas Fed survey of execs in their region — which includes the heart of the shale patch — suggests headwinds remain. Check it out
📬 Did a friend send you this newsletter? Welcome, please sign up.
🙏 Thanks to Mickey Meece and David Nather for edits to today's newsletter.