Good morning. We have more on the energy and environmental toll from Harvey, but first, here's a good list of organizations helping people affected by the terrible flooding. Ok, let's dive in . . .
https://www.axios.com/newsletters/axios-generate-5035cd91-53a1-437d-9390-3db748fd1cb7.html?chunk=0#story0
Explosions reported at Houston-area chemical plant
There were reports of two explosions at the Arkema chemical plant in Crosby, Texas, early this morning, according to The Houston Chronicle and others. Arkema has warned that additional explosions are possible because their chemical products are located in multiple locations.
Houston residents living within a 1.5-mile radius of the plant were asked to evacuate.
There were reports some deputies and possibly residents were admitted to the hospital after breathing fumes, although the sheriff said Arkema told them it was believed to be a "non-toxic irritant."
Why it happened: The flooding damage from Hurricane Harvey ruined the electricity for the units that were refrigerating the explosive chemicals.
What's next: "The best course of action is to let the fire burn itself out," the company said, in compliance with local authorities' suggestions.
Keep an eye on the Axios stream for Harvey-related developments.
* * *
More on Harvey's environmental impact...
"Toxic" mix in Houston: The New York Times reports that Houston officials must grapple with a "toxic stew of chemicals, sewage, debris and waste that still floods much of the city."
Among the problems: "Lead, arsenic and other toxic and carcinogenic elements may be leaching from some two dozen Superfund sites in the Houston area."
Spills and releases: E&E News reports that there have been dozens of spills from refineries and chemical plants.
"While it could be months before the full environmental impact of the storm — including sewage overflows, leaking underground tanks, and seepage from thousands of submerged homes and cars — becomes clear, preliminary reports show refineries and chemical plants have released millions of pounds of toxic chemicals into the air and water," the report says.
E&E spoke to Mathy Stanislaus, who was a top Obama-era EPA official, about Superfund sites. He notes that the biggest dangers are at active cleanups with surface contamination that can spread to floodwaters, as well as the underground storage tanks with oil and chemicals that dot the region.
EPA: The agency said it was inspecting two Superfund sites near Corpus Christi on Wednesday, and is more broadly working with Texas state officials to gauge and respond to the storm's effect. Reuters has more here.
https://www.axios.com/newsletters/axios-generate-5035cd91-53a1-437d-9390-3db748fd1cb7.html?chunk=1#story1
Harvey's energy toll: refineries, pipelines and more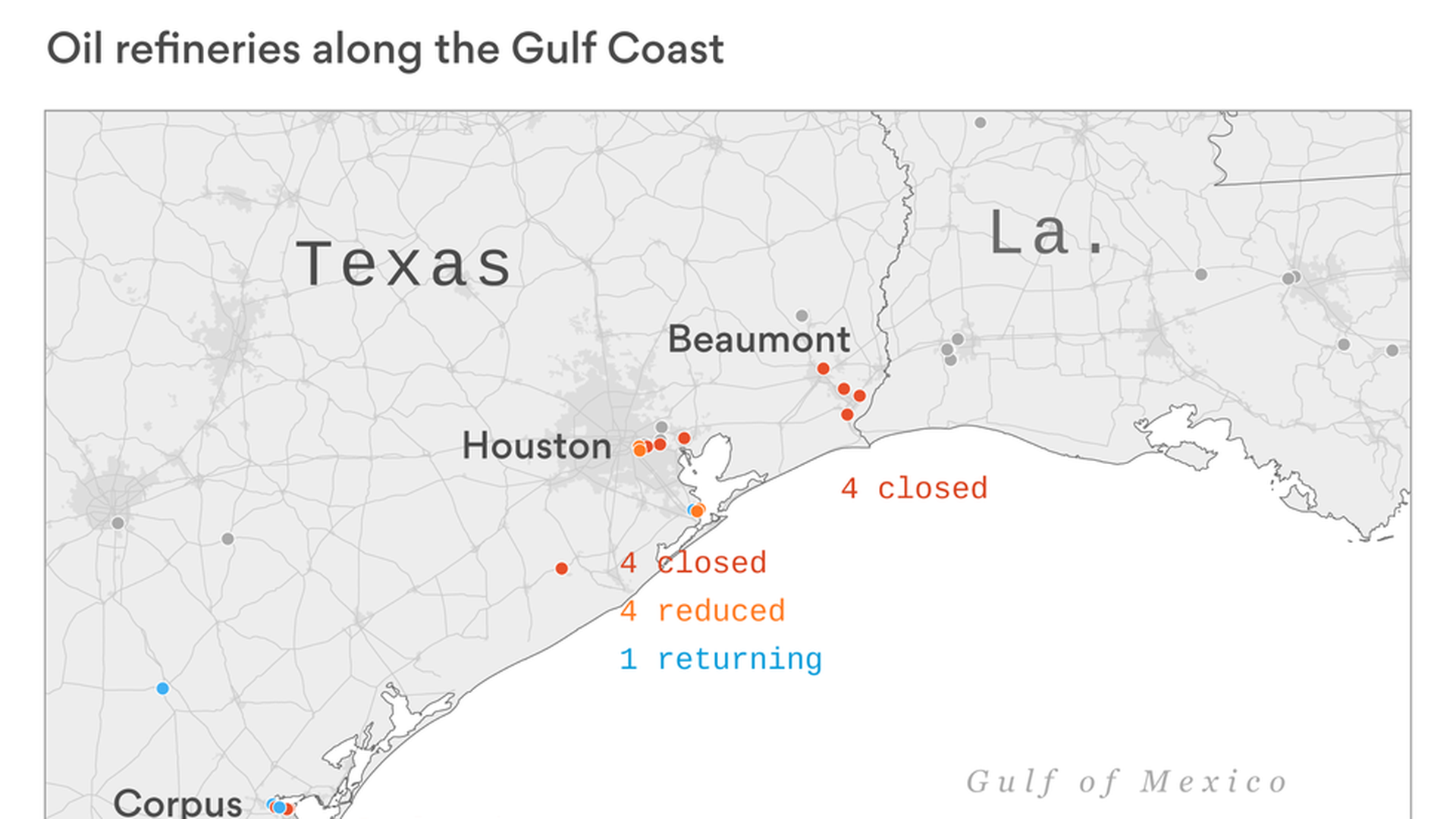 Big pipeline outage: Colonial Pipeline is shutting down its major arteries that bring large amounts of gasoline and other refined products to markets thousands of miles into the Northeast and states in between.
Why it matters: It's the largest refined petroleum network in the country. The announcement from the supplier of 100 million gallons daily last night will further restrict fuel supplies and networks battered by the massive storm's flooding.
"Once Colonial is able to ensure that its facilities are safe to operate and refiners in Lake Charles and points east have the ability to move product to Colonial, our system will resume operations," the company said, via CNN.
More context: "Colonial was already running at reduced rates due to Harvey-related disruptions at its origin point in Texas, but the closure of the entire system threatens to escalate concerns about fuel supplies in the world's largest oil consumer," the Financial Times reports.
Sums it up: "Record flooding in Texas is straining superhighway of energy trade," is the subhead of this in-depth Wall Street Journal look at how the storm has snarled the vast network of refineries, ports, pipelines, trucking routes, and other energy infrastructure along the Gulf Coast.
Price surge: AAA reported early Thursday that the average nationwide price of gasoline is now $2.45 per gallon, which is nearly a nickel above yesterday's price and 10 cents higher than it was a week ago.
State of refineries: Check out the chart above. S&P Global Platts, in its latest update Wednesday evening, said roughly 3 million barrels of refining capacity remains offline in Texas. Combined with other refineries running at reduced levels, over a fifth of the U.S. refining has been affected.
However, some refiners including Valero and Marathon are beginning to resume operations in some facilities.
Important point: Paul Sankey, a top analyst at Wolfe Research, said in a note that the direct harm to various kinds of energy infrastructure and companies in the Houston region is only part of the story.
"Expressions of unharmed infrastructure may prove to be meaningless — there is no way to get people to run much of this asset base, regardless of its condition," Sankey wrote.
Warning: Via Reuters, "Concerns over fuel shortages ahead of the U.S. Labor Day weekend were mounting, said analysts at JBC Energy."
https://www.axios.com/newsletters/axios-generate-5035cd91-53a1-437d-9390-3db748fd1cb7.html?chunk=2#story2
Amy's notebook: Nuclear industry stays afloat — barely
My Axios colleague Amy Harder sizes up a big development in nuclear power...
Southern Company and other involved utilities will seek to finish two nuclear reactors under construction in Georgia, indicating a final decision by state regulators will come in the next few months, according to various reports including E&E News.
Why it matters: It breaths life into an industry stuck in quicksand, gradually losing out to cheap natural gas and renewables. Southern is leading an effort to build the only new nuclear reactors under construction in America in some 30 years. Wednesday's decision came on the heels of another company deciding to pull the plug on another pair of reactors under construction in South Carolina.
Open question: Southern Company has been seeking additional federal support through an already unprecedented $8.3 billion loan guarantee the Obama administration awarded the project. The Energy Department didn't respond to a request for comment.
The big picture: It remains gloomy for what is the largest source of carbon-free electricity in the U.S. A handful of existing nuclear plants have already closed or are set to close prematurely, due largely to economic challenges. Growth in the industry looks unlikely for the foreseeable future.
Earlier this week, Duke Energy scrapped plans to build a nuclear plant, and meanwhile new power capacity keeps growing from natural gas and renewables. Southern Company's reactors would have accelerated a decline of an industry that is already poised to miss out on the next wave of electricity investment.
https://www.axios.com/newsletters/axios-generate-5035cd91-53a1-437d-9390-3db748fd1cb7.html?chunk=3#story3
Spotlight on oil industry spending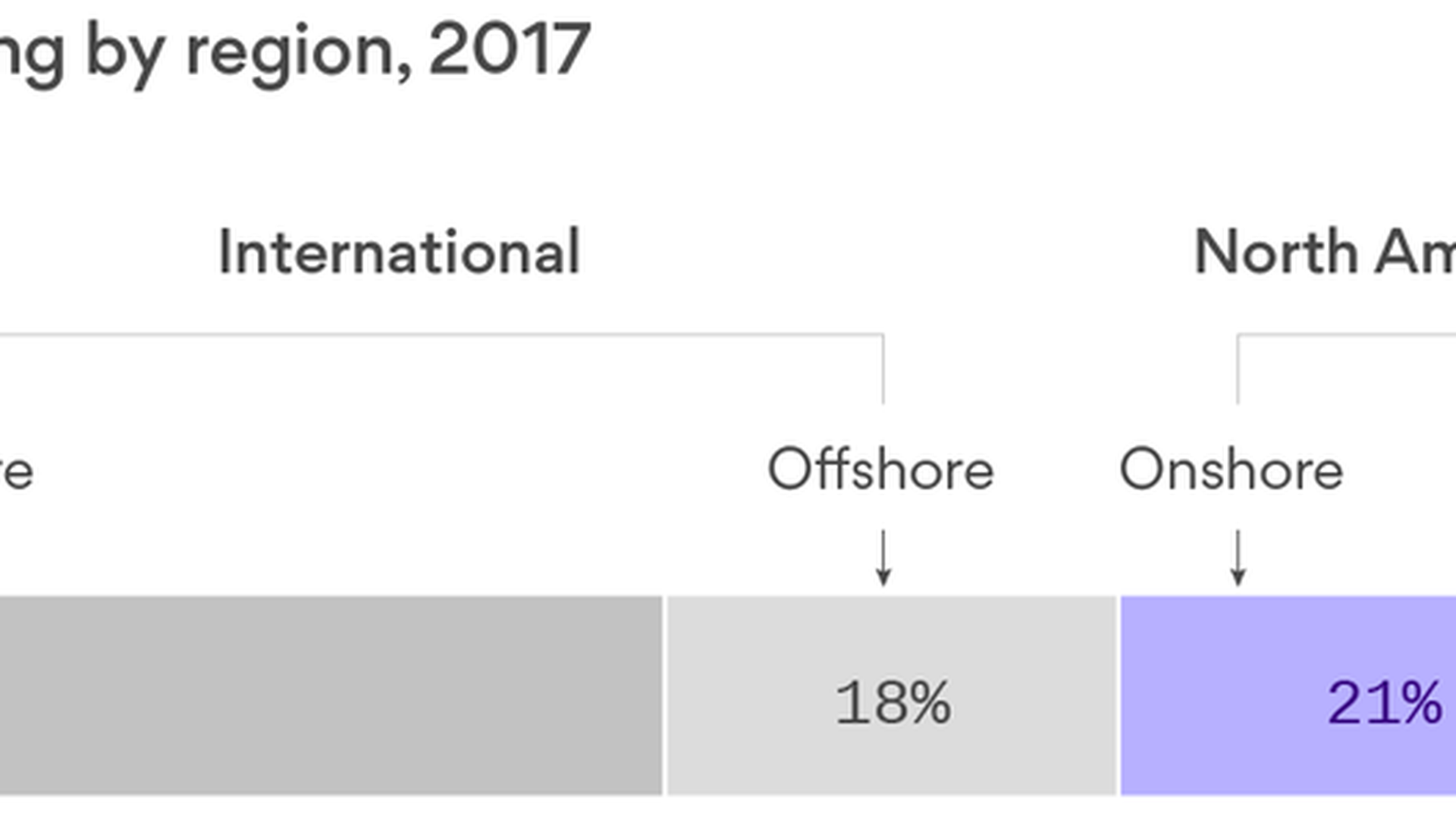 An interesting research note from Barclays tallies up oil sector spending on exploration and production projects in 2017 and expected 2018 levels.
Big picture: Overall, they expect 8% growth in 2017 over the prior year, which is mostly driven by a 31% rise in North American spending, while it's up just 2% elsewhere. Next year, they envision "more muted" North American growth, which brings the worldwide increase down to about 4%.
Why it matters: Upstream capital spending was estimated at roughly $700 billion worldwide in 2014, but then fell sharply after the oil price collapse that year. Barclays estimates it's roughly $400 billion this year.
There's been a lot of talk (and some disagreement) among analysts for a while about the long-term effect of the spending cuts. Some, including the International Energy Agency, have warned that this could lead to a supply crunch in several years.
Perspective: Veteran analyst Adam Sieminski has examined the topic and warned of tightening supplies a few years down the road. A few months back he suggested the 2020s could be a "decade of disorder" with markets vulnerable to upheaval in one of the major producing countries taking supplies offline.
Yesterday I emailed Sieminski to ask whether the Barclays data alleviates concerns about perilous supply situation in the early 2020s.
"The increase in North America is heartening...but it's not shale oil and gas investment that worries me — it's the potentially inadequate investment in conventional crude oil outside the United States that could create the 'disorder,'" said Sieminski, who is now with the Center for Strategic and International Studies and is a former head of the EIA.
"A 2-3% increase in international spending (where most of the world's oil comes from) might not be enough — especially after the huge declines in 2015 and 2016," he adds.
https://www.axios.com/newsletters/axios-generate-5035cd91-53a1-437d-9390-3db748fd1cb7.html?chunk=4#story4
On my screen
Tech: MIT Technology Review has a deep look at a potential breakthrough in carbon capture from power generation.
"If it works as expected, Net Power's $140 million, 50-megawatt natural gas plant will capture effectively all of the carbon dioxide it produces, without significantly higher costs, in part by relying on the greenhouse gas itself to crank the turbine that generates electricity."
Polling: A new HuffPost/YouGov poll shows that 47% of respondents believe climate change played a very important or somewhat important role in the Texas flooding from Harvey.
Lobbying: Nord Stream 2 AG, a unit of Russia's Gazprom seeking to build a natural gas pipeline that extends into Germany, has made its latest in a string of lobbying hires as it seeks to prevent U.S. sanctions. A newly published filing shows they have retained the Hawksbill Group.
Electric vehicles: Watch out, Tesla. Forbes reports: "Cummins, a leading maker of diesel and natural gas engines for commercial trucks, unveiled a Class 7 heavy-duty truck cab Tuesday featuring an advanced 140 kWh battery pack that it will sell to bus operators and commercial truck fleets starting in 2019."
More EVs: Fortune takes a look at Honda's plans for European markets.
https://www.axios.com/newsletters/axios-generate-5035cd91-53a1-437d-9390-3db748fd1cb7.html?chunk=5#story5
One interesting thing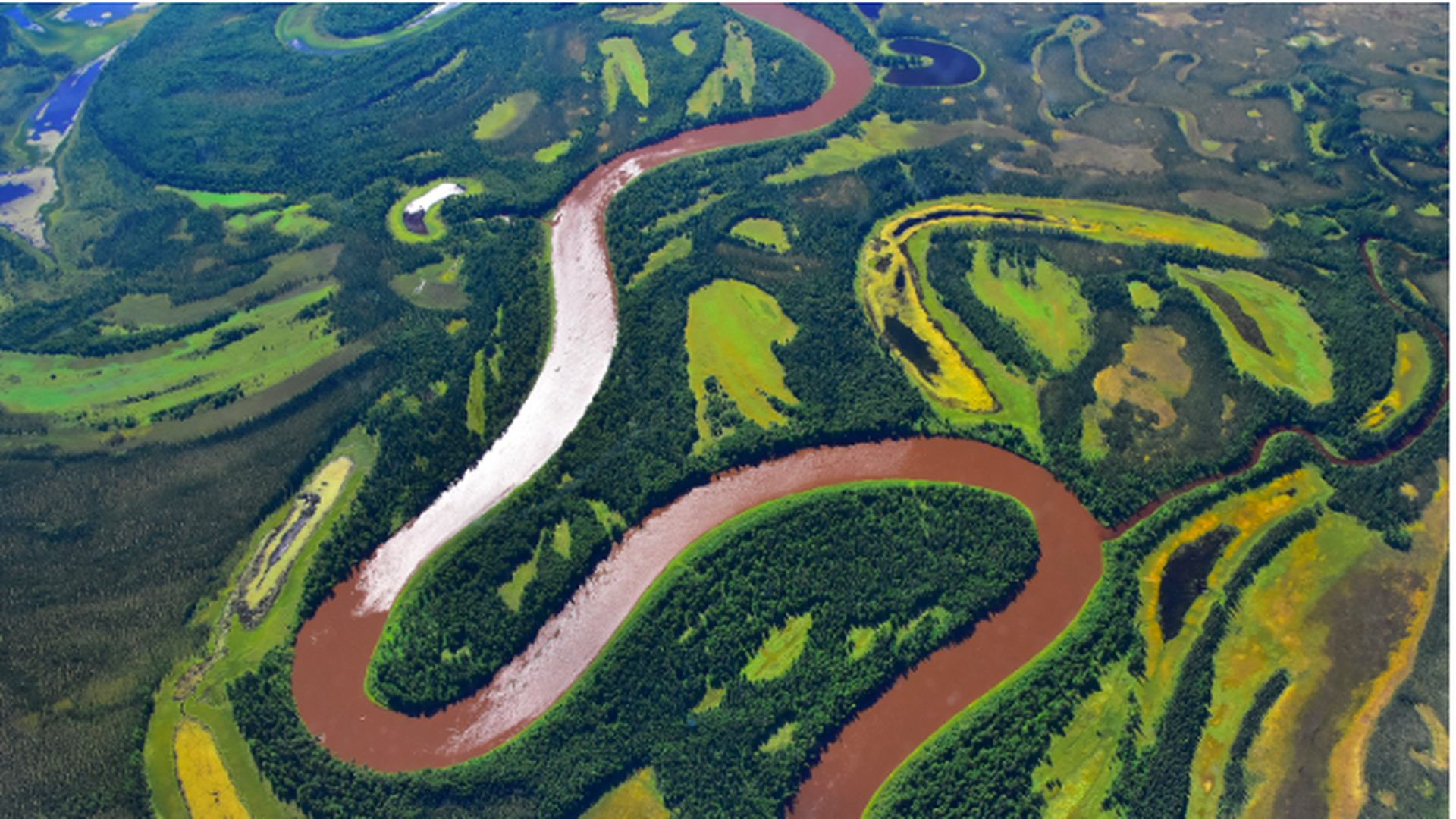 Our changing planet: That shot of the Arctic's Yukon River is from a brief NASA update on a project in which scientists are flying over Alaska and Canada and "measuring the elevation of rivers and lakes to study how thawing permafrost affects hydrology in the landscape."
Why it matters: "As permafrost thaws, the water has new ways to move between rivers and lakes, which can raise or lower the elevation of the bodies of water. These changes in water levels will have effects on Arctic life — plants, animals, and humans — in the near future," NASA states.