Axios Generate
February 20, 2018
Good Tuesday morning, 
I recently talked about energy, climate and my career covering these issues on the Mac Observer podcast. Check out the 35-minute listen here. 
Elsewhere, my latest Harder Line column stems from a conversation topic I noticed kept coming up among people looking to address climate change in the age of Trump: How to tackle the issue when the president won't talk about it.

I'll preview that, and then Ben will take things over. 
Tackling climate change when Trump won't talk about it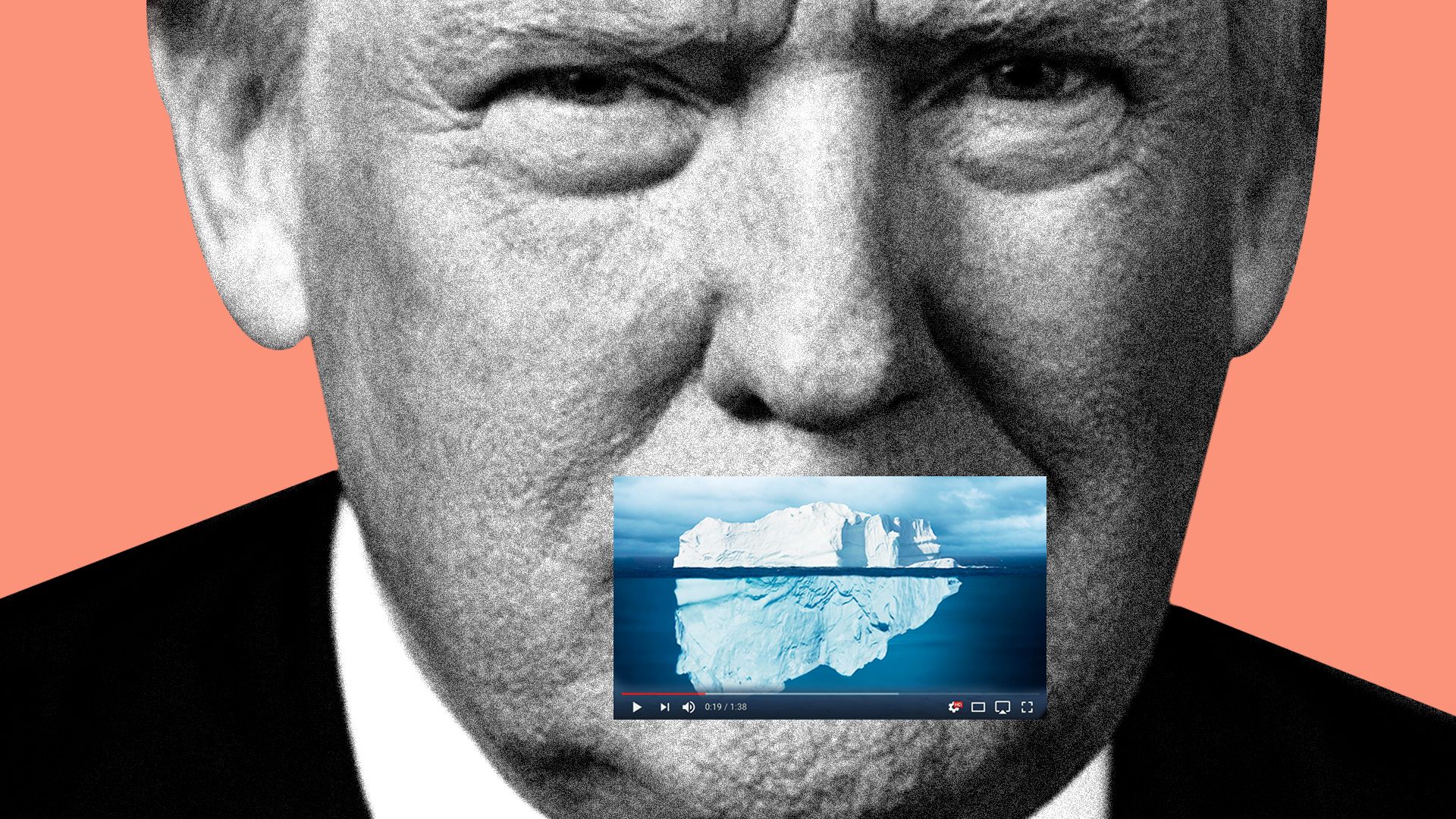 President Trump and his administration have gone to extreme lengths to wipe climate change from the U.S. federal government's lexicon and question whether it's a real issue at all. That's got people working to tackle the problem wondering, paradoxically, how to make progress without the Trump administration acknowledging it.
The bottom line: A surprisingly large amount of progress is being made, actually, including on certain federal policies, within corporations and by local governments. Ultimately, though, the scale of the problem needs not only federal acknowledgment but also concerted backing.
"I think you can fudge it for a couple of years," says Julio Friedmann, a former top DOE official in the Obama administration. "There is a lot of progress that is possible, but it's not enough to fully deliver."
Here's a highlight of what is being done, and drill down into the Axios stream here for the details. 
Congress earlier this month approved a narrow but important tax incentive that would support projects capturing carbon emissions from coal plants and other facilities. Climate change wasn't a focus of many of the bill's backers, and it wasn't mentioned directly in the legislation.
The Federal Energy Regulatory Commission approved a rule last week aimed at removing market barriers to batteries and other tech that can store energy. This is key for the widespread adoption of intermittent renewable energy and bolsters a trend already underway — companies are increasingly investing in renewable energy regardless of its climate-change benefits.
EPA administrator Scott Pruitt told executives in the biomass industry he's working to complete a process first started under Obama that would officially recognize the fuel as carbon-neutral. 
More than a dozen states and hundreds of U.S. cities have pledged to cut carbon emissions despite Trump vowing to withdraw America from the Paris accord.
All of these efforts pale in comparison to the Trump administration's efforts to repeal or scale back nearly every policy Obama issued to address climate change. And layered on top of that is government-endorsed skepticism of an issue most of the rest of the world considers business as usual.
Petro-notes: OPEC-Russia pact, Saudi strategy, a U.S. milestone
What's next: Reuters chatted with the UAE's energy minister and reports that "OPEC and non-OPEC oil producers including Russia will discuss extending their cooperation for many more years when they meet in June as they seek to avoid major market shocks."
What's driving the players: A note from RBC Capital Markets analysts on Monday evening explores Saudi Crown Prince Mohammad Bin Salman's political moves and how the kingdom's oil market strategy fits into the picture. RBC says:
The Saudis still have motivation to avoid grabbing market share at the expense of prices, and the note examines how the partnership with Russia is "essential for ensuring the success of this activist oil agenda."
That partnership now extends beyond the output-limiting deal to moves such as include bilateral investment deals.
"While the full implications of this new RiyadhMoscow axis have yet to be fully felt, it clearly represents a new oil order and another definitive break with past practice," they note.
A U.S. export milestone: The Louisiana Offshore Oil Port announced over the weekend that it had completed its first loading of the largest kind of tanker, known as the very large crude carrier (VLCC).
Why it matters: The capacity to make use of the largest tankers will eventually help boost U.S. crude exports even further over the long-term. They're already averaging well in excess of one million barrels per day this year.
S&P Global Platts explains how massive ships also help with the economics of sending U.S. crude abroad. "The appeal for US crude oil is poised to broaden as the freight costs for VLCCs are much lower than smaller tankers and this could spur more global demand for US crude, making it viable for more arbitrage opportunities."
Cryptocurrency: CNBC reports that Venezuela is launching a cryptocurrency today, but it might not get far. "The launch of the bitcoin-esque cryptocurrency, called the petro, is viewed by many onlookers as a somewhat desperate attempt to secure cash amid an unprecedented economic meltdown," they report.
Former Trump energy aide on his next moves
A senior White House energy and climate aide who resigned last week could find another job in the Trump administration, E&E News reported on Monday afternoon.
What's next: George David Banks tells E&E that the administration is mulling spots for him in Interior or Energy, but it's not clear what's available or whether he would be a "good fit."
Why it matters: As we noted here, Banks sought to be a moderating voice on climate in the context of the hard-right Trump administration.
The near term: Banks said he's planning to rejoin the American Council on Capital Formation, a conservative think tank that where he was a senior official before his White House stint. He has also joined the advisory board of ClearPath, a group that promotes "conservative clean energy solutions."
Flashback: Banks said last week that he was forced to leave the White House because he was unable to obtain a full security clearance after admitting to smoking pot in 2013.
Electric vehicle news and notes
A few EV-related things that caught my eye . . .
Tipping point: Via the Financial Times, "Electric cars will remain more expensive than petrol or diesel cars until the middle of the next decade, one of Nissan's most senior executives has predicted."
Why it matters: Nissan's Daniele Schillaci says this will end the need for subsidies that support EV purchases in many regions. More broadly, higher costs are a barrier to wider deployment of EVs, which are currently just around a percent of global car sales.
Go deeper: A report on low-carbon energy released last week looks at cost-of-ownership comparisons for a sampling of EVs and traditional cars. Download the Bloomberg New Energy Finance data here and check out pages 124-125.
The near-term: An industry guest column in Greentech Media looks at a half-dozen trends that will drive electrification in 2018. Preston Roper of the EV charging company eMotorWerks says he's looking for things including...
More utilities offering programs that support EV adoption and help manage the charging load.
Car dealers, which depend on repairs of traditional cars as a major revenue source, to make adjustments to business models because EVs require fewer parts and maintenance.
More target date announcements for ending the sale of internal combustion engines. Last year brought several, including 2040 targets from France and the U.K.
Supply chains, part 1: Bloomberg reports from Tokyo on Tuesday that Toyota is "is readying electric motors that include as much as 50 percent less in rare earths amid concern of a supply crunch as automakers race to expand their electric-vehicle lineups."
Supply chains, part 2: A new episode of the podcast Cleantech Talk makes the case that concerns about future availability of cobalt — a key component of EV batteries — are largely misplaced.
On my screen: storage, state efficiency, drones, climate headwinds
Following up, part 1: Remember FERC's move last week aimed at helping storage compete in wholesale markets? Joshua Rhodes, a University of Texas power expert whose work we've featured before, has a piece in Forbes that looks at what it can and can't accomplish.
"While this development plays to storage's benefit, the market (at current prices) is still relatively small. For energy storage to make a big play, costs still needs to come down by about half, and the market itself might have to change," he writes.
Following up, part 2: Remember that research we covered on the climate footprint of using drones for package delivery?
The authors of the paper have penned their own item in The Conversation that digs a little deeper into the findings but doesn't require the bushwhacking of the dense published research.
One cool state thing: This interactive map from the National Renewable Energy Laboratory looks at the energy savings potential — including costs and options — for single family homes in each of the lower 48 states.
Sobering: "Even as renewable energy grows cheaper and automakers churn out battery-powered and more efficient cars, many nations around the world are nonetheless struggling to hit the relatively modest goals set in Paris," the Washington Post reports.
State of the market: oil industry M&A
Looking forward, looking back: A Deloitte report from last week finds mergers and acquisitions in the oil-and-gas industry were down last year, likely reflecting the industry's "caution" as it emerged from a downturn. But, the report also predicts that M&A action is poised for a 2018 rebound.
Bottom line: Global deal value fell from $365 billion in 2016 to $287 billion last year, while deal volume went from 533 total number of deals in 2016 to 502 in 2017 as action slowed in the second half of the year.
State of the Permian: One interesting U.S. upstream note — the second half of 2017 saw a big decline in deals in the surging Permian Basin of Texas and New Mexico. The report says this reflects high costs (in the $60,000-per-acre range) and companies' interest in drilling their existing holdings, the report states.
Big picture: One global trend last year was some companies divesting major holdings to cut debt or focus on core areas — the report cites Hess selling its North Sea and West African assets, and Shell largely abandoning the Canadian oil sands.
What's next: The report says that rising industry investment, higher prices, the decline in global oil stockpiles and other factors could drive an uptick in activity.
"Certainly higher, more stable oil and prices could generate interest from more cautious players, improve access to financing, and narrow the buyer-seller valuation gap. Moreover, the majors as well as the larger independent and integrated oil companies continue to execute their divestment plans, providing opportunities for smaller and more regionally focused companies," it states.