Welcome back! It's almost the weekend. Sort of. Anyway, you might want to check out the Axios stream for coverage of one of today's main stories: former FBI director James Comey's testimony to Congress.
It's not necessarily an energy story, but the scandal over the Trump administration's Russian ties certainly could have spillover effects as the White House pushes its policy agenda. Ok let's dive in . . .
https://www.axios.com/newsletters/axios-generate-2f92a062-9a97-40a8-a65a-8e33e7f29f0d.html?chunk=0#story0
Hoping for greener days at Interior
When President Donald Trump tapped then-Montana congressman Ryan Zinke to lead the Interior Department, the National Wildlife Federation had supportive words for the move even as some other big groups — including the Sierra Club and Natural Resources Defense Council — bashed the choice.
Where things stand: Around 100 days into Zinke's tenure, NWF is still waiting for Zinke to become the conservation advocate they were hoping for, and they're not happy with some early moves.
"100 days in, we are hoping there is going to be much more focus on conservation in the months ahead," NWF President Collin O'Mara tells Axios. "We have a few areas that we are really proud that we have worked with him on, but I think we also have a lot of areas that we feel like industry's needs have come well before conservation."
O'Mara said NWF has worked with Interior on access for hunting and fishing, offshore wind, and federal preparation for wildfires. But he's troubled by Trump and Zinke's aggressive efforts to bolster fossil fuel development on federal lands and waters.
"We are...concerned about the very one-sided executive orders on some of the extractive industries and not having the balance that we expect from the Department of the Interior of having conservation on equal footing as energy development," he said.
Big tests: In the near-term, O'Mara is closely watching Interior's review of Obama's designation of the Bears Ears National Monument in Utah, and how the agency approaches conservation of the greater sage grouse in western state regions coveted by oil-and-gas drillers and other interests.
Postscript: After our interview Wednesday, Interior announced a 60-day review of Obama's 2015 plan to protect the habitat of the declining sage grouse. NWF bashed Zinke's move, saying it threatens to upend "one of the most collaborative and significant conservation efforts in American history."
https://www.axios.com/newsletters/axios-generate-2f92a062-9a97-40a8-a65a-8e33e7f29f0d.html?chunk=1#story1
Scoop: Oil lobby taps new comms chief
My colleague Amy Harder has the inside track on a major new oil industry hire. She reports:
The American Petroleum Institute has tapped Megan Bloomgren, who worked on the Trump administration's transition team at the Interior Department, to be its top communications official.
Why it matters: Finding a unified voice in trade associations is like herding cats, and Bloomgren will be at the heart of that task shaping the group's public communications strategy amid tumultuous times in Washington and an unpredictable administration. The group, the U.S.'s biggest lobbying group representing the oil and natural gas industry, finds itself on offense after eight years of mostly defense with former President Obama's aggressive regulatory agenda.
But remember: Offense is not always easier than defense. Bloomgren says her top priorities will include making sure the industry's tax policies are protected in any overhaul Congress might pursue, expanding access to land and water to drill, and influencing Washington's infrastructure debate. The industry itself is divided on some of these issues, with integrated oil companies like ExxonMobil Corp. and Royal Dutch Shell often on a different side than more domestically focused companies.
Click here for more.
https://www.axios.com/newsletters/axios-generate-2f92a062-9a97-40a8-a65a-8e33e7f29f0d.html?chunk=2#story2
Solar growth slows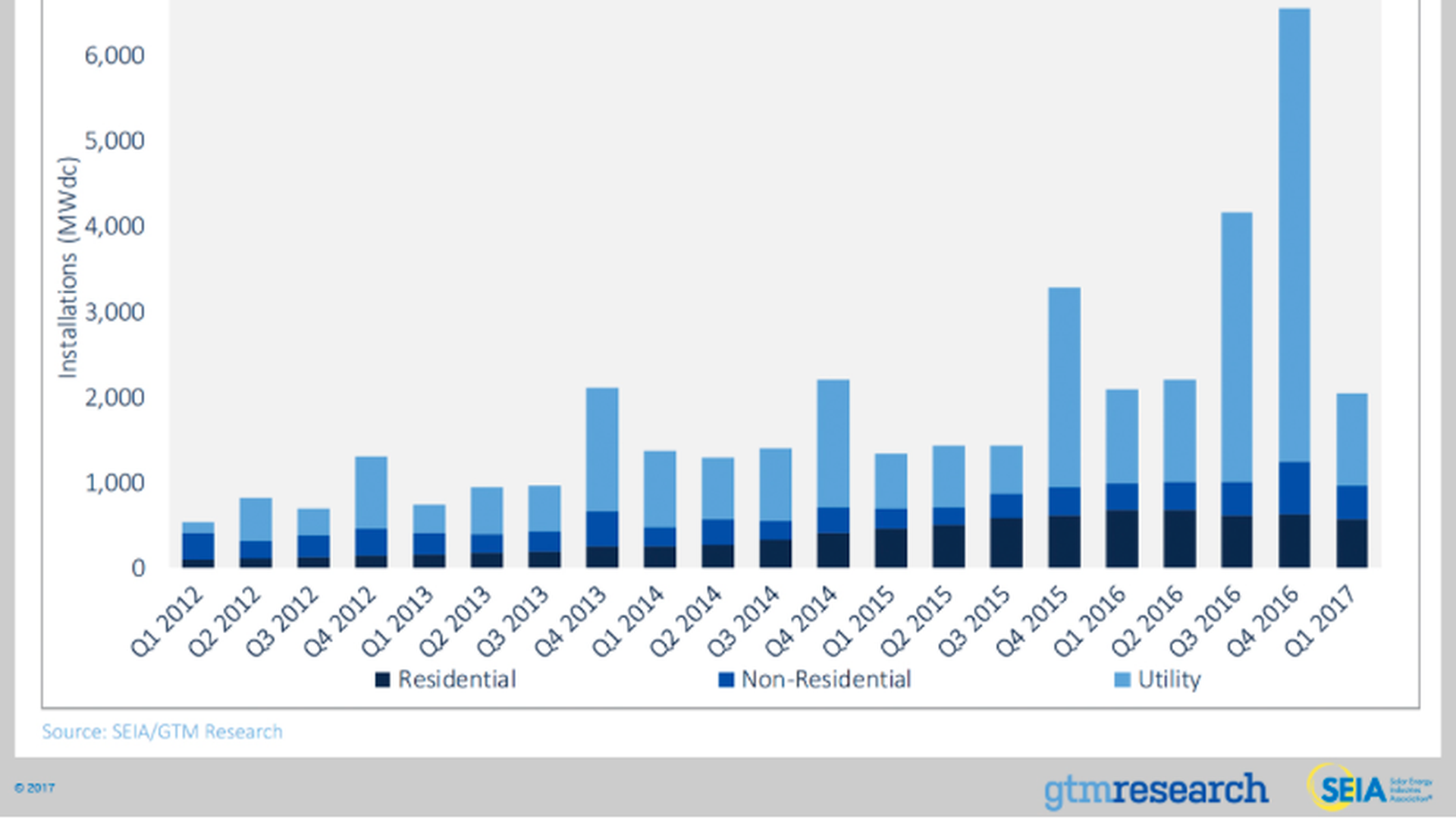 New this morning: U.S. solar power growth in the first quarter of 2017 fell sharply off the prior three month's record-setting level, but there were still bright spots for the industry, according to newly released data.
Here's the top-line stuff from the new quarterly report from GTM Research and the Solar Energy Industries Association:
Prices for utility-scale systems dropped below $1-per-watt for the first time.
The industry added roughly 2,000 megawatts of new solar photovoltaic capacity (a drop from over 6,000 the prior quarter and on par with the first quarter of 2016).
The utility-scale segment remains the biggest driver, accounting for more than half the additions.
Residential installations are down from both last quarter and the same period in 2016.
Solar was the second-largest source of new power generating capacity installed, slightly ahead of wind but behind natural gas.
Go deeper: The report cites a few reasons for the lower cumulative figures. In the residential sector, companies "continue to slow operations and pursue profitable sales channels at the expense of growth," the report notes, adding that another factor includes the rainy winter in the biggest market, California.
In the utility sector, last year's surge was due in part to projects set in motion during the 2015 uncertainty over the future of tax credits.
https://www.axios.com/newsletters/axios-generate-2f92a062-9a97-40a8-a65a-8e33e7f29f0d.html?chunk=3#story3
Paris polling shows early alignment
Three recent polls reflect similar numbers of respondents against and for Trump's decision to abandon the Paris climate pact, as well as a deep partisan split on the topic:
A Quinnipiac University poll finds 62% of voters disapprove and 32% approve.
A Washington Post-ABC News survey showing a similar split — 57% against pulling out and 33% in support.
A Morning Consult poll similarly shows that 57% wanted to stay in pact, 24% leave pact, and 19% didn't know.
https://www.axios.com/newsletters/axios-generate-2f92a062-9a97-40a8-a65a-8e33e7f29f0d.html?chunk=4#story4
On my screen
Happening today: Zinke will testify later this morning before a House Appropriations Committee. In the Senate, the Energy and Natural Resources Committee will hold a hearing on cost reductions in emerging technologies.
Exports: The Wall Street Journal analyzed Energy Department and International Trade Commission data in a piece that takes stock of U.S. crude oil exports, which are rising following the removal of the ban on most exports in late 2015.
"The U.S. exported 1 million barrels of oil a day during some months so far this year — double the pace of 2016 — and is on track to average that amount for all of 2017," the paper reports.
DOE: Energy secretary Rick Perry sees major opportunities to work with China on clean energy, despite the U.S. decision to abandon the Paris climate accord, the Associated Press reports.
"In a meeting with Chinese Vice Premier Zhang Gaoli on the sidelines of a clean energy conference in Beijing, Perry cited liquefied natural gas, nuclear energy and carbon capture as areas where the two countries can cooperate," their story states.
Lobbying: The environmental group Oceana has brought on The McGrath Group to lobby on legislation to thwart the shark fin trade.
https://www.axios.com/newsletters/axios-generate-2f92a062-9a97-40a8-a65a-8e33e7f29f0d.html?chunk=5#story5
Apple's NBA jam
Apple has been stepping up its environmental message as Trump walks back his predecessor's climate efforts. Axios tech writer Ina Fried reports...
Apple has made a political ad entirely out of iPhone photos. The company just ran a TV commercial in the NBA Finals showing a series of Live Photos of various nature shots along with the late Carl Sagan reading parts of his famous Pale Blue Dot speech.
Here's the text of the ad:
The earth is a very small stage In our obscurity in a vast cosmic arena. In all this vastness, there is no hint that help will come from elsewhere to save us from ourselves.The earth is the only world known so far to harbor life. There is nowhere else at least in the near future, to where our species can migrate. Like it or not, for the moment, the earth is where we make our stand. It underscores our responsibility to deal more kindly with one another and to preserve and cherish the only home we've ever known.
High profile: Apple has been touting its environmental efforts, including a push to get its suppliers to shift to renewable energy. Apple CEO Tim Cook blasted Trump's move to exit Paris after he had lobbied the president to stick with the environmental accord.
Click here for more.