Axios Generate
August 26, 2022
🌄 Good morning! Ben is taking a much-deserved break today, so I'm at the helm. Today's newsletter, edited by Mickey Meece, has a Smart Brevity count of 1,230 words, 5 minutes. 
🎶 🎶 Happy birthday to Adrian Young, drummer for No Doubt, who was born on this day in 1969. The band brings us today's intro tune...
1 big thing: Hurricanes are missing from hurricane season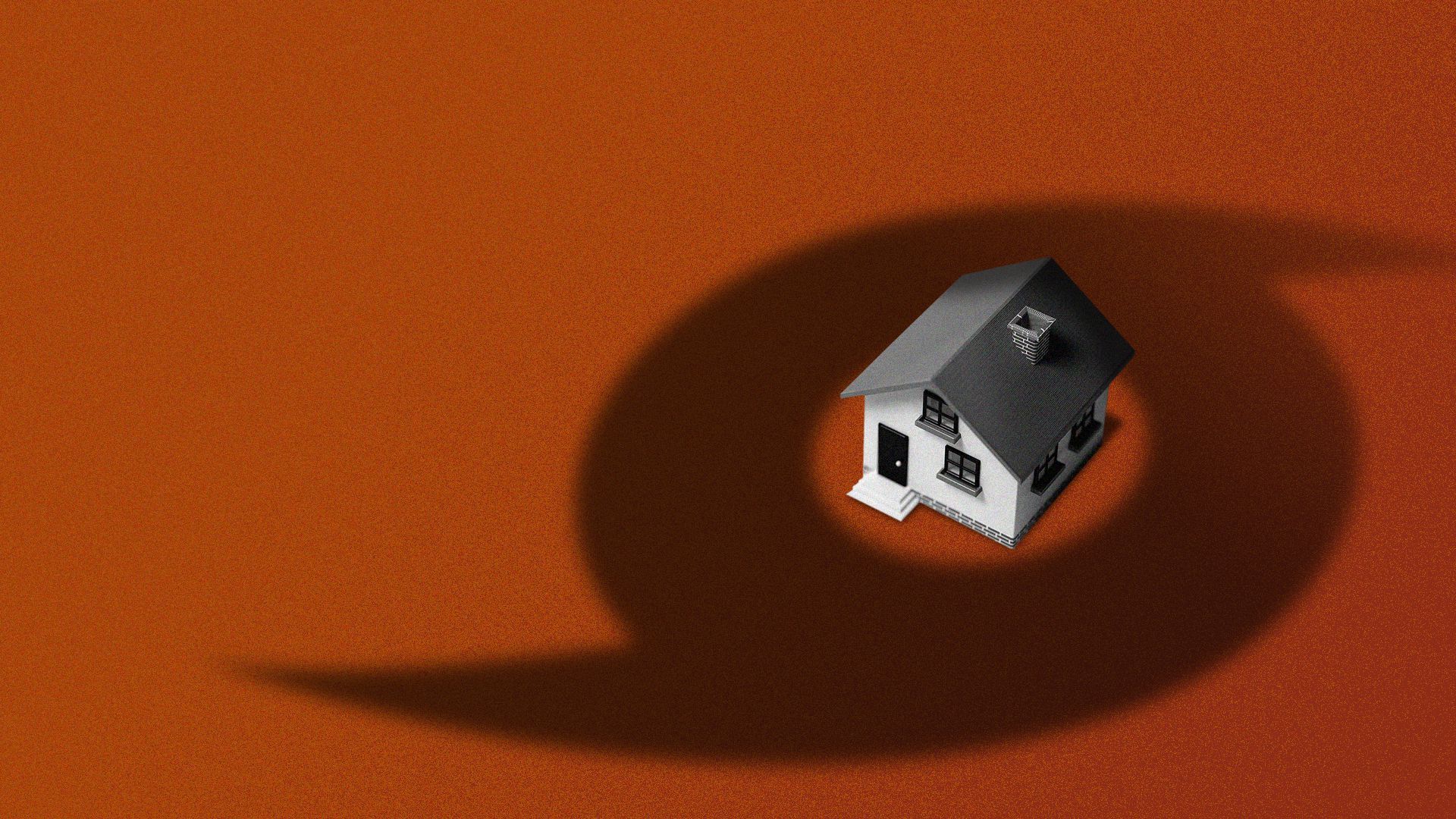 The Atlantic hurricane season has been unusually quiet so far, with not a single hurricane. There has not even been a named storm since July 2, a respite that last occurred in 1982.
Our luck is likely to run out soon, scientists tell Axios.
Why it matters: Nature's strongest storms typically are the most costly weather-related disasters and are becoming more damaging due to human-driven climate change.
Warming seas and air temperatures are causing tropical storms and hurricanes to become more intense and dump heavier rainfall.
The intrigue: The dearth of activity so far goes against forecasts, with everyone from the federal government to academic groups calling for an above-average or much above-average season.
"I'm a little surprised at the lack of activity to this point," said Matthew Rosencrans, lead seasonal hurricane forecaster for the National Oceanic and Atmospheric Administration.
He said the quiet period is inconsistent with his agency's forecast, but most hurricanes typically form from now through October.
Zoom in: The La Niña event in the tropical Pacific Ocean, which slackens upper-level winds across the Atlantic, usually makes for an active hurricane season.
However, the atmosphere above the Atlantic has been defying La Niña. There has been stubborn, above-average wind shear across the Caribbean, tearing apart nascent storms.
In addition, across the main development region of the Atlantic between the Caribbean to west of the Azores Islands, dry air at mid-levels of the atmosphere has been squelching storms in their infancy.
Kim Wood, a meteorologist at Mississippi State University, said clusters of thunderstorms moving off Africa, known as tropical waves, need certain conditions to become better organized.
"The ocean is warm enough to support the strong thunderstorms needed for one of these waves to become a tropical storm, but the atmosphere needs to cooperate too," she told Axios via email.
What they're saying: Michael Lowry, a hurricane specialist with WPLG-TV in Miami, tells Axios that the lack of an uptick in activity this late in August means the odds are diminishing for an above-average season.
"With each passing day, the silence in the Atlantic grows louder," Lowry said in an email.
What's next: According to Philip Klotzbach, a hurricane researcher at Colorado State University, both of these obstacles may start to move out of the way during the next couple of weeks.
Context: The lack of hurricanes striking the U.S. so far this season has been a welcome respite, as the country has contended with extreme heat, pervasive drought, and five 1,000-year rainstorms in as many weeks.
Yes, but: All it takes is one significant hurricane striking the U.S. coast to make for a deadly and costly season.
2. BlackRock hits back at Texas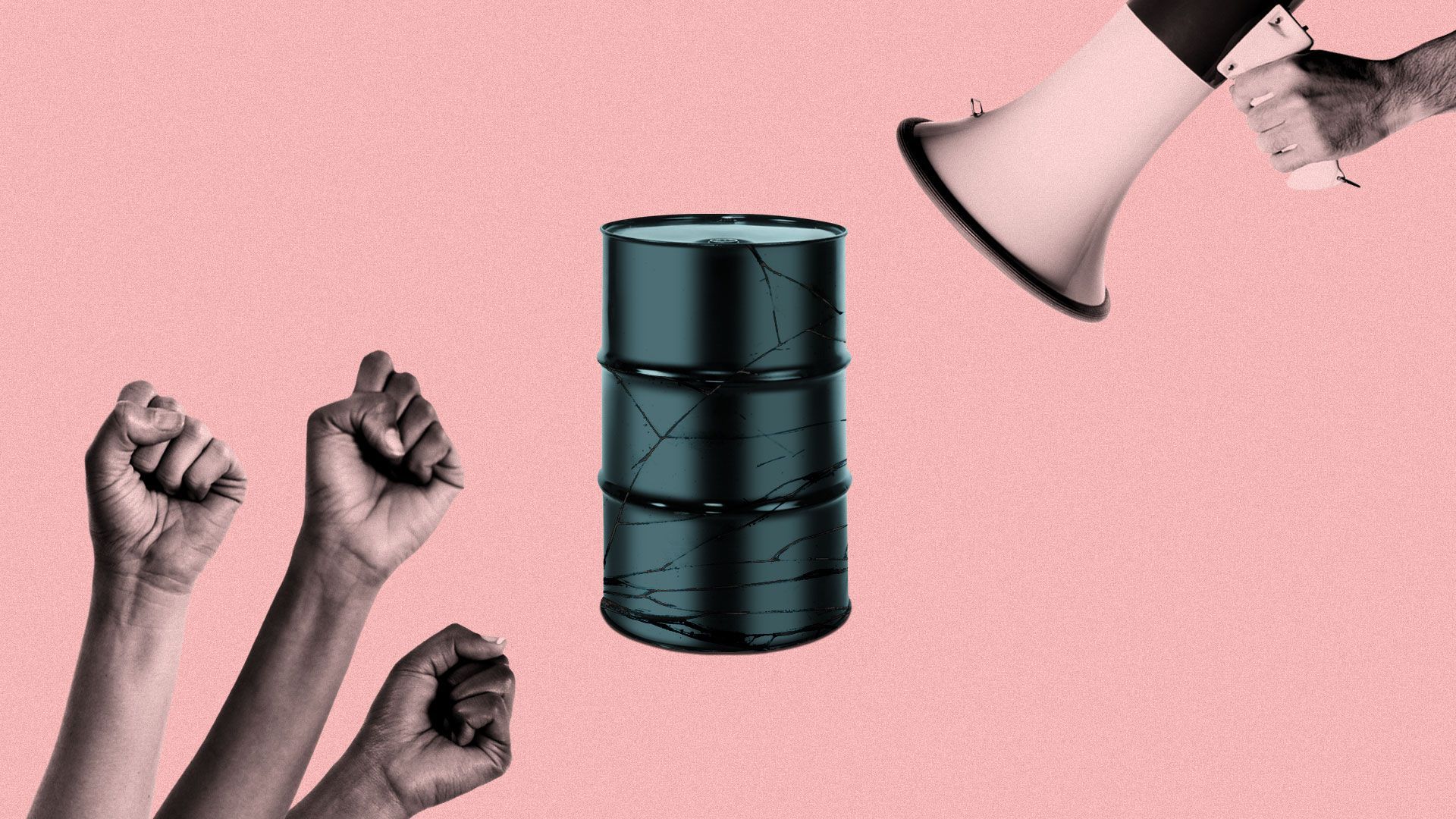 As the only U.S.-based investment firm to land on the Texas Comptroller's divestment list for "boycotting" the fossil fuel industry, BlackRock is seeking to clarify its stance to state officials.
Why it matters: To the world's largest asset manager, the listing signals an escalation in a simmering battle over environmental, social and governance investing, one that it does not intend to shy away from.
Catch up fast: The list was unveiled Wednesday by Texas Comptroller Glenn Hegar and aims to retaliate against firms that are steering clear of Texas fossil fuel investments.
"My greatest concern is the false narrative that has been created by the environmental crusaders in Washington, D.C., and Wall Street that our economy can completely transition away from fossil fuels, when, in fact, they will be part of our everyday life into the foreseeable future," Hegar said in a statement Wednesday.
What they're saying: "We're going to work diligently to reiterate the facts and try to get off the list" during its 90-day review period, Mark McCombe, BlackRock's head of U.S. business, told Axios.
Between the lines: McCombe said the listing raises broader concerns about Texas' business climate.
McCombe said BlackRock has $290 billion invested across Texas.
The intrigue: Don't expect BlackRock to back off its ESG fund offerings or the incorporation of climate risk into investment strategies.
"If that gets us, you know, on the wrong side of a particular state, then you know, I guess it's a price we have to pay. But we're not going to deviate," McCombe said.
3. Study pinpoints Hurricane Harvey's human-caused harm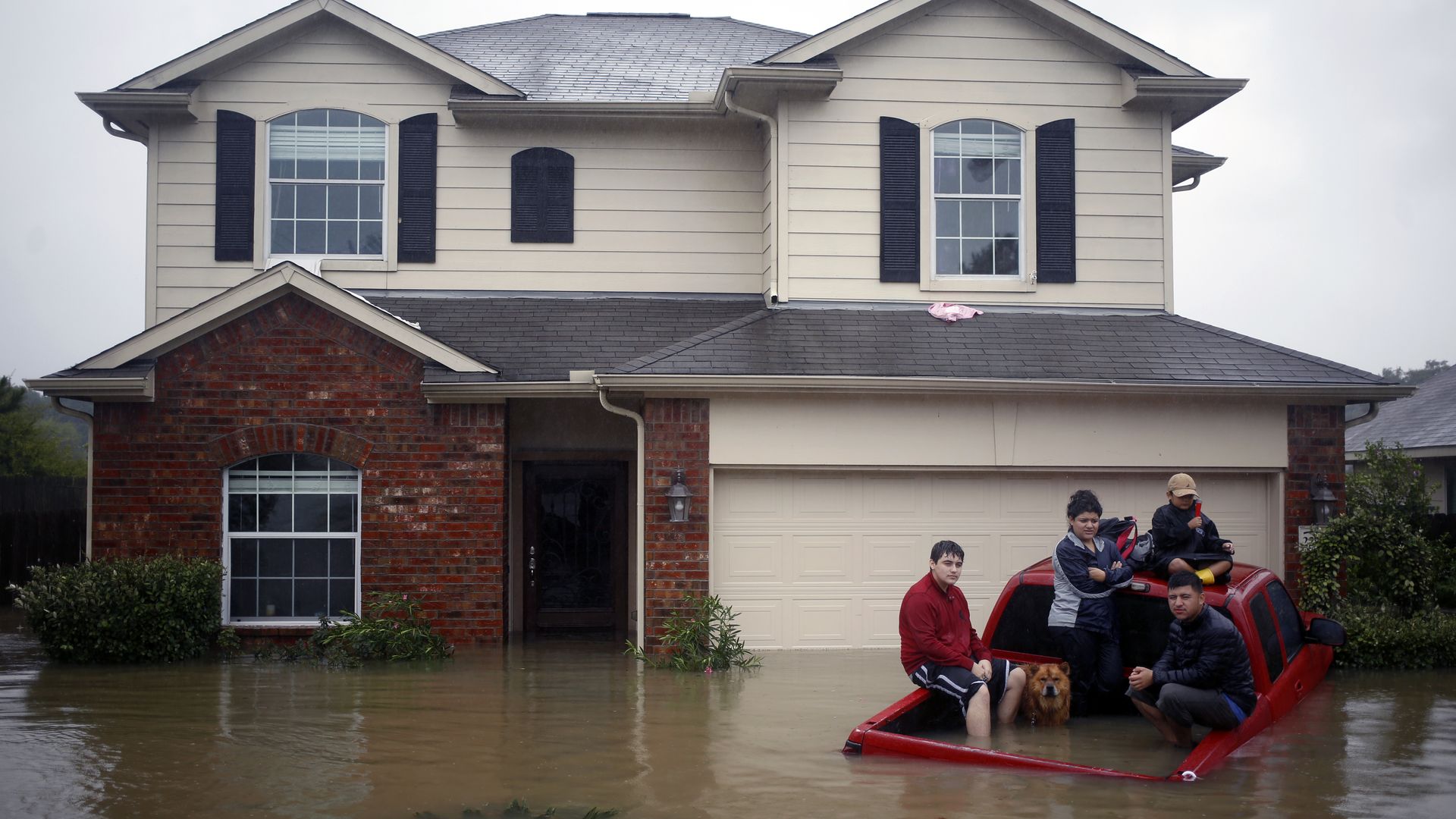 A groundbreaking new study shows the growing and unequal burdens of climate change.
The big picture: The research, published Thursday in Nature Communications, employed a combination of climate attribution methods and precision flood modeling to determine who was most affected by how global warming influenced Hurricane Harvey in 2017.
That storm dumped up to 60.58 inches of rain across the Houston metro area, setting an all-time U.S. rainfall record for any landfalling tropical cyclone.
Zoom in: The researchers found that without human-caused climate change, which boosted the storm's rainfall, 30% to 50% of flooded properties would not have been inundated.
Much of the added flooding occurred in low-income, Latino neighborhoods that were outside FEMA's 100-year floodplain, the researchers found.
Residents of such areas are less likely to have flood insurance.
What they're saying: "We have quantified the contribution of climate change to the suffering of people who live there," said study co-author Michael Wehner in a statement.
Of note: The Washington Post points out that studies tying climate change to specific climate damages could be used in future litigation or incorporated into contentious talks under the Paris Agreement to compensate the most affected countries.
4. Catch up fast: Ukrainian nuclear concerns grow
Ukraine's Zaporizhzhia nuclear plant remains disconnected from the country's power grid, causing outages and heightening safety concerns.
Threat level: Ukrainian and American officials have warned against any Russian attempt to divert electricity to its own grid, which would be a difficult undertaking that could risk an accident and cause widespread power shortages in Ukraine, CNN and the NYT report.
"We are continuing to talk with Russia and through these Security Council discussions and to impress upon Russia not to do that," Bonnie Jenkins, a senior State Department official, told reporters yesterday.
5. Charted: EV prices in California
A new report shows how federal and state incentives, along with the unveiling of new cars, will be key to driving down the costs of electric vehicles, including in California, which just adopted an ambitious 100% EV goal by 2035.
The bottom line: The paper, from the ICF Climate Center, found that most EVs sold in California during the first quarter of 2022 (prior to incentives and rebates) cost $40,000 or more.
In contrast, most internal combustion vehicles sold during the previous year ranged from $20,000 to $40,000.
6. "Cities of the future," built from scratch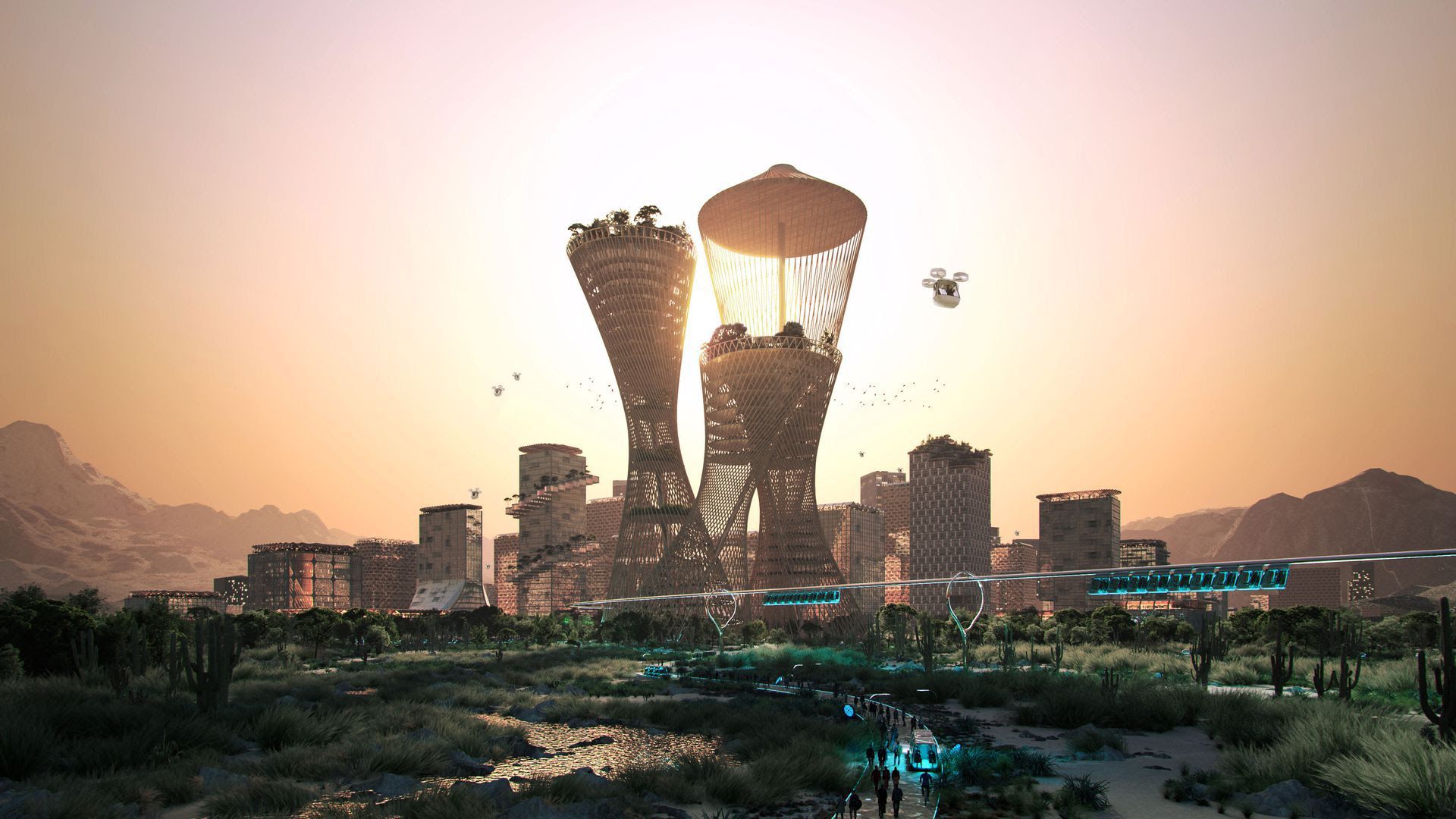 Billionaire Marc Lore is fleshing out his plan to build a utopian city called Telosa for 5 million people in the American desert — and he's not the only one with such ambitions, Jennifer A. Kingson reports for Axios What's Next.
Why it matters: There are about a dozen projects worldwide that would create sustainable, hypermodern cities from scratch.
While they may never come to fruition, the proposals hint at what the city of the future might look like.
Driving the news: Telosa is set to be built on 150,000 acres in Nevada, Utah or Arizona, and 50,000 people will call it home by 2030, per newly released plans from Lore — a serial entrepreneur who sold Jet.com to Walmart for $3.3 billion.
"We're not just building a new city — this is a new model for society," Lore said at a Telosa "town hall meeting" in July.
Editor's note: The second item has been updated to clarify that BlackRock has invested $290 billion across Texas, not just in the Texas oil and gas sector.
📬 Did a friend send you this newsletter? You can sign up here. Thanks for reading, and have a great weekend.