Axios Generate
January 30, 2020
Welcome back! Today's Smart Brevity count: 1,230 words, 4.5 minutes.
Situational awareness: "Oil prices fell on Thursday on concerns over the potential economic impact of the coronavirus that continues to spread worldwide, while the market also considered the possibility of an early OPEC meeting." (Reuters)
And at this moment in 1973, Carly Simon was atop the Billboard album charts with "No Secrets," which provides today's intro tune...
1 big thing: Tesla's new mojo and nagging questions
That sharp spike you see in Tesla's already-high stock price is what happened yesterday when the electric automaker reported a $105 million Q4 profit and offered a rosy take on what's ahead.
Why it matters: Tesla and CEO Elon Musk kick up lots of dust, but the bottom line is that the trajectory of the world's largest EV seller matters a lot for tech's wider adoption — even as competitors ramp up too.
Where it stands: Axios' Joann Muller has lots of good info about the earnings rollout in her full story, but here are some toplines from her piece and yours truly...
1. Tesla expects to remain profitable going forward, with "possible temporary exceptions" around product launches and ramp-ups, it said in the earnings report.
2. Record 2019 deliveries helped drive revenues up 19% over the prior quarter, but profit margins fell because Tesla sold more of the lower-priced Model 3.
3. Its upcoming Model Y compact SUV is ahead of schedule — the production ramp has begun and it plans to start deliveries by the end of this quarter, the company said.
4. Overall, Tesla said full year 2020 deliveries across its product lines will "comfortably exceed 500,000 units."
But, but, but: Battery cell production capacity is the biggest potential bottleneck to growth — as seen in Tesla's decision to not accelerate its semi-truck production beyond limited numbers, Musk said.
Increasing that capacity is the top priority, he said.
What they're saying: Tesla tends to lurch from good stretches to near-crises, so there are predictably divided views about how to assess the moment. Here's a sampling...
Via MarketWatch, a Wedbush Securities analyst called the results "potentially 'game changing,'" in a note that says it could signal a "new era" for Tesla.
"They are not even remotely out of the woods," Peter DeCaprio of the investment firm Crow Point Partners tells the Los Angeles Times.
"At $650, the after-market [stock] price is pretty much divorced from any reasonable underlying math," writes Bloomberg columnist Liam Denning.
2. EIA is both optimistic and pessimistic on renewables
The Energy Department's data arm is more favorable on renewables' long-term future than it was a year ago, but its central analysis might still be badly underestimating the tech's trajectory.
Driving the news: The Energy Information Administration's Annual Energy Outlook released yesterday shows power from renewables overtaking natural gas as the nation's largest electricity source in about 15 years.
Why it matters: It's a reversal of fortune from last year's version, which projected that in 2050 natural gas would still be the biggest power source with a 39% share and renewables at 31%.
"This shift has been strongly influenced by federal and state policies that help make renewables the fastest-growing source of electricity," EIA administrator Linda Capuano said Wednesday, per Bloomberg.
The intrigue: One thing worth keeping in mind is that EIA's "reference" case assumes a static policy landscape going forward.
Predicting the future is hard! But it's safe to assume policy won't be static.
EIA also published alternative scenarios — a high-cost case and a low-cost case in which renewable costs in 2050 are 40% lower than the reference case.
In the low-cost case, renewables have a 50% share in 2050.
But, but, but: Renewables' growth has outpaced EIA projections for many years.
"I do think that the [EIA] numbers are moving in the right direction, but still too conservative," Joshua Rhodes, an analyst with the firm Vibrant Clean Energy, tells me.
He points to the recent burst of long-term state and utility clean power plans, and he's skeptical that coal will even have close to the 13% share by 2050 that EIA projects.
3. The Fed's climate evolution
There's fresh evidence that the Federal Reserve is paying more attention to climate-related risks to the financial system.
Driving the news: Via Bloomberg, "The Federal Reserve is likely to join a group of global peers that was set up to combat climate change and improve understanding of the threat it poses to economies, Chairman Jerome Powell said."
Why it matters: The U.S. previously avoided joining this coalition of central banks, called the Network for Greening the Financial System, that formed in late 2017.
But as Bloomberg notes, Powell said Wednesday that Fed officials have already attended meetings of the group.
The big picture: The Fed, in the shadow of President Trump's dismissal of climate change, have been focusing on the topic more. Late last year brought the Fed's first conference on the topic.
4. UPS turns to U.K. startup in electric push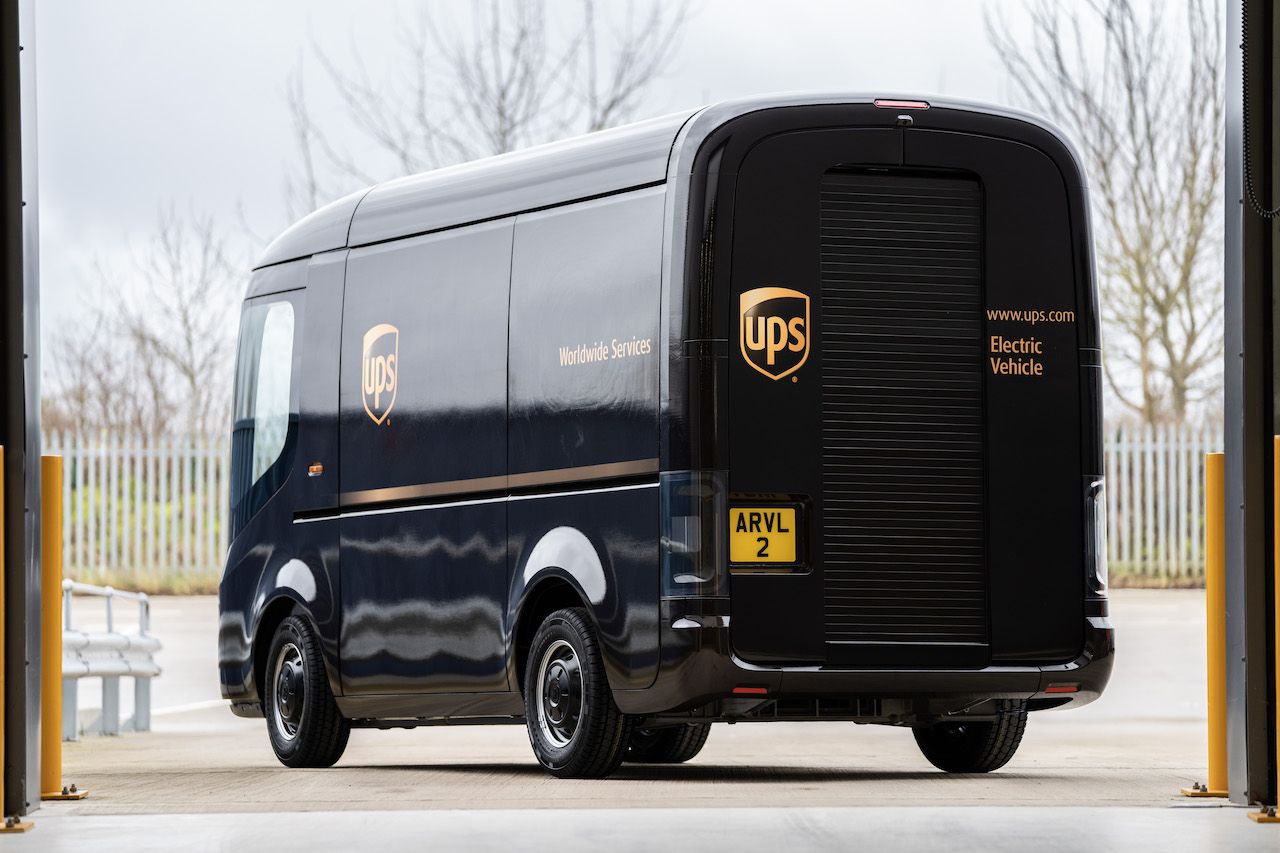 UPS is investing in Arrival, a U.K.-based electric truck manufacturer, and plans to buy at least 10,000 battery-powered delivery trucks worth $440 million over the next five years, Joann reports.
Why it matters: UPS is transforming its global logistics business to keep up with exploding e-commerce and increased urbanization — and the fallout from those trends, like worsening congestion and climate change.
The purchase represents 10% of UPS' current fleet of 100,000 package delivery trucks in the United States.
It more than doubles UPS' worldwide fleet of roughly 10,000 alternative fuel vehicles.
What's happening: UPS said it would take an undisclosed minority stake in Arrival, a company virtually unknown in the U.S. until recently.
Arrival has been quietly developing its EV skateboard platform since 2015, emerging last October as a potential rival to another buzzy electric truck manufacturer, Michigan-based Rivian.
UPS has an option to buy another 10,000 trucks by 2023, for a total order worth nearly $1 billion, Arrival said.
5. The case against a common warming scenario
Assuming the world is on pace for an extraordinarily high amount of warming could actually make it harder to fight dangerous climate change, a new commentary in Nature argues.
Driving the news: It says one scenario of a very hot and high-emissions future that modelers use — called representative concentration pathway (RCP) 8.5 — is often wrongly called a "business as usual" case by by policymakers, the press and experts.
RCP 8.5, which is projected to bring warming of roughly 5°C above pre-industrial levels by 2100, should be treated as nothing of the sort, write CICERO's Glen Peters and The Breakthrough Institute's Zeke Hausfather.
One problem with RCP 8.5, they note, is that it models emissions futures that "generally require an unprecedented fivefold increase in coal use by the end of the century."
That's highly implausible, especially given that global coal use may have peaked already.
Threat level: Their piece sees current policies likely to bring about roughly 3°C of warming by 2100. That's still a "catastrophic outcome" and needs to be avoided, they write.
"Overstating the likelihood of extreme climate impacts can make mitigation seem harder than it actually is," they write.
One reason is because "[f]or policymakers, mitigation policies that depend on the assumptions underlying high-emission baseline scenarios such as RCP8.5 will seem exorbitant, because they do not incorporate the plummeting costs of many low-carbon technologies over the past decade."
The other side: The pioneering climate scientist Michael Mann of Penn State is critical of their analysis, calling it too sanguine. Check out his post here.
6. Catch up fast: Shell, politics, EVs
Earnings: "Royal Dutch Shell PLC said it would slow the pace of spending on its $25 billion share-buyback program as it reported a sharp drop in profit for 2019." (Wall Street Journal)
Politics: The Washington Post got a look at internal campaign documents describing executive actions Bernie Sanders might take if he wins, including an executive order "declaring climate change a national emergency while banning the exportation of crude oil."
EVs: "Rivian, a Michigan-based startup backed heavily by Ford and Amazon, will develop a new electric vehicle for Ford's Lincoln luxury brand." (CNN)