Happy Friday! Today's edition ends week three of Generate. So I want to sincerely thank everyone who is reading and providing feedback. I'm having fun with it. You know who isn't having fun? GOP lawmakers and White House aides scrambling to salvage their health care bill. It's an earthquake of a story, and our Vitals health care newsletter is an indispensable guide to what's happening. You can sign up here. Ok, let's get back to energy....
https://www.axios.com/newsletters/axios-generate-173a3035-c951-4bc5-b162-83ca32260476.html?chunk=0#story0
The legal fight awaiting Keystone's comeback
By now you've probably heard that the Trump administration will green-light the Keystone XL pipeline today (or Monday at the latest).
What's next: The years-long fight over the pipeline that would bring crude oil from Alberta's oil sands to Gulf Coast refineries will probably enter uncharted waters soon: a court battle over federal approval of the project.
Groups including the Center for Biological Diversity and the Sierra Club are expected to challenge the decision. Environmental lawyers will likely argue that the Trump administration ran afoul of the National Environmental Policy Act by supporting Keystone without changing the underlying, multi-year study that led the Obama administration to reject it.
NEPA and administrative procedure law basically gives opponents of federal decisions the chance to argue that agencies didn't do their homework right. One attorney believes there's an opening to attack the federal approval because it's "based on basically no new information."
Where else: The expected federal court fight is just one venue. Another is the Nebraska Public Service Commission, and another is the streets — look for green groups and their allies to revive the highly visible protest movement that helped to defeat Keystone under Obama.
https://www.axios.com/newsletters/axios-generate-173a3035-c951-4bc5-b162-83ca32260476.html?chunk=1#story1
How blockchain could change the power industry
The Harvard Business Review is out with a new look at how blockchain technology could alter the way electricity is managed and is starting to already, especially as more distributed sources like solar energy come into the system.
"[I]f it proves reliable and scalable, blockchain technology may ultimately accelerate the transition to what the energy industry calls a 'distributed world' made up of both large and smaller power-generation systems for homes, businesses, and communities."
Why it matters: The piece lays out several ways that the decentralized transaction technology could shake things up, with examples such as:
Enabling one factory to easily sell a few minutes of unused power during downtime to another that needs it.
Allowing customers to switch power suppliers more quickly.
Serving as a "backbone" for utilities' smart-grid management systems.
https://www.axios.com/newsletters/axios-generate-173a3035-c951-4bc5-b162-83ca32260476.html?chunk=2#story2
Trump's SEC choice backs climate disclosure
President Donald Trump's pick to run the Securities and Exchange Commission urged companies to comply with the SEC's 2010 guidance that calls for them to disclose risks to their business from climate change and climate policy.
"Public companies should be very mindful of that guidance as they are crafting their disclosure," Jay Clayton said during Thursday's nomination hearing before the Senate Banking Committee.
Why it matters: Earlier this month in Generate I quoted one disclosure advocate predicting a Trump-appointed SEC would back off work in this area, but Clayton's brief comment suggests it might keep at least one eye on it.
What's next:
I'll be checking to see if any senators try and flesh out his position more in the written questions from lawmakers that typically follow the in-person hearings.
https://www.axios.com/newsletters/axios-generate-173a3035-c951-4bc5-b162-83ca32260476.html?chunk=3#story3
Trump ally: Stay in Paris deal with weaker pledge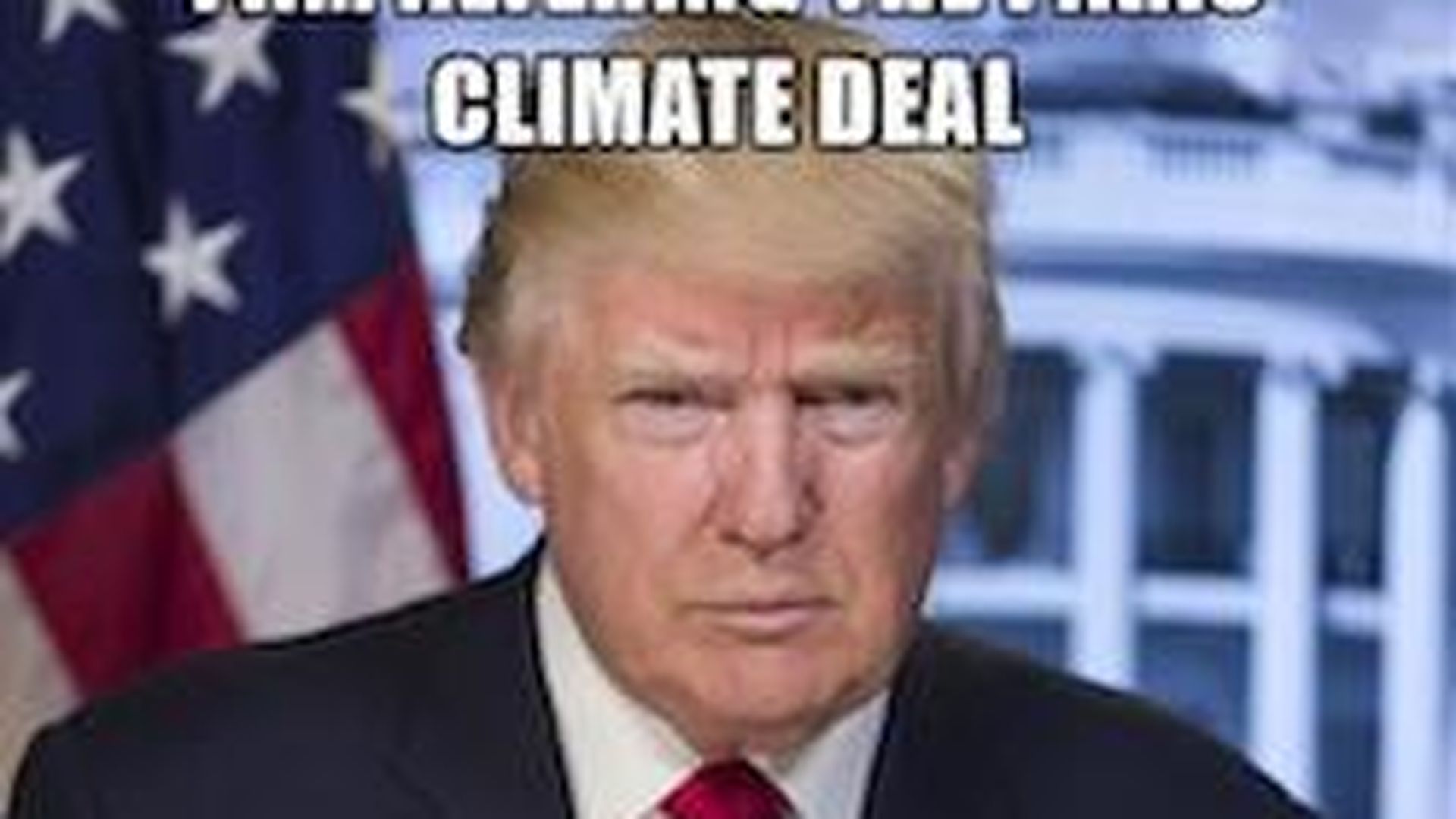 A Trump ally is trying to rally GOP support for an idea that's getting more and more buzz: keeping the U.S. in the Paris climate deal but explicitly scaling back the ambition of the country's commitment. Trump has not yet announced whether he'll seek to withdraw the U.S. from Paris.
North Dakota Rep. Kevin Cramer, who was an energy adviser to Trump's campaign, is seeking colleagues' signatures on a letter that calls for replacing the Obama-era pledge to cut emissions by at least 26 percent by 2025 with a new one that "does no harm to our economy;" ending payments to UN-backed green energy funds; and pushing for low-emissions coal technologies, among other things.
Why it matters: Signatures from pro-fossil fuel and conservative lawmakers on the letter could provide Trump cover to back away from his pledge to flatly abandon the Paris pact, if he decided on that route.
Pushback: Anti-Paris hardliners probably won't give up their fight. Tom Pyle of the Koch-backed American Energy Alliance, who led Trump's energy transition team, threw some shade at Cramer by tweeting a clip of Trump pledging, in Cramer's state, to "cancel" the Paris deal.
https://www.axios.com/newsletters/axios-generate-173a3035-c951-4bc5-b162-83ca32260476.html?chunk=4#story4
Hill energy vet changes gears
Plenty of energy journalists know Rosemarie Calabro Tully, the press secretary for Democrats on the Senate Energy and Natural Resources Committee.
But in mid-April she starts a new gig as director of public affairs and federal communications for the National Biodiesel Board. Congrats!
https://www.axios.com/newsletters/axios-generate-173a3035-c951-4bc5-b162-83ca32260476.html?chunk=5#story5
Lightning round
The big Italian oil company Eni says it has struck oil off Mexico's coast in Campeche Bay. The Financial Times has more here.
Why it matters: According to Eni, it's the first well drilled by a major international oil company since Mexico opened up its state oil sector to outside investment in 2013.
The head of a GOP climate group is challenging what he calls misperceptions about their recent policy proposal.
Ted Halstead writes on the Axios website that the plan, backed by James Baker and other Bush- and Reagan-era vets, is way more than just a carbon tax. "To describe our plan as a carbon tax is akin to describing Social Security as a payroll tax. Focusing exclusively on the funding mechanism ignores that which makes both Social Security and our proposal popular and populist," he writes.
A new Reuters analysis puts a common claim about regulation to the test. While Trump has made a big deal about nixing regulations that he says are hindering the energy sector, Reuters analyzed public securities filings and concludes:
"[T]he top U.S. oil and gas companies have been telling their shareholders that regulations have little impact on their business ... 13 of the 15 biggest U.S. oil and gas producers said that compliance with current regulations is not impacting their operations or their financial condition."
Volvo has tapped Kountoupes Denham LLC as outside lobbyists, according to a newly posted Lobbying Disclosure Act filing that says the firm will represent Volvo on "Auto Safety, Energy, Environment." (That could mean anything — your Generate host has long wished LDA filings would be more descriptive.)