Good morning and welcome to day 3 of Generate. I'm still in Houston at the huge CERAWeek conference, where tomorrow EPA Administrator Scott Pruitt will talk to the energy industry and last night a Trump insider held forth. And we're just days away from Monday's launch of the new Axios tech newsletter Login. You can sign up for all our newsletter here. And I welcome your tips and feedbacks at ben@axios.com.
https://www.axios.com/newsletters/axios-generate-15d5a0ab-f30a-4efd-b253-bd1dc6c55be3.html?chunk=0#story0
Peter Thiel riffs on climate, energy and politics
Tech billionaire Peter Thiel, a Donald Trump backer and confidante, spent about 45 minutes chatting onstage with energy analyst Dan Yergin at a glitzy dinner last night. Their talk roamed all over the place, but here are some takeaways . . .
Thiel is still basically a climate skeptic: He has funded alternative energy ventures before, but he's tough to pin down on whether he agrees climate change is even a big problem.
"I don't know whether I am an extreme skeptic on climate change, but I have my doubts about the extreme way that people try to push it through, and I would say that I would be much more convinced of climate change, of the need to do something, if I thought there was a more open debate in which both sides were given a full hearing."
(By the way, the overwhelming view among scientists is that human activities like burning coal and oil are the primary driver of warming occurring since the mid-20th century.)
He's impressed by fracking: "What's very striking is that on some level I think fracking represents a bigger economic form of progress for our society as a whole than the innovation in Silicon Valley."
Globalization and Trump: The onstage discussion was light on Trump, but Thiel riffed on what he sees as the political forces at play today. "I think the tide on globalization is just going out in a pretty big way," he said, noting trends on immigration policy, trade, and more. Asked if Trump's election was partly a rebellion against globalization, Thiel said he's "definitely inclined to think of it in those terms."
A "bull market in politics" has arrived: Thiel credited a colleague for having that view, and said he's come around to the idea.
"I am not sure this is a good thing, but it is a fact that maybe politics is becoming more important and more intense, the range of outcomes is becoming greater."
https://www.axios.com/newsletters/axios-generate-15d5a0ab-f30a-4efd-b253-bd1dc6c55be3.html?chunk=1#story1
The ConocoPhillips Paris play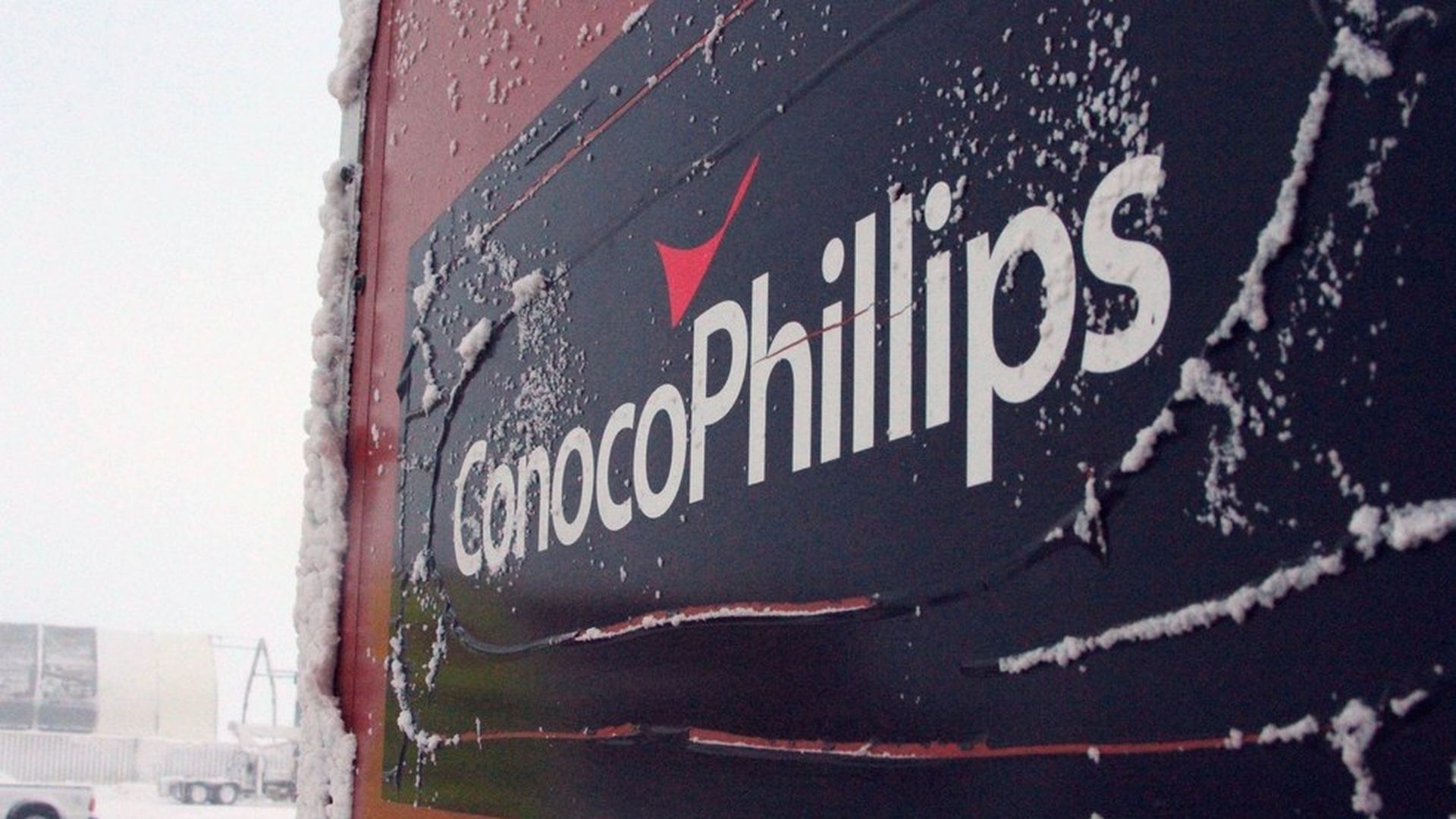 In case you missed it, yesterday I tossed a question to ConocoPhillips CEO Ryan Lance and he made some news by saying the U.S. shouldn't bail on the Paris climate change accord. "It would be good for the U.S. to stay in the climate agreement," he said as he walked offstage at the conference.
Update: I asked ConocoPhillips whether it has had a public stance on Paris. Turns out the company's prepared stance doesn't quite offer the full-throated backing we've seen from some other huge companies including Exxon and several European majors.
"We are committed to addressing concerns related to greenhouse gas (GHG) emissions while providing the energy supply needed to support global economic growth and well-being. Achieving the goals of the 2015 Paris Agreement will require collaboration from businesses including the natural gas and oil industry, governments and citizens," ConocoPhillips said.
Between the lines: ConocoPhillips' mild statement is more evidence that the industry doesn't have a common view of how aggressively (or not) to support climate policies, even as many companies tout the carbon emissions advantages of gas over more carbon-heavy coal. The powerful American Petroleum Institute, which represents companies of many sizes and industry segments, doesn't have a position on whether the U.S. should stay in Paris.
https://www.axios.com/newsletters/axios-generate-15d5a0ab-f30a-4efd-b253-bd1dc6c55be3.html?chunk=2#story2
The future of climate risk disclosure
Early Tuesday provided a great change of pace from the heavy focus on shale oil and OPEC that's dominating the conference.
I watched a fascinating panel about the push for greater and more consistent worldwide disclosure of climate-related risks by corporations (think assets hit by rising seas and floods, or oil companies with reserves they can't produce in a future carbon-constrained world). The Michael Bloomberg-led Task Force on Climate-related Financial Disclosures recently published voluntary disclosure recommendations as part of a review launched by the G20.
A few takeaways …
Don't look for the Securities and Exchange Commission to expand on its limited work on this issue in the Trump era. "We have had a fairly abrupt transition at the SEC leadership recently and we have heard a pretty definitive walk back on climate-related disclosures," said Matt Arnold, head of sustainable finance for JPMorgan Chase.
Activists say that mandatory and consistent disclosure regimes will be needed worldwide. "I don't know that you can address systemic financial risk through piecemeal voluntary disclosures," said Andrew Logan, an official with the green investor advocacy group Ceres.
The topic is going mainstream and evolving, said one industry official in the thick of it. It's no longer a black-and-white issue about whether climate-minded investors should dump stock in fossil companies, said Fiona Wild, vice president for sustainability and climate change mining and oil giant BHP Billiton.
"It is an absolutely core, mainstream discussion that we have with our largest investors," she said. "It's much more of an engagement discussion than a divestment discussion."
https://www.axios.com/newsletters/axios-generate-15d5a0ab-f30a-4efd-b253-bd1dc6c55be3.html?chunk=3#story3
Saudi energy minister: don't keep it in the ground
Saudi Energy Minister Khalid Al-Falih says the idea that oil companies face "stranded assets" as the world moves toward green energy is dangerous. He praised the growth of renewables, efficiency and electric cars, but noted growing global oil demand driven by Asia and warned of underinvestment in global supply.
"Misguided projections of peak demand and stranded petroleum resources may discourage the trillions of dollars of investments needed to underpin essential oil and gas supplies during the long transformation of our global energy [mix]."
Underinvestment, he said, would "amount to nothing less than compromising the world's energy security by squandering staggering quantities of our planet's natural energy endowment." Damaging price spikes would follow.
Why it matters: The powerful oil kingdom is pushing back against climate change activists who have rallied around the term "keep it in the ground"—the "it" being fossil fuels—to describe the need to avoid runaway climate change.
https://www.axios.com/newsletters/axios-generate-15d5a0ab-f30a-4efd-b253-bd1dc6c55be3.html?chunk=4#story4
An OPEC/shale truce
A big deal this week has been the thaw in the relationship between OPEC and the U.S. shale patch as prices have rebounded. Bloomberg broke the news yesterday that OPEC Secretary General Mohammad Barkindo had dinner on the eve of the conference with execs from several of the big U.S. producers —two sides "locked in a battle for supremacy of the oil market" for two years.
Maybe there's not much choice amid warnings at the conference from the International Energy Agency and others that while plenty of oil is sloshing around the markets right now, a downturn in global investment in recent years could create a crunch a few years down the road. "The comeback of shale to a certain degree is not only welcome and acceptable but is necessary because of demand growth and the decline [in production] elsewhere," said Saudi Energy Minister Khalid Al-Falih, per CNBC.
https://www.axios.com/newsletters/axios-generate-15d5a0ab-f30a-4efd-b253-bd1dc6c55be3.html?chunk=5#story5
Who's Who at Trump's EPA
The New York Times has a rundown of the conservative Washington veterans and climate change skeptics who will be staffing EPA under new administrator Scott Pruitt.
For some of the slots, he's relying on former aides to a fellow Oklahoman, GOP Sen. James Inhofe. From the Times:
"A former Inhofe chief of staff, Ryan Jackson, will be Mr. Pruitt's chief of staff. Another former Inhofe staff member, Byron Brown, will serve as Mr. Jackson's deputy. Andrew Wheeler, a fossil fuel lobbyist and a former Inhofe chief of staff, is a finalist to be Mr. Pruitt's deputy, although he requires confirmation to the position by the Senate."
Why this matters: The addition of former Inhofe staffers and other deeply conservative aides underscores how Pruitt will reverse course on EPA's climate change work, but also implement his vision of a much less aggressive regulator that defers more to states' oversight.