January 20, 2022
Another packed day with your favorite perpetually tired games reporter, Megan. I better be your fave.
Today's edition is 1,195 words, 4.5 minutes.
1 big thing: Rooting out toxicity
Employees say most video game companies are not addressing misconduct and toxicity directly with their employees, according to a new survey.
Driving the news: Games Developers Conference (GDC) organizers released their 10th edition of the State of the Game Industry on Thursday, an annual survey that takes the temperature of developers across the industry.
This year's survey polled more than 2,700 developers and covered a wide berth of topics, from platform development to unionization and workplace conditions.
Following last year's explosion of scandals, 62% of respondents said their companies did nothing to engage with conversations around misconduct and toxicity.
The survey notes that many respondents claim their companies "don't have those problems" — some because their studios were too small, they weren't based in the U.S., their company had a "zero-tolerance" policy, or it wasn't something they've witnessed.
Yes, but: According to the survey, 38% of respondents said employers did take action, in a trend of a "growing number of workplaces in the industry have taken at least some initiative to root out toxicity."
What they're saying: A sampling of anonymous responses from developers falls across the board, with some claiming it's a "very North American focus," and others taking umbrage with their own leadership's responses.
"They bury it and pretend it isn't a problem and act like they are different. There continue to be people harassed and silenced. They are quietly forced to leave while the harassers are promoted and protected."
"I've had to force them to make internal statements. We were affected directly by the Blizzard misconduct and still we opted to say nothing. My faith in big companies to do the 'right' thing is non-existent."
"No one is surprised by the misconduct. We've all seen it or experienced it in some form in our career. Our company spoke to working harder to do better. They've started creating classes and inviting speakers to help inform and educate people."
Elsewhere: The focus on unionization continues to grow, but few developers believe it's possible for the game industry.
According to the survey, 23% of developers polled said union talks have taken place at their studio.
"It's desperately needed, the last year of headlines should prove that," one respondent said.
55% of respondents said game industry workers should unionize, an increase from 51% in 2021.
However, there's still resistance from some developers:
"It will destroy games. Making games is intrinsically hard. ... I'm not saying that it needs to be cruel, but if you aren't paying with blood, sweat, and tears, you probably aren't hitting your real ambitions. True genius has a price."
2. "Burn 'em to the ground"
NFTs remain a contentious topic for developers, according to the State of the Game Industry survey, with a majority claiming their companies aren't interested at all.
The details: The survey states that 72% of respondents related to cryptocurrency and 70% of respondents related to NFTs have no interest in either.
"The current implementation of both technologies is still very limited, with 1% of respondents saying that their studio already uses either."
The big picture: Big names like Ubisoft and Square Enix have shown interest in the NFT wave, alongside veteran developers Will Wright and Peter Molyneux.
But the interest among developers themselves is far more scattered, and the general reaction from the video game community is poor.
What they're saying:
One developer said that they currently work at an NFT company and plan to quit: "Burn 'em to the ground. Ban everyone involved in them."
"How this hasn't been identified as a pyramid scheme is beyond me," said another.
Others are keen to see where it goes: "It's the wave of the future."
3. Union dodging
Speaking of unions, the Microsoft and Activision Blizzard merger opens larger questions about the status of efforts to unionize within Activision Blizzard, as well as how Microsoft might handle those efforts.
Driving the news: Microsoft Gaming CEO Phil Spencer told the Washington Post that he doesn't "have a lot of personal experience with unions. … I'll say we'll be having conversations about what empowers them to do their best work, which as you can imagine in a creative industry, is the most important thing for us."
The big picture: Activision Blizzard has repeatedly ignored efforts by organizers (as well as multiple requests for comment from Axios).
As noted by Stephen, Activision's SEC filing for the merger clearly states "there is no strike" as well as "no pending activities or proceedings of any labor union, trade union, works council, or any similar labor organization to organize employees of the company … to the knowledge of the company."
Employees at Raven Software have now been on strike for seven weeks in support of quality assurance developers who lost their jobs; employees even started a strike fund to help support those participating.
Activision Blizzard employees have been gathering support internally and began collecting union authorization cards last year.
4. Need to know
🌟 Super Rare Games is launching an indie-first publishing label for consoles and PC; its first few titles include Grapple Dog, Lone Ruin and Post Void.
👾 A group of Firaxis developers — from the studio behind games such as XCOM and Civilization — has launched a new indie studio called Bit Reactor.
📝 Anyone can now make a game for handheld console Playdate with Playdate Pulp, a creation tool that includes drawing, animation, sound effects and more in a web browser, in public beta.
💪 WWE 2K22's cover wrestler is Rey Mysterio "in celebration of his 20th anniversary as a WWE Superstar."
🦋 Life is Strange: Remastered Collection for Nintendo Switch has been delayed from its February release and will instead launch later this year.
🧱 Lego Star Wars: The Skywalker Saga will launch April 5 for Nintendo Switch, PlayStation 5, PlayStation 4, Windows PC, Xbox Series X and Xbox One.
5. Worthy of your attention
Lego Star Wars: The Skywalker Saga has led to extensive crunch at TT Games (Jack Yarwood, Polygon)
Some former staff even came up with a term to describe their experiences at the studio, referring to them as "PTTSD."
With The Skywalker Saga — an adaptation of all nine main films in the Star Wars series — management promised employees a longer development timeline and a new engine. Unfortunately, this did little to improve the situation, according to employees. Multiple staffers say that management ignored warnings about switching to NTT, a new engine being developed internally, and say that the longer time frame was unsuccessful in alleviating crunch.
6. How many dirty words do you know?
If Wordle's novelty is wearing thin, or you're just looking for a challenge, there's a dirty version you can now play called Lewdle. It is what it sounds like: a word guessing game a la Wordle with six tries, but only for lewd words.
The browser-based game comes from Rogue One: A Star Wars Story writer Gary Whitta: "You all like Wordle, right? The only problem is that when you type in naughty words it's never the right answer."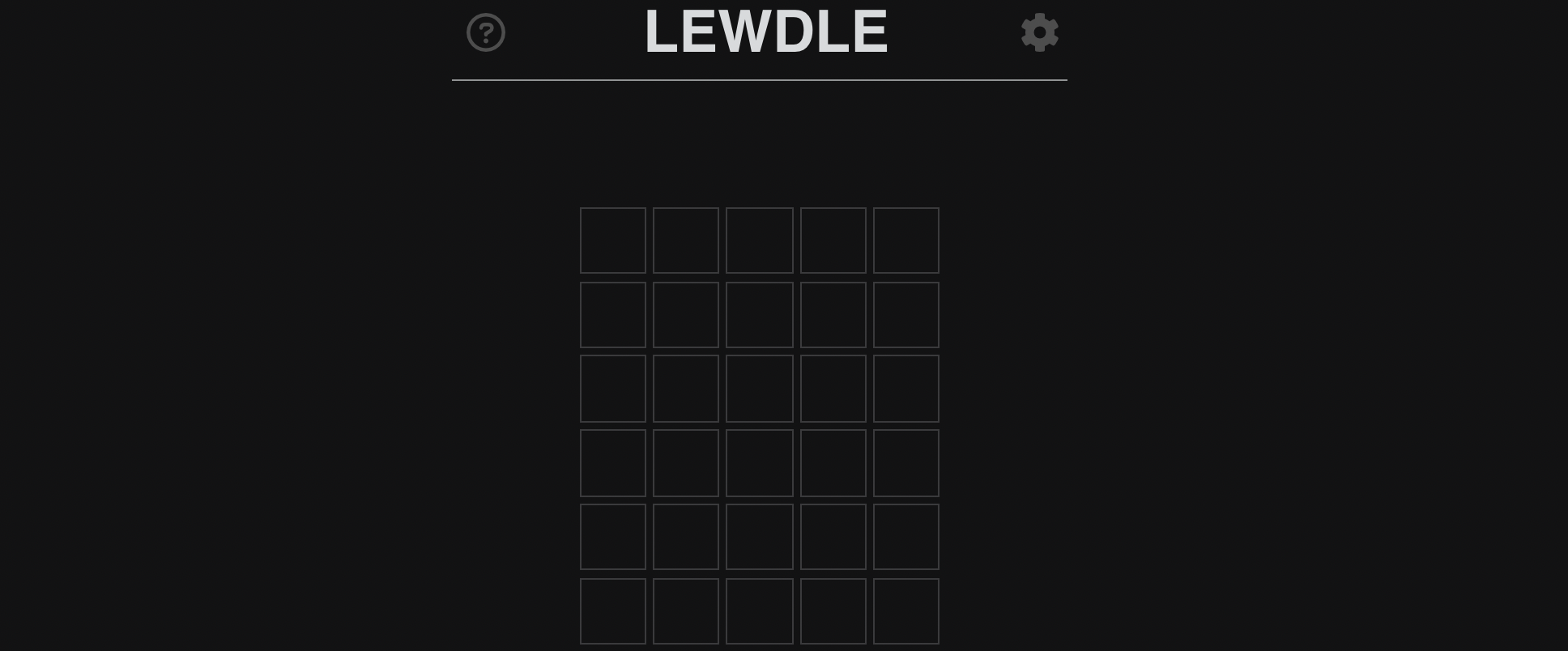 Unfortunately, my editor has banned me from saying any swears or dirty words in this most wholesome of newsletters, so you'll have to use your imagination. For the record, it's much harder than I expected (no pun intended), and boy am I learning that I'm a prude.
🎁 Like the newsletter? Refer Axios Gaming to your friends to spread the word and get free stuff in the process. Follow the link here to begin.
🐦 Find us on Twitter: @megan_nicolett / @stephentotilo.
Does "bazongas" count as a dirty word, Y/N?