January 23, 2023
Happy Monday.
I knew enough to expect a "Bambi moment" when my kids and I played Paper Mario: The Origami King yesterday, and yeah, that hit hard. One of the medium's most emotionally powerful scripted moments, nestled in a colorful Mario adventure on Switch. Wow.
Today's edition: 1,328 words, a 5-minute read.
1 big thing: Dungeons & Drama
A two-week revolt by Dungeons & Dragons fans has sent the company behind the venerable tabletop role-playing game scrambling to make amends.
Driving the news: Facing infuriated fans, Hasbro-owned Wizards of the Coast says it will refrain from implementing some of the recently leaked, upcoming changes to a license that allows fans and game makers to use elements of D&D in their own spinoff games.
The dispute has shaken up the world of tabletop gaming. Some fans are questioning their loyalties to the nearly 49-year-old D&D franchise, while rivals gather strength.
Catch-up quick: The D&D community erupted five days into 2023 after news outlet Gizmodo published leaked details about Open Game License (OGL) 1.1, a significant revision to the license that Wizards of the Coast has overseen since 2000 to govern the usage of some parts of D&D.
Under the original license, content creators — from fans to small businesses that make their own popular tabletop games — have been able to freely use some of the dice-rolling, stat-counting mechanics and legacy character elements of Dungeons & Dragons.
The leaked 1.1 would have constricted the deal with registration requirements, a royalty structure for top earners and language about possible revocation or changes to rights in the future. Its more limited scope appeared to only cover physical games to the exclusion of popular virtual tabletop experiences.
Furious reaction: A fandom used to D&D's more open system flipped out, filling social media with calls for players to cancel their paid subscriptions to Wizards' online portal D&D Beyond. (The company says Beyond has over 12 million registered users.).
"It's genuinely heartbreaking," Troy Knowlton, a longtime D&D player from Boston who has amassed thousands of hours of playtime, tells Axios. He says he has canceled his Beyond subscription.
He viewed the moves as an affront to third-party tabletop role-playing game creators, who he said "shepherd new players into the game and invigorate the veterans by establishing new content."
"While unsurprising in this late-stage capitalist realm we reside in, it shows a complete negligence of the creatives who have helped D&D become the monolith of [tabletop role-playing games] it now is."
Limited communication: Wizards of the Coast has responded slowly to the uproar, initially taking eight days to say the leak was only a proposal meant to generate feedback and that the final copy wouldn't include a royalty system.
Several days later, with fans still upset, D&D executive producer Kyle Brink posted a follow-up, promising that no old content would lose its license.
In a follow-up a day later, he announced that D&D's core mechanics would soon be entered into a Creative Commons license, and some early game content would now be controlled by its fan content policy. He added that a new 1.2 OGL would be workshopped publicly with feedback from the community.
In his notes, Brink said a major goal of the license revision was to bar the creation of offensive content using elements of D&D.
What they're saying: "We are sorry," Brink wrote in an online notice to fans late last week. "We got it wrong."
The intrigue: Some influential creators are ready to move on. Paizo, a company that released popular content like Pathfinder under the older OGL, recently said it would not create work through the new license and instead announced the formation of an Open RPG Creative License.
What's next: The feedback process for Wizards' 1.2 OGL runs into February and possibly beyond, "until we get it right," Brink said.
Some fans like Knowlton see improvements in the Wizards' latest comments but are wary, saying the company lost their trust.
2. GDC expectations
Organizers of this year's Game Developers Conference (March 20-24) are expecting about 24,000 attendees this year, up from last year but down from pre-pandemic totals.
The show, which has long run out of the Moscone Center in San Francisco, was not held in person in 2020 and 2021 due to the pandemic.
The shortfall, GDC show-runners tell Axios, reflects a diminished appetite for attending shows seen across multiple fields, including the recent Consumer Electronics Show.
Driving the news: GDC 2023 will come the closest the show has to its pre-COVID-19 incarnation.
Speakers will be in person, and virtual attendance will not be supported — a decision that has been criticized by those who found virtual access more inclusive for those physically unable to go to the show.
But GDC planners say they heard from attendees who said sessions with a mix of virtual and physical presence were frustrating for some attendees of both types and that, instead, GDC will also hold a virtual event later this year.
Attendees of the in-person event will be required to present proof of vaccination or show a negative COVID test result.
Big talks slated for the show include:
Changes: This year's show will include an overt focus on sessions designed to help developers build their careers.
It'll also include the usual summits on audio, indie games and more, though a track on esports has been dropped.
Organizers say the number of non-sponsored talks on Web3/blockchain gaming, which proliferated at GDC 2022, are down this year. But there will be a new, fully-sponsored Web3 gaming summit on March 20 and 21, contained in one area for attendees to approach or avoid.
3. Need to know
🟥 Netflix says the mobile game based on the show "Too Hot to Handle" was its "biggest game launch to date."
☹️ Riot Games says a social engineering attack may force it to pause patching or otherwise updating many of its games. The company says no user data was accessed in the breach.
🤔 Dragon Age 4 executive producer Mac Walters has left BioWare after a 19-year run, Eurogamer reports. That added to a string of departures from long-tenured veterans of the EA-owned game maker.
🪓 Blizzard games such as World of Warcraft are going offline in China following the expiration of Blizzard's deal with publisher NetEase and the failure of the parties to find an extension. NetEase marked the collapse of relations by tearing down a Warcraft statue, VGC reports.
⚖️ A California judge has denied Microsoft's request that a suit from lawyers representing 10 gamers that is intended to block the company's Activision bid be frozen until the conclusion of the FTC's own lawsuit against the deal.
Without that stay, plaintiffs in the gamer suit will, by the end of March, attempt to get a preliminary injunction to put the transaction on ice.
💰 Microsoft is investing billions of dollars in ChatGPT maker OpenAI.
🎮 The fallout from layoffs at Microsoft's Halo franchise dev studio 343 Industries has included criticism of that team's leadership — and so much skepticism about the studio's future that 343 head Pierre Hintze had to reassure fans this weekend his team "will continue to develop Halo now and in the future."
4. Your screenshots
Readers of this newsletter sent in some wonderful screenshots in response to my request last week.
I'm featuring two today.
Above: Reader Heidi snapped a shot of her Red Dead Online character relaxing at a campfire, horse Cheeseburger nearby, after a day of hunting on the plains. "RDO was one of the most positive online gaming experiences I've had, the people were almost always very chill and friendly," Heidi writes.
Below: Reader BJ took this one as their spaceship in Elite Dangerous: "I took a trip to our home system and was orbiting Saturn admiring the rings and playing with the camera, and just thought this view looked extra special."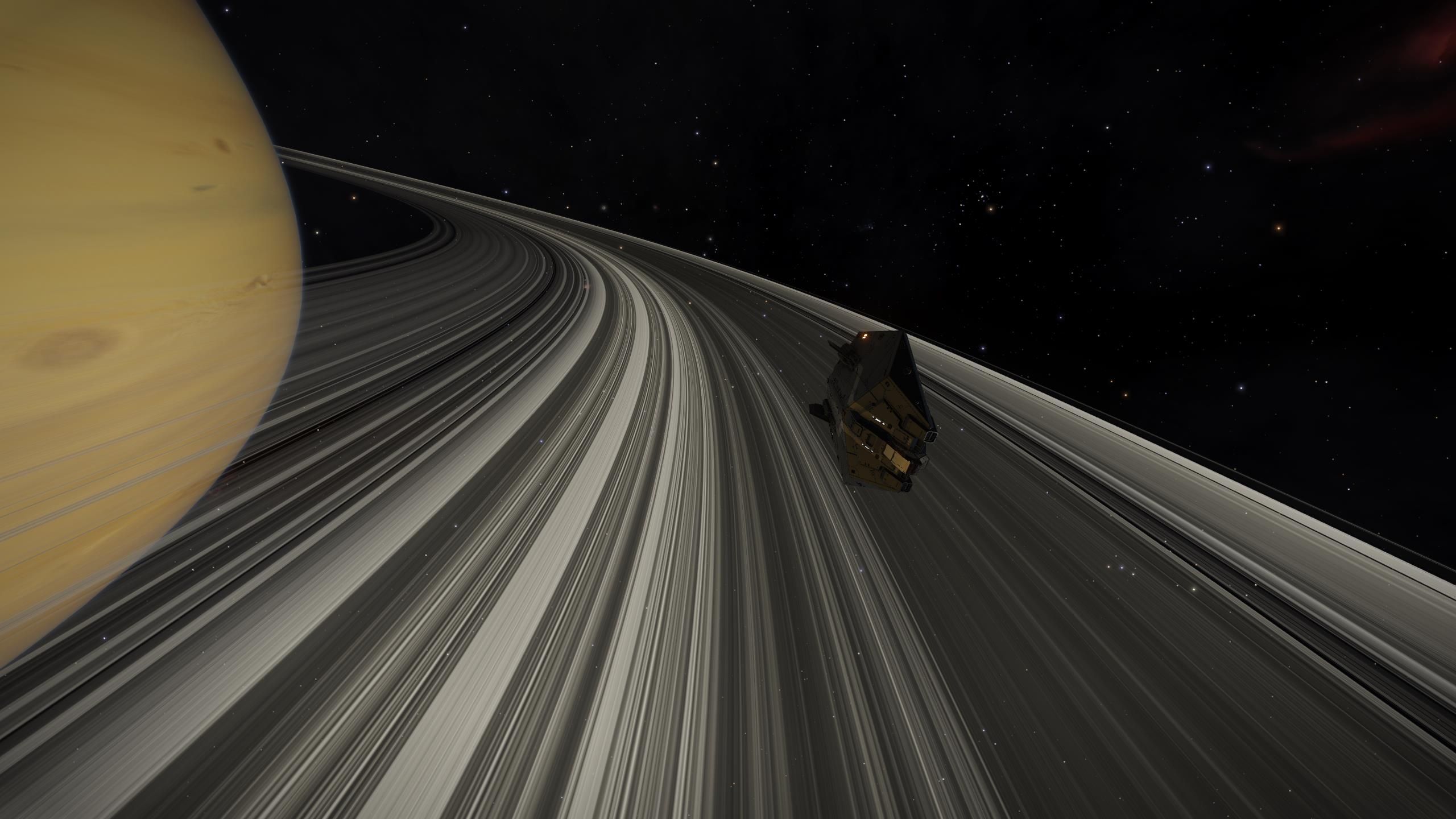 Keep the screenshots coming. I plan to feature more.
🎁 Like the newsletter? Refer Axios Gaming to your friends to spread the word and get free stuff in the process. Follow the link here to begin.
🐦 Find me on Twitter: @stephentotilo.
Thank you to Peter Allen Clark for editing and Kathie Bozanich for copy editing this newsletter.
Still reeling.