January 14, 2022
Stephen here with your final gaming newsletter of the week. We made it!
Programming note: No newsletter on Monday as we celebrate the Rev. Martin Luther King Jr.
Today's edition is 1,260 words, 5 minutes.
1 big thing: A museum of virtual lockpicks
An unusual new PC game this week features more than two dozen recreations of other games' approaches to virtual lockpicking.
Driving the news: Museum of Mechanics: Lockpicking, which can be completed in about 30 minutes, lets players move through a virtual museum where each exhibit is a playable lockpicking system.
Some parts, recreated from such games as Splinter Cell and Risen 2, require players to fiddle with a lockpick to manipulate a tumbler.
Others are more abstract. For example: the lockpicking in 2007's Mass Effect, which plays more like a circular game of Frogger.
What they're saying: The interactive museum was created first and foremost to help game developers, its lead creator Johnnemann Nordhagen tells Axios in an interview.
"Something like this could help someone, maybe sometime in the future," he says.
Nordhagen says developers working on familiar concepts often want to check how older games handled those concepts first.
But doing so requires hunting for YouTube videos of the right moments or playing stacks of games. That is time-consuming and makes comparisons difficult.
Between the lines: Nordhagen conceived the game in mid-2020 as he was doing contract work on a story-driven game and found himself wishing there was an easy way to check how older games implemented interactive dialogue.
He saw a games journalist float the idea of an interactive museum showcasing various games' implementation of fishing.
He was inspired and decided to make some sort of playable museum in his spare time.
"I chose lock picking," he says. "It seemed like there were only a few games that did it." (He'd soon discover he was wrong.)
Making the game with a small team has turned Nordhagen into an unofficial video game lockpicking expert.
He can cite trends, like how game designers gradually switched from lockpicking systems geared toward mouse and keyboard controls to ones made for controllers.
He has inferred designer intent, noticing that the simple lockpicking mini-game in the classic Thief adds tension by keeping the player exposed and still in a game in which you want to be hidden or on the move.
The toughest lockpicking system he's found may be from 1980s computer game Hillsfar, which involves matching key shapes while racing a fast timer.
What's next: After toiling as an indie developer for several years, Nordhagen is returning to big budget game development with a job at Ubisoft.
He's unsure if he'll be permitted to continue adding lockpicks, but he hopes others will make museums of their own or even expand his game.
He's released the source code on Github so other designers can have at it.
2. Activision seeks cheatmaker's real names
Activision is asking a California court to allow it to subpoena 15 companies, including Twitter, Reddit, Google, Paypal, Discord and Coinbase, to find out the names of 15 people it says are involved in the sale of Call of Duty cheats.
Why it matters: Game companies are getting increasingly aggressive in their fight to stop rampant cheating in multiplayer games.
Activision's request is part of its lawsuit against Germany-based EngineOwning, which sells cheats to many games, including several Call of Dutys.
In its complaint on Jan. 4, Activision said the cheats have caused the company "irreparable damage to its goodwill and reputation and to lose substantial revenue."
Between the lines: In a new filing the company said it has been unable to identify everyone behind the cheats and needs help to figure out the identities behind the likes of users Bonsai, Homie, NOL3X and more.
Lawyers complain that EngineOwning operators have been ignoring them since 2017 and say the cheatmakers have been "trolling" them with the creation of a player group on Steam using their law firm's name.
Activision argues that the subpoenas are needed "for Activision to obtain the relief it seeks."
The big picture: The sale of cheats is big business and a big turn-off for players sick of unfair matches.
To stymie cheaters and woo players, Activision announced improved anti-cheat software as part of its late-2021 push for new Call of Duty releases.
Destiny studio Bungie is suing other cheatmakers on copyright grounds. Defendants in that case fired back this week, TorrentFreak reports, denying the infringement and saying "cheating isn't against the law.'"
3. Ubisoft's NFT sales stall
Just two of Ubisoft's much-hyped in-game NFTs have sold in the past week, for a combined $72, according to marketplace listings.
Why it matters: The mega-publisher's initial experiment with NFTs in the form of guns, pants and helmets for Ghost Recon Breakpoint appears to have lost even its meager initial momentum.
Between the lines: Ubisoft launched the NFTs in early December, promoting the opportunity for players to own and resell in-game items.
Some users who claimed the items quickly listed them on two officially supported marketplaces for $634 and up, but by late December, only about 15 had sold and for far lower prices.
That was a hot market compared to the current dormancy.
In interviews with Waypoint, some players who have bought the Ubisoft NFTs say they purchased them out of novelty or to see how the process works.
What's next: Ubisoft CEO Yves Guillemot told his employees last month that more NFTs are coming, according to Kotaku, despite the mix of backlash and disinterest this first round received.
Related: Investment in gaming blockchain companies reached $3.6 billion in 2021.
4. The week ahead
Here's a look at notable game releases and events for the coming week.
Saturday and Sunday, Jan. 15 & 16
Monday, Jan. 17
Martin Luther King Jr. Day in the U.S.
Tuesday, Jan. 18
Nobody Saves the World (PC, Xbox), a new character-transforming adventure from the makers of Guacamelee, is released
Wednesday, Jan. 19
Thursday, Jan. 20
The excellently named dog photography game Pupperazzi (PC, Xbox) is released.
Ubisoft's co-op shooter Rainbow Six Extraction (PC, Xbox, PlayStation, Stadia, Luna) is released.
Sports game Windjammers 2 (PC, Xbox, PlayStation, Switch , Stadia) is released. The first Windjammers came out in 1994.
Friday, Jan. 21
5. Need to know
🚨 Microsoft is launching a review of its policies and practices regarding sexual harassment and gender discrimination with a public report expected this spring, Axios' Ina Fried reports.
👩🏻‍⚖️ PUBG maker Krafton is suing battle royale rival Garena Online, saying its hit Free Fire game copies its game and even its iconic frying pan. Krafton is also suing Apple and Google. A Garena rep told TechCrunch that the "claims are groundless."
⚔️ SquareEnix will resume digital sales of Final Fantasy XIV on January 25, after temporarily delisting the massively multiplayer online game last month because of its surging popularity.
🔵 Tencent-backed Archosaur Games is making a massively multiplayer mobile shooter based on the Avatar movie franchise, set for release this year. It's separate from Ubisoft's upcoming Avatar game.
💰 A sealed box supposedly packed with rare Pokémon cards and bought by YouTuber Logan Paul for a reported $3.5 million turns out to have been filled with GI Joe cards instead.
6. Worthy of your attention
Game CEO pay in 2020 [GamesOne]
Median employee compensation:
Electronic Arts: $123,935
Activision: $99,100
Zynga: $98,781
Glu Mobile: $89,738
Take-Two: $72,046
Gamestop: $11,033
CEO pay ratio disclosure:
Glu Mobile: 1 to 96
Take-Two: 1 to 252
Electronic Arts: 1 to 316
Zynga: 1 to 324
Gamestop: 1 to 650
Activision: 1 to 1,560
7. _ _ _ _ _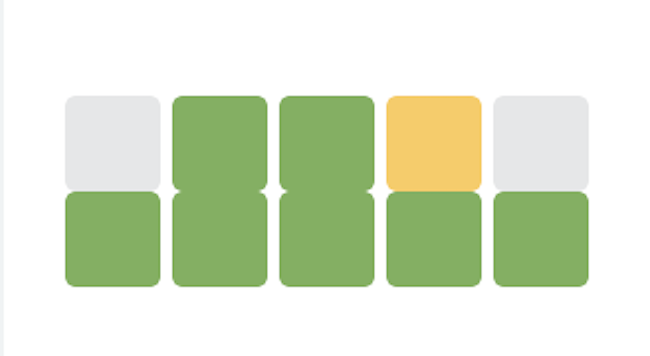 If you're one of the many people playing Wordle these days, I'm curious what your starter word is.
But I wonder if those experts nailed today's word on their second try.
🎁 Like the newsletter? Refer Axios Gaming to your friends to spread the word and get free stuff in the process. Follow the link here to begin.
🐦 Find us on Twitter: @megan_nicolett / @stephentotilo.
PSA: If you're out there promoting a questionable NFT business and end your pitch with "you can hate. Or you can create," prepare to be ratioed.