Axios Future
May 06, 2019
1 big thing: Long Island City's Amazon effect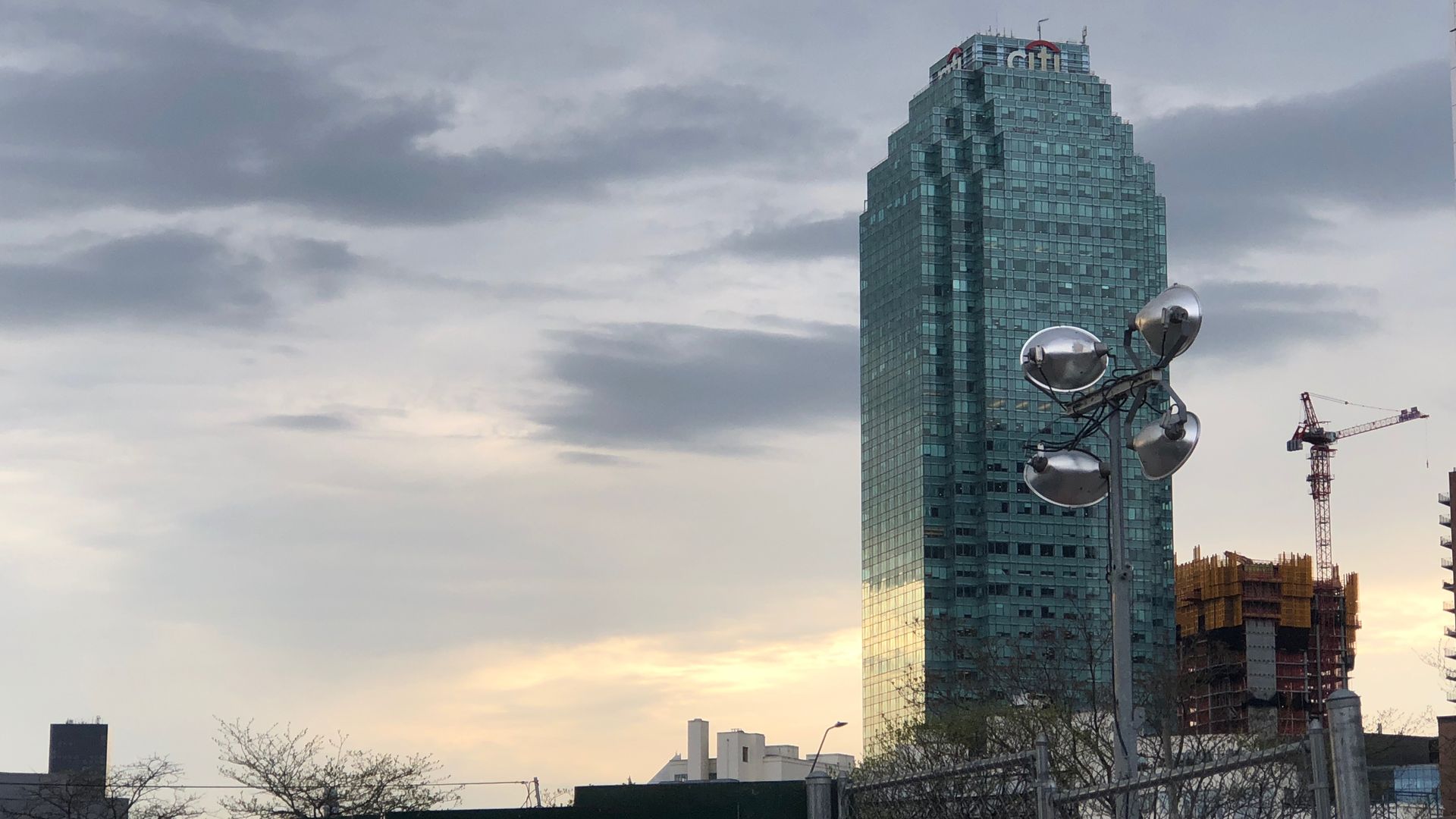 When Amazon announced its retreat from Queens amid a backlash from local activists, Long Island City seemed to have lost 25,000 new jobs and billions of dollars in investment.
Erica writes: Instead, two months later, the neighborhood is experiencing a boom: Other companies have grabbed much of the 1.5-million-square-foot, all-glass building that was to be the beachhead of Amazon's Queens expansion, and interest has surged in nearby commercial real estate.
"It's an Amazon effect," says Jonathan Wasserstrum, CEO of SquareFoot, a commercial real estate company. "A lot of people now get to piggyback on the work that they did."
What's happening: In Long Island City, there is a before and an after Amazon.
Before Amazon announced that the Queens neighborhood was one of two surprise winners of its year-long contest to host HQ2, Long Island City was a somewhat sleepy afterthought on the outskirts of glamorous Manhattan — garnering some interest from businesses but not much.
Now, after Amazon's brief recognition made the area an "it" place, it is suddenly a sought-after location with its own, singular cachet.
Health care company Centene Corporation just signed a lease for 500,000 square feet in the Citi building that Amazon intended to occupy.
A second big tenant is in negotiations to pick up another chunk of the building, Nicole LaRusso of CBRE tells Axios.
In March, the month after Amazon left, SquareFoot got six times as many inquiries about Long Island City than the same month last year from other businesses looking to set up shop in the same area.
The spike seems directly linked to the e-commerce giant. Last year, the Brooklyn neighborhood of Dumbo — another up-and-coming mini-tech hub — was receiving the same interest on SquareFoot as Long Island City. But that interest hasn't turned into an outright boom.
"There aren't many boundaries to Manhattan that are still available and affordable," says Harry Chernoff, a New York developer. "Long Island City is very undeveloped still and relatively cheap. Smart businesses picked up on [Amazon's] interest in LIC."
The big picture: Tech giants like Amazon, Microsoft and Google — magnets for top talent — have turned city after city into superstar tech hubs, beginning in Seattle and Silicon Valley and spreading to Austin and Boston.
But the Long Island City phenomenon suggests something more — that the big companies can anoint outlier neighborhoods, too, even if Big Tech itself does not stay.
And the incoming businesses get to take advantage of some of the same tax incentives that became a rallying cry during the push against Amazon:
REAP, New York's incentive program for Long Island City, gives companies up to $3,000 per employee per year for moving to the area.
While no one incentive package will come close to Amazon's $3 billion, neither will any single firm create 25,000 new jobs in one go, as Amazon promised. For example, Centene, which appears to be the biggest new get by Long Island City, is simply moving employees, not hiring more, reports Crains New York.
2. A wave of Uber and Lyft protests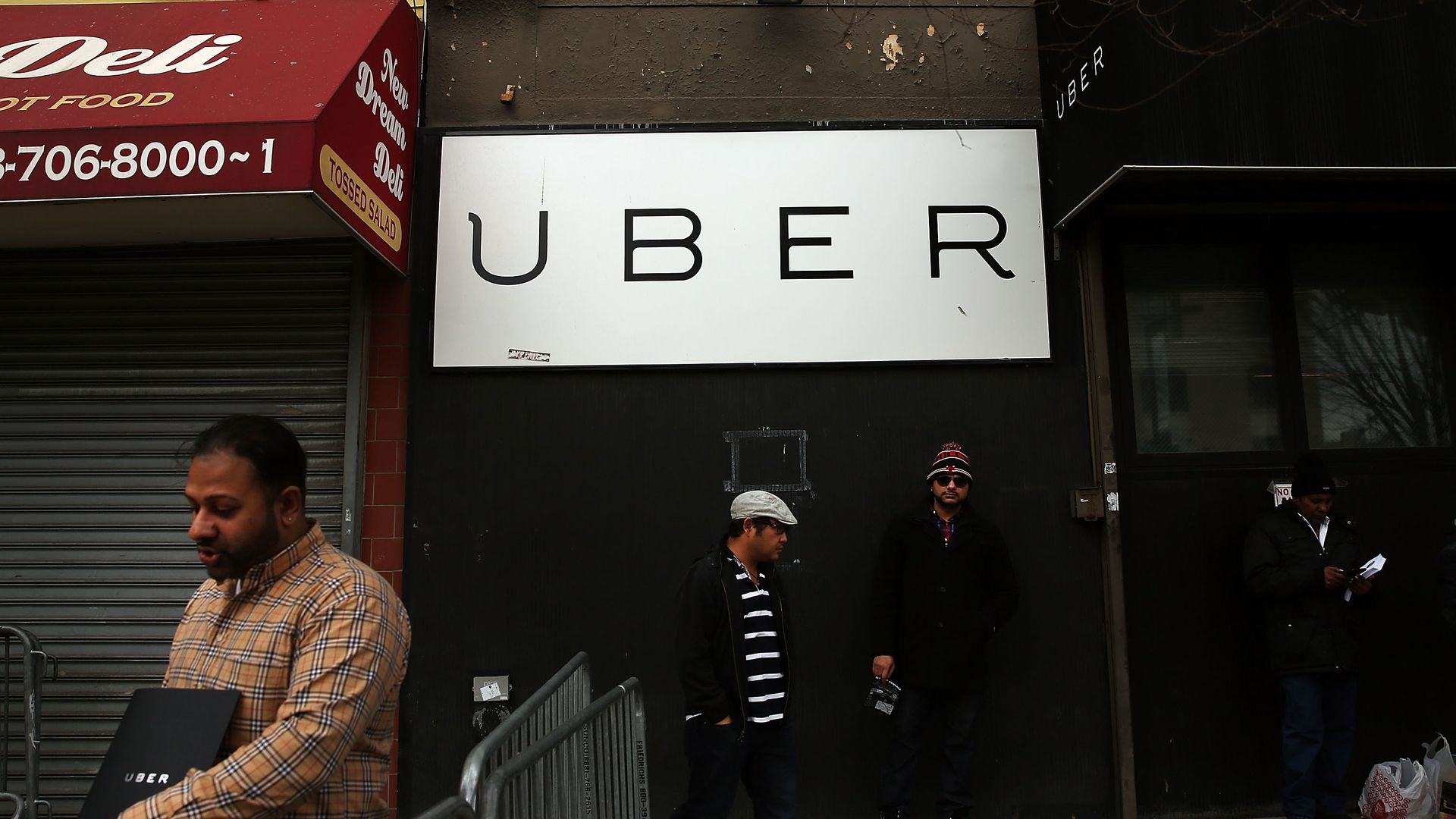 At Uber and Lyft, sky-high Wall Street debuts are set against deep driver dissatisfaction — and the latter is threatening the former.
Erica writes: On Wednesday, ride-hailing drivers in several U.S. cities plan to strike to protest low wages, among other things. The significance: It's 2 days before Uber goes public, and its investors get to cash in on one of the biggest IPOs in history.
In New York, the plan is for all 80,000 of the city's Uber and Lyft drivers to stop work from 7 am to 9 am — the morning rush hour.
Uber drivers in Boston, LA, Chicago, Philadelphia and D.C. are planning to strike for a full 24 hours on Wednesday.
Why it matters: Among the drivers' biggest complaints is that Uber and Lyft take too big of a whack out of their fare — 20%–25%. They want that reduced to 10%.
It's a common complaint by merchants against the big platforms. Apple and Amazon, too, take up to 30% of a merchant's retail price right off the top, and critics compare them to the medieval-era German "robber knights" who charged people enormous tolls to cross their roads.
As Uber and Lyft balloon, one potential hurdle to survival is that the gig jobs they are creating are not well-paying and stable. Until they have autonomous cars, they need a steady supply of drivers.
In a tight labor market with just 3.6% unemployment, the ride-hailing companies may soon burn through the whole pool of workers willing to do these jobs, writes WSJ's Christopher Mims.
An Uber spokesperson said, "Drivers are at the heart of our service ─ we can't succeed without them ─ and thousands of people come into work at Uber every day focused on how to make their experience better, on and off the road."
A Lyft spokesperson said, "Lyft drivers' hourly earnings have increased over the last two years, and they have earned more than $10B on the Lyft platform. Over 75% drive less than 10 hours a week to supplement their existing jobs. On average, Lyft drivers earn over $20 per hour."
3. Automation at the Derby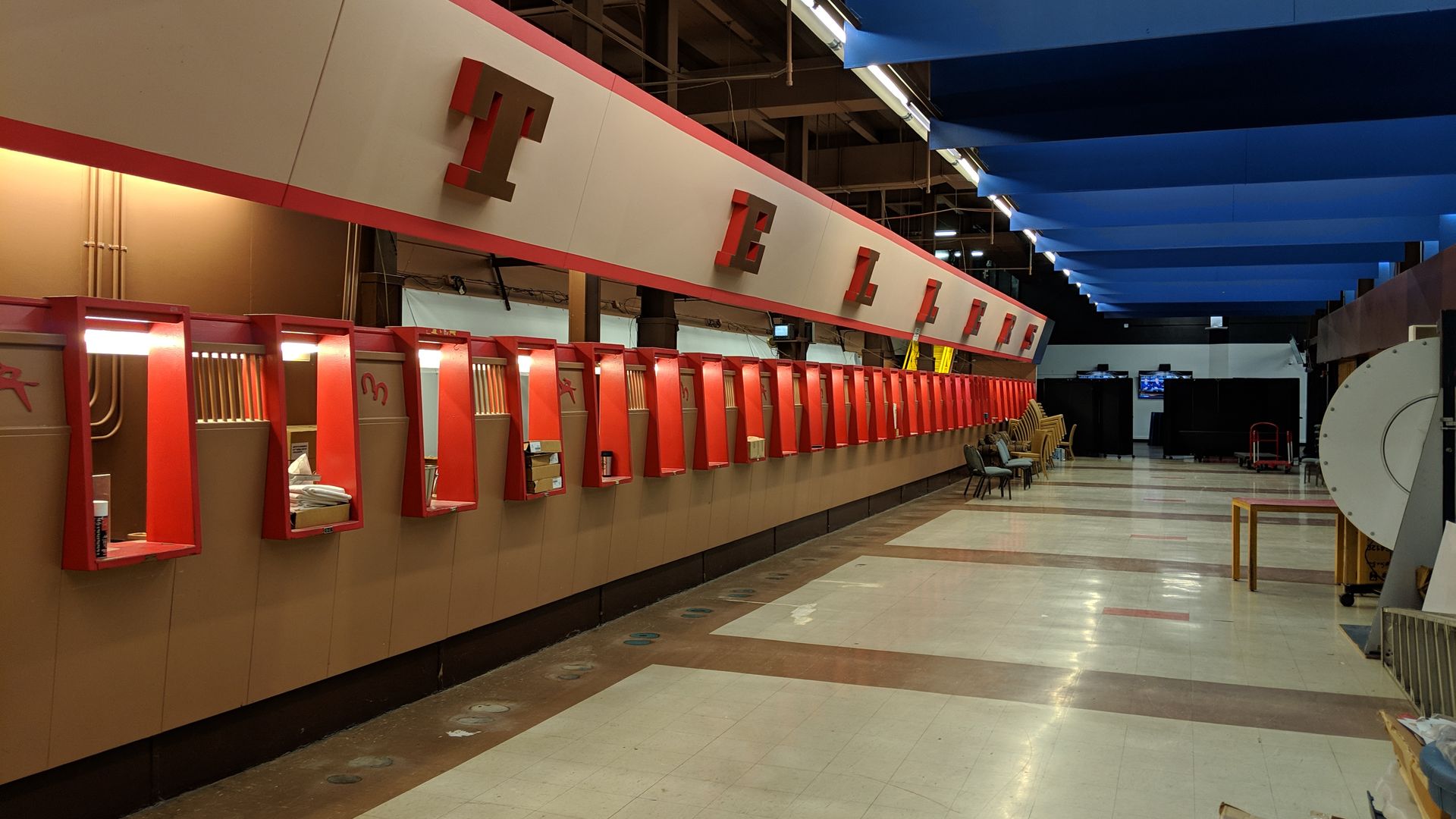 Long after banks went to ATMs, horse-race betting remained a very human transaction: Gamblers, racing form in hand and brimming with hope and swagger, would sidle up to a window and place a wager with a teller.
Not much anymore: Consider Axios editor-in-chief Nick Johnston's experience over the weekend during the Kentucky Derby:
"I went to Laurel [Maryland] racetrack to bet on the Derby on Saturday and noticed there are a lot more computer consoles where you can place your bets. There were still plenty of human wager-takers in parts of the track, but in the main grandstand, a big set of betting windows had been walled off."
Here's what it looks like now: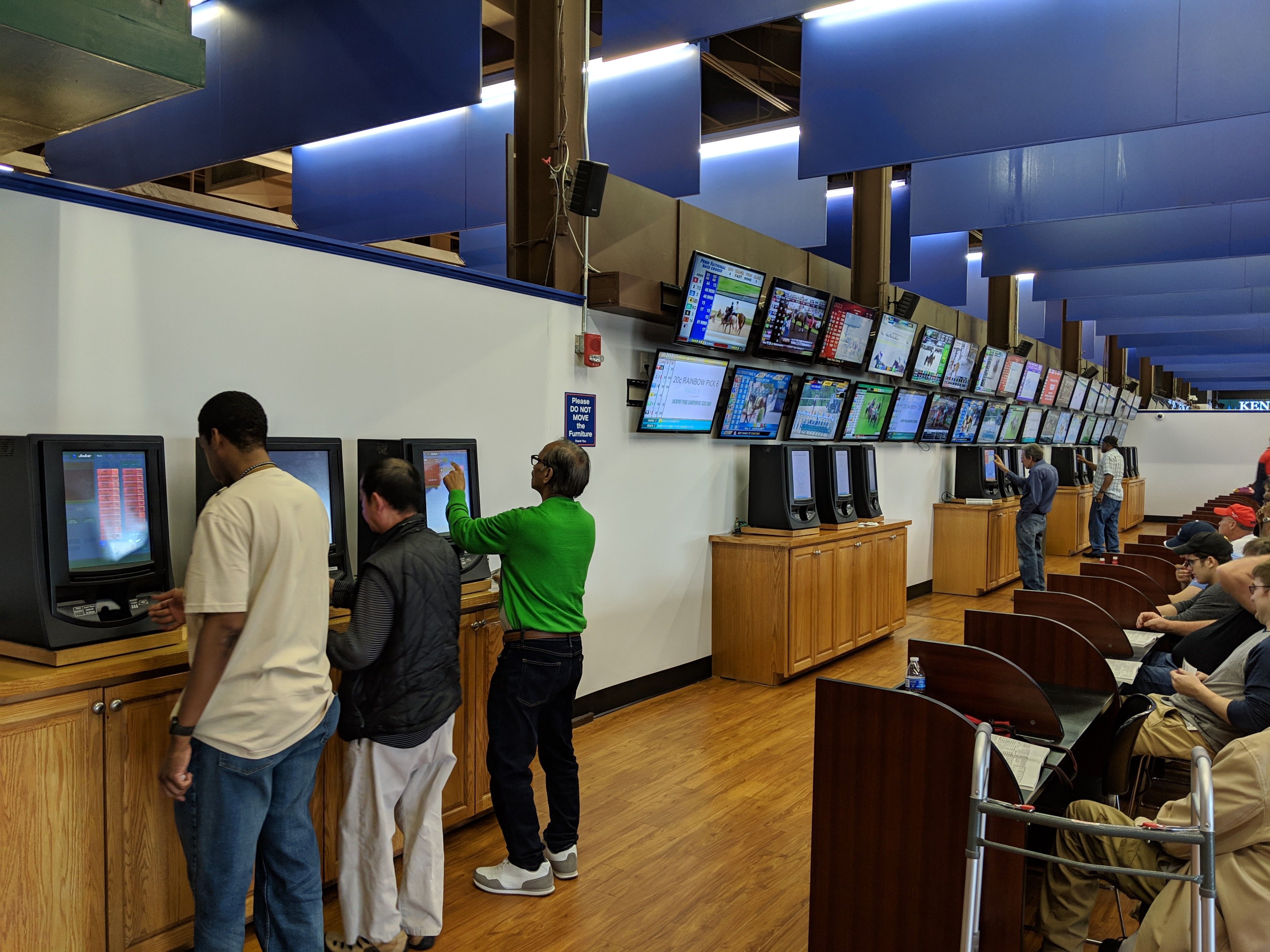 This is a big change from prior years: "Usually those red windows would have plenty of human beings taking bets. Now you had to go over to a different section to find people to take bets. That main area just had kiosks," said Nick.
4. Worthy of your time
When they stole Dorothy's slippers (Elizabeth Evitts Dickinson — WP)
DRC unrest imperils Ebola vaccine (Eileen Drage O'Reilly — Axios)
Tesla's chip is 4 years ahead of rivals (James Wang — ARK)
Teaching AI to pun (Gregory Barber — Wired)
Around the world, higher wage minimums (Tom Fairless — WSJ)
5. 1 marathon thing: When a dress is required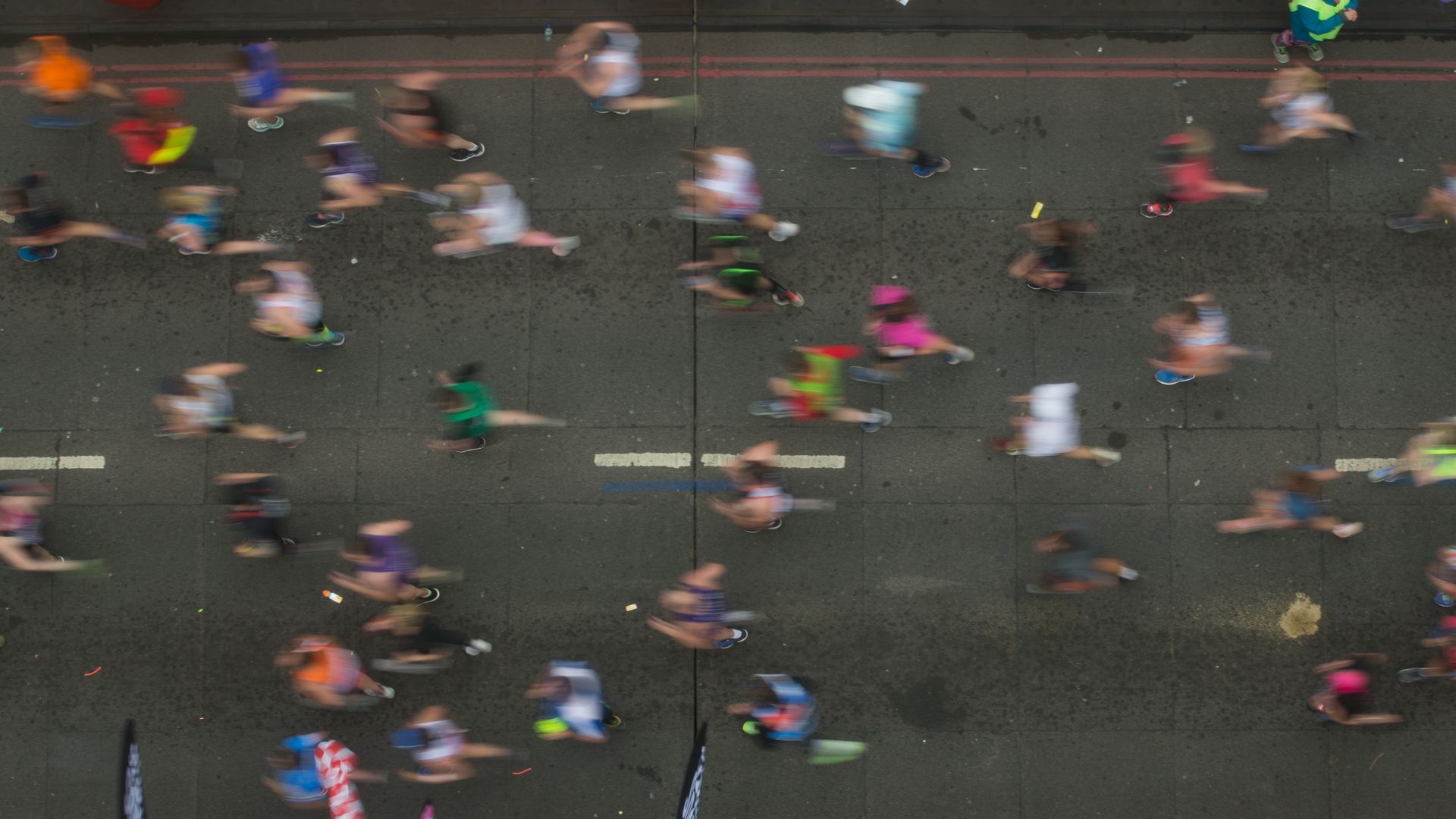 On April 28, Jessica Anderson, a London nurse, ran the city's marathon in 3:08:22 — while wearing scrubs from work.
Erica writes: Anderson's goal was to beat the Guinness world record for the fastest nurse to run the marathon, besting the previous time of 3:08:54. She was successful, but was disqualified from winning the record, the Washington Post reports.
The problem, per Guinness, was her outfit. The rules stated that the winner had to wear "a white or blue dress, pinafore apron and white cap."
"This is my actual nursing uniform which I wear to work, and it baffles me that it doesn't qualify as a costume for an attempt at 'fastest marathon in a nurse's uniform,'" Anderson wrote in a letter to Guinness officials.