Welcome back to Future. We want to make sure this newsletter is as relevant as possible. To that end, we'd love it if you would take this 5-minute survey to tell us a little about yourself. Thank you for your help!
And thanks to those of you who wished me well after my electric scooter accident. I'm now nearly recovered and eager to get back on those things.
What else do you want to read about in Future? Reply to this email or hit me at [email protected] Future's Saturday author, Kaveh, is at [email protected]
Today, I've got 1,191 words, a 5-minute read. To start...
1 big thing: How the China trade war threatens U.S. manufacturing jobs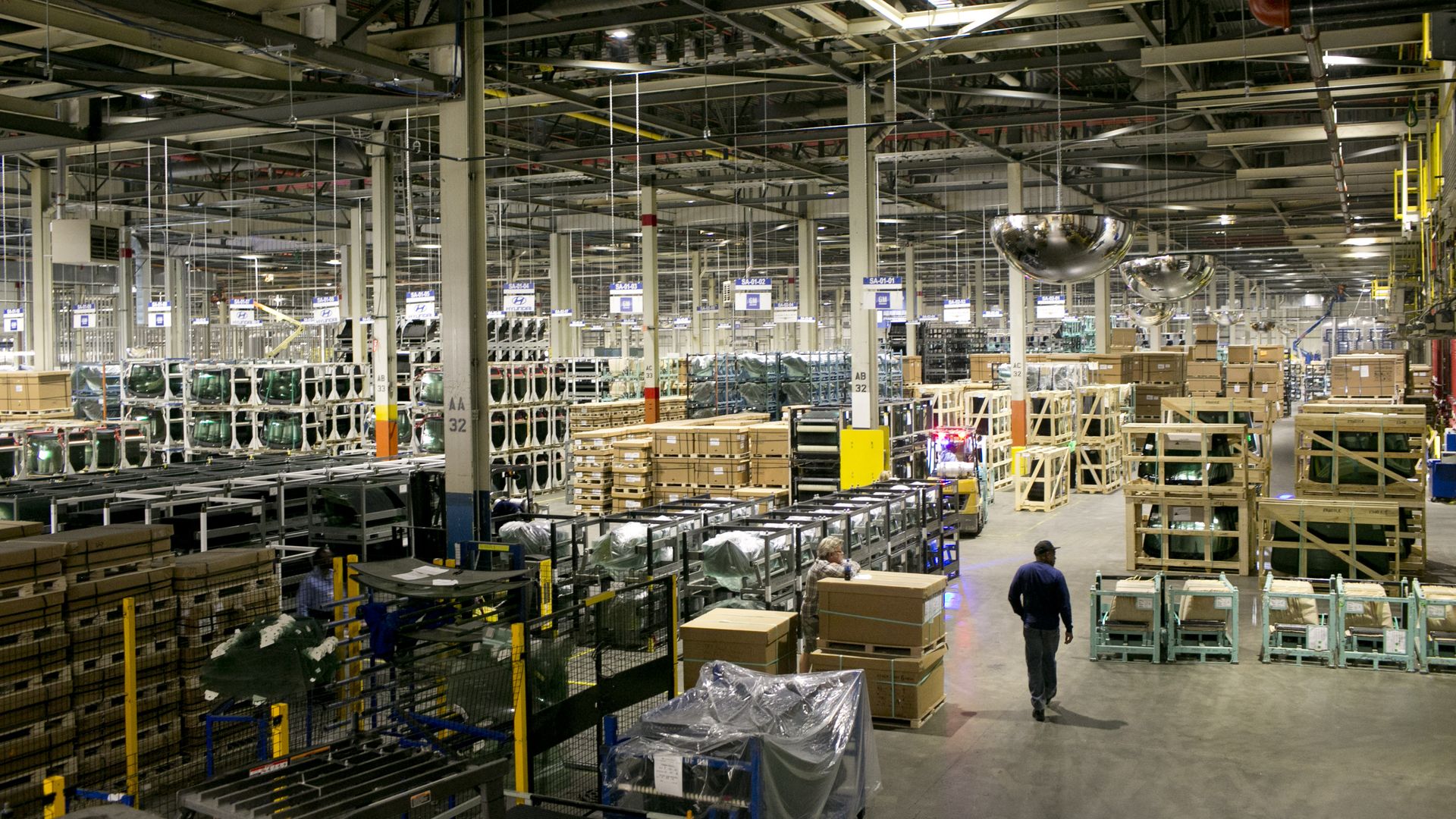 Automation and offshoring have destroyed millions of U.S. manufacturing jobs in the last 2 decades, but another, less-discussed threat to those jobs is the U.S.-China trade war.
The big picture: Almost a fifth of all manufacturing jobs in the U.S. are created by foreign companies that put their factories in American towns to get closer to the U.S. market, according to Brookings, and around a quarter of U.S. exports come from factories owned by foreign countries, reports the Washington Post.
Why it matters: As the Trump administration ramps up its multifront trade war with China, a number of foreign companies are reconsidering their place in the U.S. While some are concerned about doing business in an "America First" environment, others appear to be delaying big-ticket projects — with scores of jobs hanging in the balance.
Chinese investment in the U.S. dropped almost 90% from 2016 ($46 billion) to 2018 ($5 billion), per the Rhodium Group. "Trade and other economic frictions between the two countries have substantially reduced the attractiveness of the U.S. as a destination for Chinese foreign direct investment," says Eswar Prasad, a trade policy expert at Cornell.
The backdrop: Chinese companies went from employing 500 U.S. workers in the manufacturing sector in 2007 to over 26,000 as of 2016, according to the Bureau of Economic Analysis. "It seemed like it was on this dramatic uptick," says Joe Parilla, a scholar at Brookings.
In some cases, Chinese companies have stepped in to bail out failing American factories. As documented in Netflix's "American Factory," China's Fuyao Glass bought a shuttered General Motors plant in Ohio in 2014 and turned it into a glass supplier for the American automaker.
"FDI [foreign direct investment], including from China, has been a significant source of manufacturing employment growth," says Brookings' Mark Muro. "But now that is ebbing."
In Arkansas, 2 factories bought by Chinese companies stand vacant as the trade fight rages on.
In 2017, a Chinese firm bought a factory in Forrest City, Arkansas, that had been empty for 10 years and pledged to create 800 jobs, an investment that would have made that company the biggest employer in the county, reports the American Communities Project. Two years later, the facility is still a ghost town.
"There are various factors that have gone into the delay, but the main factor is the tariffs," Forrest City Mayor Cedric Williams told the American Communities Project. "We're at a standstill until they get that resolved."
Another Chinese company's plan to build a paper mill is on hold in Arkadelphia, Arkansas. In an interview with Christian Science Monitor, Stephen Bell, who heads the city's chamber of commerce, called the trade conflict "a dark cloud hanging over the future of the project."
What to watch: In another potential blow to Chinese-owned companies in the U.S., the Trump administration is considering restricting American firms from investing in them, reports Bloomberg.
2. Cities vs. dollar kings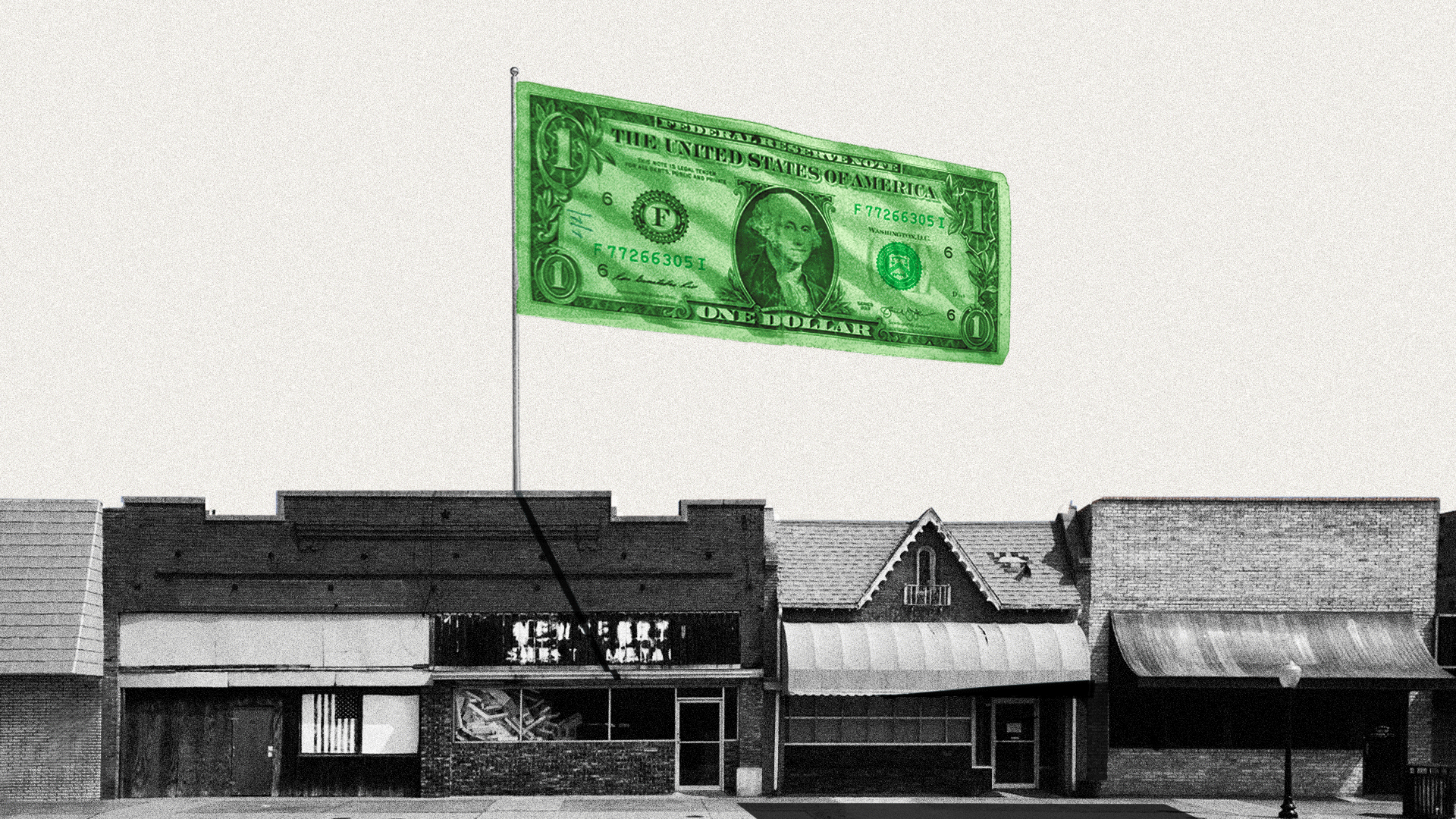 In an effort to revive shuttered main streets and empower mom-and-pop stores, a number of U.S. cities are passing laws to limit the rapid expansion of dollar stores in their neighborhoods.
Why it matters: Around 14 million people live in food deserts, per the USDA. Experts say one contributor to the crisis is the meteoric rise of dollar chains, which are popping up on every street corner, crowding out other retailers and grocers, and very rarely selling fresh food.
"If you saturate a neighborhood with dozens of dollar stores, there's just no room left in the market for anyone else."
— Stacy Mitchell, co-director at the Institute for Local Self-Reliance
The big picture: There are about 30,000 dollar stores in the U.S. today — more than the total number of Walmarts and McDonald's combined. And Dollar Tree and Dollar General have plans to open 20,000 more.
The problem is more acute in some cities than others, per a report from the Institute for Local Self-Reliance, a nonprofit research and advocacy group that opposes concentrated economic power.
Consider Birmingham, where close to 70% of city residents live in food deserts and the 2 dollar giants have opened more than 40 locations in the last decade. Since 2005, 5 Birmingham supermarkets — undercut by the cheap chains — have closed, and the city has struggled to get new grocers to come to town, the report notes.
Now Birmingham has passed a pair of laws: The city is banning new dollar stores from setting up shop within a mile of an existing location and it's financing the opening of new supermarkets.
Northeast Oklahoma City was confronted with the problem of dollar stores after its last grocery store closed in July.
The city has now prohibited new dollar stores from opening within a mile of old ones unless the store commits to saving 500 square feet of floor space for fresh produce.
The other side:
A Dollar General spokesperson told Axios: "We are disappointed a small number of policymakers have chosen to limit our ability to serve their constituents and communities."
"Our stores provide an affordable and convenient fill-in shopping option for our customers in between their weekly or bi-weekly grocery store trips, all while creating more jobs and investing in the communities we serve," a Dollar Tree spokesperson said.
The bottom line: The backlash against dollar stores is here — and spreading. More cities, from small ones like Hutchinson, Kansas, to big metros like Cleveland and Fort Worth, are considering laws to limit the chains.
3. The drones are here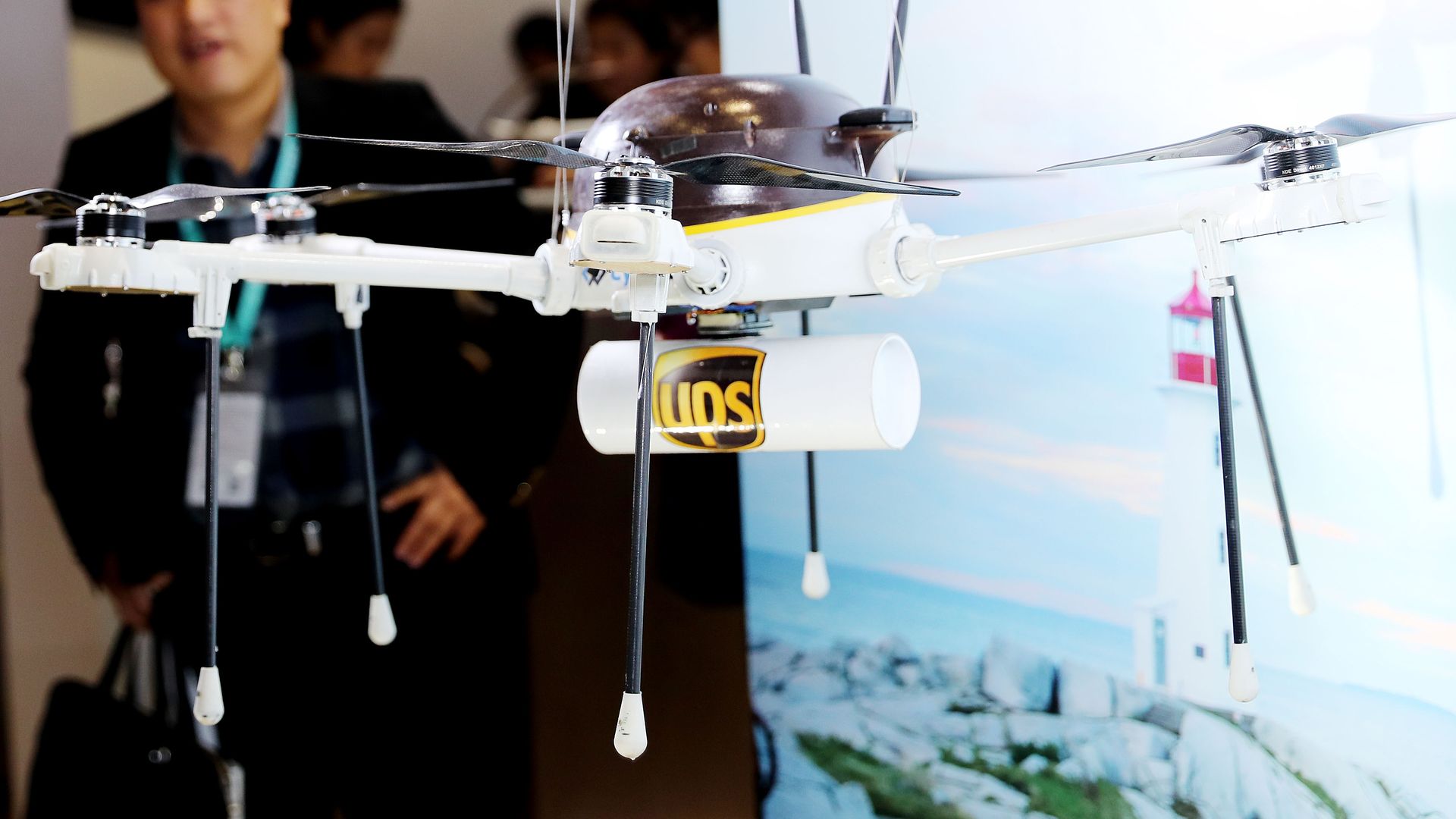 UPS made history yesterday, becoming the first shipper to get FAA approval to make drone deliveries nationwide.
Why it matters, per Axios' Joann Muller: It's a big step forward in the effort to safely integrate drones into the country's existing airspace. Unmanned aerial vehicles have the potential to transform our daily lives, but not until regulators can be sure they won't fall from the sky or crash into other aircraft.
My thought bubble: This is a big win for UPS and could give the company a leg up over competitors like FedEx, Amazon, DHL and Walmart, all of which are racing to own the future of delivery by harnessing drones.
Drones could also help to curb the steep environmental impact of all the vans, trucks and planes that zoom around the country to keep up with consumers' demand for speedy shipping, climate experts say.
4. Worthy of your time
How Americans really see success (Stef Kight — Axios)
Big Macs and Big Tech (Thomas Buckley, Leslie Patton — Bloomberg)
The emotion-harvesting future of TV (Lauren Goode — Wired)
Tech IPOs aren't working for the masses (Dan Gallagher — WSJ)
Huawei's 5G drive beyond China (Fumie Yaku — Nikkei Asian Review)
5. 1 fun thing: The staggering value of K-pop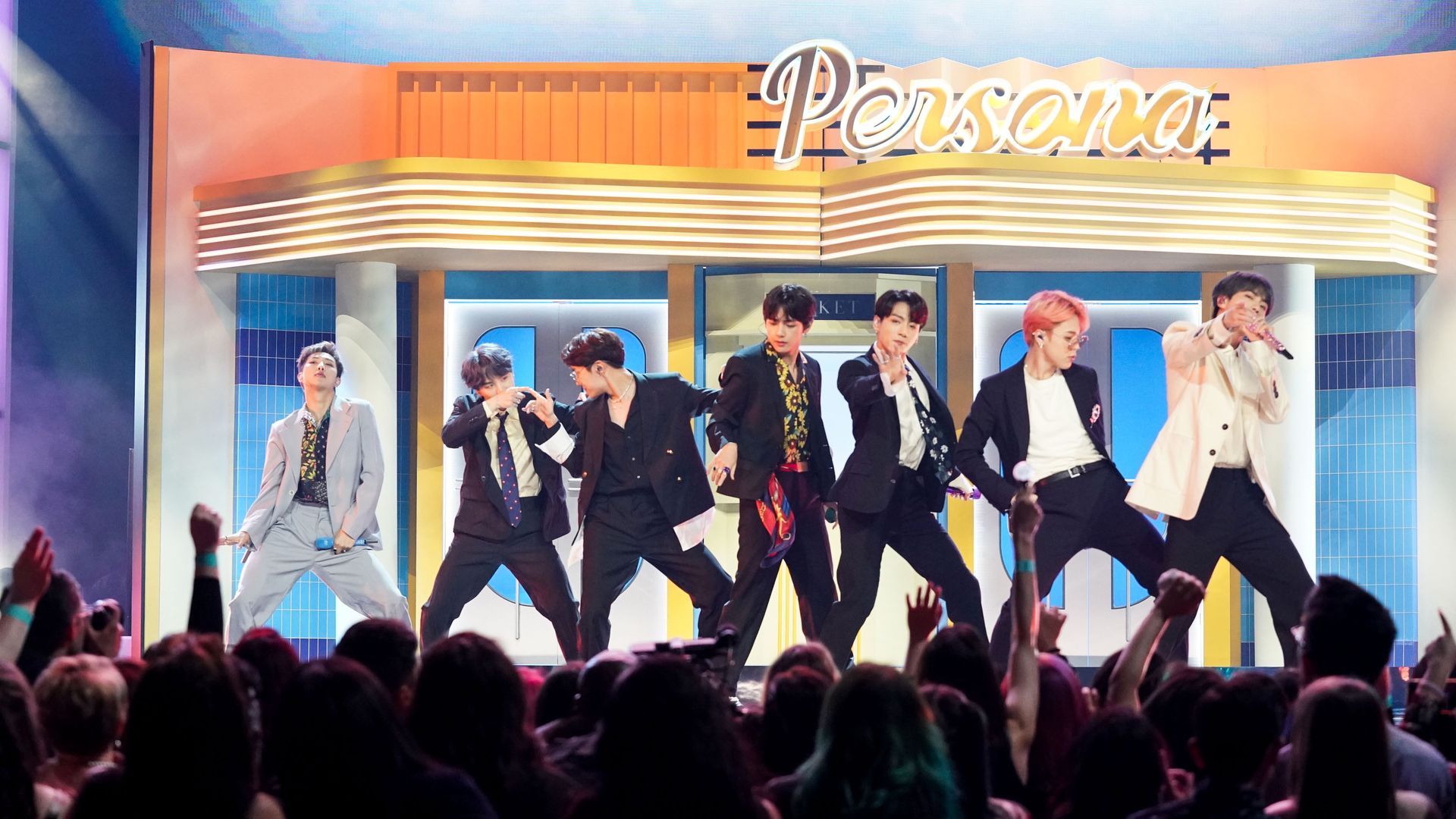 The uber-popular Korean pop boy band BTS accounts for $4.65 billion of South Korea's GDP, per the Hollywood Reporter.
Why it matters: That makes the band as valuable to South Korea's economy as multinational giants like Samsung and Hyundai.
A couple more crazy stats:
BTS sold 300,000 tickets for a U.S. tour in minutes, crashing Ticketmaster. And the seats cost an average of $452 each, notes the Hollywood Reporter.
The band's twitter account generates around 4 times as much engagement as President Trump's account, reports Axios' Neal Rothschild.