Axios Finish Line
September 15, 2023
Finish Line is on fall break for two more weeks, but we wanted to bring you this extra edition with a fascinating CEO interview by Hope King. Let us know what you think: [email protected].
Smart Brevity™ count: 674 words ... 2½ mins. Copy editor: Amy Stern.
1 big thing: Lead like Julie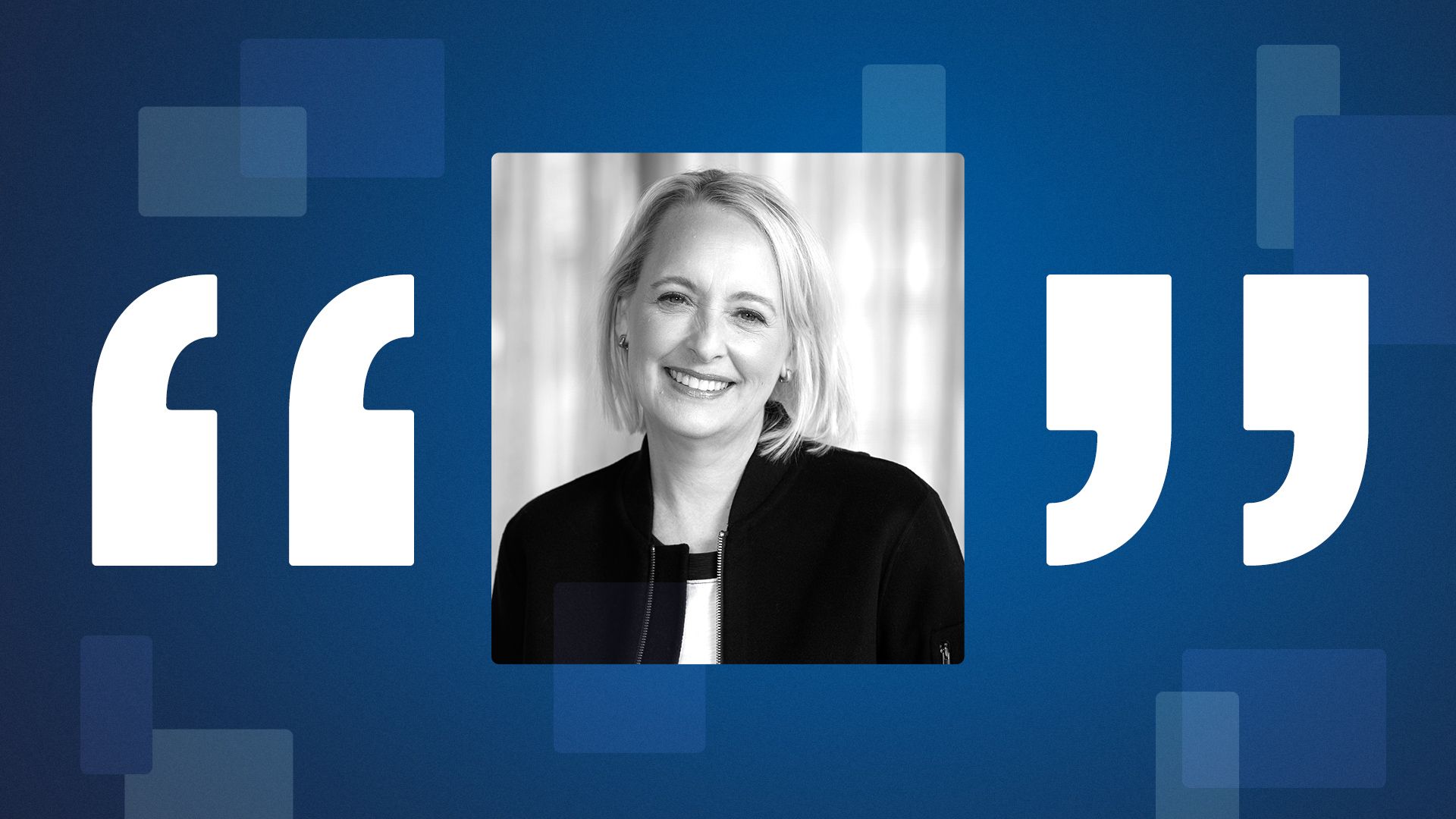 Julie Sweet is the 55-year-old CEO and chair of Accenture — the largest IT consulting company in the world by workforce.
Why she matters: Sweet leads more than 730,000 people across 49 countries in roles that — because of Accenture's strength in strategy and consulting — ultimately drive how other companies harness change.
Sweet is focused on doubling the number of Accenture employees whose primary skills are in AI and data — from 40,000 to 80,000 over the next three years through hiring, training and acquisitions, as part of a $3 billion investment.
Axios' Hope King talked with Sweet from her home office in Bethesda, Md., via Microsoft Teams on Aug. 24:
1. What one sentence describes your leadership style?
"My leadership philosophy is: Lead with excellence, confidence and humility."
Humbleness, Sweet says, is a trait she can spot in managers based on how they invest in their teams and how they ask questions.
2. What's the most misunderstood aspect of what the job of a CEO entails?
People who work for her often think they need more "authority" to get things done.
"And I say: 'I could give you that authority and you'll never be CEO.' ... You don't lead successfully because ... you can tell people what to do."
A CEO of a large company needs systems that don't require them to dictate every move: "CEOs cannot lead by command and control."
3. How do you call out someone who isn't considering others?
"Ask questions: 'Have you thought about this?' 'Have you spoken to so and so?' Rarely are you going to be persuasive by simply calling someone out."
4. What's the one book — business, philosophical or cultural — that most shaped or reflects your leadership?
"The Wisdom of the Bullfrog" by Adm. William McRaven, which she recently read and highly recommends.
During volatile times, it's easy to play it too safe, Sweet says. The book is filled with lessons on being fearless and prepared.
5. You've talked about how critical it is to remain calm in stressful environments. How do you maintain that state of mind?
"Go hard at what you can change. Where people get wrapped around the axle" is obsessing about what they can't change.
6. What's one thing you do outside of work that helps you perform optimally at work?
"Spend time with my family."
7. Why do you think it's so important for companies to shift their HR thinking and workforce management away from job roles to skills?
Accenture built a proprietary database to track the skills of its employees five years ago. Companies can't reskill their workforces if they don't understand their employees' skills, she says.
8. What are you doing to learn AI?
Holding "education sessions" for herself and her leadership team to learn directly from outside companies and from Accenture's own experts.
9. What is one social or economic trend that you think more people should be paying attention to?
Based on her Accenture research + her experience with her teenage daughters, "a lot of companies are behind" on social commerce — buying within TikTok and other social media platforms.
10. Women always get asked about work-life balance. So let me flip that: How would you describe the level of support you get from your husband?
🤫 1 fun thing: What's one corporate jargon term that you hate?
"'Differentiation.' ... It can sometimes become a mask for being able to actually articulate what makes you different."
More from Hope's interview series: Brooks Brothers CEO Ken Ohashi ... Recent Walgreens CEO Roz Brewer ... Expedia CEO Peter Kern.
🗽 Parting shot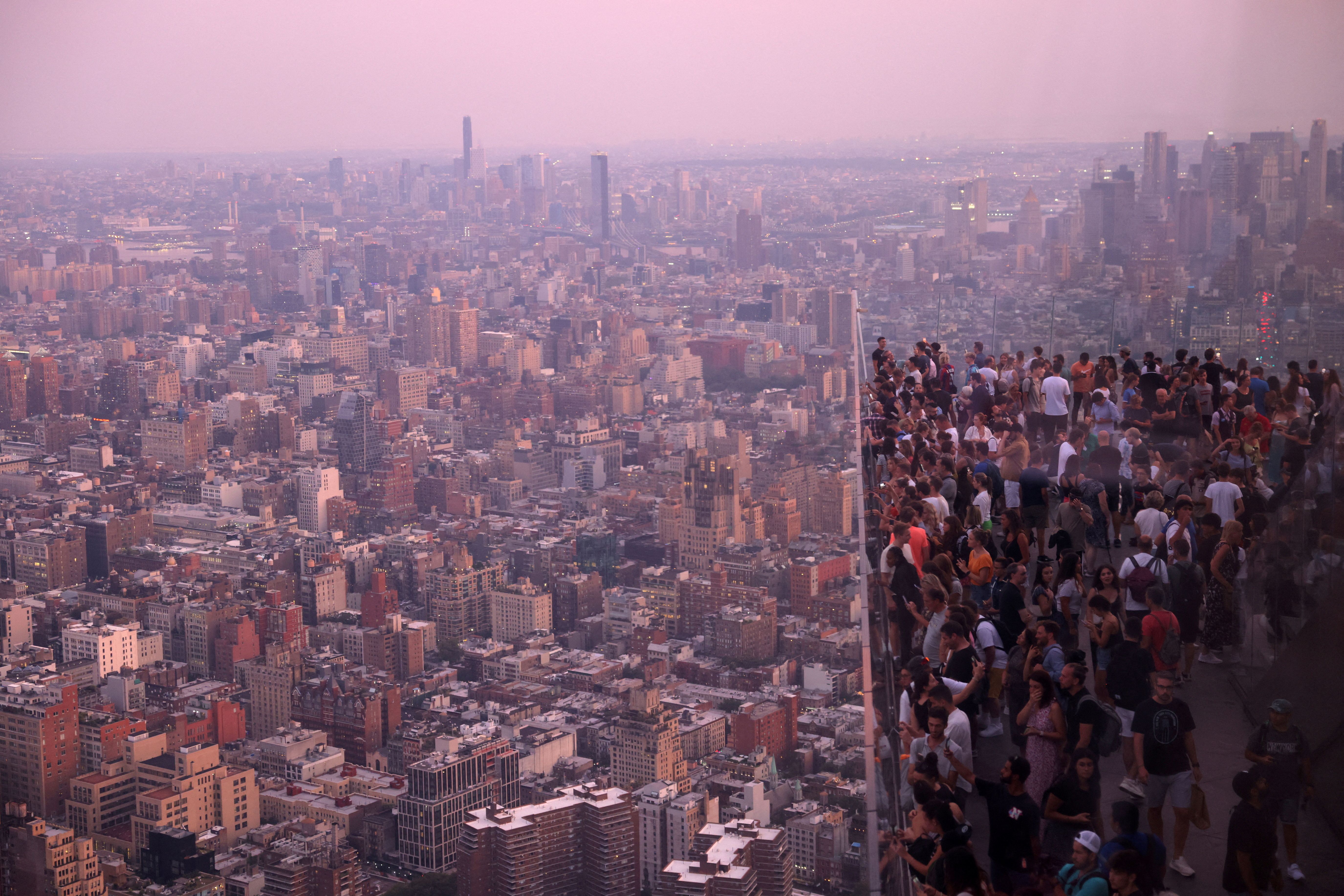 People look 100 stories down at Manhattan from Edge — billed as the highest outdoor sky deck in the Western Hemisphere.