April 28, 2019
Apologies to Ken Xie, the Chinese-born co-founder and CEO of Fortinet, who took his company public in 2009. Fortinet's market cap has now grown to $16 billion, which makes it the same size as recently listed Zoom. When I said last week that Zoom's Eric Yuan was the first Chinese CEO of a major U.S. publicly listed corporation, I totally missed that Xie had got there first.
1 big thing: A Democratic fiscal manifesto
What should a Democratic presidential candidate's economic policy look like? The field is now up to 20 candidates, with Joe Biden the latest big name to declare that he's running. While Elizabeth Warren and Andrew Yang have carved out a niche for themselves as the wonks of the race, most of the rest are light on detail, especially when it comes to fiscal policy.
Enter Joe Stiglitz, whose new book, "People, Power, and Profits: Progressive Capitalism for an Age of Discontent," presents itself as "a platform that can serve as a consensus for a renewed Democratic Party." Stiglitz, a Nobel laureate who worked in the Clinton administration, has written a coherent manifesto that could quite easily be adopted by a majority of the Democratic candidates.
The book avoids labels. While a lot of its prescriptions can be seen as socialist, Stiglitz goes no further than to say that he's a "progressive capitalist." And while he says that the government should spend as much money as it takes to bring the economy to full employment, he nowhere deviates from economic orthodoxy. Nor does he even so much as mention modern monetary theory.
A much stronger antitrust regime is at the top of Stiglitz's agenda. He calls for breaking up Facebook and aggressively regulating all monopolists, however they arrived at their position. (That includes pharmaceutical companies with patented drugs.) He also wants to limit the degree to which companies can use and agglomerate data; even after it's broken up, he says, Facebook should probably be regulated as a public utility.
A guaranteed job for all who are willing to work is also on the list. Stiglitz opposes a universal basic income, saying it's too expensive and doesn't place sufficient value on employment. The jobs guarantee would not explicitly be a form of reparations, he says, but by its nature it would disproportionately benefit African-Americans.
Public options should be introduced in many areas of American life, says Stiglitz. Americans should have the option to sign on to Medicare — just like they should have the option to pay extra money into their Social Security accounts, rather than relying on Wall Street for their pensions. They should also have the option to obtain a mortgage directly from the government.
College should be paid for through an Australian-style graduate tax. Graduates earning more than $30,000 might pay 1% of their income toward repaying their student loans; those on seven-figure salaries might pay 4%. After 25 years, the loans are forgiven.
Why it matters: Stiglitz is a critic of what he sees as the incrementalist approach of Presidents Clinton and Obama. "Our polity has slid so far that we are now compelled to turn to fundamental issues in order to cure what ails us," he writes. "Minor tweaks of current arrangements won't get us to where we need to be." Whether or not his specific ideas are adopted, you can expect such maximalism to be a theme coming from most of the Democratic field.
2. Faith in Tether
Money needs to be able to buy stuff. That's always been a problem with cryptocurrency. The number of merchants who accept bitcoin directly is small, and converting bitcoin to cash dollars is nontrivial.
Background: The biggest cryptocurrency-to-dollars exchange in the early years of bitcoin was Mt. Gox, which imploded spectacularly in February 2014. Since then, the conversion problem has remained a very hard nut to crack, which is one reason why bitcoin derivatives were invented: You can now buy exposure to bitcoin without having to buy the currency itself.
Tether is the popular workaround for smaller traders, or people who want to trade non-bitcoin cryptocurrencies. Trading between cryptocurrencies has always been much easier than converting crypto to dollars. So Tether was invented as a cryptocurrency that would always be worth $1. Traders could easily use Tether instead of trading in and out of dollars — which is exactly what they did. Volume in Tether often exceeds volume in bitcoin itself.
Every Tether was ostensibly backed by a dollar in a bank account. Theoretically, all Tethers could be converted to an equal number of dollars. But the actual conversion was much harder, and it involved a payments processor in Panama named Crypto Capital Corp. According an explosive new lawsuit from the New York attorney general, Crypto Capital Corp looks very much like it was a fraud, and some $850 million seems to have disappeared.
The most interesting part of the story: In the wake of this week's revelations, the price of Tether basically didn't move. Even Tether itself no longer claims that all tokens are backed directly with dollars — but the price of one Tether is still $1.
The big picture: All currencies are ultimately based on faith — a largely unspoken and implicit agreement within a population that a certain token is a measure and store of value. Tether has clearly achieved that status within the crypto crowd. No one would ever convert their dollars into Tether for safekeeping. And yet, even after the latest revelations, Tether remains the terra firma of the crypto world, just because it's a highly liquid instrument and everybody agrees that it's worth $1.
3. Larry Fink returns to Riyadh
Where's Larry Fink, the CEO of BlackRock?
Fink gushed about the tightening spreads on Saudi Aramco's recent bond issue, and he said that when it comes to issues raised by journalists, "the power of the press allows most issues to be mitigated." That, he explained, is why he is optimistic about the region as a long-term investor. "The changes here in the kingdom in the last two years are pretty amazing," he declared.
Fink had lots of bold-faced company at the Riyadh Ritz-Carlton. (Yes, the conference hotel is the same building that was formerly a luxury prison.) "It's a privilege to be back in Saudi Arabia," said HSBC CEO John Flint, also an October refusenik. Other speakers included representatives from JPMorgan, Société Générale and the London Stock Exchange Group.
The bottom line: Back in October, it wasn't clear whether Saudi Arabia would become a toxic destination for capitalists or whether the Jamal Khashoggi outrage would turn out to be a temporary blip. Now we know the answer.
4. The invisible $500 billion aid juggernaut
This year marks a major milestone in terms of the cash flowing to low- and middle-income countries: Remittances are now significantly larger than any other source of funds.
Remittances generally arrive in small chunks, maybe a couple of hundred dollars at a time, but there are a lot of them, and they add up. Today, they're bigger than foreign direct investment, they're much bigger than flows from bond and stock markets, and they're about three times bigger than flows from official sources like the World Bank.
The development impact of remittances is enormous, for two main reasons. First, remittances disintermediate most government bureaucracy and go straight to poor individuals. Second, and more importantly, they are the only major foreign-currency flows that do not need to be repaid.
In Venezuela, remittances are a literal lifeline — many Venezuelans would die without them, according to World Bank remittances expert Dilip Ratha. And those flows aren't even measured in the chart above, since they take place in the grey market, out of sight of the authorities.
Why it matters: Remittances are a form of decentralized, distributed power — and they amount to more than $700 billion per year, most of which goes to poor people in poor countries. By comparison, total World Bank disbursements in 2018 were $46 billion.
Bonus: The stubbornly high cost of remittances
The global average cost of sending $200 from one country to another should not exceed $3, according to the UN. But it remains stubbornly close to $7, with no indication that it's going to fall dramatically anytime soon.
Heavily trafficked corridors see a lot of competition and relatively low prices. (Think USA-Mexico, USA-Philippines or UAE-India.) But it still costs far too much money to ship funds to many countries, especially in sub-Saharan Africa.
The big costs are not in foreign exchange but rather in compliance, Ratha tells Axios. After 9/11, regulators put strict anti money laundering and know-your-customer rules in place, which have prevented remittance costs from coming down.
The bottom line: Regulators should start with the assumption that small remittances are not money laundering, says Ratha. So long as all transactions are presumptively suspicious, the $3 goal will never be achieved.
5. Deutsche's struggles
Deutsche Bank doesn't look like much of a national champion these days. It cut its revenue guidance this week, its investment bank is shrinking, and it has thrown in the towel on merger talks with Commerzbank.
Commerzbank has other suitors waiting in the wings, including ING and UniCredit — but Deutsche is too big to be acquired.
Deutsche has $1.54 trillion of assets and a market value of just $15 billion. By contrast, Wells Fargo has $1.89 trillion of assets and a market value of $216 billion.
Both Deutsche and Commerzbank are trading at a deep discount to their respective book values — but Commerzbank's valuation has been improving this year amid takeover talk. Deutsche, by contrast, is hitting new lows, with its shares worth just 24 cents on every dollar of book value as of the close of trade on Friday.
What's next? If Deutsche Bank CEO Christian Sewing has a Plan B, he's keeping it close to his chest. The most likely outcome is that Deutsche will continue to shrink by cutting back on investment banking and possibly by selling off its asset-management arm, DWS.
6. Devalued women
Your must-read this weekend is Taffy Brodesser-Akner's 11,500-word NYT Magazine deep dive into working conditions at Sterling Jewelers. Not only did the company systematically underpay its female workers, according to the Times, it also forced them into well over a decade of arbitration proceedings, with no end in sight. And that's not even mentioning the rampant sexual harassment.
Sterling is the umbrella company for most of America's major shopping-mall brands — Kay, Jared the Galleria of Jewelry, Osterman, J.B. Robinson, Zales and many others. Those stores were plum employment hopes for women without a college education — until, with depressing predictability, the Times reports those women were systematically devalued by their male bosses.
A company spokesperson emails: "We're disappointed that The New York Times decided to publish an article primarily based on decades-old allegations, and we believe casts our company unfairly. ... We are undeterred in our ongoing mission to champion diversity and inclusion as a strategic priority."
Why it matters: Sexual harassment and forced arbitration can appear anywhere, as is evidenced by this week's Bloomberg story about Lee Stowell's experience at Wall Street brokerage Cantor Fitzgerald. Still, the broadest and deepest harm is to women who can't afford expensive lawyers and publicists.
Go deeper: Taffy was my guest on Slate Money this week.
7. The Avengers' record-shattering weekend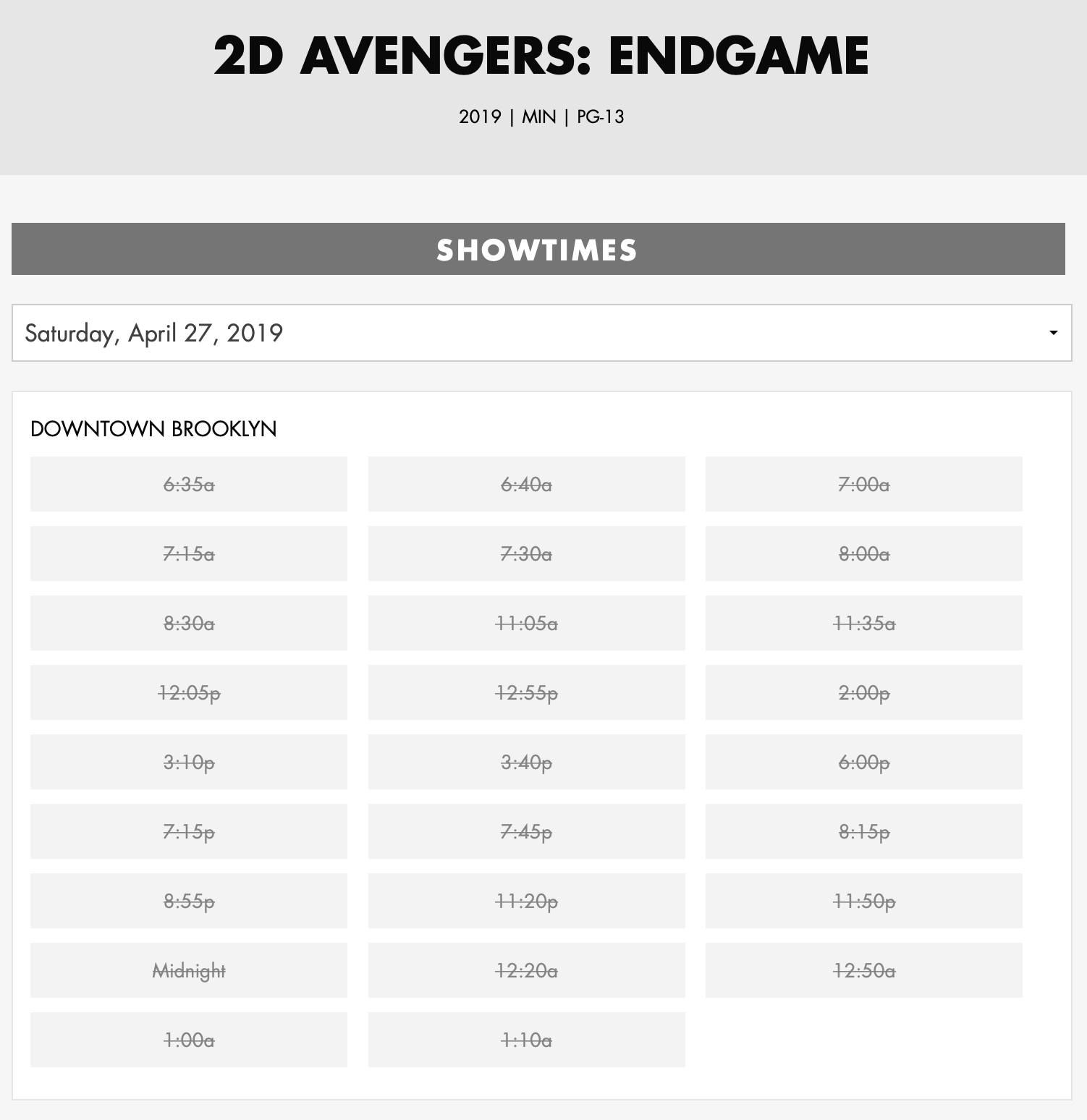 "Avengers: Endgame" is selling out movie theaters as fast as it can be scheduled — which isn't particularly fast, given that it runs over 3 hours. Still, no movie has ever come close to making this much money this quickly.
By the numbers: "Endgame" grossed more than $1.2 billion just in its opening weekend, bringing it to what's known as "cash breakeven" in record time. The U.S. opening-weekend gross came in at $350 million — more than the original "Iron Man" made in its entire run — while China accounted for another $330 million. Disney stock closed at an all-time high of $139.92 on Friday, up 28% so far this year.
8. The week ahead: Fed set to stand pat
The Fed will weigh in on the economy Wednesday after a two-day policy meeting this week as originally scheduled, writes Axios' Courtenay Brown.
No one expects a change in interest rates, but plenty of people will be listening closely to chairman Jerome Powell. Inflation was low in the first quarter, which could make the Fed more dovish, but also first-quarter growth was strong, which would mitigate in the opposite direction.
Another strong showing by the labor market is expected two days later. Economists say the economy likely added 175,000 jobs in April, with the unemployment rate holding at 3.8%.
Expectations are low for eurozone GDP data on Tuesday, which is expected to show the economy growing a modest 0.2% from the prior quarter.
The Bank of England will wrap up a policy meeting on Thursday, but it probably won't move on interest rates until there's more clarity on the U.K.'s exit from the EU.
Treasury Secretary Steven Mnuchin will not be at the Milken conference this week as originally scheduled. Courtenay will be there, though, so say hi if you see her!
Mnuchin and U.S. trade representative Robert Lighthizer will instead be in China on Tuesday for a 10th round of trade talks.
Two-thirds of public Chinese companies are waiting until the last minute to release their quarterly results, per Bloomberg, including the 13th most valuable stock in the world: Industrial & Commercial Bank of China. The final deadline comes on Tuesday.
In the U.S., Alphabet reports tomorrow. Apple's results come on Tuesday, as Facebook begins this year's iteration of its F8 Developer conference.
Japanese markets are closed all week for the abdication of Emperor Akihito.
Beyond Meat will go public this week, aiming for as much as a $1.3 billion valuation.
The company will list its shares on the Nasdaq under ticker "BYND."
9. Building of the week: Friends Meeting House, Bournville
William Alexander Harvey built most of Bournville, a "model suburb" just outside Birmingham, England, for the employees of the Cadbury chocolate company. The Cadburys were Quakers, and Harvey designed this Meeting House for them in 1905. Meetings take place on Sundays at 10:30 am.