February 13, 2020
Situational awareness: Judy Shelton faced pushback from Republican Sen. Pat Toomey in her Senate hearing today. But he hasn't said that he'll vote against her.
You'll learn more about her in this newsletter, and also about Prada and racism; mergers; neobanks; traffic congestion; hotel prices; and much more. All in 1,806 words, < 7-minute read.
1 big thing: Judy Shelton vs. Fed independence
President Donald Trump hasn't given up on his dream of politicizing the Fed. After failing to get Herman Cain and Stephen Moore onto the Fed's board of governors, his latest candidate is one of his former campaign advisers, Judy Shelton.
Why it matters: Shelton is no more qualified to sit on the Fed board than Cain or Moore. But she's already further along in the process than either of them ever managed. Her nomination is now being treated as a loyalty test for Senate Republicans, few of whom have any desire to provoke Trump's anger.
Context: The Supreme Court and much of the federal judiciary have been highly politicized for decades, while the Department of Justice is currently at the center of a politicization firestorm.
For the record: As Catherine Rampell has comprehensively documented in her Washington Post column, Shelton's views on monetary policy are nakedly partisan. Just like Moore, she advocated for higher rates when a Democrat was in the White House, only to then support lower rates under Trump. If confirmed, she has made it clear that she will vote in accordance with Trump's wishes.
What's next: Senators managed to find non-political reasons to oppose the nominations of Cain and Moore, ducking the issue of whether the candidates' monetary-policy views were acceptable for the Fed. But Shelton has already received Senate confirmation once, when she was appointed the U.S. envoy to the European Bank for Reconstruction and Development.
What they're saying: GOP Sen. Mike Rounds told Fed chair Jay Powell this week that "on both sides of the aisle you'll find strong support for an independent Fed."
Between the lines: If Shelton is confirmed, and if Trump is re-elected, she would immediately become the front-runner to be the next Fed chair. (There's no way that Trump will re-nominate Powell.) At that point, Trump would effectively control the Fed chair, and the era of central bank independence would be over.
The bottom line: Diane Swonk, chief economist at Grant Thornton, says of the prospect of Shelton joining the Fed board: "It's mind-boggling. It's disturbing. It's dangerous." It's also entirely possible. The only thing that can prevent it now is a show of spine from at least four Republican senators.
Go deeper: We're closer than ever to a political Fed
2. Prada's accountability
Sometimes, an apology isn't remotely enough.
If you're a major global fashion brand and you're installing obviously racist window displays in 2018 with offensive blackface toys called "Pradamalia," something is deeply wrong at many levels of your organization. Fixing it isn't going to be easy.
Prada's attempt to resolve this problem is bold enough that now, little more than a year later, a leader of New York's Commission on Human Rights has praised the company for "leading the charge in creating institutional change for this industry."
The problem: It's easy for companies like Gucci to mandate diversity training, to appoint a chief diversity officer, and to apologize profusely for having got things wrong in the past.
What's much harder is to build in real accountability. If nothing much improves, whose feet will be held to the fire, and how?
The solution: In a settlement with the Commission on Human Rights, Prada has given the commission a central oversight role. The commission is now reportedly in similar discussions with Gucci and Dior.
Be smart: Companies such as Prada pay a lot of money to internal and external consultants who can help them become more racially sensitive and diverse. It's therefore striking — and a little bit weird — that the city of New York is providing such services for free.
Still, the move makes sense. It's not just good for Prada; it's good for maintaining the health and vibrancy of the broader New York fashion industry.
My thought bubble: Racism is widespread in the fashion industry, and shows up with alarming frequency. Prada now has a competitive advantage over rivals like Dolce & Gabbana when it comes to avoiding racist errors. Gucci and Dior would be well-advised to give themselves the same advantage.
Go deeper: High-end fashion houses struggle to learn from controversial missteps
3. Merger uncertainty reigns
A New York judge cleared the way for T-Mobile to merge with Sprint this week, in a move that was surprising enough that it caused Sprint stock to spike by 75%, from a close of $4.80 per share on Monday to an open of $8.35 per share on Tuesday. (The ruling could still be appealed further.)
Why it matters: Millions of dollars have been spent litigating the question of whether or not this merger is pro-competitive. Monday's ruling provided a rare — if ultimately inconclusive — natural experiment.
If the merger will lead to more competition in the industry, then it will be bad for the two big incumbents in the space, AT&T and Verizon.
If the merger means less competition, you would expect AT&T and Verizon shareholders to cheer.
The verdict: Economist Thomas Philippon, on Twitter, looked at after-hours price rises in AT&T and Verizon stock to conclude that those companies will be about $11 billion better off as a result of the merger. But those price gains failed to hold when the market opened on Tuesday.
The big questions: Why is the FTC opposing the razor acquisition of Harry's by Edgewell, even though it was fine with the acquisition of Dollar Shave Club by Unilever? What does it mean that even government opposition couldn't prevent AT&T from buying Time Warner? How exactly is the FTC going to relitigate old tech mergers, sometimes many years after the event?
The bottom line: Antitrust is becoming increasingly baroque. The one certainty, going forward, is uncertainty. Even the stock market often seems unclear on who will gain from mergers.
Go deeper: Big Tech braces for sprawling FTC acquisitions review
4. Coming up: EU unveils new data market
Axios' Courtenay Brown writes: In a major European antitrust development, EU officials will propose rules creating a single, central market for European data on Wednesday. Per Reuters, officials want to "break U.S. tech giants' stranglehold" by creating a level playing field for access to crucially important data.
Why it matters, via Axios' Sara Fischer: Europe wants to leverage its stockpile of professional and industrial data so that European and other companies can compete with U.S. tech giants. 
Of note: In a rare move, Facebook CEO Mark Zuckerberg will meet with EU competition chief Margrethe Vestager two days before the proposals are released on Feb. 19.
5. A banking milestone
The FDIC has given Varo Money an official seal of approval to become a national bank.
Why it matters: Up until now, digital banks have had to piggyback on older, more established banks for their banking operations. (Or else, like Goldman Sachs' Marcus and BBVA's Simple, they're subsidiaries of bigger banks.)
Varo Money is now set to receive the first "de novo national bank charter" ever given to a fintech startup. That should give it a level of freedom and flexibility its competitors lack.
Background: This day has been a long time coming. While Goldman Sachs received its bank charter in one day in 2008, the process for Varo has taken more than three years.
Bank regulators have worried that VC-backed startups are too thinly capitalized to survive a crisis or avert a bank run, or that they lack the necessary depth of banking expertise. Varo has now shown that those concerns can be addressed.
Be smart: The move means that Varo will finally control its own deposits, and it will be able to use them to fund loans. That will give Varo a significant advantage over other challenger banks like N26, Aspiration and Chime.
The other side: Not everything is coming up roses with neobanks. German unicorn N26 announced this week it would pull out of the U.K. market. It's blaming Brexit, but the bank had been struggling against fierce British competition.
6. When Uber left Austin
Traffic moved faster in Austin after Uber and Lyft left the city.
Daytime traffic sped up by about 3.4%, according to a new paper from Matthew Tarduno, a graduate student at UC Berkeley. That's about 0.1 minutes per mile.
Why it matters: Tarduno's paper shows that Uber and Lyft increase the number of cars on the road, exacerbate congestion, and decrease traffic speeds — even if the effects in Austin were relatively modest.
Background: After Austin insisted that Uber and Lyft drivers pass background checks, both companies ceased operations in the city overnight. (They eventually returned after the state of Texas effectively overruled the city.)
The bottom line: Tarduno calculates that while faster traffic is worth $61 million a year to Austinites, that's roughly the same as the value to citizens of having Uber and Lyft (also known as transportation network companies) in the first place.
"TNC activity can be viewed roughly as a transfer," he concludes. "The consumer surplus enjoyed by TNC passengers is of similar size to the time loss incident on incumbent drivers."
7. How hotel prices change
You know that hotels charge more during high season, but you might be surprised to see just how smoothly prices rise and fall, especially in resort areas.
Edge reader Colin Nagy pointed me to a pair of datasets with ultra-detailed information about the prices charged by two hotels in Portugal; Axios Visuals guru Danielle Alberti then whipped out her pivot tables to help me put together this chart.
Two questions are raised by this chart:
As Airbnb moves increasingly into the hotel space, will it start being able to share this kind of price-setting sophistication with its hosts?
What happened in Lisbon in the week of March 22, 2016, that caused city-hotel prices to spike?
The bottom line: The city hotel, in Lisbon, predictably shows much less price variability than the resort hotel, in the Algarve.
8. The rich get richer
Congratulations to Tom Vilsack, the former governor of Iowa, for winning $150,000 in his state's lottery.
9. Building of the week: The Phil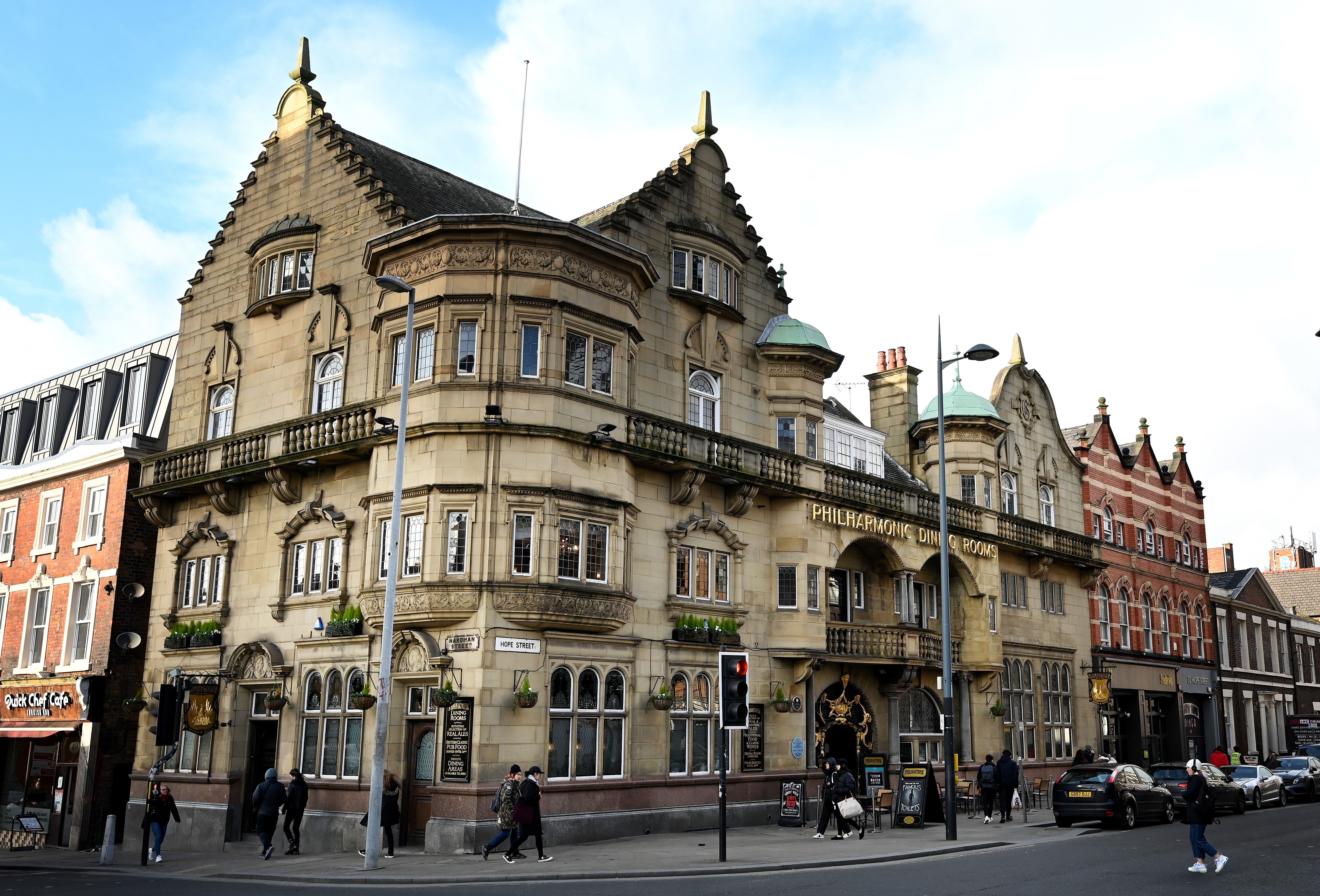 Liverpool's Philharmonic Dining Rooms pub, built in 1898 by architect Walter Thomas, is a particularly grand and exuberant watering hole. It also has "spectacular loos."
Take it away Wikipedia:
"Its external features include a variety of windows, most with mullions, and some with elaborate architraves, a two-storey oriel window at the junction of the streets, stepped gables, turrets with ogee domes, a balustraded parapet above the second storey, a serpentine balcony (also balustraded) above the main entrance in Hope Street, and a low relief sculpture of musicians and musical instruments. The main entrance contains metal gates in Art Nouveau style."
Fun fact: "The Phil," as it's known, has now achieved Grade I listed status, in the wake of hosting a Paul McCartney concert for "Carpool Karaoke."