August 15, 2022
🚨 Monday, we're bringing you in for questions.
The weekend is missing and we think you might be involved.
High of 79 with a chance for rain.
Today's Smart Brevity™ count is 734 words, a 3-minute read.
1 big thing: Iowa could forfeit rent assistance
Iowa has yet to spend nearly $80 million of federal emergency rent assistance it received in late 2020, according to the National Low Income Housing Coalition (NLIHC).
Why it matters: Millions of dollars could be forfeited if it's not allocated by Sept. 30.
Catch up fast: Iowa received just over $195 million in the first round of funding from the Emergency Rental Assistance program.
Context: Iowa has struggled to spend the money and was granted federal permission to reallocate $65 million to Polk and Linn Counties earlier this year.
Of the remaining $130M, less than 45% has been appropriated — among the lowest percentages in the nation, according to the NLIHC.
Between the lines: Bureaucracy is making the state's work tricky, Iowa Finance Authority (IFA) director Debi Durham told the Register last year.
The agency distributes the state's portion to the areas outside of Polk and Linn and has been stymied by technical and regulatory issues, she said.
Meanwhile, Polk and Des Moines have used the nonprofit group IMPACT to manage its allocations and, unlike the state, allows the money to be used for future rent payments.
Its allotments will be used before the spending deadlines, IMPACT's director Anne Bacon told Axios last week.
State of play: A second round of allocations — commonly known as ERA2 — provides Iowa with just over $149 million.
Yes, but: The spending deadline for that chunk is in 2025.
The latest: Some of the state's on-deadline spending might qualify to help pay for housing projects that benefit low-income families, Polk County Supervisor's Chairperson Angela Connolly tells Axios.
Of note: IFA is accepting rent and utility assistance applications for its program through Aug. 30.
2. 🚧 An Army Post roundabout
Des Moines wants to build a roundabout at the intersection of Army Post Road and Southeast 36th Street. It's asking the state for a grant to complete the $2.5 million project.
Why it matters: Army Post is one of the busiest roadways on DSM's south side.
The roundabout would slow the speed limit at the intersection from 55 to 20 mph.
Catch up fast: There are lots of new homes in that area of the city and traffic is getting heavier.
The intersection was flagged in a DSM traffic study two years ago because of speeding and safety concerns.
Driving the news: The project is tentatively scheduled to begin during the fiscal year that starts in July 2024.
The city has agreed to seek an Iowa Department of Transportation grant that could pay for as much as $500,000.
3. The Ear: These roots are made for stalking
💰 Executives at Dotdash Meredith said they don't expect to reach their revenue goals this year as advertisers pull back their spending. (Des Moines Register)
🍪 Don't want to go to the fair, but you're craving the food? Local restaurants are offering their own fair tastes, like pretzel poutine at Mulberry Street Tavern. (dsm Magazine)
🐘 Former Vice President Mike Pence is campaigning for fellow Republicans at the Iowa State Fair this weekend. (WHO-13)
🛒 Fareway is buying the Brick Street Market & Cafe in Bondurant from the former lottery winners who opened it in 2014 to serve their community. (WHO-13)
🐷 Iowa's Big Boar competition was scarce this year as feed costs soar. But the winning pig thrived on stale doughnuts instead. (Iowa Capital Dispatch)
4. 🎲 Roll the dice with Winterset-opoly
Step aside, Catan — the best board game in all the land comes from the good ol' birthplace of John Wayne.
Driving the news: After playing a rousing game of cornhole at Hinterland, Linh was gifted "Winterset-opoly" by the Madison County Chamber of Commerce.
What's inside: If you want to be the big wig of the town, this game has everything you need.
Stake your claim at Winterset Dental or The Madisonian for $220. Heck, Spoons Full of Sugar is only $200.
The bottom line: Jail isn't so bad here.
Get caught speeding and you'll end up in the original Madison County Jail, which looks like a pretty comfy three-bed, two-bath home, according to Zillow.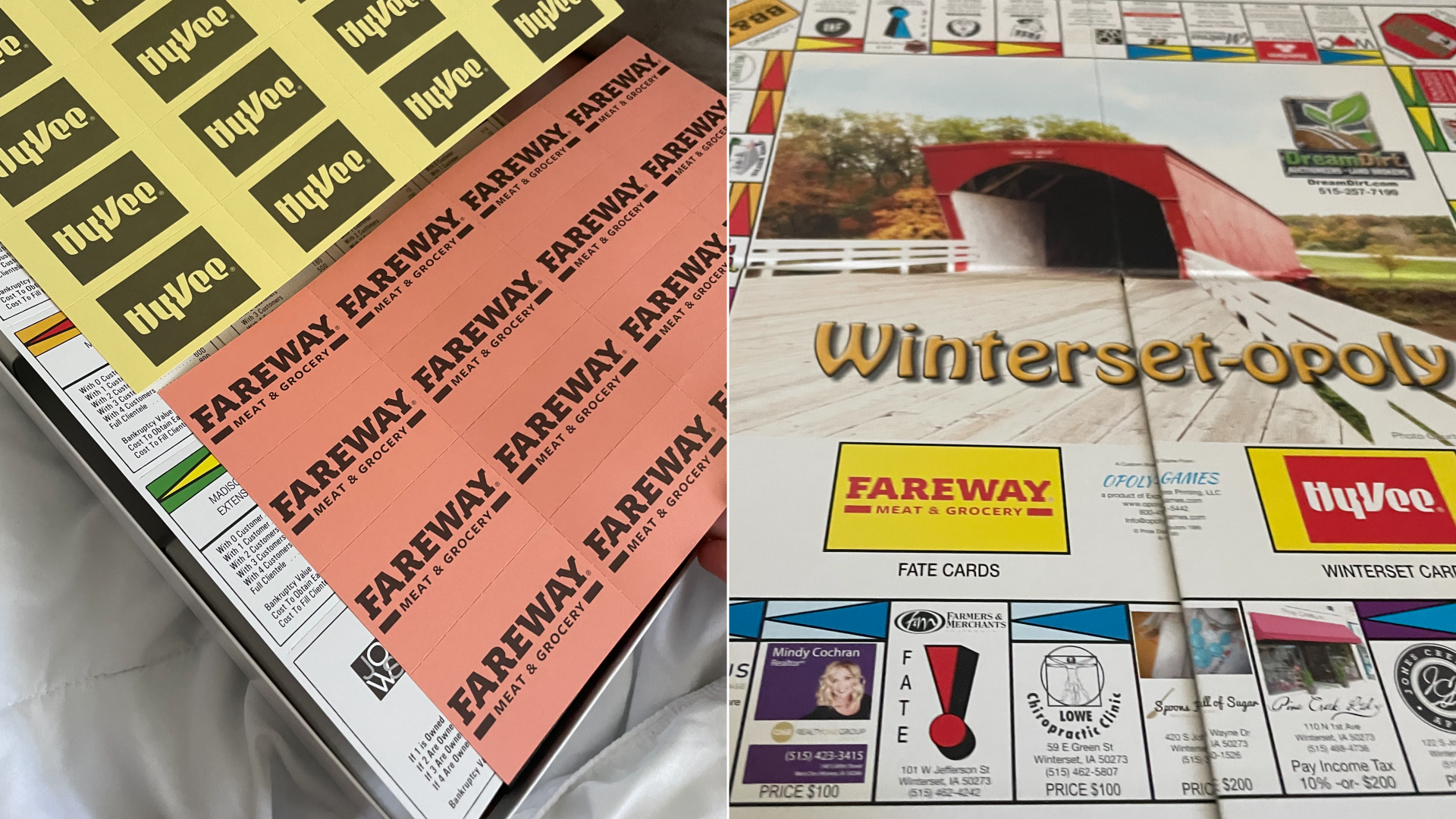 Now hiring: New job openings
5. 👎 New fair food: Deep-fried queso burger
The deep-fried queso burger has beef chips mixed into what appears to be Cheese Whiz that is batter-dipped and fried.
It came with a side of cheese for dipping. ($8)
Jason's thought bubble: It tasted like Hamburger Helper wrapped in corn dog batter.
This year is its fair debut and it should also be its farewell.
🧈 Butter ranking: one stick = ick; five = don't miss it
Aesthetics: 🧈🧈
Creativity: 🧈🧈
Overall taste: 🧈
Try it: Waffle Bombs, southwest of the administration building.