February 01, 2023
It's Wednesday, and the start of Black History Month!
🌤 Today's weather: Decreasing clouds and a high of 40.
📍 Situational awareness: While you were asleep, D.C. snapped its snow drought with a light coating. About 0.4'' was reported near Dulles Airport.
Today's newsletter is 970 words — a 4-minute read.
1 big thing — Scoop: 🚨Biden's statehood snub
👋🏼 Cuneyt here, back with Town Talker — my column on politics and power.
President Biden appears to be snubbing D.C.'s "End Taxation Without Representation" license plates.
A review of videos and photos of The Beast show Biden has been rolling without the motto, which is the default on D.C. tags.
Why it matters: The 672,000 residents of the nation's capital have long sought the solidarity of 1600 Pennsylvania, symbolic or otherwise.
Bill Clinton used the plates late in his term. George W. Bush removed them.
D.C. Council members petitioned Barack Obama to bring the tags back, which he ultimately did in 2013. The Trump White House spiked them in 2018.
The big picture: Biden's snub adds insult to injury for hometown D.C. Even though he supports statehood, local leaders have real gripes simmering with the prez.
For one, Biden has declined to order hundreds of thousands of federal workers back to the office full-time — the number-one ask of Mayor Bowser and inside-the-Beltway business heavies who believe a return to the office will resuscitate downtown's zombie economy.
The president was also no help removing a federal block on D.C. legalizing recreational weed sales when Democrats controlled Congress. That meant the District lost a giant chance to unlock a new revenue driver at a critical time.
🔎 Hiding in plain sight: I reviewed over a dozen photos and video clips spanning from early 2021 through this month. And I didn't see the protest tags on either The Beast or a presidential Chevy Suburban that POTUS uses on trips around the globe.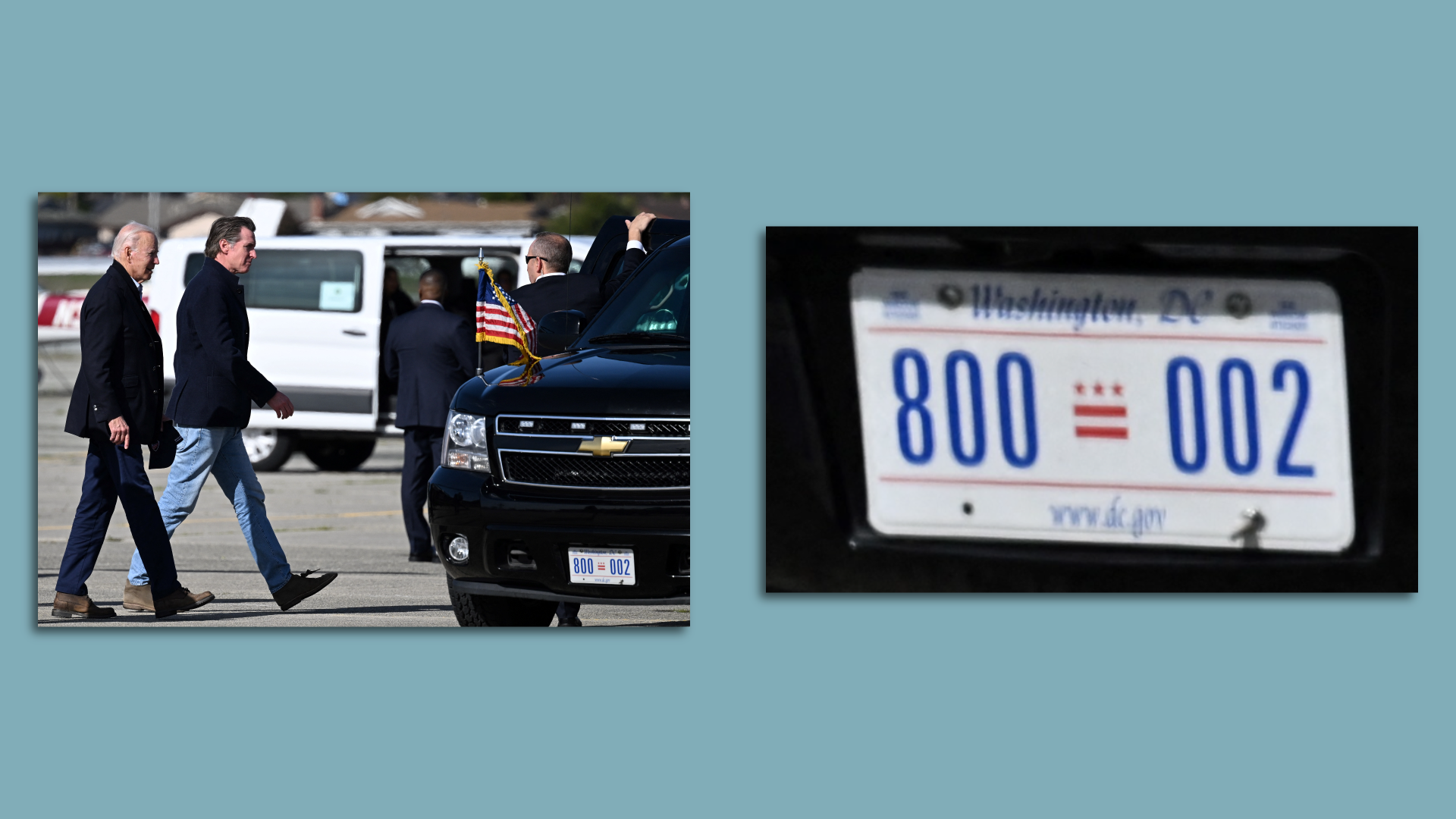 Flashback: You might recall that on Inauguration Day in 2021, Biden's limo sported a spiffy blue license plate that did say "Taxation Without Representation."
The other side: The White House did not respond to numerous emails and phone calls seeking comment.
2. Arrest in Karon Blake shooting
A D.C. Parks and Recreation employee was charged yesterday with second-degree murder while armed in the shooting of 13-year-old Karon Blake.
Why it matters: The arrest comes after weeks of anger and unrest among Brookland residents, who had pressed police to identify the shooter, and police urging patience as online sleuths waged a campaign to out him.
What's happening: Jason Lewis, 41, surrendered yesterday morning and is being held in jail without bond.
Details: D.C. police allege that Lewis shot and killed Blake on Jan. 7 on Quincy Street NE, across the street from Brookland Middle School. 
According to the arrest warrant, Lewis told police he awoke just before 4am to noises, grabbed his gun, and went outside. He said he saw a small group of youths who he thought were breaking into cars. 
Camera footage reviewed by police showed the kids using flashlights to peer into cars, the warrant says. After Lewis shouted "hey," one of the kids fled toward a "getaway car," according to the warrant. Blake, meanwhile, ran in front of Lewis' house. 
"I'm sorry," "I am a kid," and "I am only 12," Blake yelled several times as Lewis fired at him, according to the warrant. Blake was unarmed. 
The other side: "Once all the facts are heard, I believe that a jury will find that there was no crime here," Lewis' lawyer Lee Smith III told DCist in a statement. "Mr. Lewis has dedicated his career to mentoring and supporting youth in the District of Columbia, which only adds to how distraught he is over the death of Karon Blake." 
What's next: Lewis' concealed-carry permit will be revoked and police will take possession of his guns, D.C. police chief Robert Contee said yesterday. Contee also asked that the young people with Blake that night come forward. 
3. Around the Beltway: Golden zip codes
🏡 D.C.-area sellers saw their largest home sale profits on record last year. The 20015 (Chevy Chase D.C., Barnaby Woods) and 20016 (Spring Valley, AU Park) zip codes saw the largest gains – average profits exceeded $450,000. (UrbanTurf)
🌮 Falls Church-based taco restaurant La Tingeria, which just landed on Washingtonian's top 100 restaurants list, is opening its first D.C. location, plus additional NoVa outposts. In D.C., the halal tacos will be served at a new concession stand at Audi Field starting on Feb. 19. (DCist)
🎸 Gen-Z U.S. Rep. Maxwell Frost is making his way around our music scene and wants to organize a music festival at the Capitol. (Washingtonian) 
🎮 Virtual reality gaming center Sandbox VR is coming to Tysons this summer. It'll have four private rooms where up to six people can play immersive VR games. (Washington Business Journal)
🎲 Virginia lawmakers nixed legislation that could've put a casino within a quarter-mile of the Silver Line in Fairfax County. (Washington Business Journal)
4. 📗 Then/now: Our Green Book stops
In celebration of Black History Month, we wanted to find out what happened to D.C. sites listed in the "Negro Motorist Green-Book." From the 1930s through the mid-1960s the guides served as encyclopedias of businesses and resources across the country that welcomed Black travelers.
We'll highlight a few sites throughout February.
Why it matters: Traveling while Black has long been dangerous in America. Green Books made it safer to be on the road, including in northern states where it was harder to decipher which places were off-limits to Black visitors.
📍This week's stop: Whitelaw Hotel, 1839 13th St. NW  
Then: The apartment-hotel on D.C.'s Black Broadway, as 14th and U was then known, was built in 1919. It doubled as a home for Washingtonians and as short-term accommodations for celebrities including Duke Ellington. 
In its heyday, the Whitelaw was a point of pride for Black residents (some purchased shares in the hotel) who could enter through the front door, as opposed to coming through the back.
Now: The Whitelaw deteriorated in the wake of Martin Luther King Jr.'s assassination and rioting that gripped the neighborhood. It was restored in the early '90s. 
🎤 Wolf Trap has released its summer lineup, which includes John Legend, Charlie Puth, Brandi Carlile, Babyface, Sting, and over a dozen others.
Today's newsletter was edited by Kristen Hinman and copyedited by Patricia Guadalupe.