Axios Communicators
February 02, 2023
Welcome back!
🔮Axios is hosting our second annual What's Next Summit on March 29 in Washington, D.C. Request an invite here.
Today's newsletter is 1,280 words, a 5-minute read.
1 big thing: Heritage Month messaging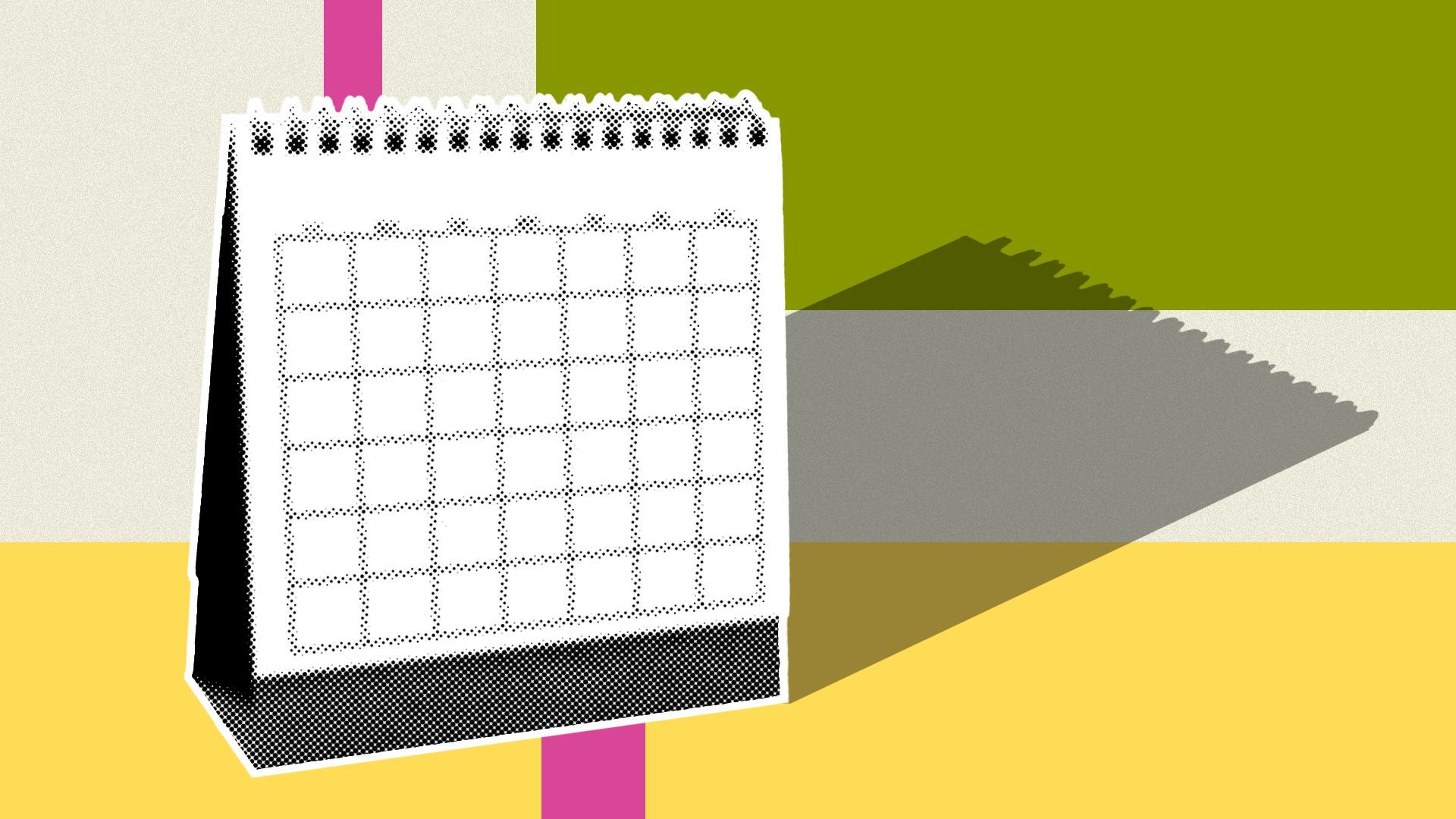 February's Black History Month kicks off a series of heritage months, and it has become common practice for companies and brands to honor such cultural recognitions with statements, content campaigns and logo rebrands.
Yes, but: What a company shares externally has to match what it's doing to uplift and support the community it's claiming to celebrate.
Why it matters: When internal and external campaigns aren't rooted in action, these cultural observances can come across as inauthentic at best and tone-deaf at worst.
What they're saying: "Externally, companies should share meaningful messages about the holiday in connection to their business and industry," Ella Washington, professor of the practice at Georgetown University's McDonough School of Business, told Axios.
"These holidays are also an opportunity to engage and invest in different communities."
State of play: Brand campaigns from Walmart, Pepsico and the NFL have missed the mark in recent years, likely because there weren't many diverse thought partners in the room, Abenaa Hayes, CEO of Elysee Consulting, told Axios.
"You'd be surprised how often companies who've made strong diversity, equity and inclusion (DEI) commitments fall flat around these months because they lean into brand campaigns for 'likes' and 'reach' instead of being truly reflective of the corporate brand," says Hayes.
Zoom in: When it comes to communicating with employees during cultural heritage months, Amaris Jones — founder and CEO of strategic communications consultancy AmarisWorks — suggests the following:
Share progress on existing DEI goals. This demonstrates transparency, sets accountability and fosters collaboration toward achieving the goals.
Spotlight your people. This helps to personalize the work and gives employees the chance to celebrate and learn from their peers.
Give back. Encourage participation in employee resource groups, provide tangible ways to further corporate DEI goals and share community outreach and volunteer opportunities.
🥊 Reality check: For heritage month campaigns to be effective, internal and external audiences must see the company support, celebrate and honor diverse communities all year long.
"Heritage months might be where you start or pick up the pace, but it's definitely not where you stop," says Jones.
The bottom line: Honoring cultural diversity requires more than corporate statements during a designated monthlong period. There must be intention and action behind these celebratory campaigns.
2. The shift toward silence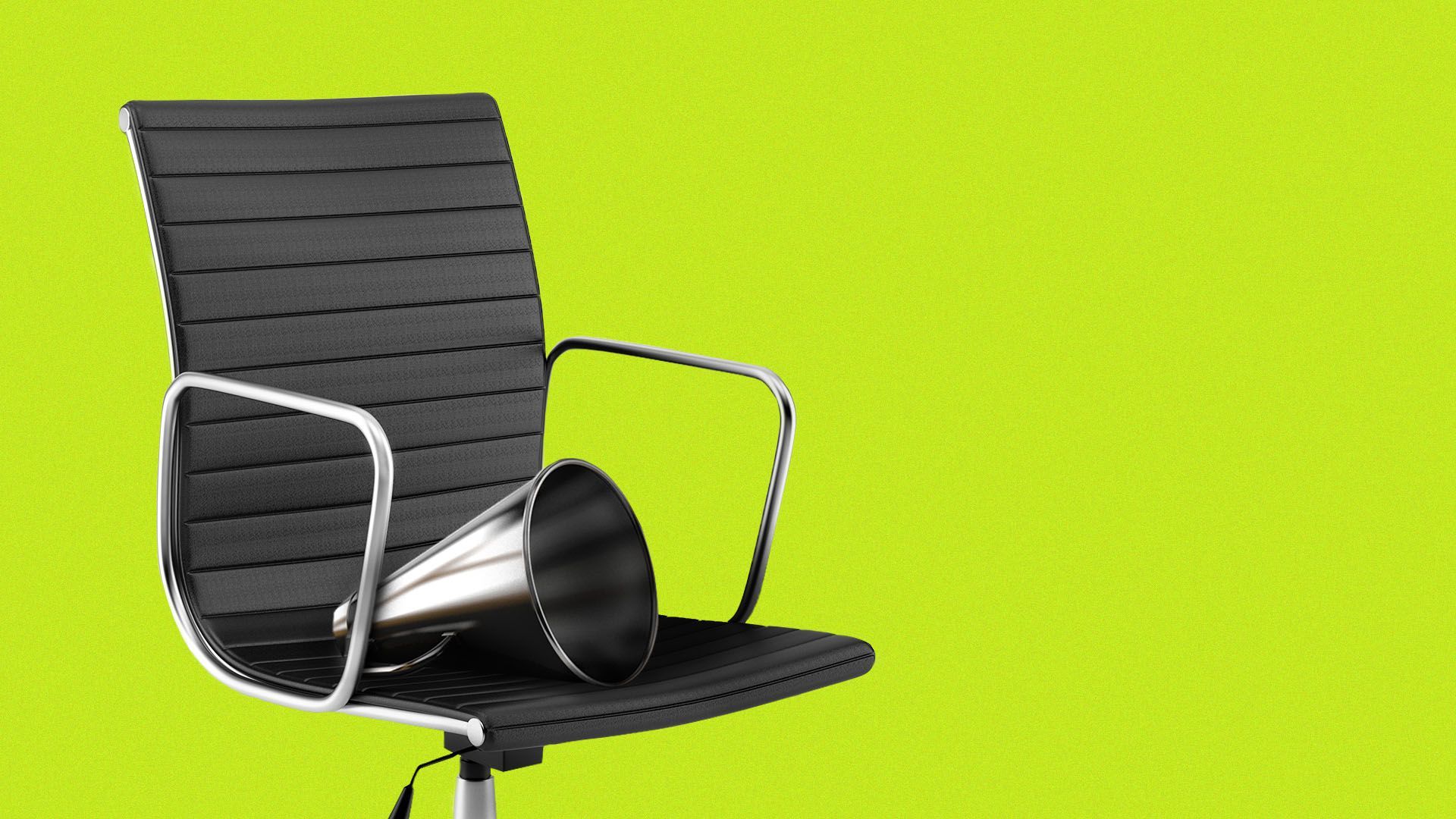 Companies that were once very vocal on human rights and societal issues have held statements close to the vest or stayed completely silent following the recent streak of tragedies in America.
Why it matters: This is a major shift in the way leaders communicate during heightened moments of crisis. Most have now opted for internal correspondence in place of public pledges — and some are saying nothing at all.
State of play: In 2020, after the murder of George Floyd, executives from Dell Technologies, Merck and Ford made statements slamming police brutality.
However, when asked how the leaders were responding to the fatal police beating of Tyre Nichols, reps from all three companies declined to comment.
The CEO Action for Diversity & Inclusion — which consists of 2,400 CEOs who publicly "pledged to create more inclusive cultures while not being afraid of having difficult conversations about diversity, equity and inclusion" — also provided "no comment."
The Business Roundtable, a coalition of CEOs from America's top companies, previously pushed for comprehensive police reform and in 2020 stated, "Corporate America cannot sit this one out."
What they're saying, now: "We are disturbed by the brutality Mr. Nichols suffered and express our condolences to his family and community, and communities across the country grappling with senseless violence," a Business Roundtable spokesperson told Axios. "We commend state and local authorities for their swift action toward justice."
Between the lines: There's no public call to action, plan to reignite reform and certainly no funding commitments. There is, however, continued internal communications offering support and mental health resources for employees.
Experts point to a few reasons for this shift.
Power dynamics. Companies are not facing public and internal pressure to make external statements. "They felt pressured to speak up in 2020 because their employees had a lot of power. Now, not," one DEI consultant told Axios' Emily Peck.
Economic uncertainty. The tech industry — which was previously out front on many of these issues — is now going through massive cuts and is focused on staying afloat, not wading in. Plus, many tech companies have gutted their DEI departments in response to economic strains.
ESG pushback. Recent pushback from activist investors and legislators at the state and federal levels have caused businesses to become more skittish on ESG initiatives.
Fatigue. "There's a sensitivity to not making a statement every time something happens," Paul Washington, executive director of the ESG Center at the Conference Board told Emily. Companies don't want to get into the routine for fear of being asked, 'Why did you say something about that, but not this?'
Reality check: Corporate silence could crater civil discourse.
As trust in government erodes, "business is the sole institution seen as competent and ethical," Edelman CEO Richard Edelman says, and "societal leadership is now a core function of business."
The bottom line: Whether it's due to the economic climate, hopelessness, numbness or defiance, the pendulum is resetting when it comes to how and when a company, brand or leader responds to outside events or national crises.
3. FedEx addresses the fatal police beating of employee Tyre Nichols
FedEx relied on internal communications following the released video footage of Memphis police fatally beating FedEx employee Tyre Nichols.
Driving the news: In the memo, which can be found on the company website, chief people officer Tracy Brightman acknowledged that the community is grieving and "committed to helping [Memphis] be better."
Flashback: After the murder of George Floyd in 2020, then-CEO Frederick W. Smith and then-president (now CEO) Raj Subramaniam issued a statement calling for a more "just" society and "meaningful change."
Both comms offered compassion but failed to explain how FedEx — which has a market cap of roughly $46.5 billion and outsized influence and impact in the Memphis community — will encourage change.
Between the lines: FedEx seemingly took a more guarded approach following the death of Nichols, even though their community was directly impacted.
FedEx's latest note was shorter and less substantive than the communications sent following the death of George Floyd.
There was also a change in messenger. The latest note came from their chief people officer, while in 2020, the CEO signed it.
"Racism" was mentioned once in the 2020 note, and the words "police," "brutality," "systemic" and "civil rights" were missing in both communications.

This omission is noteworthy, as a substantial portion of the FedEx workforce shares similar demographics to Nichols — 30.2% are Black and 34% are under the age of 30, according to FedEx's latest ESG report.
💭 Our thought bubble: These are some of the most difficult statements comms teams will ever have to issue. Communicators often have to serve as both a moral compass and business strategist when advising — or even pushing — leaders to respond to crises. It's a hard, emotionally taxing job.
And while it's commendable that FedEx reached out to its employees, the experts we spoke with were flummoxed by what read as a boilerplate response, and many viewed it as a missed opportunity for FedEx to unite and lead.
4. Re-up: Reaction flow chart
Shortly after launching Axios Communicators, we published this flow chart to serve as a framework for how companies, brands and employers were reacting to outside crises and hot-button issues.
5. 1 powerful post to-go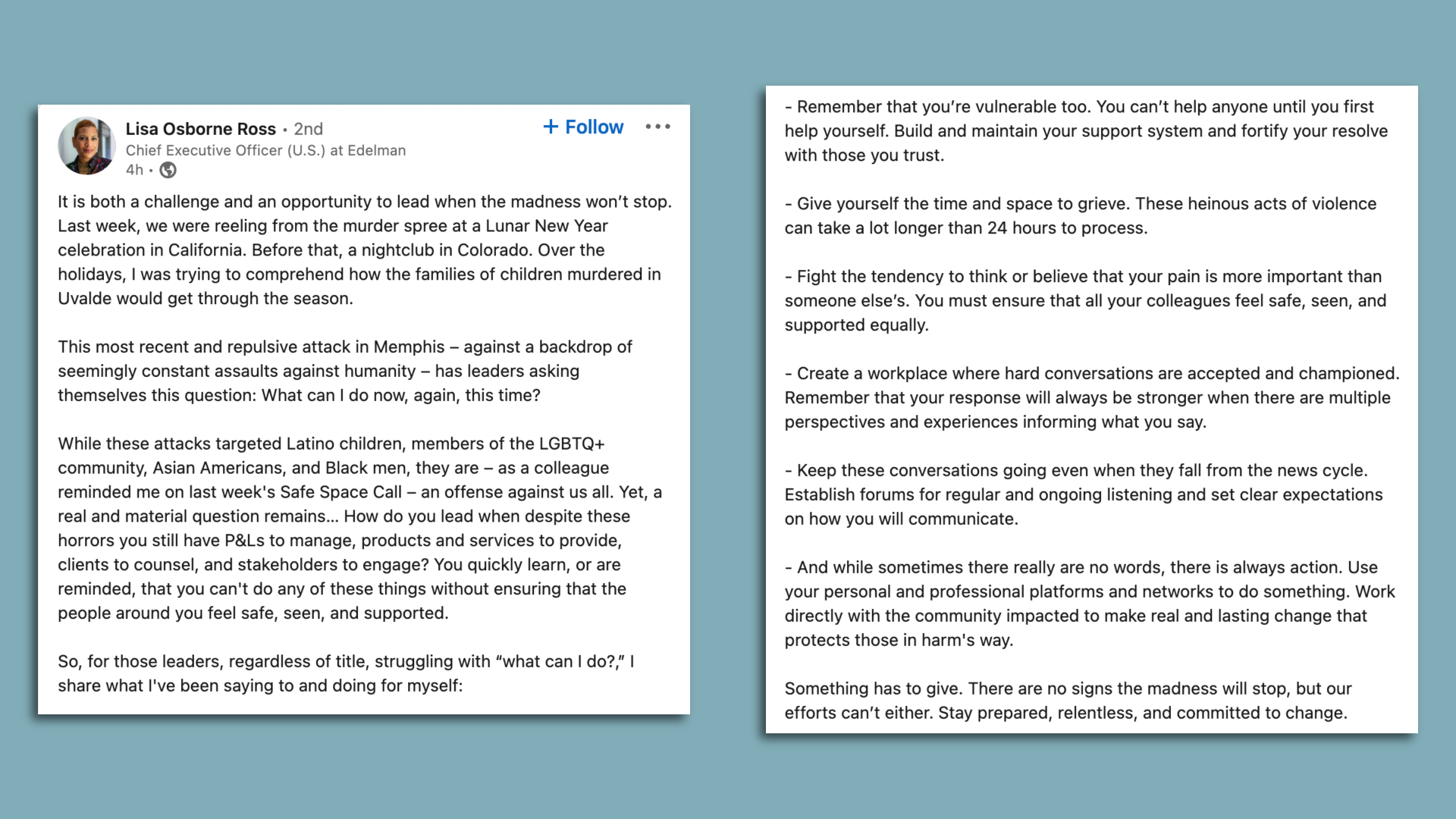 Employees want to hear from their leaders during tough times, and executives can support these needs without getting political.
Edelman U.S. CEO Lisa Osborne Ross shows how it's done.
✍🏼 Have you written or received an inspiring (or head-scratching) exec note? Send it my way.
✅ Thanks to editor Nicholas Johnston and copy editor Kathie Bozanich who make Axios Communicators possible each week.
Encourage your friends and colleagues to subscribe.