November 24, 2021
🦃 Happy Thanksgiving Eve!
We're taking the next few days off and will be back with you on Monday morning.
🌧 Today's weather: High of 49, low of 41. Lots of rain on Thanksgiving.
🕎 Situational awareness: Hanukkah begins Sunday. Chabad Columbus has planned eight nights of fun, kicking off with a skydiving Maccabee and a chocolate turkey dreidel drop.
Today's newsletter is 745 words — a 3-minute read.
🏈 1 big thing: Buckeyes head to the state up north
Every Ohio State-Michigan football game is a huge deal, but this year the stakes are truly monumental.
Why it matters: A year after the pandemic canceled the 2020 rivalry game, this Saturday's contest in Ann Arbor will have major postseason implications for both schools.
State of play: The Buckeyes and Wolverines each enter with an impressive 10-1 record and a shot at reaching the College Football Playoff (CFP).
They're ranked No. 2 and 6 respectively in the latest AP Top 25 poll as well as No. 2 and 5 respectively in this week's CFP rankings.
Lightning preview: OSU has been powered by a high octane offense that leads the nation in scoring.
Freshman quarterback C.J. Stroud has overcome early doubts to develop into a Heisman Trophy candidate.
The other side: The Wolverine offense is capable of putting up big rushing numbers, but Michigan has been especially dominant on the defensive end — holding opponents to fewer than 20 points in nine of the team's 11 games this season.
The stakes: Saturday's winner heads to the Big Ten championship game and would be favored to win the conference title and a playoff berth.
The loser would have two losses and fall out of playoff contention.
The big picture: This rivalry has been particularly one-sided in recent years.
OSU has won the last eight contests and 15 of the last 16.
The Buckeyes have outscored Michigan 331-216 in those eight victories.
👋 Everett, editor for Axios Local, here. As a Michigan grad, falls have recently not been all that fun. This year is an exception, but even then, the threat of The Game looms.
So while this is my favorite Michigan team in about a decade, one that's the best reflection of coach Jim Harbaugh, I also live with the knowledge that some of the worst Saturdays of my adult life are a result of this rivalry game.
It's hard to get hopes up, but that's the beauty of college football. Go Blue and whatnot. Miracles do happen.
Yesterday, we asked readers to predict the game score. Here are a few guesses:
Matt S.: OSU 49, Michigan 21
John R.: Michigan 32, OSU 28
Tammy D.: OSU 18, Michigan 17
📬 Hit reply and send us your predictions.
The subscriber with the closest guess wins some Axios swag!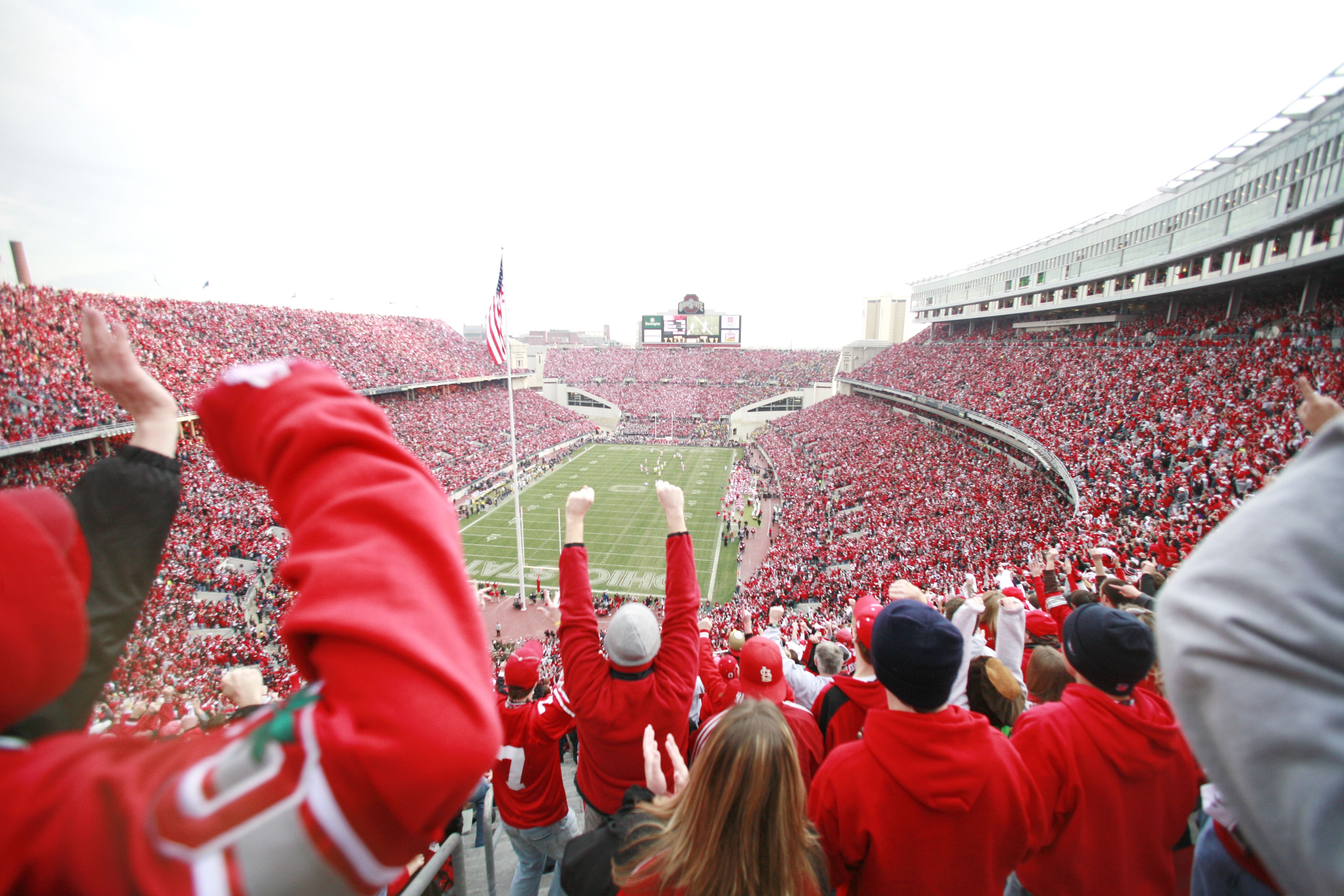 2. 🎄 The best time for Christmastime
While many Christmas celebrations in central Ohio kicked off last weekend, it appears our readers mostly like to keep their holidays separate.
Your take: A majority of you won't be putting up Christmas trees until after the Thanksgiving dinner table has been cleared, according to our very scientific survey.
Our take: Alissa is a purist, so there's no way her tree is coming out before Black Friday — and she appreciates that most of you agree.
Tyler, meanwhile, joins the nearly 19% of you who put up your trees in November before turkey day.
🙏 Thank you to the 215 subscribers who participated in our survey!
3. Nutshells: Crack open these news clips
📍 An organization tied to former Attorney General Eric Holder has filed a lawsuit contesting the new Ohio congressional map. (The Columbus Dispatch)
🍨 CrepeStop, a new restaurant on Bethel Road, serves up a variety of crepes and booza, a Middle Eastern ice cream. (614 Magazine)
🏈 A former official at the Ohio High School Athletic Association says his concerns about Ohio football programs were ignored prior to the now-infamous Bishop Sycamore saga. (Columbus Monthly)
4. The cost of Thanksgiving
Putting together a traditional Thanksgiving meal will cost about 14% more this year than it did in 2020, Axios' Sarah Grillo and Will Chase report.
Why it matters: Thanksgiving inflation, according to price estimates from the American Farm Bureau (AFB), is even greater than the overall increase in the cost of food.
Details: The ingredients for a "classic" Thanksgiving meal add up to $53 per the AFB, though extra meat and sides could add to that total.
Yes, but: This math is based on the quantities of food you'd need to feed 10 people. A $53 meal would still come out to less than $6 per person.
5. Bonus: Let the games begin
Looking for a way to liven up your turkey dinner? Our friends at Axios Des Moines created a 2021 Thanksgiving bingo card because in the Midwest, even familial chaos can be turned into a competition.
How it works: Each time you visit this link, a new, randomized card is generated.
Print or screenshot and share with your favorite relatives.
💭 Alissa's take: As "that person who hates stuffing," I'm not sure if I should be flattered or offended.
🏒 Tyler is headed back to Nationwide Arena tonight to see the Blue Jackets take on Winnipeg. If you see me in my Axios mask, say hi!
Score prediction for The Game: OSU 45, Michigan 27.
🙏 Alissa is thankful for all you wonderful Axios Columbus subscribers.
Score prediction: Michigan 35, OSU 28 (I always root for the underdog!)
Follow us on Twitter: @Tylerjoelb and @AlissaWidman — our DMs are always open.