November 29, 2021
Today's newsletter is 610 words, a 2-minute read.
🔔 The dashboard: The S&P 500 rose 1% — shaking off those Omicron fears (for now).
Biggest gainer? Moderna (+12%). Keep reading for more.
Biggest decliner? Merck (-5%). An analyst downgraded the stock.
1 big thing: Twitter's founderless future
Jack Dorsey is leaving Twitter — and he took a shot at founder-led companies on his way out the door.
The Twitter co-founder said in a resignation memo that hype around the importance of companies being helmed by their makers is "severely limiting and a single source of failure."
Why it matters: Conventional wisdom in Silicon Valley is that tech companies are best served when their founder retains control, Axios' Dan Primack reports.
Dorsey's pushback raises questions about the future of Square, the payments company that he co-founded in 2009 and where he remains CEO (albeit now full time).
By the numbers: Founders at half of the major social media companies have relinquished control, sometimes years after acquisitions (WhatsApp and YouTube, for instance).
But plenty of other giants are still founder-led, including Facebook (Meta), Snap and Twitch.
"I believe it's critical a company can stand on its own, free of its founder's influence or direction. ... And there aren't many founders that choose their company over their own ego," Dorsey said.
The intrigue: Dorsey leaves Twitter's board next year, wiping out all official input at the company — unlike the first time Dorsey stepped away as CEO, then became chairman.
Twitter's new chairman, Bret Taylor, is a top executive at founder-led Salesforce, Dan notes.
2. Charted: The Dorsey era
3. What's happening
Fed chair Jerome Powell weighs in on Omicron: The variant could have "downside risks to employment and economic activity and increased uncertainty for inflation." (CNBC)
The FTC has asked Walmart, Amazon and others for information about how they are navigating supply chain disruptions as the agency examines whether the snafus led to anticompetitive behavior. (WSJ)
Amazon warehouse workers in Alabama will get a redo for a vote on whether to form a union. (NPR)
4. Moderna's variant boost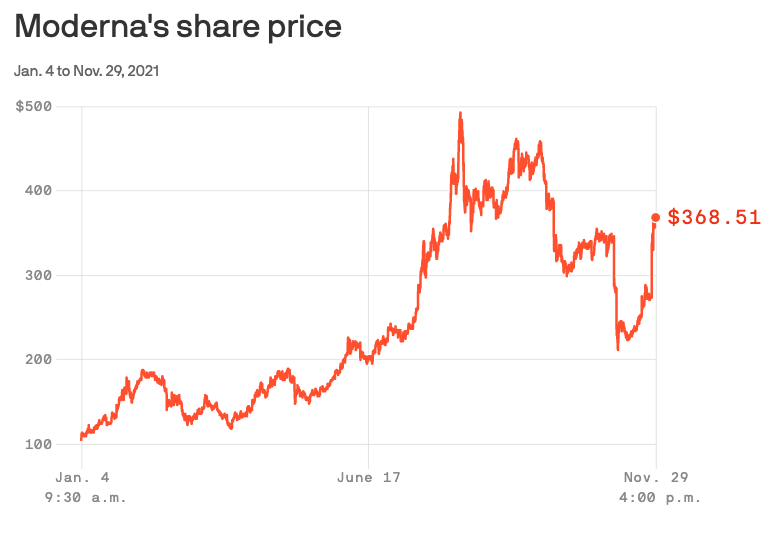 Moderna's stock soared 12% today, putting its market cap just shy of $150 billion, Axios' Bob Herman reports.
Driving the news: The Omicron variant of the coronavirus has raised a lot of questions, including whether the vaccines will remain as effective.
Experts say it'll be weeks before we know more about how infectious this strain is and how it affects the vaccines.
"We need to wait for the data to know if this is true and how much is it going down," Moderna CEO Stephane Bancel told CNBC about the company's vaccine effectiveness.
However, Moderna is working on a multivariant booster and an Omicron-specific vaccine, Bancel said.
Between the lines: Moderna's COVID-19 vaccine is the company's only approved product right now.
Consequently, every coronavirus development significantly affects the company because the vaccine is the company at this point in time.
What to watch: Whether the Biden administration will put more pressure on Moderna to share its vaccine know-how with other companies and organizations.
5. Holiday blow: Santas-for-hire dwindle
There's a holiday angle to America's labor shortage: not enough Santas.
HireSanta.com told Insider there are 1o% fewer Santas available for hire than in years past. The company says COVID-19 hit the Santa community hard — with deaths, fear of contracting the virus, and retirements walloping the supply.
The bottom line: Even if you find a would-be Santa, outfitting them may be challenging.
Doug Eberhardt, who owns Pro Santa Shop, has sold a couple of his personal suits (at a premium) because people are "so desperate," the Washington Post reports.
6. What they're saying
"Look around this room. There are people around this room who look like me. You never saw that before in fashion. The people have changed and so fashion had to."
— Virgil Abloh, a designer whose Off-White label and influence at brands like Louis Vuitton sent shockwaves through the luxury fashion industry,
to the New York Times
in 2018. Abloh, 41, died yesterday following a two-year battle with a rare cancer.