Axios Cities
October 08, 2020
Welcome back to Axios Cities, with your host Jennifer A. Kingson. I'm filling in for the excellent Kim Hart, who told me this week that she and newborn baby Jenna are doing well and that Jenna is plumping up by the day.
I told her about all the poignant notes from her devoted readers — that's you — sending her warm wishes.
I've got 2,228 words for you today, which should take 8 minutes to read. If you make it to the end, you can savor my not-at-all-eggheady riff on the etymology of place names.
1 big thing: Bringing transit back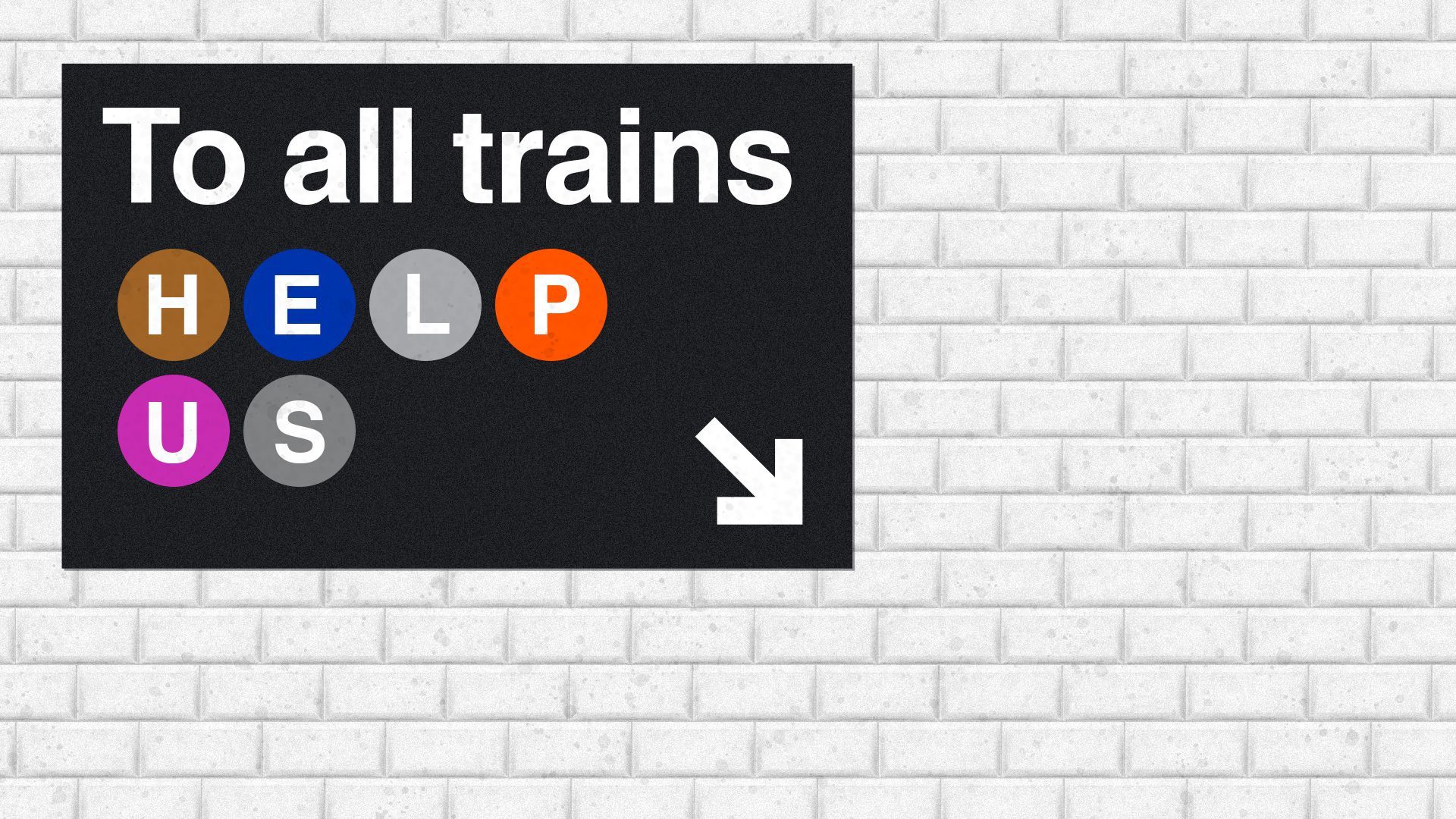 Cities urgently need to convince residents that it's safe to ride public transit — if they want to recover from the coronavirus-induced double whammy of dwindling ridership and higher fixed costs.
Why it matters: Urban transit systems are cleaner than ever, yet they suffer from public perceptions that the filth-o-meter is still in the danger zone — and that traveling in enclosed spaces (other than one's own car) is inherently parlous.
"The challenge is existential," Robert Puentes, president and CEO of the Eno Center for Transportation, a nonpartisan nonprofit, tells Axios. "Unfortunately it's less an issue of increasing ridership as it is keeping them from disappearing."
The big picture: While the CARES Act included some federal dollars for urban transportation, experts say it wasn't enough and will run out imminently, sending, for instance, the Washington (D.C.) Metropolitan Area Transit Authority to the brink as early as January.
Puentes says that commuter rails that exist to bring white-collar workers into an urban core have seen ridership plummet as much as 97%, while the overall figure for rail systems is more like 90%.
Municipal buses, which tend to carry essential workers and low-income people who don't have alternatives, have seen less of a drop — perhaps two-thirds.
Car ownership has grown more popular during the pandemic, even in unlikely places like Manhattan (where $400 a month is considered a "cheap price" for an indoor garage space).
At Zipcar, which says that each of its cars obviates the need for 13 others on the urban grid, president Tracey Zhen tells Axios that trip types have changed during the pandemic: "Before, it was people going away for the weekend. Now more of our members are using it for essential trips" like grocery runs.
Between the lines: City officials need to do a better job dispelling the myth that commuters are taking their lives into their hands on public transit, Henry Cisneros, the former mayor of San Antonio and HUD Secretary (under Bill Clinton), said at a panel discussion this week.
"As long as people are wearing masks and behaving safe — washing their hands, social distancing — it is safe to ride on mass transit," said Tom Wright, president of the Regional Plan Association, a nonprofit economic development group that serves the NYC tristate area.
Roughly 27% of the college-educated workers in New York City reside outside the five boroughs, and if they won't return to trains and buses, the city could be in big trouble, Wright said.
"The science tells us that [riding mass transit] is safe behavior, but until people feel and believe that, we've still got an uphill battle in front of us," Wright said.
What's happening: Public relations campaigns to coax people back are just beginning. For instance, the Washington, D.C. Metro has introduced individually wrapped face masks that riders can grab at stations.
The bottom line: "The wringing of hands about the future of cities is premature," Cisneros said, noting that the nation's 100 largest metropolitan statistical areas (MSAs) are home to 66% of our population, while the nation's 384 MSAs account for 85%. "We are a metro nation," he declared.
2. Where people are moving (and aren't)
A "swarm to warm" migration pattern has taken over America during the pandemic, with people (by and large) fleeing urban centers in the North in favor of greener (and less congested) pastures in the South.
Sun Belt dwellers are more likely than others to stay put.
People from early COVID hotspots have been moving — Seattle residents to Phoenix, for example, and New Yorkers to Miami and Tampa — only to see some of their new hometowns become hotspots.
How it works: Geospatial analytics company Orbital Insight used pings from people's cellphones (c0llected anonymously, with the owners' permission) to track where people were primarily using their cellphones before and after the pandemic began. The data sample size used to detect the migration patterns described in the chart above was 3,771,338.
"We're looking at persistent moves right now, not somebody that goes away for a weekend," James Crawford, CEO and founder of Orbital Insight, tells Axios. "We're looking at a cellphone that was almost always here and now it's almost always there."
Among the other trends: Migration from places with very high tax rates to places with lower rates, less density and a sigh-of-relief cost of living.
Also: "Migration from every state that touches a Great Lake down to Florida, Texas, California," says Matt Larriva, VP of research and data analytics at FCP, a privately held national real estate investment company (which commissioned the study from Orbital Insight). 
For FCP, which primarily invests in moderate-income residential housing, the findings confirmed their decision to focus on the Sun Belt and helped pinpoint target areas for a West Coast expansion.
The results have "also made us more tentative when we invest in places like Philadelphia. We might still look at deals there, but we might require a bit higher return," Larriva told me.
Tampa Mayor Jane Castor has definitely noticed the influx of new residents. "They're crossing our border every day," she told me on the phone this week. "Because it really is a great place. You know, the quality of life, the cost of living — everything about it is just absolutely wonderful."
The intrigue: There are other migration dynamics at work besides long-haul interstate moves.
People in urban areas are selling their homes and moving to more pastoral locations nearby, typically offering the property's list price (or above) and still finding themselves outbid.
In New England, buyers are selling their homes in the southern tier (Connecticut and Rhode Island) and coming up to Massachusetts, Maine and New Hampshire flush with cash, Mike Keeler, regional VP of Coldwell Banker Realty, told me.
Coldwell Banker has tracked all the "new listings" and "under agreements" in the Multiple Listing Service weekly since the pandemic began in March. In Massachusetts, for example, 2,600 residential properties went "under agreement" last week, compared with 2,300 in 2019, Keeler said. (The numbers in New Hampshire, where Keeler lives, were 466 last week vs. 300 in 2019.)
"I was talking to a broker last week, and he said he's working with three buyers who are moving out of Baltimore and moving to New Hampshire. He's never worked with three buyers from Baltimore" simultaneously before, Keeler said.
"Who would have thought that a worldwide pandemic would create the hottest real estate market that we've ever seen?" Keeler said, sounding amazed.
Bonus: Where the jobs are (and aren't)
What is it about Idaho that has put so many of its metropolitan areas in the lowest echelons for unemployment? Well, record numbers of construction jobs, for one.
"Idaho is now the least affected state in the nation for August job losses due to COVID-19 related economic disruption," KBOI-TV CBS 2 reported. "Utah was a close second."
Moreover, Idaho's tax revenues came in ahead of forecast for August, Gov. Brad Little justifiably boasted.
Details: Several places with the highest unemployment rates — like Las Vegas, Atlantic City and a trifecta of towns on Maui, Hawaii — rely heavily on tourism, which has evanesced amidst COVID-19.
Other places with high joblessness — like El Centro, in California's largely agricultural Imperial Valley — were suffering well before the pandemic.
3. Insured losses from urban riots — an update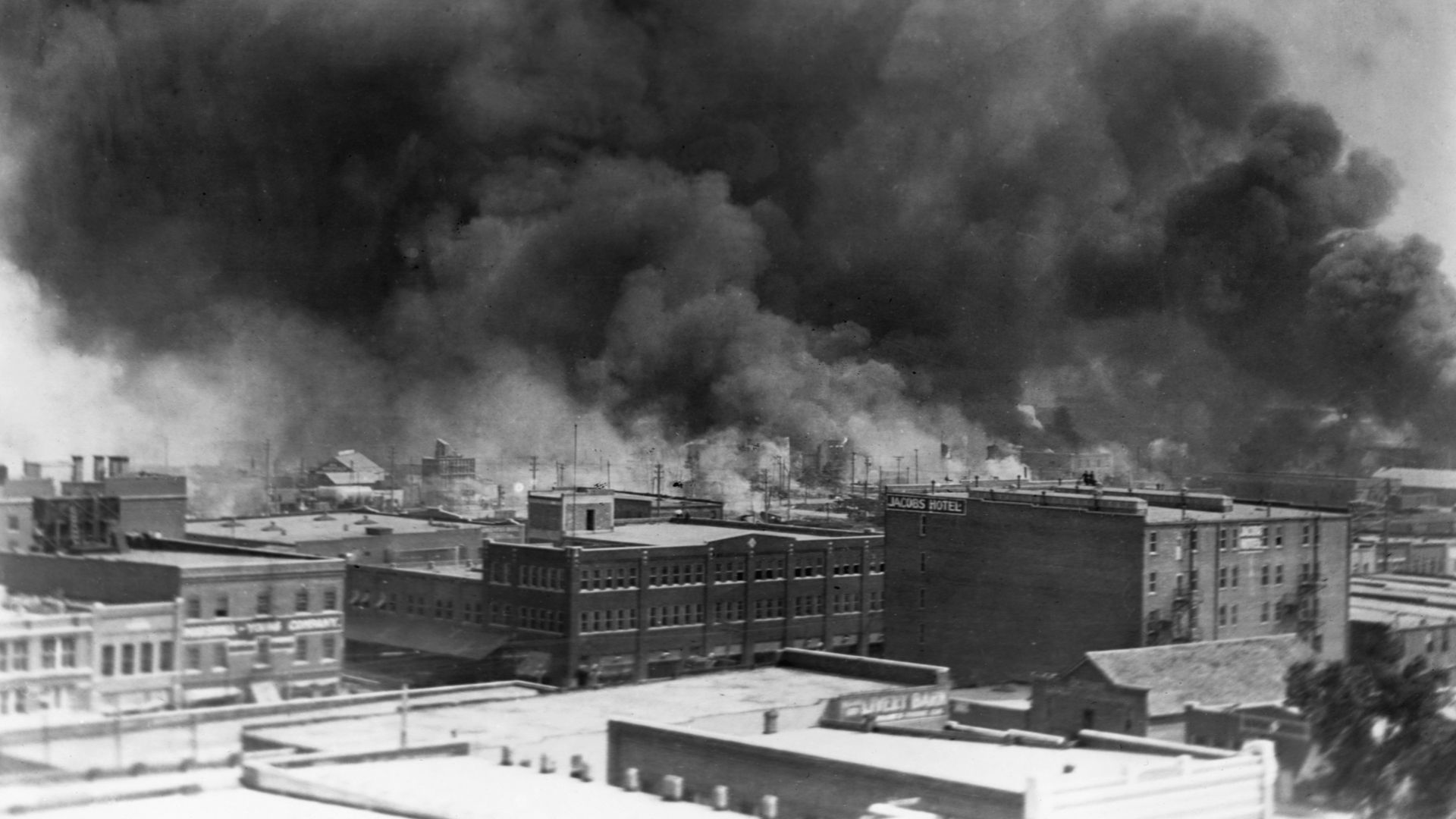 A few weeks ago, I published an exclusive saying that the vandalism, arson and looting following the death of George Floyd at the hands of the Minneapolis police will cost the insurance industry more than any other violent demonstrations in recent history — between $1 billion and $2 billion.
My story gave a list of the "top 10" insured losses from civil disorder, with #2 being the riots in Los Angeles in 1992 after the cops who brutally beat Rodney King were acquitted.
Six of the top 10 were from the 1960s.
The list was dominated by destructive episodes that were largely blamed on Black Americans.
The intrigue: After the article ran, a reader asked me how insured losses from that "top 10" list compared with those from the 1921 Tulsa Race Massacre — in which white Tulsans destroyed homes and businesses in the city's Greenwood District, then the nation's wealthiest enclave of Black Americans.
More than 35 square blocks of Greenwood — known at the time as "Black Wall Street" — were leveled.
The mob of white attackers, with support from city officials and the Tulsa police department, left 10,000 Black Tulsans homeless.
The answer is twofold: One is that a company called Property Claim Services, which compiled the top 10 list, has only collected data since 1950 — decades after the Greenwood Massacre.
The other is that while the insured losses from 1921 in Tulsa would have qualified as "catastrophic," defined as anything over $25 million, the Tulsa pogrom wouldn't have made the "top 10 list" even if had taken place after 1950.
"Estimates of property damage vary widely, from $1.5 million to several times that amount. That translates to a minimum of $25 million today and perhaps twice that. Very few insurance claims were paid because most policies excluded riot damage from coverage," per TulsaWorld.

The 10th-largest insured loss on the PCS list was $97 million that stemmed from Chicago's West Side Riots in April, 1968, in the aftermath of Martin Luther King, Jr.'s assassination.
Another reader asked that we publish the names of the 140 cities where George Floyd protests were said to have taken place. While PCS wouldn't help with this, Loretta Worters of the Insurance Information Institute referred me to this article, which lists a substantial number of them.
The bottom line: While record-setting, the insured losses from this year's non-peaceful protest activity are small compared with those from a major hurricane (like Isaias, which will cost an estimated $3 billion–$6 billion) or from California wildfires (which cost $13 billion in 2018, the last full year for which data is available).
4. Recommended reading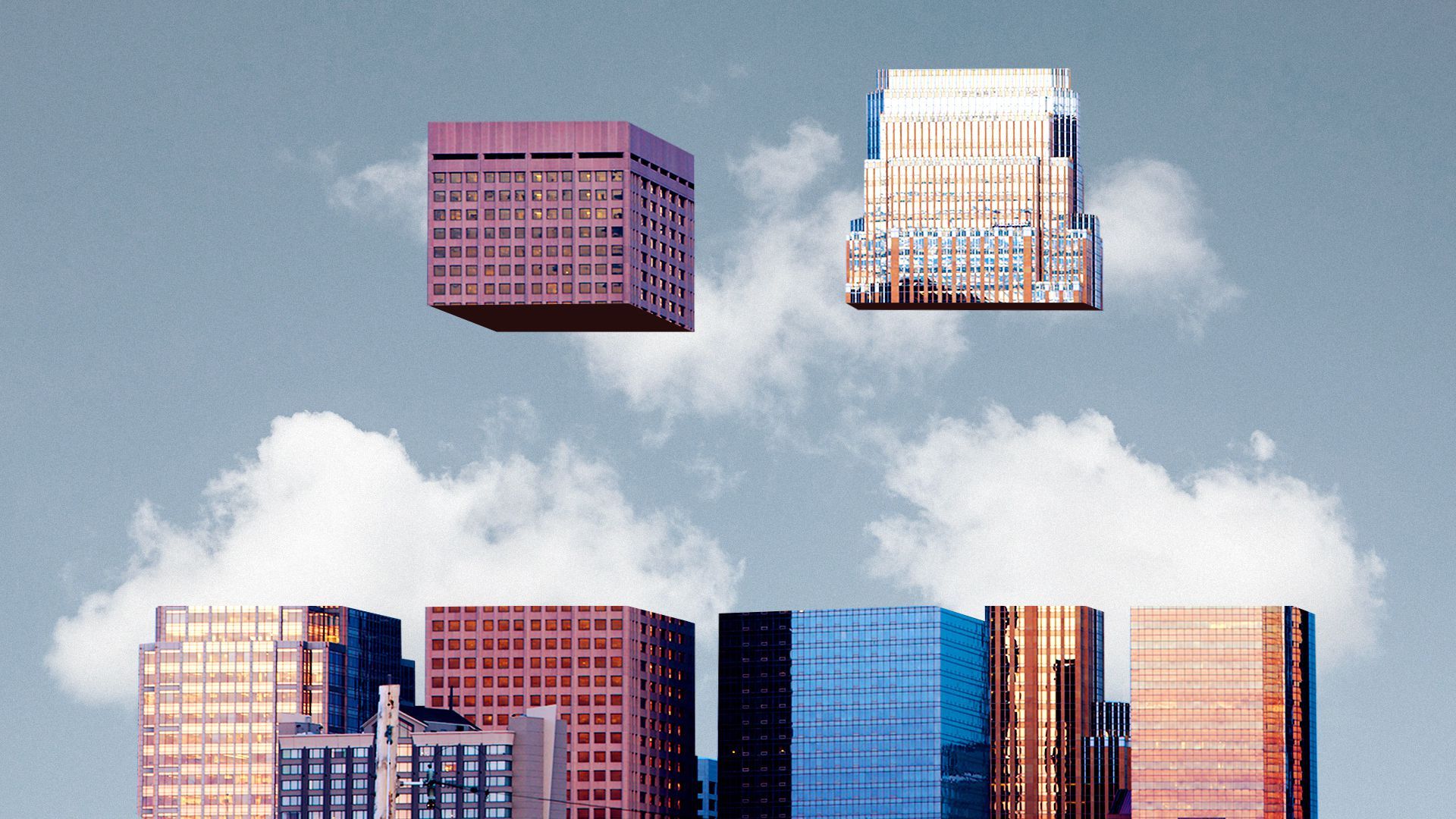 What would Biden do to Opportunity Zones? (The Real Deal)
Here's a close look at what candidate Biden has said about these Trump-era investment districts, which critics say offer tax breaks to rich developers and encourage gentrification in low-income areas. The conclusion is that a President Biden would seek to reform the Opportunity Zone program so it can "fulfill its promise," but that he wouldn't scrap it or alter it significantly.
Why New York isn't returning to work (Axios)
Americans all over the country are going back to their offices, but New Yorkers aren't. Erica Pandey looks at why only 12% of New Yorkers have returned.
San Francisco is sued for using private cameras to track protesters (Hoodline.com)
Several people who recently partook in protests against police violence allege that the San Francisco Police Department violated the city's 2019 Surveillance Technology Policy Ordinance by using a business improvement district's surveillance cameras to monitor them.
What does the editor of The New Yorker read for fun? (The New York Times)
OK, this has nothing to do with cities, but still: I thoroughly enjoyed this Q&A with David Remnick, who has led the magazine since 1998. He devours biographies of musicians (like Aretha and Elvis) and books about nature, but he can't warm up to science fiction. And he and I have lots in common! We share a taste for P.G. Wodehouse's feather-light (and veddy English) Bertie Wooster novels, and neither of us could make it through Thoreau's biographical "Walden."
5. Postscript: The joy of etymology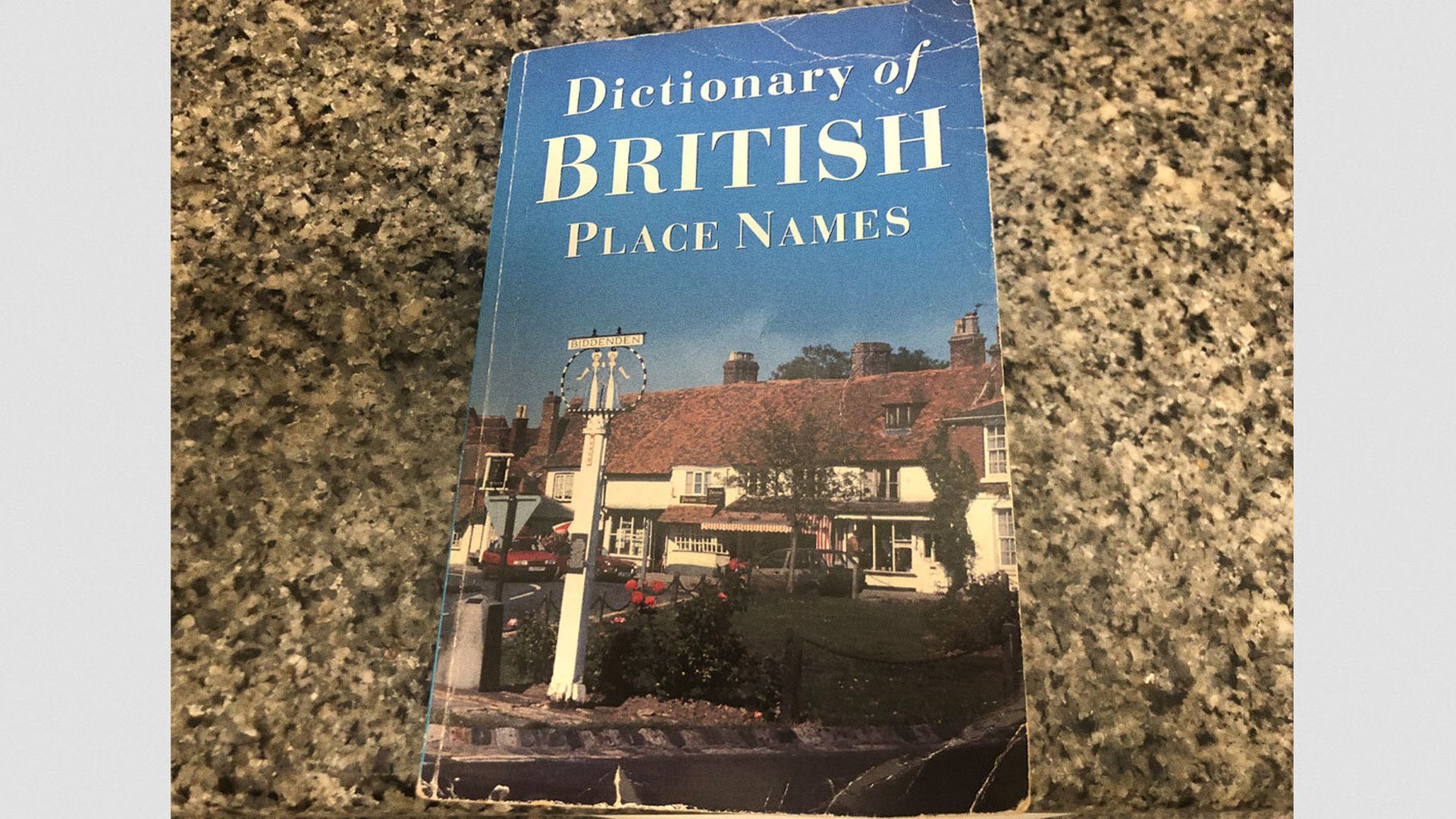 One of my favorite books is the delightfully obscure "Dictionary of British Place Names," an out-of-print 1988 tome about how every city and town in England, Wales and Ireland got its name.
Geeking out: Since a lot of these names made it over to the States, it's interesting to learn, say, that "Chelsea" has nothing to do with the sea, but rather means "chalk landing place," from the Old English "cealc" (chalk) and "hyth" (landing place); the name implies that chalk was once shipped from or unloaded there via the Thames.
Many British place names are vestiges of the various invaders who swarmed the islands' shores from one century to the next:
Names that end in "by," like Derby ("deer village") or Grimsby ("Grim's village") are relics of when Scandinavians — aka Vikings or Norsemen — started taking over in the ninth century.
Names that end in "-caster" or "-chester" are a mashup of the Old English of the Anglo-Saxons and the Latin place names bestowed by the Romans, who started their conquest in A.D. 43. The Latin word "castra," or camp, morphed into the Old English "ceaster," and one thing led to the next. (Similarly, the Roman term "strata" became "straet" in Old English).
Names that end in "ville" are a product of the Norman invasion — remember 1066 (and all that)? The Normans spoke French by the time they made it to England, so they left their mark with names like "Beaulieu" (beautiful place), "Malpas" ("bad passage") and the various "villes," most of which owe their legacy to the French word for town ("ville").
Fun fact: Nobody knows the true derivation of the ancient name "London," which was rechristened "Londinium" under Roman rule.
Literary angle: The poet William Wordsworth wrote his "Ode: Intimations of Immortality" in the Lake District town of Grasmere — which means "grassy lake" and derives its name from the Old English "mere" (lake) and the Old Norse "gres" (grass).
In 1802, the day after Wordsworth dashed off the first part of the poem, he went to visit his close friend Samuel Taylor Coleridge in nearby Keswick — which means "cheese farm" (from the Old English "cese," or cheese, and "wic," or special type of farm).
In the poem, not published till 1807, Wordsworth laments the evanescence of childhood in these achingly balletic lines: "Whither is fled the visionary gleam? / Where is it now, the glory and the dream?"
All feedback encouraged! Please write to me at [email protected], or tweet to me at @jenniferkingson.
And if you enjoy Axios Cities, please exhort a friend to sign up, here.