Welcome back! We hope you take some time off during the holidays. Don't worry — Axios Cities will still hit your inbox — but we'll be sending it the next two Tuesdays rather than Wednesdays due to the holiday calendar.
Please tell other city enthusiasts to sign up here.
Today's edition is 1,588 words, a 6-minute read.
1 big thing: Inside Uber's privacy battle with LA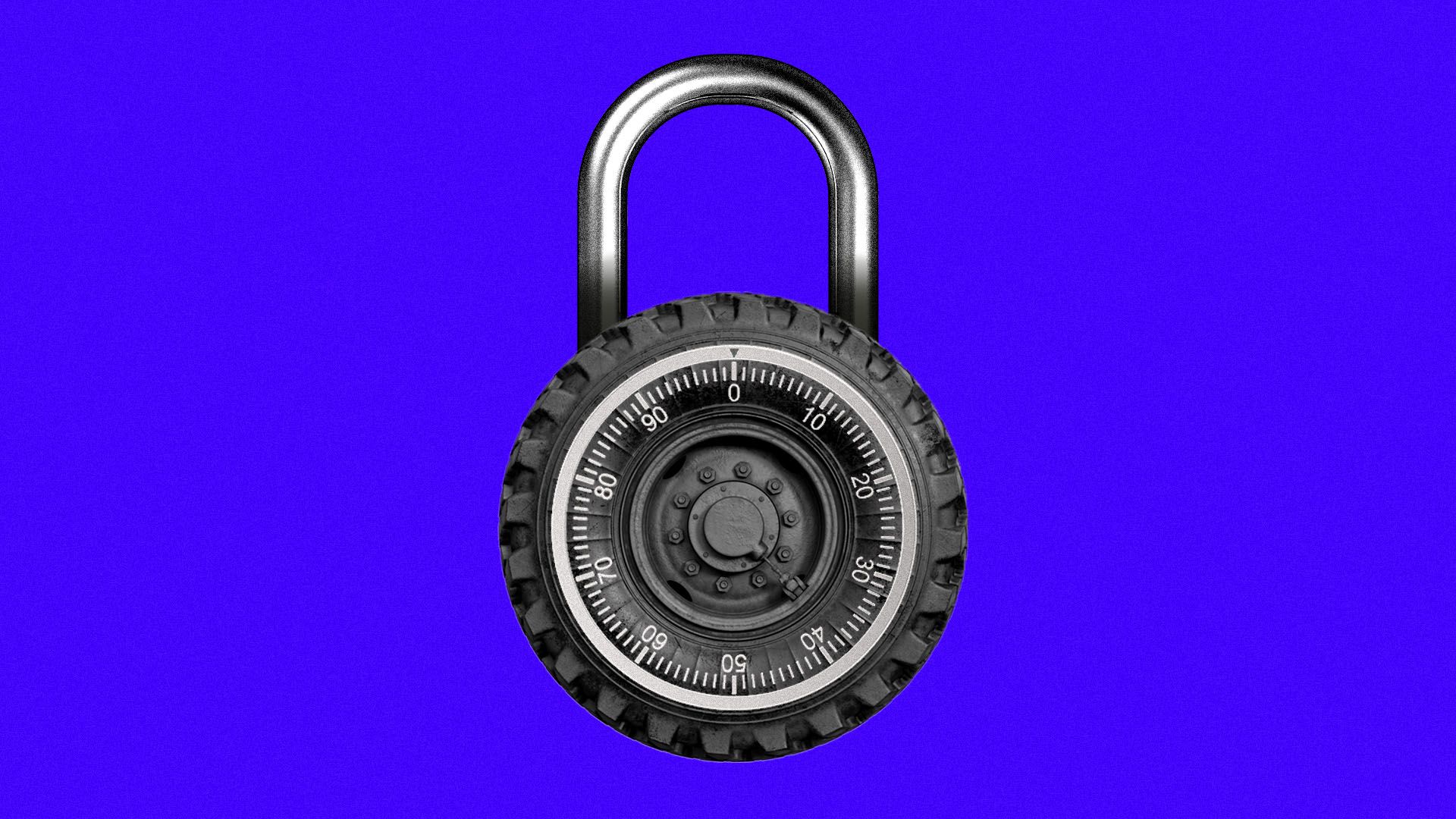 Uber is waging a battle against Los Angeles' transportation department over the city's new data-sharing requirements for scooter and bike rentals, Axios' Kia Kokalitcheva reports.
Why it matters: Uber is an unlikely champion of consumer privacy rights given its own privacy missteps, but privacy experts say LA's new standard could have a significant impact on urban transportation services and what data cities can access.
Last year, LA's Department of Transportation introduced the "mobility data specification," or MDS, a data-sharing format that can be used by a city to collect and share information with companies operating on its streets.
For example, MDS lets a city collect vehicle data from scooter and bike companies, while also sending them information like off-limit areas or street closures. The data can help cities monitor traffic patterns and assess street needs.
A number of other cities, like Austin and D.C., have adopted the open-sourced standard.
Uber has ramped up its offense, specifically taking issue with the requirement to share real-time scooter trip data.
"In terms of the data required to fulfill [LADOT's] vision, it seems like a lot of data … and we don't quite understand what the city wants to accomplish," Uttara Sivaram, Uber's head of global privacy and security policy, tells Axios.
LADOT agreed to a 24-hour delay in trip data being shared. However, Uber still has to send over location data for a trip's starting and ending points within five seconds, which it says is just as sensitive.
Between the lines: Scooters tend to be confined to certain areas in a city and riders usually walk a few feet to a few blocks to pick up the nearest one, so it doesn't provide a very full picture of users' travel behavior.
Where things stand: In October, LADOT revoked Uber's scooter operating permit after the company said it would not comply with the real-time trip data sharing requirement.
Uber had threatened to file for a temporary restraining order and is currently appealing the agency's decision.
Meanwhile, all other scooter and bike rental companies have complied with LA's requirements.
The big picture: Uber has ambitions to become the go-to transportation tool, even beginning to add public transit into its app. So it's not surprising that it's pushing back on government moves that could throttle or compete with it.
Go deeper: Read Kia's full story.
2. Communities at risk of being overlooked in the 2020 census
Axios' Stef Kight and Courtenay Brown report: About a quarter of the U.S. population —and more than 8 in 10 residents of Detroit — live in areas likely to be difficult for the census to accurately count next year, according to census data analyzed by the Associated Press.
Why it matters: "Hard to count" often translates to underrepresentation. The 2020 census will be the basis for allocating political power and government funding for the next decade.
Unauthorized immigrant populations, large minority populations, non-traditional households, lots of young children, poverty and lack of internet access can all lead to undercounting.
The big picture: State legislatures will refer to the newest census data in redrawing congressional districts next year. The population counts will determine how many congressional seats each state will receive.
By the numbers: In half of U.S. census tracts nationwide, more than 20% of the population is predicted to not respond to the initial census questionnaire.
86% of Detroit's population lives in hard-to-count areas — the highest of any city due to the tens of thousands of abandoned homes there, according to AP.
New Mexico (41%), California (40%), Texas (39%) and Nevada (37%) have the highest share of people living in areas with low census response rates.
These states have some of the fastest changing racial and ethnic makeups, and many have been a focus for both Democratic and GOP political campaigns.
3. Amazon HQ2 arrival to spur new transit projects in D.C. area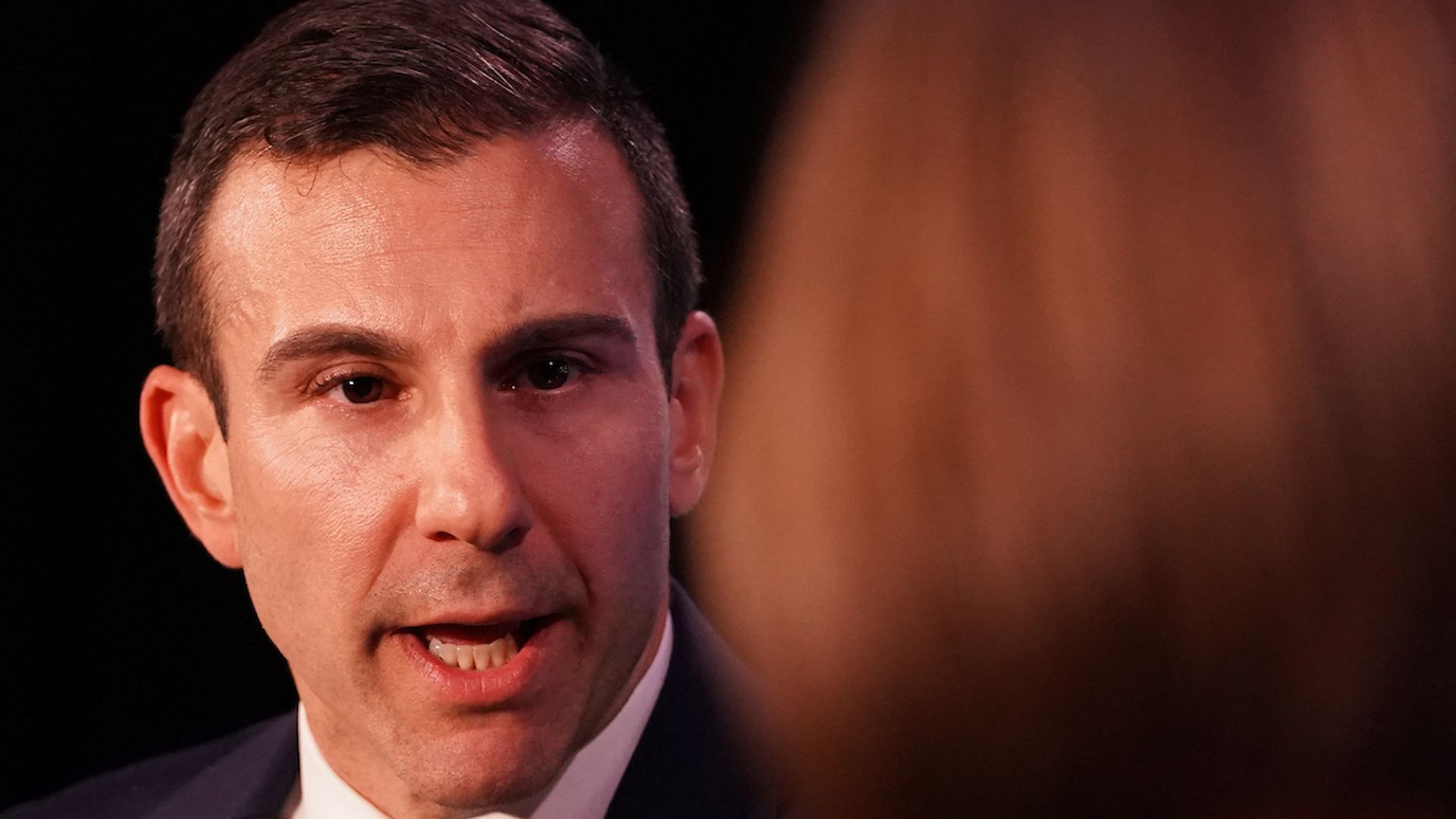 The District of Columbia's transportation chief Jeff Marootian expects Amazon's new HQ2 to spur new transportation projects to help ease congestion and incentivize more sustainable transit.
Driving the news: Amazon got final approval for its second headquarters in Arlington County last week. Local residents have expressed concern that the new National Landing development and influx of new workers trying to get there every day will lead to more gridlock.
What he's saying: Marootian says those concerns "are opportunities for us to deliver new projects like new bridges, new pedestrian and bicycling facilities, to expand and improve on our metro system," adding that Amazon's presence "gives us that incentive and gives us a platform to build those exciting projects."
D.C. has many transit irons in the fire:
Scooters: The District DOT this month selected four companies — Uber-owned Jump, Lyft, Skip and Spin — to deploy up to 10,000 scooters starting in January.
That cuts the current number of operators in half (Bird, Lime, Bolt and Razor won't be returning) but nearly doubles the number of scooters allowed.
"There are just so many companies that are offering these services, in order to manage that successfully, we felt very strongly that there needed to be fewer companies operating in the District," he said.
Curbside management: The city entered a three-month pilot project with curbFlow, a curbside reservation company, to rein in the chaos on the curbs.
The result was a 64% reduction in double parking. Marootian said the city is "definitely thinking about" a longer-term engagement with similar platforms, but he didn't commit.
Congestion pricing: Highly trafficked parts of the city like Navy Yard and Chinatown already have dynamic parking pricing, meaning the cost of parking increases during peak times.
D.C. is conducting a study to consider other congestion pricing schemes.
Also coming are more dedicated bus lanes, priority traffic signals for buses and redesigning busy corridors, like K Street Northwest.
4. New Orleans still dealing with fallout from ransomware attack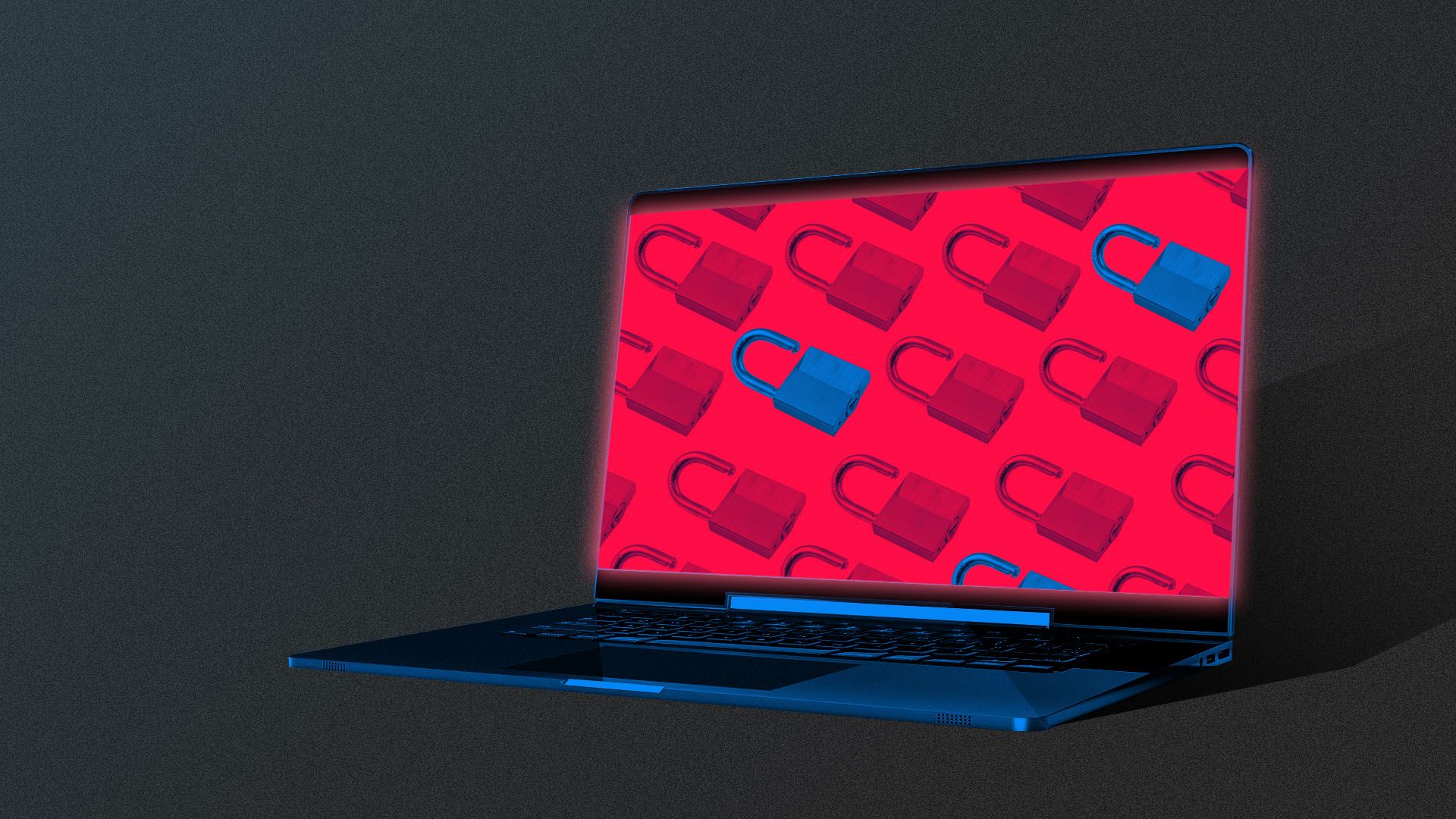 New Orleans agencies are still relying on pen and paper for some city work as security experts try to get to the bottom of an apparent ransomware attack that hit the government on Friday.
Why it matters: "This really is the new normal," said Gov. John Bel Edwards, per Nola.com. "It seems this is happening every week to 10 days here in Louisiana."
Edwards twice declared states of emergency in 2019 over attacks on state agencies and school districts.
Details: The likely culprit in the New Orleans attack is a kind of ransomware called Ryuk that blocks access to data until a Bitcoin ransom is paid. The FBI is working with city officials on the forensic investigation. Nola.com has more.
The big picture: This year alone, 103 U.S. state and municipal governments were hit by ransomware attacks, according to a study by security company Emsisoft.
🎧 I talked about the issue on the Axios Pro Rata podcast this week. Listen here.
5. Spin's workers unionize in San Francisco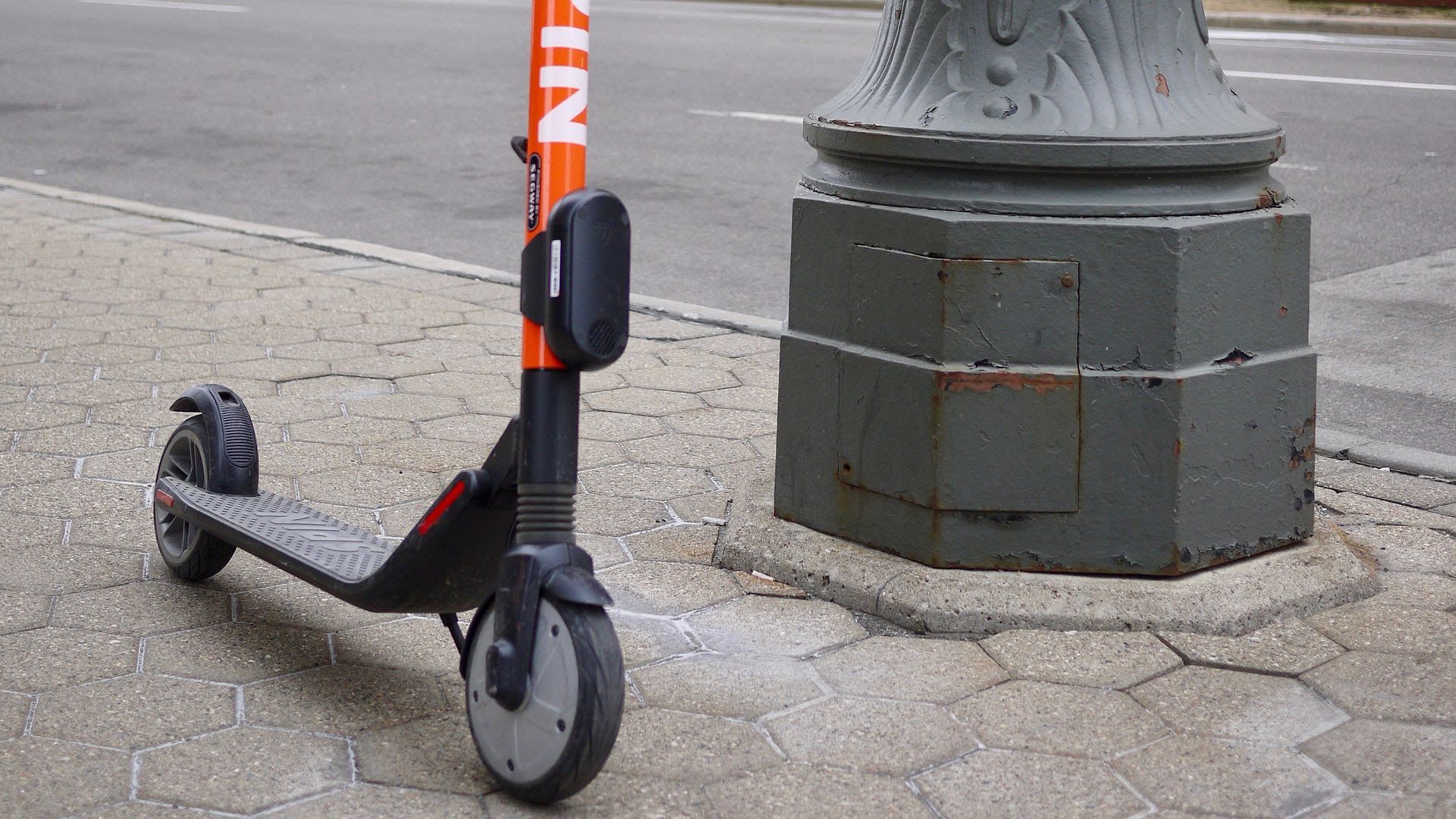 San Francisco maintenance workers for Spin, a scooter rental company owned by Ford, have voted to unionize and joined a local Teamsters chapter, Kia reports.
Why it matters: The move makes the workers the first in the scooter industry to unionize. The union vote applies to the roughly 40 workers responsible for maintaining and managing Spin's scooters available in San Francisco.
The big picture: Spin initially began operating in San Francisco in the spring of 2018, along with rivals Bird and Lime, before all three companies were forced off the streets by regulators.
In October 2018, Ford (which has long employed unionized workers) acquired Spin for about $100 million. A year later, Spin got a permit to resume service in San Francisco.
Between the lines: Spin began working with the Teamsters months ago while it was waiting for the San Francisco transportation agency to issue operating permits (it did not get one for an earlier pilot program, in part for poor labor practices), as the San Francisco Examiner reported at the time.
Bonus: Why 5G is hard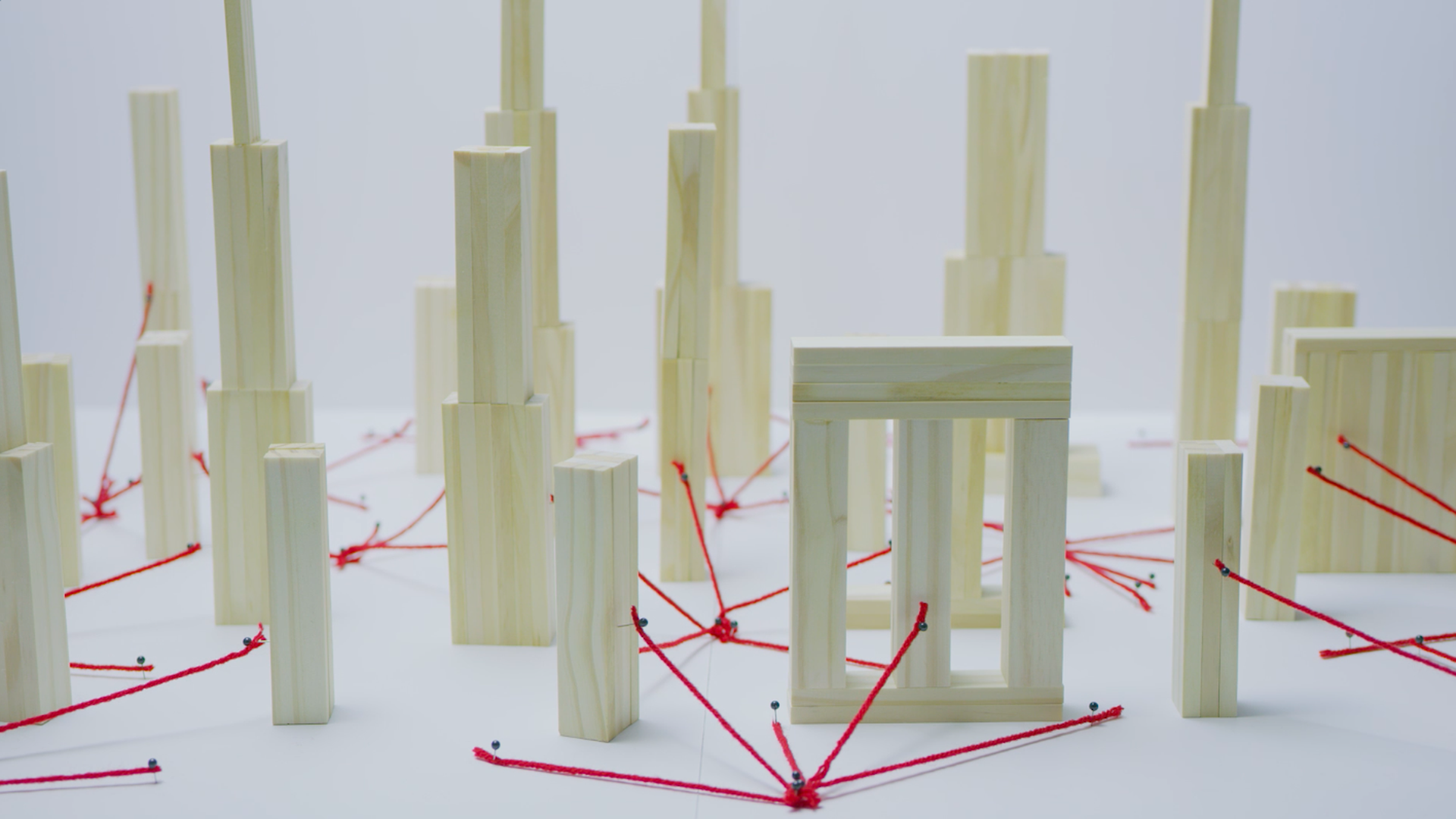 Rolling out 5G networks is a big undertaking. It will take a decade or more for widespread coverage across the U.S.
Axios' video team broke down the top hurdles keeping 5G from rolling out right now:
Distance: Millimeter waves are limited in range, so hundreds of thousands of small cell towers will be needed.
Money: The infrastructure costs billions, so telecom companies have to convince consumers that 5G is worth the extra money.
Regulations: Local governments have to negotiate with companies to install the small cells, and some cities want more say over the process.
Watch the video here (it's less than two minutes!)
Go deeper: 5G will see a wide rollout in 2020
6. Urban files
The great American housing engine slows☝️(Axios)
Trump's plan to criminalize homelessness is taking shape (CityLab)
A very uncivil war going down in America's most civil suburb (Washingtonian)
Cities of the new Silk Roads (Diplomatic Courier)
Axios Deep Dive: 2020's new voters will usher in an age of demographic transformation (Axios)
The shortage of small homes (Sightline Institute)
7. 1🎄thing: Christmas trees are sparse this year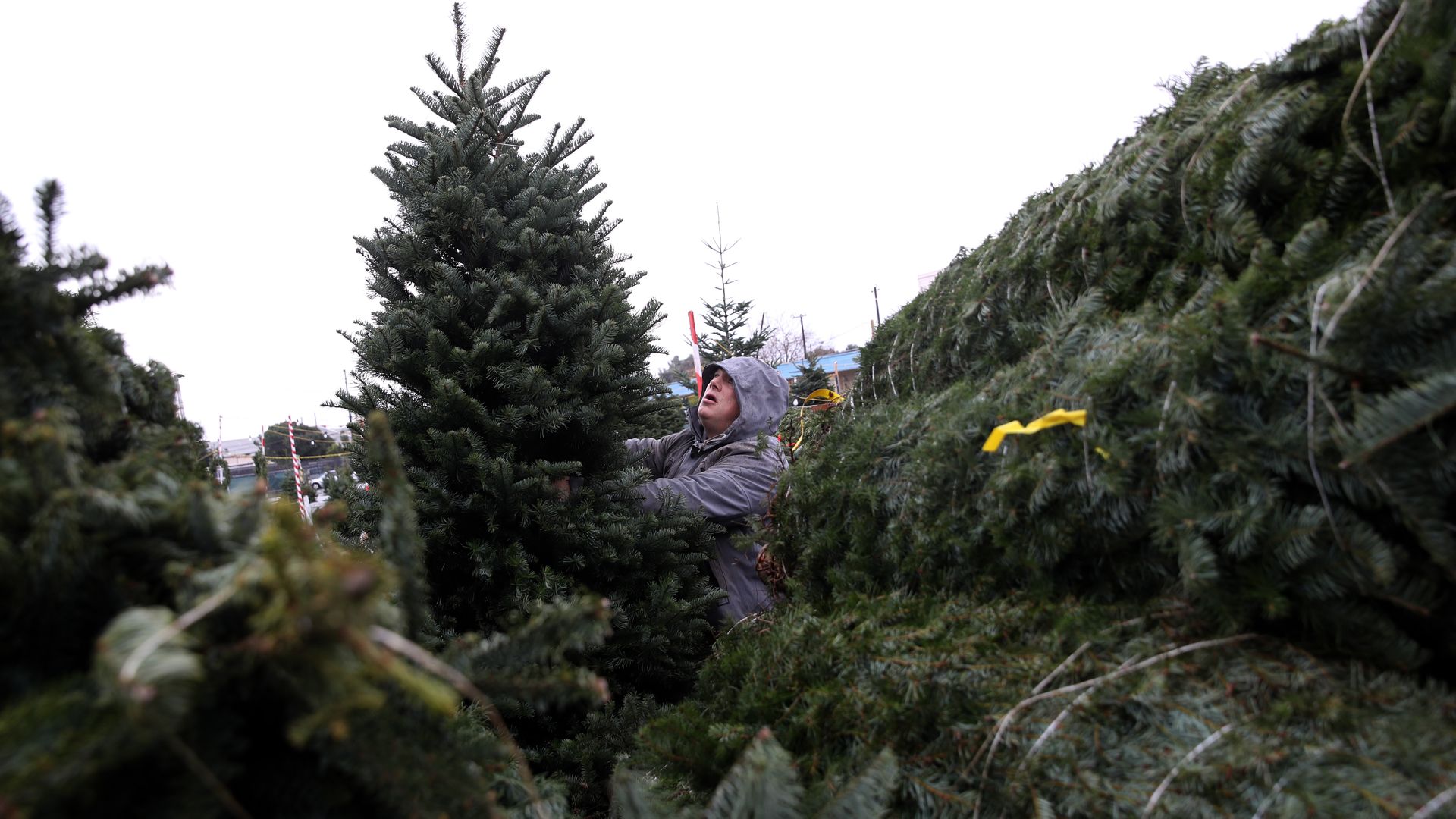 Demand for Christmas trees plummeted during the recession 10 years ago, so tree growers scaled back planting. Tree demand bounced back, but supply didn't.
Why it matters: Buyers are paying more for trees due to the shortage. According to the National Christmas Tree Association, the average price of a tree was $36 in 2008. The price spiked to $78 in 2018.
The average Christmas tree takes seven years to grow to a typical height, per the association, though some varieties can take up to 15 years. Fraser firs, a popular variety for Christmas trees, take about 10 years to mature.
The big picture: Drought conditions have also made growing more difficult. "We lose quite a few there because they dry out and die," Richard Kreh, who grows and sells Christmas trees in Stuart, Virginia, told ABC-13 WSET.
Yes, but: Despite the higher prices, business is booming as shoppers scrambled to find a tree this year.
The shortage is expected to be short-lived. Ronnie Richardson of Whitetop, Virginia, told the Bristol Herald-Courier, "The supply will be back in just a few years."
We'll be back on Tuesday.