Axios Cities
October 30, 2019
Happy Halloween Eve! If you care about trick-or-treating, be sure to read to the end of today's newsletter.
Kudos to CityLab for putting on an excellent conference in D.C. this week. It was great to meet so many mayors and city leaders in one place.
I'd love your feedback and ideas — just hit reply. Please consider telling your friends to sign up here.
Today's newsletter is 1,296 words, a 5-minute read.
1 big thing: The carless future of parking garages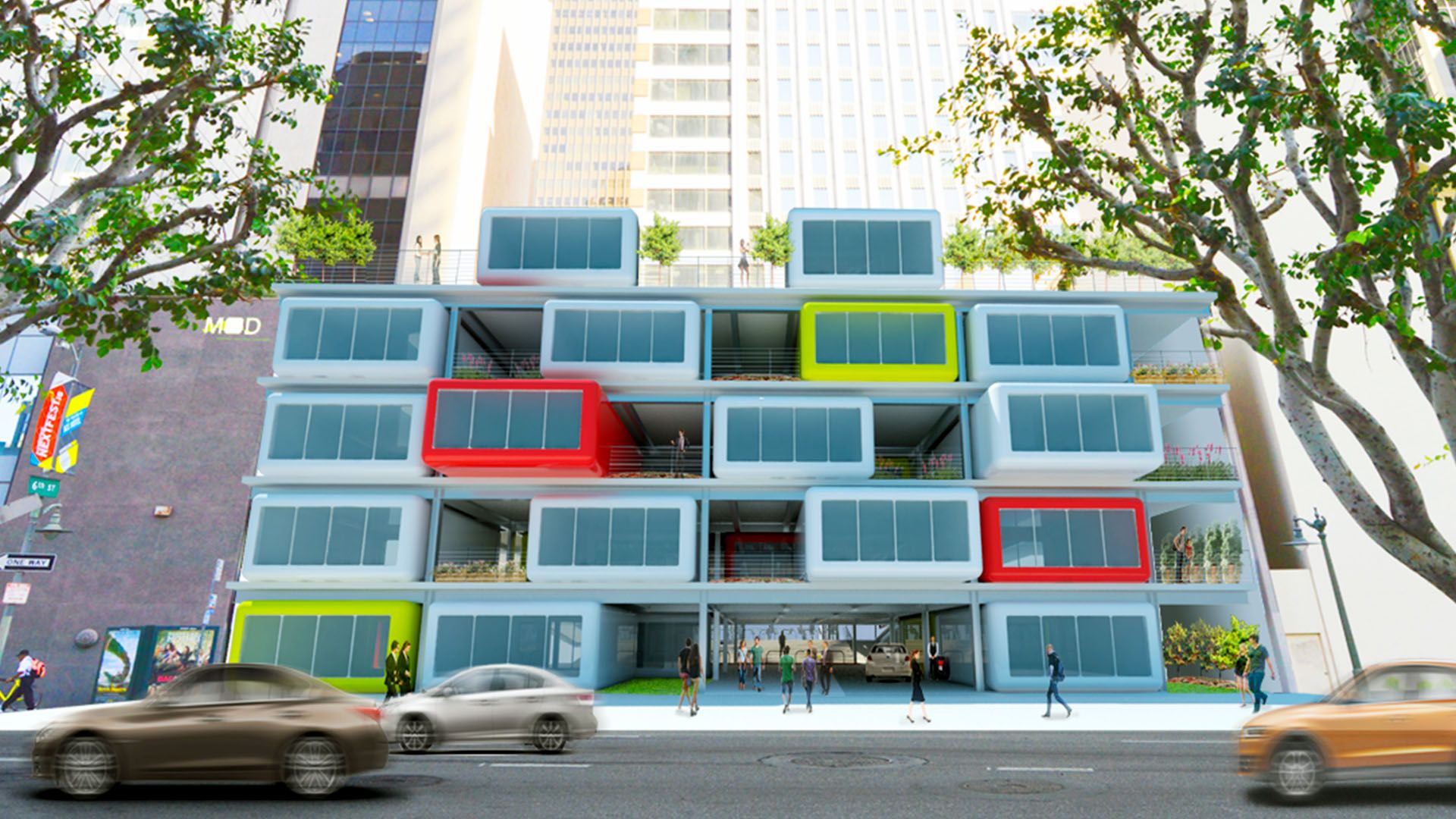 Parking garages are staples of car-clogged cities — but they're ugly and take up prime urban real estate. So building owners and developers are looking for new uses for that space.
The big picture: As urban transportation begins to shift, the massive concrete parking structures that sit under or beside most downtown buildings are being repurposed into food delivery kitchens, e-commerce distribution centers, flood protection and even urban farming.
The biggest hurdle is the lack of awareness that parking garages can be redeveloped to serve people, not just cars, says Diane Hoskins, co-CEO of Gensler, an architecture and design firm.
"An obvious and functional challenge we face is that these structures were not originally designed for human habitation. These spaces often require us to raise the floor height, level the floors between ramps and incorporate design techniques that bring natural light into the space."
— Diane Hoskins
Changing old zoning codes that require a lot of parking could allow developers to put the money for parking decks or garages (upwards of $15,000 per space) toward affordable housing or other uses, writes Angelo Carusi of Cooper Carry, an architecture and design firm.
What's happening: Parking garages are morphing into more colorful, productive, resilient and surprising uses.
A neglected garage in Wichita, Kansas, was turned into 44 high-end apartment units, but other efforts to turn old parking garages into affordable housing haven't gotten far.
San Francisco's plan to redevelop a 732-space garage into a mixed-use complex with 100 affordable housing units was nixed after opposition.
LA worked with Gensler to redevelop a parking garage as supportive housing with pre-fabricated modules, but it hasn't moved past the concept stage.
When parking structures can't support residential or office loads, they can be turned into parking spaces for autonomous vehicles and charging stations for electric vehicles.
Go deeper:
2. Cruise CEO won't say when AVs will actually be deployed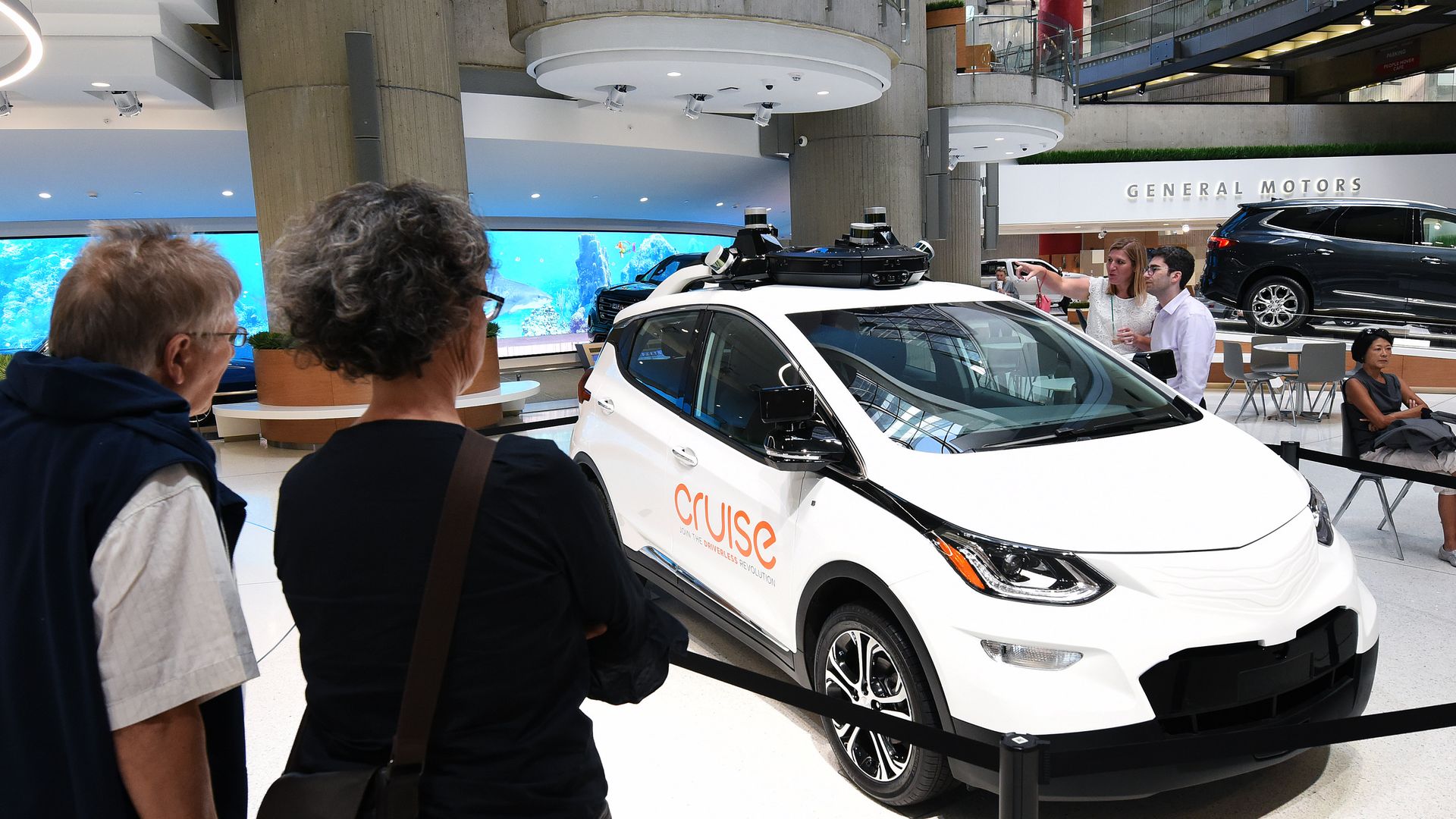 My first question to Cruise CEO Dan Ammann during an on-stage interview at CityLab this week was, "Were autonomous vehicles over-hyped?"
His answer: "I think we're in the classic situation where people have been over-estimating the arrival and hugely underestimating the impact that self-driving cars are going to have."
Context: Cruise said earlier this year it was delaying commercial deployment of cars past its 2019 target for more testing. Reuters has reported that the GM-backed self-driving car company has run into unexpected technical glitches, like difficulty for cars to tell if objects are in motion.
So I asked when commercial deployment would happen.
His answer: "As soon as humanly possible."
When I pushed him to be more specific, he declined to give an estimate, though he said he does have an estimate in mind.
"If we're going to have a large-scale impact over a long period of time, the most important thing you can do is do it right from the beginning and build trust with everyone we're interacting with," he said, repeatedly emphasizing safety.
Two stats that stuck out to me from our short interview:
Cruise has raised $7.25 billion over the past 18 months to fund its efforts.
The company has tested AVs in two cities. The cars see more (and therefore learn more) in one minute of driving in San Francisco than they see in one hour of driving in Scottsdale.
Our thought bubble, per Axios AV reporter Joann Muller: "Cruise is considered a leader, along with Waymo and Argo AI, on self-driving cars. But even when it is ready to deploy robo-taxis in San Francisco, the service will likely be limited to a few carefully mapped neighborhoods and only under certain conditions."
3. Streets without cars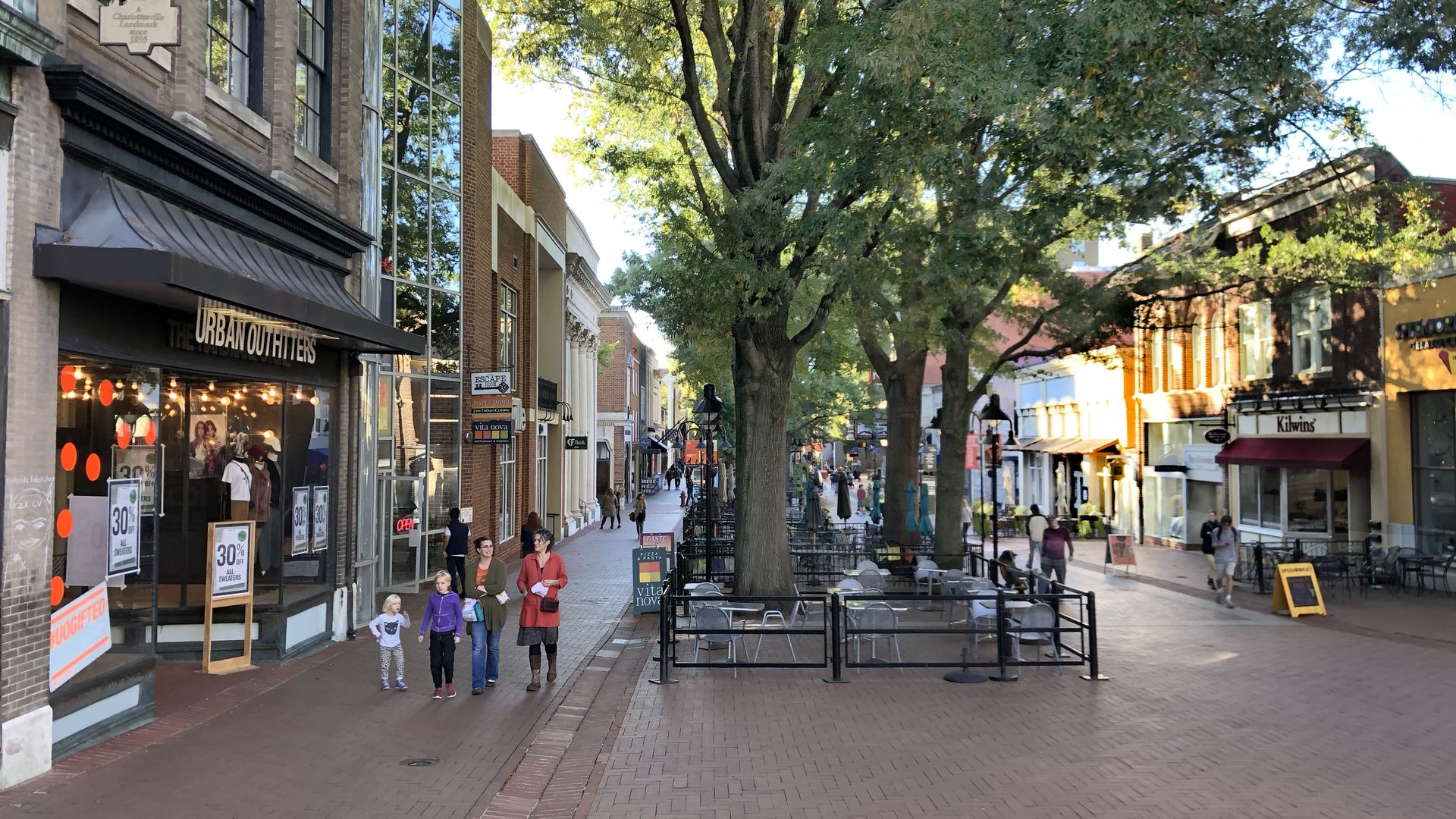 The appeal of carless streets — even on a limited or temporary basis — seems to be catching on.
Driving the news: This month, the San Francisco Municipal Transit Agency voted to kick personal vehicles out of a 1.5-mile stretch of Market Street. New York City also banned personal cars from 14th Street, a major crosstown route for more than 21,000 vehicles a day. (Some public transit vehicles are allowed.)
I was recently in Charlottesville for my brother's wedding and spent a fair amount of time walking up and down the nine-block pedestrian mall, which officially kicked cars out in 1976 and is still one of the longest pedestrian malls in the country.
Plenty of towns have designated pedestrian-oriented streets like Churchill Street in Burlington, Vermont, and State Street in Madison, Wisconsin.
Until fairly recently, getting car-free zones approved was a big political lift.
The car-free case is easier to make with new concerns about street safety and increased congestion and emissions.
Baltimore's Fells Point neighborhood closes a street to cars one evening a month during the summer to let cafes and shops expand into the road. Similarly, Paris bans cars in the city center one Sunday a month.
Chicago has created a special zoning classification for pedestrian streets, or "P-Streets." There are restrictions on the types of businesses allowed there (no drive-thrus or carwashes) in exchange for reduced parking requirements.
The irony: Modern cities were built around cars. But more and more cities are slowly pushing cars out.
4. Tracking solar deployment with AI
Five metro areas in California have the nation's highest density of homes with solar panels, while Detroit has the lowest, according to a new analysis that uses AI to track solar deployment via high-resolution aerial imagery, Axios' Orion Rummler reports.
What they did: Cape Analytics analyzed visual data on tens of millions of homes in major metro areas nationwide by working with partners like the location data company Nearmap.
What they found: Every "super solar" neighborhood in the U.S. — those with more than 500 homes and solar systems — is in California, except for one in St. Petersburg, Florida, which is 13.2% solar.
5. Urban files
A growing debt burden on low- and middle-income Americans☝️(Axios)
To build a better transit system for all, start by understanding how women travel (Greater Greater Washington)
1.5 million packages a day: The internet brings chaos to NY streets (NY Times)
Could cities profit from protecting themselves against rising seas? (The Guardian)
Quoted
"Everywhere I go, it seems people in city government are getting more and more things done than at any other level of government. It's not just those of you who are in office. Cities are where big ideas and local activism can become real and you can see tangible change."
— Former NYC Mayor Michael Bloomberg, speaking at a dinner this week
6. 1 🎃 thing: Trick-or-treating fades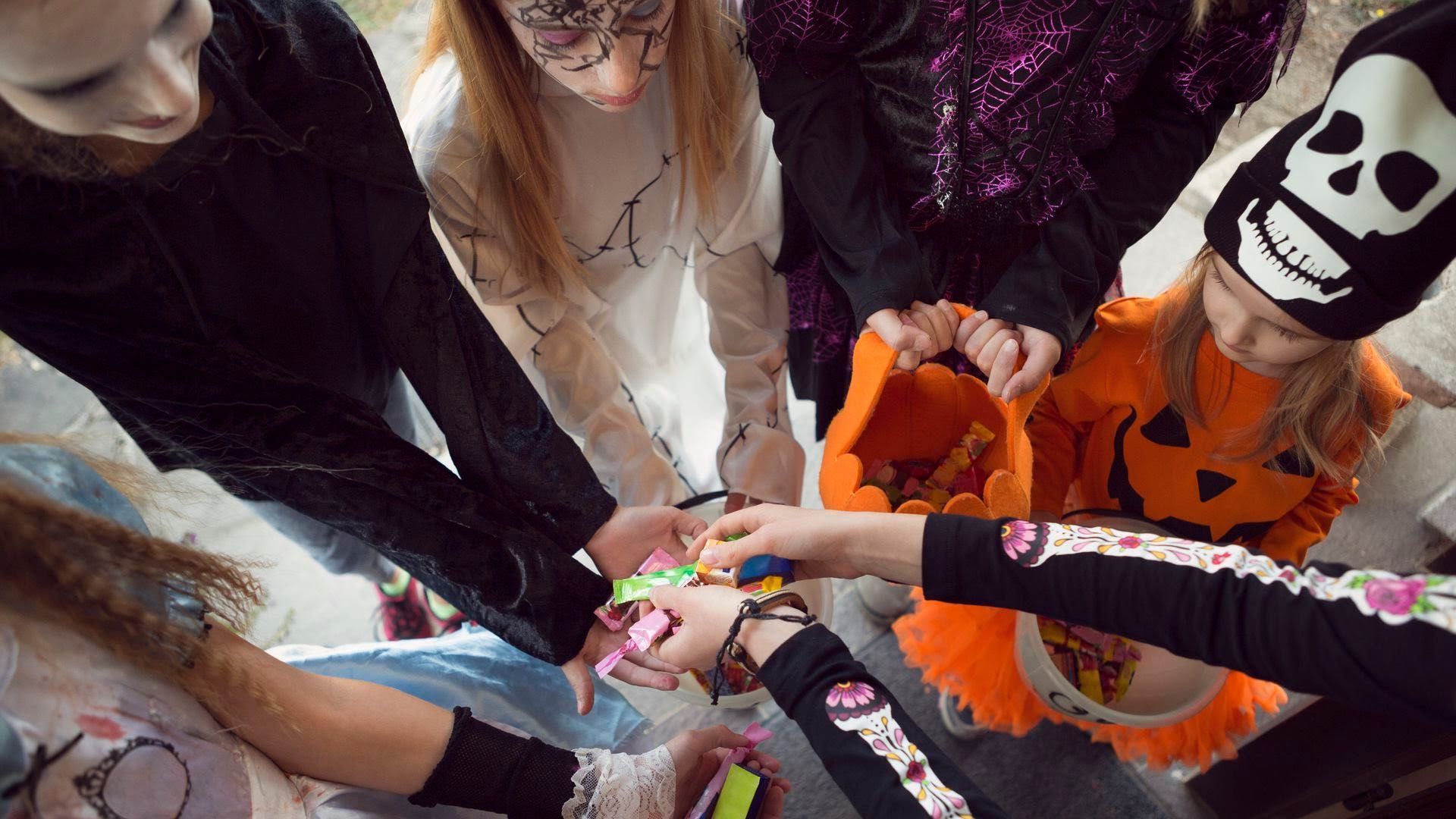 Families are abandoning traditional door-to-door trick-or-treating for alternative, more centralized Halloween events, Axios' Ursula Perano writes.
The Pontiac Daily Leader in 2017 noted that residents reported declining trick-or-treaters, parents saw fewer children participating and many households left their porch lights off to discourage visitors.
The Arizona Republic reported that for some citizens, 10 trick-or-treaters could be an overestimate.
Moreover, many cities have begun to set "official" hours that parents and children can trick or treat. Some cities have also set age limits to the pre-teen years for trick-or-treaters.
Between the lines: Technology has helped parents easily find alternatives, including events like "trunk-or-treats" or community Halloween celebrations.
These kinds of events work well in rural communities, where going door to door often taxes both kids and parents.
Moreover, fewer connections between suburban neighbors eases the social pressure to make an appearance in community affairs.
A wide array of events, rather than staking the holiday on one night alone, which can often fall during the middle of the week, affords some flexibility for stretched-thin parents.
Quick take: Rain or shine, I will be taking my Tinker Bell and Iron Man trick-or-treating with our neighbors. They've been looking forward to it for months.
Have a fun and safe Halloween!